Wie aktualisiere ich den TP-Link Wireless Access Point/Range Extender?
Hinweis:
1) Bitte überprüfen Sie die Hardwareversion Ihres Geräts auf die Firmware-Version. Ein falsches Firmware-Upgrade kann Ihr Gerät beschädigen und zum Erlöschen der Garantie führen.
Informationen zum Überprüfen der Hardwareversion des Geräts finden Sie unter https://www.tp-link.com/en/article/?faqid=46 .


2) Nachdem Sie die Firmware von der TP-Link-Website heruntergeladen haben, entpacken Sie die Firmware-Datei mit Tools wie WinZIP oder WinRAR in einen Ordner;
3) Es wird empfohlen, die Firmware über eine Kabelverbindung zu aktualisieren es sei denn, das TP-Link-Gerät verfügt nur über eine drahtlose Verbindung, wie der TL-WA854RE.
4) Schalten Sie während des Aktualisierungsvorgangs die Stromversorgung NICHT aus und schneiden Sie das Ethernet-Kabel NICHTab;
5) Nach dem Upgrade werden alle Einstellungen auf die Werkseinstellungen zurückgesetzt, sodass Sie die aktuellen Einstellungen im Voraus speichern können.

1. Schritt Melden Sie sich im Webinterface an:
1) Für ältere Versionen ist DHCP standardmäßig deaktiviert, bitte siehe https://www.tp-link.com/en/article/?faqid=174 to log in the web interface.
2) Für neue Versionen (Wenn Sie das Gerät gerade gekauft haben, handelt es sich wahrscheinlich um die neuen Versionen) bitte geben Sie 192.168.0.254 ein, um sich direkt im Webinterface anzumelden.
Hinweis: Die Standardzugriffsadresse finden Sie auf dem Etikett des Geräts.

2. Schritt Klicken Sie auf System Tools---Firmware Upgrade (oder Firmware); klicken Sie auf Browse um die extrahierte Firmware zu finden.
3. Schritt Klicken Sie auf die Upgrade-Schaltfläche. Das Gerät wird automatisch neustarten, nachdem die Aktualisierung abgeschlossen wurde.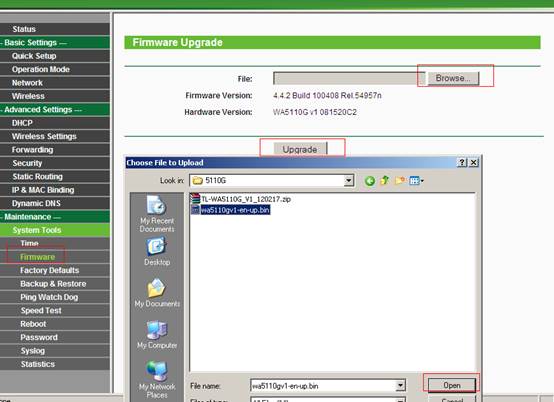 4. Schritt Klicken Sie auf Status, prüfen Sie ob die Firmware aktualisiert wurde.


5. Schritt Es wird empfohlen, das Gerät auf die Werkseinstellungen zurückzusetzen, um sicherzustellen, dass die neue Verwendung wirksam wird; klicken Sie auf System Tools->Factory Defaults, dann klicken Sie die Restore Schaltfläche an.

6. Schritt Nach den Werkseinstellungen, bitte konfigurieren Sie das Gerät neu.
Finden Sie diese FAQ hilfreich?
Mit Ihrer Rückmeldung tragen Sie dazu bei, dass wir unsere Webpräsenz verbessern.
Subscription Für TP-Link ist Datenschutz sehr wichtig. Weitere Informationen zu unseren Datenschutzbedingungen finden Sie in der Datenschutzerklärung von TP-Link.
From United States?
Check products and services for your region.