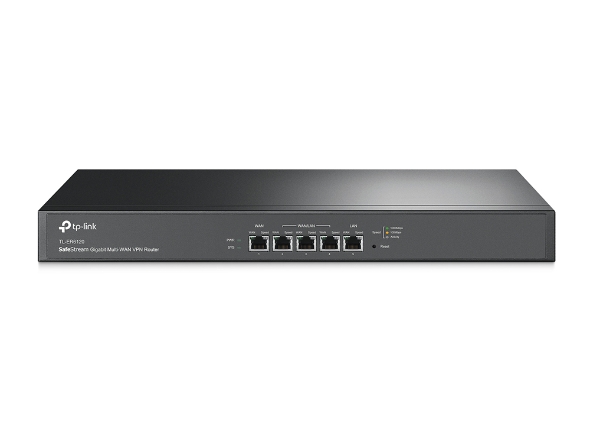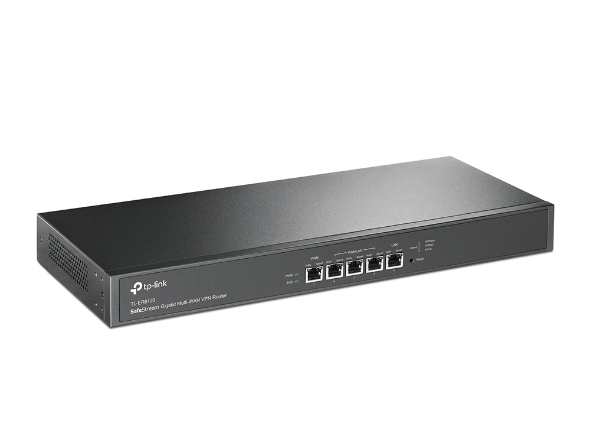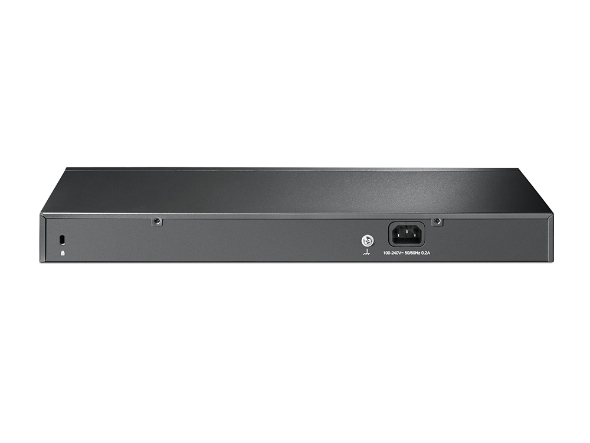 TL-ER6120
SafeStream Gigabit-Multi-WAN-VPN-Router
2 Gigabit-WAN-Ports, 1 Gigabit-LAN/DMZ-Port und 2 Gigabit-LAN-Ports sowie ein Konsolenport
Unterstützt mehrere VPN-Protokolle, darunter IPsec/PPTP/L2TP, was den Benutzern dabei hilft, ihr VPN flexibler aufzubauen.
Unterstützt bis zu 100 IPsec-VPN-Tunnel mit einer Hardware-basierten VPN-Engine
Reichlich Sicherheitsvorkehrungen einschließlich ARP-Inspektion, DoS-Abwehr, URL/Stichwort-Domainfilter und Zugangskontrolle
Verfügt über eine Ein-Klick-Beschränkung der IM/P2P-Anwendungen, um das Surfverhalten der Mitarbeiter zu steuern.
Der professionelle 4kV-Blitzschutz hält Ihre wertvollen Geräte so sicher wie möglich.
Produktfunktionalitäten
Der SafeStream™-Gigabit-Multi-WAN-VPN-Router TL-ER6120 von TP-LINK verfügt über hervorragende Datenverarbeitungsfähigkeiten und mehrere leistungsstarke Funktionen: IPSec/PPTP/L2TP VPN, Loadbalance, Zugangskontrolle, IM/P2P-Blocking, DoS-Abwehr, Bandbreitensteuerung, Session-Limit, PPPoE-Server etc., die hinreichend auf die Bedürfnisse kleinerer und mittlerer Unternehmen, Hotels und Gemeinden mit großen Gruppen von Nutzern eingehen, die ein effizientes und einfach zu verwaltendes Netzwerk mit hoher Sicherheit erwarten.
Hohe VPN-Performance
Der TL-ER6120 unterstützt mehrere VPN-Protokolle einschließlich IPsec, PPTP und L2TP im Client/Server-Modus und kann den Passthrough-Verkehr ebenso behandeln. Er verfügt auch über eine eingebaute, hardware-basierte VPN-Engine, die es dem Router ermöglicht, bis zu 100 LAN-to-LAN/Client-to-LAN-IPsec-VPN-Verbindungen zu unterstützen und zu verwalten. Zu den erweiterten VPN-Features gehören: DES/3DES/AES128/AES192/AES256-Verschlüsselung, Authentifizierung MD5/SHA1, Manual/IKE-Schlüsselverwaltung und Main/Aggressive-Negotiation-Modi.
Zahlreiche Sicherheitsmerkmale
Zur Verteidigung gegen Bedrohungen von außen verfügt der TL-ER6120 über einen automatischen Schutz, um Denial-of-Service(DoS)-Angriffe wie TCP/UDP/ICMP-Flooding, TCP Scanning, Ping-of-Death und andere damit verbundene Gefahren zu erkennen und zu blockieren. Darüber hinaus bietet dieser Router einen Hardware-DMZ-Port, mit dem Sie öffentliche Server einrichten können, ohne das interne Netzwerksetup zu gefährden, um so Angriffe von außen verhindern zu können. Für ein besseres Management des internen Netzwerks ermöglicht es der TL-ER6120 den Administratoren Regeln aufzustellen, um bestimmte Websites und IM/P2P-Anwendungen mit nur einem Klick zu blockieren und dem Personal die Verwendung konkreter Dienste wie FTP, HTTP und SMTP zu untersagen.
Optimierung der Bandbreitennutzung
Der TL-ER6120 verfügt über zwei WAN-Ports, durch die der Router verschiedene Internetzugangsvoraussetzungen zugleich erfüllen kann. Die intelligente Loadbalancing-Funktion kann Datenströme entsprechend der Bandbreitenproportion eines jeden WAN-Ports verteilen, um den Auslastungsgrad des Multiline-Breitbands zu erhöhen. Mit IP-basierter Bandbreitenkontrolle und Session-Limit-Funktionen können Netzwerkadministratoren die Netzwerkbandbreite flexibel verwalten, um die Bandbreitennutzung zu optimieren.
Sicherheitsorientierte Unternehmensinvestitionen
Der professionelle Blitzschutz wurde dazu ausgelegt, das Eindringen von Überspannungen in das Innere der elektrischen Ausrüstung zu verhindern und diese harmlos in der Erde zu entladen. Dieser Router ist dazu ausgelegt, dass er, wenn er korrekt geerdet wird, Blitzschläge bis zu 4kV abwehrt. Diese Funktion stellt sicher, dass Ihre Investitionen in die Netzwerkinfrastruktur so weit wie möglich von den Gewalten von Mutter Natur verschont bleiben.
Branch Location

TP-Link Omada offers enterprise-level VPN, real-time network monitoring, and quick network troubleshooting to meet the requirements of headquarters and branches.

VPN
Easy management
Network monitoring and troubleshooting
High security
Grupoinfo 24

TP-Link Helps Grupoinfo24 to Build Reliable and Affordable Business Network

Grupoinfo 24

TP-Link Helps Grupoinfo24 to Build Reliable and Affordable Business Network

"TP-Link's products provide us with excellent performance, ease-of-management, and a robust feature set. All the important features that we can expect from a correct networking infrastructure are provided by TP-Link's products, and a wise configuration will permit us to profit from the benefits and security required by each company or case." —Grupoinfo 24
HARDWARE-FUNKTIONEN
Standards und Protokolle
IEEE802.3
IEEE802.3u
IEEE802.3ab
TCP/IP, DHCP, ICMP, NAT, PPPoE, SNTP, HTTP, DNS, IPsec, PPTP, L2TP
Schnittstelle
2 10/100/1000Mbit/s-WAN-Ports
2 10/100/1000Mbit/s-LAN-Ports
1 10/100/1000Mbit/s-LAN/DMZ-Port
1 Konsolen-Port (RJ45 auf RS232)
Kabel
10BASE-T: UTP-Kabel der Kategorien 3, 4, 5 (maximal 100m)
EIA/TIA-568 100Ω STP (maximal 100m)
100BASE-TX: UTP-Kabel der Kategorien 5, 5e (maximal 100m)
EIA/TIA-568 100Ω STP (maximal 100m)
1000BASE-T: UTP-Kabel der Kategorie 6 oder höher (maximal 100m)

Taste
Reset
Spannungsversorgung
Internes Netzteil
100..240V, 50/60Hz Eingangsspannung

Flash
8MB
DRAM
128MB DDR2
LED
PWR, SYS, Link/Act, Speed, WAN, DMZ
Abmessungen (B*T*H)
440mm*220mm*44mm
19-Zoll-Rack-fähig, 1U Einbauhöhe
PERFORMANCE
Gleichzeitige Verbindungen
60000
NAT-Durchsatz
350 Mbit/s
NAT(iMIX)
936Mbps
NAT(DHCP)
878Mbps
NAT(PPPoE)
665Mbps
IPsec VPN Throughput (AES256)
373Mbps
IPsec-VPN-Durchsatz (3DES)
130 Mbit/s
GRUNDFUNKTIONEN
WAN-Verbindungstyp
Dynamische IP-Adresse, Statische IP-Adresse, PPPoE, PPTP, L2TP, Dual-Access, BigPond
Klonen der MAC-Adresse
WAN-/LAN-/DMZ-MAC-Adresse ändern
DHCP
DHCP-Server/Client
DHCP-Reservierung

Switch-Einstellungen
Portspiegelung
Durchflusssteuerung
Portkonfiguration
Port-VLAN

IPv6
IPv6 Support
VLAN
802.1Q VLAN, Port VLAN
IPTV
Bridge, Custom
ERWEITERTE FUNKTIONEN
Loadbalancing
Intelligentes Loadbalancing
Policy-Based Routing
Protokoll-konforme Anbindung
Link-Backup (Timing, Ausfallsicherung)
Online-Erkennung

NAT
One-to-One-NAT
Multi-nets NAT
Virtueller Server, DMZ-Host, Porttriggering, UPnP
FTP/H.323/SIP/IPsec/PPTP ALG

Routing
statisches Routing
dynamisches Routing (RIP v1/v2)

Systemmodus
NAT
Non-NAT
Klassisches Routing
Traffickontrolle
IP-basierte Bandbreitensteuerung
Garantie- und begrenzte Bandbreite
zeitbasierende Kontrolle
IP-basiertes Sitzungslimit

VPN
IPsec-VPN
100 IPsec-VPN-Tunnel
LAN-to-LAN, Client-to-LAN
Haupt, Aggressive-Negotiation-Modus
DES-, 3DES-, AES128-, AES192-, AES256-Verschlüsselungsalgorithmus
MD5-, SHA1-Authentisierungsalgorithmus
Manueller Betrieb, IKE-Key-Managementmodus
IPsec-NAT-Traversal (NAT-T)
Dead-Peer-Detection (DPD)
Perfect-Forward-Secrecy (PFS)

PPTP-VPN
32 PPTP-VPN-Tunnel
PPTP-VPN-Server/Client
PPTP mit MPPE-Verschlüsselung

L2TP-VPN
32 L2TP-VPN-Tunnel
L2TP-VPN-Server/Client
L2TP über IPsec

VPN-Passthrough
IPsec (ESP)
PPTP
L2TP
SICHERHEIT
DMZ-Port
1 Hardware-DMZ-Port
Anwendungsfilter
IM, P2P, Web-IM, Web-SNS, Web-Medien, Protokoll, Proxy-Blockierung
Filterung
MAC-Filterung
URL/Stichwortfilterung
Filterung der Web-Inhalte (Java, ActiveX, Cookies)

ARP-Inspektion
Senden von GARP-Paketen
ARP-Scannen durch WAN/LAN
IP-MAC-Anbindung

Angriffsschutz
TCP-/UDP-/ICMP-Flood-Abwehr
Block-TCP-Scan (Stealth-FIN/Xmas/Null)
Block-Ping vom WAN

Access Control
Source/Destination IP Based Access Control
VERWALTUNG
Dienst
PPPoE-Server
E-Bulletin
Dynamisches DNS (DynDNS, No-IP, Peanuthull, Comexe)

Wartung
Web/CLI/Telnet-Managementschnittstelle
Fernwartung
Export-und Import-Konfiguration
NTP-Synchronisierung
Syslog-Unterstützung

Weboberfläche
Local User Authentication,Radius Sever Authentication,Onekey Online
SONSTIGES
Zertifizierung
CE
FCC
RoHS
Verpackungsinhalt
TL-ER6120
CD
Stromversorgungskabel
Erdungskabel
Rackeinbausatz
Installationsanleitung
Systemanforderungen
Microsoft® Windows® 98SE, NT, 2000, XP, Vista™, 7, 8 oder 10
MacOS®
NetWare®
UNIX®
Linux
Umgebung
Betriebstemperatur: 0°C..40°C
Lagertemperatur: -40°C..70°C
Betriebsfeuchtigkeit: 10%..90%, nicht kondensierend
Lagerfeuchtigkeit: 5%..90%, nicht kondensierend
Auszeichnungen

Good

TL-ER6120 won award (good) from c´t in DE.-2012

2012, Germany
Subscription Für TP-Link ist Datenschutz sehr wichtig. Weitere Informationen zu unseren Datenschutzbedingungen finden Sie in der Datenschutzerklärung von TP-Link.
Von United States?
Erhalten Sie Produkte, Events und Leistungen speziell für Ihre Region