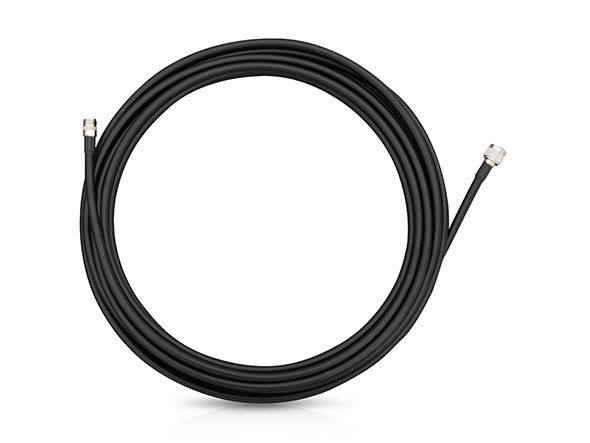 TL-ANT24EC12N
12-Meter-Low-Loss-Antennenverlängerungskabel
Einfacher und schneller Einsatz in der passenden WLAN-Umgebung
Die 12 Meter Länge ermöglichen es Ihnen, Ihre Antenne in die optimale Position zu platzieren, um die WLAN-Leistung zu maximieren.
Hat ein KMS-400 (LMR-400) Low-loss-Kabel mit einer exzellenten Flexibilität für eine höhere Leistung.
Wetterfestes Design, anwendbar bei den meisten Outdoor-Lösungen.
N-Male-zu-Female-Anschluss für Antennen vom N-Typ.
Produktfunktionalitäten
Was passiert, wenn das WLAN-Signal zu schwach ist, um eine Verbindung zu einem Accesspoint in einem anderen Gebäude herzustellen und Sie die Position Ihrer WLAN-Antenne an einem höheren oder weiteren Ort verbessern wollen, um ein besseres Signal zu erhalten?

Das Verlängerungskabel für die Antenne ist die Antwort auf Ihre Probleme. Es ist nicht nötig, den Accesspoint oder den WLAN-Router, die manchmal unbeweglich sein können, von einem Ort zum andern zu bringen. Mit den verschiedenen Low-Loss-Verlängerungskabeln haben Sie mehr Flexibilität, um den Standort Ihrer Antenne zu verändern, um damit Ihre WLAN-Leistung zu maximieren.
ANTENNE
Frequenz
DC .. 3GHz
Impedanz
50Ω nominal
Einfügedämpfung
6,5dB
Steckertyp
N männlich zu weiblich
Betriebstemperatur
-10°C..60°C
Lagertemperatur
-40°C..80°C
Abmessungen
12 Meter
LMR®-400 is made by Times Microwave. LMR® is a registered trademark of Times Microwave. Times Microwave is not affiliated with TP-LINK and does not endorse TP-LINK products.
Subscription Für TP-Link ist Datenschutz sehr wichtig. Weitere Informationen zu unseren Datenschutzbedingungen finden Sie in der Datenschutzerklärung von TP-Link.
Von United States?
Erhalten Sie Produkte, Events und Leistungen speziell für Ihre Region