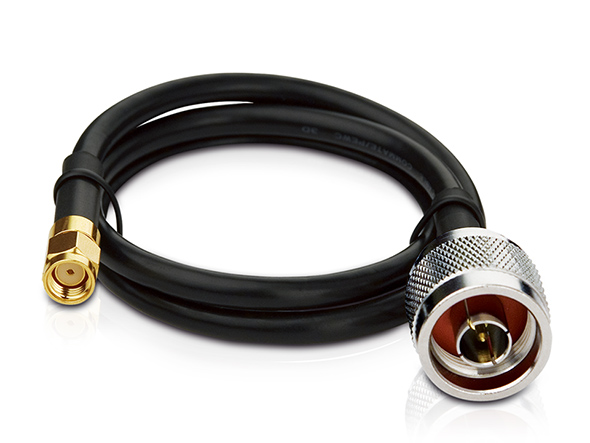 TL-ANT200PT
0,5m-LMR200-Adapterkabel N auf RP-SMA
Hergestellt unter Verwendung eines 50cm-Low-loss-LMR-200-Kabels für beste Performance bei 2,4- und 5GHz-Anwendungen.
Wetterfestes Design
N-Male-zu-RP-SMA-Female-Anschluss, anwendbar bei den meisten Verbindungen zwischen Ihrem WLAN-Accesspoint/-Router und der Antenne.
Produktfunktionalitäten
Das Pigtail-Kabel TL-ANT200PT ist ideal für die flexible Verbindung zwischen einem starren Außenkabel und Ihrem WLAN-Accesspoint/Router geeignet. Es ist sehr einfach zu verwenden und benötigt keine Konfiguration oder Installationssoftware.
ANTENNE
Frequenz
DC .. 6GHz
Impedanz
50Ω nominal
Einfügedämpfung
2GHz 0,7dB
2,5GHz 0,8dB
3GHz 1dB
5GHz 1,2dB
5,5GHz 1,3dB
6.0GHz 1,4dB
Maximales Stehwellenverhältnis (VSWR)
0..3GHz: maximal 1,5:1
3..6GHz: maximal 1,6:1
Steckertyp
N männlich zu RP-SMA weiblich
Verlängerungskabel/Länge
LMR-200-Kabel/0,5m
Betriebstemperatur
-10°C..+60°C
Lagertemperatur
-40°C..+80°C

Länge
0,5m
1. LMR®-200 is made by Times Microwave. LMR® is a registered trademark of Times Microwave. Times Microwave is not affiliated with TP-LINK and does not endorse TP-LINK products.
Subscription Für TP-Link ist Datenschutz sehr wichtig. Weitere Informationen zu unseren Datenschutzbedingungen finden Sie in der Datenschutzerklärung von TP-Link.
Von United States?
Erhalten Sie Produkte, Events und Leistungen speziell für Ihre Region