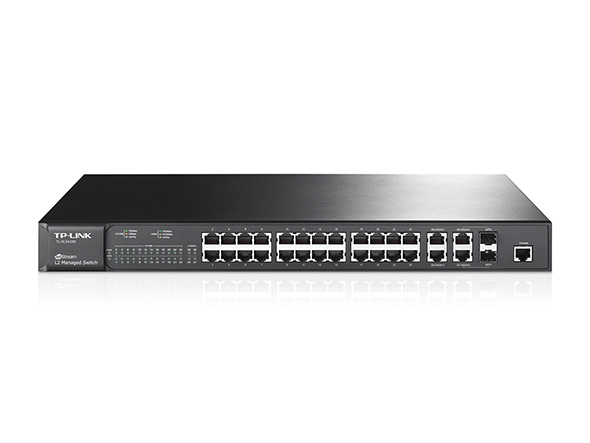 TL-SL5428E
JetStream-24-Port-10/100Mbit/s-L2-Managed-Switch mit 4 Gigabit-Ports
ACL, 802.1X-Authentifizierung, Port-Sicherheit, IP-Filterung, Storm-Control, DHCP-Snooping, IP-SourceGuard und DoS-Defend bieten Ihnen eine robuste Sicherheitsstrategie
Das Einzel-IP-Management unterstützt das vituelle Stapeln von 32 Einheiten
L2/L3/L4-QoS und IGMP-Snooping optimieren die Voice-und Videoanwendung
Verwaltung über RMON, SNMP, Web, Telnet und Konsole sowie
Produktfunktionalitäten
Der TL-SL5428E von TP-LINK ist auf die Bedürfnisse von Arbeitsgruppen und Abteilungen zugeschnitten und bietet das volle Programm der Layer-2-Management-Merkmale. Er liefert einen maximalen Durchsatz, wo Sie ihn brauchen - bei High-Performance-Arbeitsgruppen an der Peripherie des Netzwerkes, oder als Backbone für Fast-Ethernet-Switches und Highspeed-Server in anspruchsvollen kleinen Netzwerken. Darüber hinaus ist der Switch TL-SL5428E auch mit 2 Combo-SFP-Slots ausgerüstet, was Ihnen eine größere Netzwerk-Flexibilität gibt.
Der Managed L2-Switch von TP-LINK hat robuste Sicherheits- und Managementfunktionen. Eine fortgeschrittene Access Control List (ACL, L2 bis L4) und der starken Schutz von TP-LINK bieten eine Absicherung vom Kern zum Rand und schützt vor Broadcast-Storm-, ARP- und Denial-of-Service(DoS)-Attacken usw. Quality-of-Service (QoS, L2 bis L4) bietet eine verbesserte Traffic-Management-Funktion, um Ihre Daten reibungsloser und schneller zu transportieren. Weiterhin sorgt die einfach zu bedienende Weboberfläche zusammen mit CLI, SNMP und RMON für eine schnellere Installation und Konfiguration mit weniger Ausfallzeiten. Für Arbeitsgruppen und Abteilungen, die einen kostensparenden Layer-2-Switch und zusätzliche Gigabit-Fähigkeiten benötigen, kann der fully-managed L2-Switch TL-SL5428E von TP-LINK die ideale Lösung sein.
Nicht-blockierende Architektur
Der fully-managed L2-Switch TL-SL5428E von TP-LINK stellt eine nicht-blockierende Switching-Lösung für eine 10/100Mbit/s-Fast-Ethernet-Verbindung dar. In Bezug auf die Switchingkapazität hat der TL-SL5428E eine nicht-blockierende Gesamtbandbreite von 12,8Gbit/s. Er verfügt über 24 10/100Mbit/s-Ports und 4 Gigabit-10/100/1000BASE-T-Ports. Unter diesen Gigabit-Kupfer-Ports sind zwei Combo-Gigabit-Ports, die deaktiviert werden, wenn die entsprechenden 1000BASE-X-SFP-Slots verwendet werden. Dies kann Ihnen eine größere Netzwerk-Flexibilität geben.
Virtuell stapelbar
Das IP-Clustering ermöglicht es, dass bis zu 32 TL-SL5428Es über eine einzige IP-Adresse verwaltet werden, unabhängig von ihren geographischen Standorten. Mit allen Geräten, die durch eine einzige IP-Adresse identifiziert werden, kann der Stack wie ein einzelnes Objekt konfiguriert, überwacht und gewartet werden.
Der Verkehr, der über Einheiten in diesem virtuellen Stack läuft, benutzt Vollduplex-Schnittstellen und eine Netzwerk-Verdrahtung, was kostspielige und lästige Kabel überflüssig macht und die Auswirkungen eines einzelnen Point-of-Failure minimiert.
Umfassende Sicherheitsstrategie
Die Access Control Lists (ACL, L2 bis L4) beschränken den Zugriff auf sensible Netzwerk-Ressourcen, indem sie Pakete auf der Basis von Quell- und Ziel-MAC-Adressen, IP-Adressen, TCP/UDP-Ports und sogar der VLAN-ID verweigern. Dies wird von der Hardware geleistet, sodass die Switching-Leistung nicht beeinträchtigt wird.
Darüber hinaus unterstützt der Switch TL-SL5428E die 802.1X-Authentifizierung, die in Verbindung mit einem RADIUS-Server verwendet wird, um einige Authentifizierungsinformationen anzufordern, bevor der Zugang zum Netzwerk gewährt wird. Weiterhin unterstützt er Guest-VLAN, das Nicht-802.1X-Clients Zugriff auf spezifische Netzwerkressourcen gewährt. Darüber hinaus schützen die IP-MAC-Port-VID-Anbindung, Port-Security, Storm-Control, DHCP-Snooping und IP-Source-Guard gegen Broadcast-Storms, ARP- und Denial-of-Service (DoS)-Attacken usw. In Bezug auf den Schutz vor DoS bietet der TL-SL5428E Ihnen einige typische DoS-Attacken zur Auswahl. Sie können sich gegen diese Angriffe leichter schützen je als zuvor. Der TL-SL5428E bietet Ihnen eine robuste Sicherheit für das Netzwerk.
Verwaltbarkeit und Ausfallsicherheit auf Unternehmensebene
Der TL-SL5428E unterstützt verschiedene benutzerfreundliche Standard-Management-Funktionen, wie zum Beispiel die intuitive webbasierte grafische Benutzeroberfläche (GUI) oder Command-Line-Interface (CLI) auf Industrie-Standard, mit denen der Datenverkehr durch eine SSL- oder SSH-Verschlüsselung geschützt werden kann. Die Unterstützung von SNMP (v1/2/3) und RMON bewirkt, dass vom Switch hilfreiche Statusinformationen abgefragt werden können und dass dieser auf abnormale Ereignisse hin Traps versendet. Diese gemeinsame Nutzung von wichtigen Managementinformationen spart Zeit und Geld. Mit der Link-Aggregation, dem Spanning Tree Protocol (STP / RSTP / MSTP) und dem virtuellen Stack kann eine hochintelligente und skalierbare Topologie aufgebaut werden, die den Anforderungen der Kunden des Unternehmens beim Aufbau eines einheitlichen, belastbaren Netzwerks gerecht wird.
Optimierte Sprach- und Videoanwendungen
Um Sprach-, Daten- und Video-Dienste in einem Netzwerk zu integrieren, wendet der TL-SL5428E reichlich QoS-Richtlinien an. Der Administrator kann die Priorität des Datenverkehrs mit einer Vielzahl von Parametern bestimmen, darunter IP- oder MAC-Adresse, TCP- oder UDP-Port-Nummer usw., sodass Sprache und Video immer klar, reibungslos und verzerrungsfrei übermittelt werden. In Verbindung mit dem vom Switch unterstützten Voice-VLAN werden die Voice-Anwendungen viel reibungsloser funktionieren.
Für andere Multimedia-on-Demand-Anwendungen wie IPTV bietet der TL-SL5428E erweiterte Funktionen für das leicht zu handhabende Stream-Management. Zum Beispiel sorgt IGMP-Snooping dafür, dass der Switch den Multicast-Stream intelligent nur an die entsprechenden Abonnenten weiterleitet, während die IGMP-Drosselung und-Filterung jeden Teilnehmer auf der Port-Ebene beschränkt, um einen unbefugten Zugriff auf den Multicast zu verhindern.
HARDWARE-FUNKTIONEN
Standards und Protokolle
IEEE802.3i
IEEE802.3u
IEEE802.3ab
IEEE802.3z
IEEE802.3ad
IEEE802.3x
IEEE802.1d
IEEE802.1s
IEEE802.1w
IEEE802.1q
IEEE802.1x
IEEE802.1p
Schnittstelle
24 10/100Mbit/s-RJ45-Ports (mit Autoabstimmung und Auto-MDI/MDIX)
2 10/100/1000Mbit/s-RJ45-Ports (mit Autoabstimmung und Auto-MDI/MDIX)
2 Gigabit-SFP-Ports
1 Konsolen-Port
Kabel
10BASE-T: UTP-Kabel der Kategorie 3 oder höher (maximal 100m)
100BASE-TX: UTP-Kabel der Kategorie 5 oder höher (maximal 100m)
1000Base-T: UTP-Kabel der Kategorie 6 oder höher (maximal 100m)
100BASE-FX: MMF, SMF
1000BASE-X: MMF, SMF
Anzahl Lüfter
0
Spannungsversorgung
100..240V/50..60Hz Wechselspannung
Energieverbrauch
Maximal 15W (230V/50Hz)
Abmessungen (B*T*H)
440mm*180mm*44mm
PERFORMANCE
Stacking
Virtuelles Stacking mit bis zu 32 Einheiten
Switchingkapazität
12,8 Gbit/s
Paketweiterleitungsrate
9,5 Mpps
MAC-Adresstabelle
8k
Jumbo-Frames
2048 Byte
SOFTWARE-FUNKTIONEN
Quality of Service
802.1p-CoS/DSCP-Priorität
TOS
4 Prioritätsschlangen
Layer2-Funktionen
IGMP-Snooping: V1/V2/V3
802.3ad mit LACP
Spanning-Tree STP/RSTP/MSTP
BPDU-Filterung/Guard
Portspiegelung
Flusskontrolle
VLAN
bis zu 4k VLANs
Port-/tag-/protokollbasierendes VLAN/privates VLAN
Q in Q
GARP/GVRP
Zugriffskontrollliste
Paketfluss-Filter
Paketfluss-Umleitung
Zeitbasierend
Flussbasiertes QoS
Sicherheit
IP-MAC-Port-VID-Bindung
IEEE802.1X (RADIUS): Port/MAC-basiert
VLAN-Zuordnung
Guest-VLAN
QoS-Zuordnung
Supplicant-Support
DoS-Abwehr
Dynamische ARP-Inspektion (DAI)
SSH: V1/V2
SSL: V1.5/V2
Port-Sicherheit
Broadcast-Storm-Control
Guest-VLAN
IP-Source-Guard
IPv6
Dual IPv4/IPv6 stack
Multicast Listener Discovery (MLD) Snooping
IPv6 neighbor discovery (ND)
Path maximum transmission unit (MTU) discovery
Internet Control Message Protocol (ICMP) version 6
TCPv6/UDPv6
IPv6-Anwendungen
DHCPv6 Client
Ping6
Tracert6
Telnet(v6)
IPv6 SNMP
IPv6 SSH
IPv6 SSL
Http/Https
IPv6 TFTP
Verwaltung
Systemdiagnose: VCT
SNMP: V1/V2/V3
RMON: Gruppen 1, 2, 3, 9
Commandline-Schnittstelle: Telnet/Konsole
Zeiteinstellung: SNTP
Firmware-Upgrade über TFTP und Web
DGCO-Client & BOOTP-Client
Systemprotokoll
Öffentliche MIBs

SONSTIGES
Zertifizierung
CE
FCC
RoHS
Verpackungsinhalt
Switch
Spannungskabel
Installationsanleitung
CD
Rackeinbausatz
Gummifüßchen
Systemanforderungen
Microsoft® Windows® 2000/XP/2003/Vista/2008/7/2012/8/10
MacOS®
NetWare®
UNIX®
Linux
Umgebung
Betriebstemperatur: 0°C..40°C
Lagertemperatur: -40°C..70°C
Betriebsfeuchtigkeit: 10%..90%, nicht kondensierend
Lagerfeuchtigkeit: 5%..90%, nicht kondensierend
Subscription Für TP-Link ist Datenschutz sehr wichtig. Weitere Informationen zu unseren Datenschutzbedingungen finden Sie in der Datenschutzerklärung von TP-Link.
From United States (English)?
Check products and services for your region.