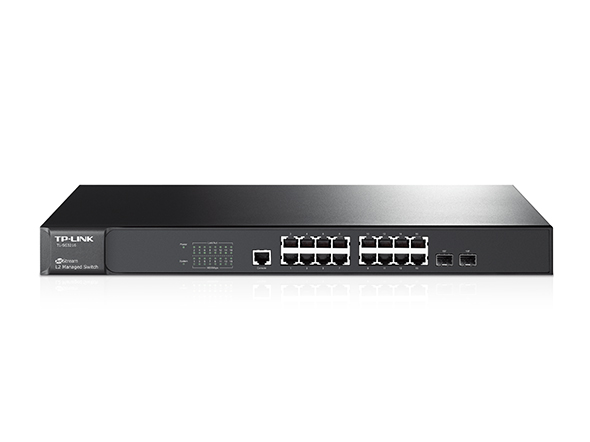 TL-SG3216
JetStream-16-Port-Gigabit-L2-Managed-Switch mit 2 Combo-SFP-Slots
IP-MAC-Port-VID-Bindung, ACL, Port-Sicherheit, DoS-Abwehr, Storm-Control, DHCP Snooping, 802.1x-Authentifizierung und Radius liefern Ihnen robuste Sicherheitsstrategien
L2/L3/L4-QoS und IGMP-Snooping optimieren die Voice-und Videoanwendung
Mit Weboberfläche, CLI, SNMP und RMON stehen Ihnen viele Wege offen, Ihr Gerät zu verwalten
Produktfunktionalitäten
Der JetStream TM Managed Gigabit-L2-Lite-Switch TL-SG3216 von TP-LINK verfügt über 16 10/100/1000-Mbps-Ports. Der Switch bietet eine hochleistungsfähige QoS-Funktion, erweiterte Sicherheits-Strategien und reichlich Layer-2-Managementfunktionen. Darüber hinaus ist der Switch serienmäßig mit 2 Combo-SFP-Slots ausgestattet, womit Sie Ihr Netzwerk flexibel erweitern können. Der JetStreamTM Managed Gigabit-L2-Switch ist die ideale und kostengünstige Lösung für kleine und mittlere Unternehmen.
Der TL-SG3216 hat robuste Sicherheits- und Managementfunktionen. Die IP-MAC-Port-VID-Anbindung und die Access Control List (ACL)-Funktion schützen gegen Broadcast Storm, ARP und Denial-of-Service (DoS)-Attacken, usw. Quality-of-Service (QoS, L2 bis L4) bietet verbesserte Traffic-Management-Möglichkeiten, damit sich Daten reibungsloser und schneller bewegen. Auch bieten die leicht zu bedienende Web-Management-Schnittstellen zusammen mit CLI, SNMP und RMON eine schnellere Installation und Konfiguration mit weniger Ausfallzeiten. Für Arbeitsgruppen und Abteilungen, die einen kostengünstigen Layer-2-Switch mit Gigabit-Fähigkeiten benötigen, ist der JetStreamTM Managed L2-Switch TL-SG3216 von TP-LINK die ideale Access-Edge-Lösung.
Sicherer Netzwerkaufbau
Dieser JetStream-Switch der 3er-Serie von TP-LINK bietet IP-MAC-Port-VID-Binding, Port Security, Storm Control und DHCP-Snooping, die gegen Broadcast-Stürme, ARP-Angriffe, etc. schützen. Er integriert einige typische DoS-Attacken, die Sie auswählen können. Sie können sich gegen diese Angriffe leichter schützen als je als zuvor. Die Access Control Lists (ACL, L2 bis L4) beschränken den Zugriff auf sensible Netzwerkressourcen, indem sie Pakete auf der Basis von Quell- und Ziel-MAC-Adressen, IP-Adressen, TCP/UDP-Ports und sogar der VLAN-ID verweigern. Darüber hinaus unterstützt der Switch die 802.1X-Authentifizierung, die in Verbindung mit einem RADIUS-Server zur Authentifizierung einige Informationen benötigt, bevor der Zugriff auf das Netzwerk gewährt wird. Die Guest-VLAN-Funktion wird unterstützt, damit die Nicht-802.1X-Clients Zugriff auf spezifische Netzwerkressourcen erhalten.
Fortschrittliche QoS-Merkmale
Um Sprach-, Daten- und Videodienste in einem Netzwerk zu integrieren, wendet der Switch reichlich QoS-Richtlinien an. Der Administrator kann die Priorität des Datenverkehrs mithilfe einer Vielzahl von Parametern bestimmen, darunter die IP- oder MAC-Adresse, die TCP- oder UDP-Port-Nummer usw., sodass Sprache und Bilder immer klar, reibungslos und verzerrungsfrei übermittelt werden. In Verbindung mit dem vom Switch unterstützten Voice-VLAN werden die Voice-Anwendungen mit einer viel reibungsloseren Performance funktionieren.
Reichlich Layer 2-Funktionen
Um weitere Anwendungen der Layer-2-Switches zu bieten, unterstützt der TL-SG3216 die vollständige Palette der Layer-2-Funktionen, darunter 802.1Q-Tag-VLAN, Port-Isolation, Port-Mirroring, STP/RSTP/MSTP, Link-Aggregation-Control-Protocol und die 802.3x-Flusskontroll-Funktion. Weiterhin bietet der Switch erweiterte Funktionen für die Wartung des Netzes wie Loopback-Erkennung, Kabeldiagnostik und IGMP-Snooping. IGMP-Snooping stellt sicher, dass der Switch die Multicast-Streams intelligent nur an die entsprechenden Abonnenten leitet, während die IGMP-Drosselung und Filterung jeden Teilnehmer auf die Port-Ebene einschränken, um einen unbefugten Zugriff auf den Multicast zu verhindern.
Verwaltungsfunktionen auf Unternehmensebene
Der TL-SG3216 ist einfach zu bedienen und zu verwalten. Er unterstützt verschiedene benutzerfreundliche Standard-Managementfunktionen wie die intuitive, webbasierte grafische Benutzeroberfläche (GUI) oder das branchenübliche Command Line Interface (CLI), wobei der jeweilige Datenverkehr mithilfe der SSL- oder SSH-Verschlüsselung geschützt werden kann. Durch die Unterstützung von SNMP (v1/2/3) und RMON können vom Switch hilfreiche Statusinformationen abgefragt werden und er kann auf abnormale Ereignisse Traps senden. Darüber hinaus unterstützt es der Switch durch das integrierte NDP/NTDP-Protokoll leichter, dass er von einem Commander-Switch mittels IP-Clustering gemanagt wird.
HARDWARE-FUNKTIONEN
Standards und Protokolle
IEEE802.3i
IEEE802.3u
IEEE802.3ab
IEEE802.3z
IEEE802.3ad
IEEE802.3x
IEEE802.1d
IEEE802.1s
IEEE802.1w
IEEE802.1q
IEEE802.1x
IEEE802.1p
Schnittstelle
16 10/100/1000Mbit/s-RJ45-Ports
(Autoabstimmung/Auto-MDI/MDIX)
2 Combo-100/1000Mbit/s-SFP-Slots
1 Konsolen-Port

Kabel
10BASE-T: UTP-Kabel der Kategorie 3 oder höher (maximal 100m)
100BASE-TX: UTP-Kabel der Kategorie 5 oder höher (maximal 100m)
1000Base-T: UTP-Kabel der Kategorie 6 oder höher (maximal 100m)
100BASE-FX: MMF, SMF
1000BASE-X: MMF, SMF
Anzahl Lüfter
0
Spannungsversorgung
100..240V/50..60Hz Wechselspannung
Energieverbrauch
maximal 14,7W
Abmessungen (B*T*H)
440mm*220mm*44mm
Montage
Rack Mountable
PERFORMANCE
Switchingkapazität
32 Gbit/s
Paketweiterleitungsrate
23,8Mpps
MAC-Adresstabelle
8k
Paketpufferspeicher
512kB
Jumbo-Frames
10240 Bytes
SOFTWARE-FUNKTIONEN
Quality of Service
802.1p-CoS/DSCP-Priorität
Unterstützt 4 Prioritätswarteschlangen
Queuescheduling: SP, WRR, SP+WRR
Port-/Flussbasierte Durchflussbegrenzung
Voice-VLAN

Layer2-Funktionen
IGMP-Snooping V1/V2/V3
802.3ad LACP (Bis zu 8 Aggregationsgruppen
mit 8 Ports pro Gruppe)
Spanning-Tree STP/RSTP/MSTP
BPDU-Filterung/Guard
TC/Root-Protect
Loop-Back-Erkennung
Flusskontrolle nach IEEE802.3x
VLAN
4k VLANs
Port-/MAC-Adress-/Protokoll-basiertes VLAN
GARP/GVRP
Zugriffskontrollliste
L2..L4-Paket-Filterung basierend auf Quell-und Ziel-
MAC-Adresse, IP-Adresse, TCP/UDP-Ports, 802.1p,
DSCP, Protokoll und VLAN-ID
Zeitbasiert

Sicherheit
IP-MAC-Port-VID-Bindung
Port-/MAC-Adress-basierte Authentifizierung nach IEEE802.1X
RADIUS
Gast-VLAN
DoS-Abwehr
Dynamische ARP-Inspektion (DAI)
SSH v1/v2
SSL v2/v3/TLSv1
Port-Sicherheit
Broadcast/Multicast/Unknown-Unicast-Sturmkontrolle
IPv6
Dual IPv4/IPv6 stack
Multicast Listener Discovery (MLD) Snooping
IPv6 neighbor discovery (ND)
Path maximum transmission unit (MTU) discovery
Internet Control Message Protocol (ICMP) version 6
TCPv6/UDPv6
IPv6-Anwendungen
DHCPv6 Client
Ping6
Tracert6
Telnet(v6)
IPv6 SNMP
IPv6 SSH
IPv6 SSL
Http/Https
IPv6 TFTP
Verwaltung
Webbasiertes GUI-und CLI-Management
SNMP v1/v2c/v3, kompatibel zu öffentlichen MIBs und privaten TP-LINK-MIBs
RMON (1, 2, 3, 9 Gruppen)
DHCP/BOOTP-Client, DHCP-Snooping, DHCP-Option 82
CPU-Überwachung
Portspiegelung
Zeiteinstellung: SNTP
Integriertes NDP/NTDP-Feature
Firmware-Upgrade: TFTP und Web
Systemdiagnose: VCT
SYSLOG und öffentliche MIBs
SONSTIGES
Zertifizierung
CE, FCC
Verpackungsinhalt
Switch
Spannungskabel
Schnellinstallationsanleitung
CD
Rackeinbausatz
Gummifüßchen
Systemanforderungen
Microsoft® Windows® 2000/XP/2003/Vista/2008/7/2012/8/10
MacOS®
NetWare®
UNIX®
Linux
Umgebung
Betriebstemperatur: 0°C..40°C
Lagertemperatur: -40°C..70°C
Betriebsfeuchtigkeit: 10%..90%, nicht kondensierend
Lagerfeuchtigkeit: 5%..90%, nicht kondensierend
Auszeichnungen

Recommended Product

By Redes Zone: reference Spanish website in networking and telecommunications

2014, Spain
Subscription Für TP-Link ist Datenschutz sehr wichtig. Weitere Informationen zu unseren Datenschutzbedingungen finden Sie in der Datenschutzerklärung von TP-Link.
From United States (English)?
Check products and services for your region.