How to import your customized portal web page to Omada Controller
Este artículo se aplica a:
There are abundant choices of the captive portals in Omada Controller for network managers, including Simple Password, Hotspot, External RADIUS Server, and so on. When a device connects to a WLAN network with a captive portal, a portal web page will pop out and guide the user to pass the network authentication.
Omada Controller provides a succinct build-in web page as the portal page, users can make simple changes to this page including changing background pictures or adjusting the words to suit their needs. However, for some customers, the framework of the web page we offer does not meet their demand. Therefore, Omada Controller also supports importing the customized web page as the portal page.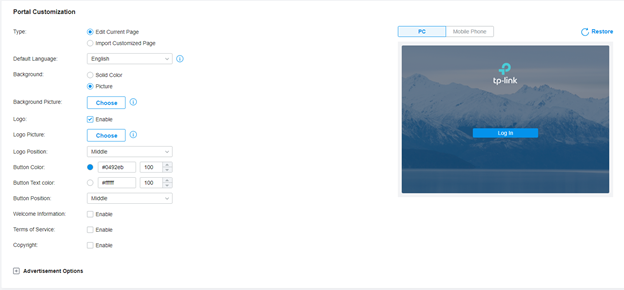 All types of portal support customized portal pages. If the portal type is External Portal Server, the Portal page is already customized as the portal page is offered by an external web server. If you are setting another type of portal, in the Portal Customization entry, choose the type "Import Customized Page", then import your web page file, your web page will be the landing page of the portal.

Here are some notes on how to use this feature.
The backend of the web page is linked to the Controller's database, so you must ensure that the data submitted by the user on the page is passed to the Controller; to do this, you need to refer to the web page template we provide. Click "Download the Template" to go.

The controller supports importing not only a single HTML file, but also a zip file where you can put static resources the page needs such as pictures. (If you failed to import zip file to the Hardware Controller, please upgrade the firmware of the Controller as it is supported since v4.4.4)

If importing an HTML file, it cannot reference any external static resources. If importing a zip package, a portal page can only reference the resources in the zip, and please make sure the relative path is used.

In the zip package, the main page must be named "index.html" so the Controller can recognize it.
¿Es útil esta pregunta frecuente?
Sus comentarios nos ayudan a mejorar este sitio.
Desde United States?
Obtenga productos, eventos y servicios para su región.