Troubleshooting Instruction of TP-Link switch's SFP port
Este artículo se aplica a:
Sometimes, we will encounter the compatible problem that the TP-link smart/managed switches cannot link up with other brands switch when they connected by SFP port. For example, as shown in the picture, the two switches are connected by the fiber, and the LED lights are lighting on, but there is no data transmitted between them. This FAQ will tell you how to do when encountering this phenomenon, and it mainly divides into two steps as below.

Step I: Make sure if the two switches have the same SFP port speed.
When switches connected by SFP port, we need to make sure their SFP port has the same speed first. For example, if the speed of TP-Link switch's SFP port is 1000Mbps, the peer switch's speed also needs to be as 1000Mbps.
Note: Usually, when most manufacturers design switches, the SFP port is designed to not support automatically negotiate speed, so the speed of the SFP port is almost forced.
Step II: Make sure the Duplex mode of them.
Except for the speed of the SFP port, the duplex mode will also impact the result of the negotiation. After checking the speed of them is the same, we need to confirm the switches' Duplex mode next.
If the peer switch's SFP port only supports Force mode, it may cause they cannot negotiate successfully. To solve this problem, the latest versions of TP-Link smart/managed switches (such as T2600G-28TS V4), whose SFP ports are designed to support the auto-bypass feature. With this feature, the switch will negotiate with the peer switch in Auto Duplex mode first, if there is no response, it will back to Force mode. So we just need to keep the Duplex mode of TP-Link switch's SFP port as Auto mode, then it can work with the most other brands switches.
But for some other old version TP-Link switches, they don't support the auto bypass feature. So we need to manually set the duplex mode the same as the peer switch. If you are not sure the peer switch's duplex mode, you can try to change the duplex mode of TP-Link switch alternately to see if they can work. Usually, the SFP port's duplex only supports Full and Auto two types.
For how to change the Duplex mode, please go to L2 FEATURES > Switching >Port > Port Config to do the settings.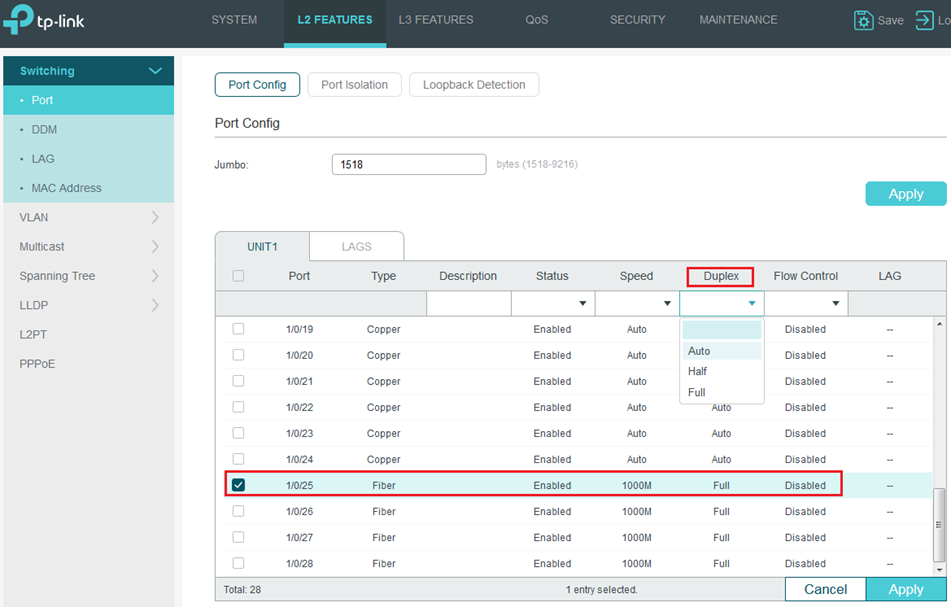 Note: TP-Link managed switch T2600G-28SQ V1 is different from other models because it is the Gigabit SFP L2 Managed Switch which has 28 SFP ports. To make sure its performance to be better, its port1-16 and port17-24 belong to a different hardware module in the design. So these port's duplex behavior may be different when cooperating with other switches. Therefore, if you encounter that the ports of T2600G-28SQ have different duplex behavior, it is a normal situation.
¿Es útil esta pregunta frecuente?
Sus comentarios nos ayudan a mejorar este sitio.
SuscripciónTP-Link toma en serio su privacidad. Para obtener más detalles sobre las prácticas de privacidad de TP-Link, consulte la Política de privacidad de TP-Link.
From United States?
Get products, events and services for your region.