How to Configure Multi-SSID on the Pharos device
Definition: Multi-SSID is only available in Access Point mode. Pharos device can build up to four virtual wireless networks for users to access. When the Multi-SSID function is enabled, its VLAN function is enabled at the same time. The clients with different VLAN ID cannot directly communicate with each other.
Note: Clients are connected to the device via cable don't belong to any VLAN. Thus wired clients can communicate with all the wireless clients despite the VLAN settings.
Access web management page of CPE
Please follow

this link

to access the web interface of CPE.
Note:CPE210 is a 2.4GHz device which can only broadcast 2.4GHz wireless network;CPE510 is a 5GHz device which can only broadcast 5GHz wireless network.Here we take CPE510 as example in this article.
Set it up in Access Point Mode
Go to
Wireless
-
>
Find Multi-SSID section on this page
-
>
Click the arrow button

to display the settings.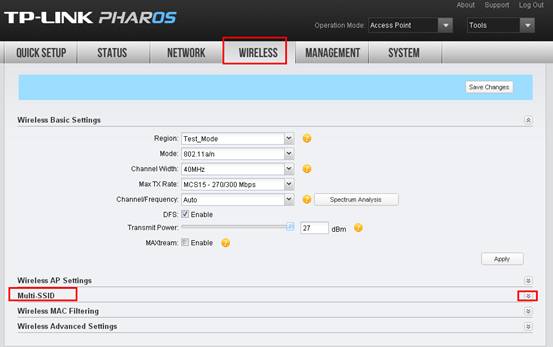 Click Add->
Create a SSID and specify settings for VLAN,SSID Broadcast and AP Isolation
-
>
OK

Explanations of the options:
SSID:
Wireless Network Name to be created.
VLAN:
Value ranges from 1 to 4094.
SSID Broadcast
: Select whether to broadcast this SSID or not.
AP Isolation:
Enable AP Isolation, the device would isolate the guest clients within the same wireless network. All the guest clients cannot communicate with each other.
To configure security settings for different SSIDs, please find Security Settings, select SSID in drop down list.

Select Security Mode (None / WPA-PSK) for the selected SSID, set up security settings for it
-
>
Apply
The default value is None, which means the wireless is not secured. To secure the wireless, choose WPA-PSK, create a wireless password for PSK Password
.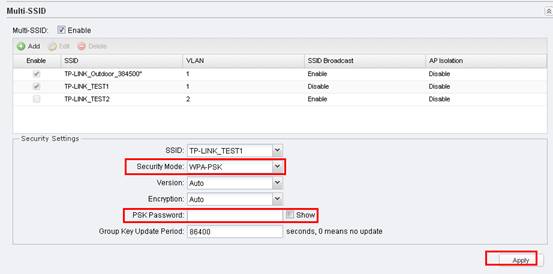 For different SSID, you can configure different wireless password
and VLAN
.
Now you can see the SSIDs you have configured on
your
wireless
device
s.
Get to know more details of each function and configuration please go to
Download Center
to download the manual of your product.
Câu hỏi thường gặp này có hữu ích không?
Phản hồi của bạn giúp cải thiện trang web này.
From United States?
Get products, events and services for your region.