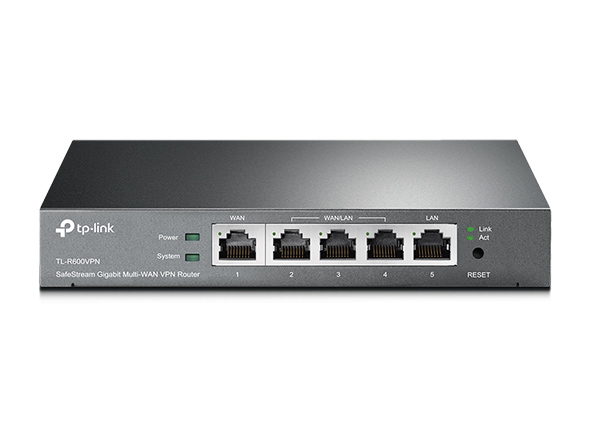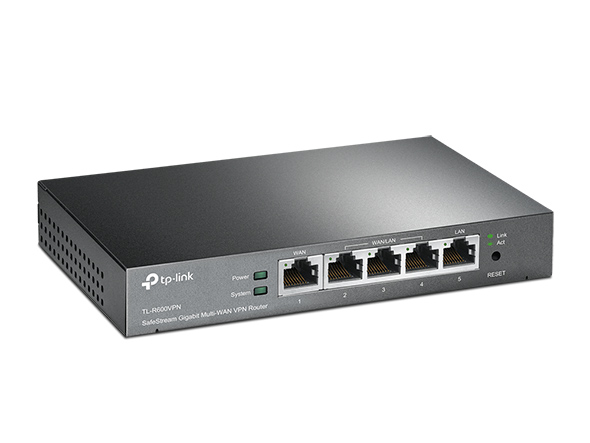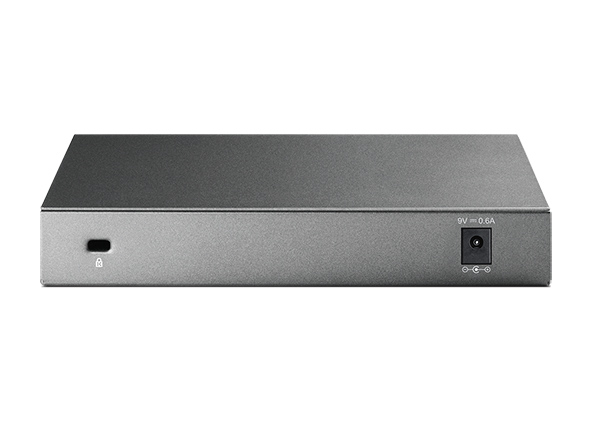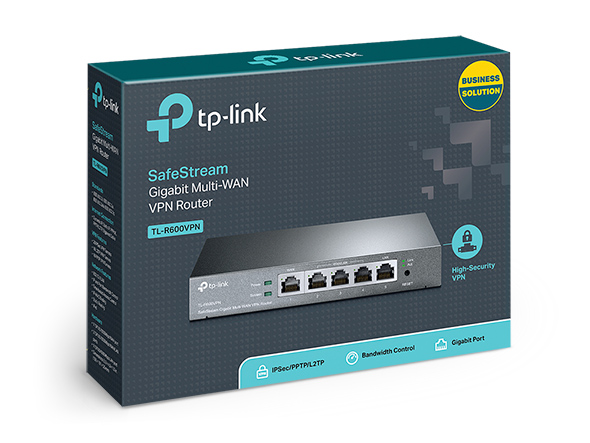 Router VPN băng thông rộng SafeStream Gigabit
1 cổng WAN Gigabit và 3 cổng WAN/LAN Gigabit cung cấp kết nối có dây tốc độ cao
Hỗ trợ các giao thức IPsec/PPTP VPN, có đến 20 đường hầm IPsec VPN và 16 đường hầm PPTP VPN được hỗ trợ đồng thời.
Tường lửa SPI và chống DoS bảo vệ mạng của bạn khỏi các cuộc tấn công phổ biến trên Internet.
Bộ chống sét chuyên nghiệp 4KV bảo vệ đầu tư của bạn được an toàn
Chức năng sản phẩm
TL-R600VPN, Router VPN băng thông rộng dòng SafeStream™ Gigabit của TP-LINK hỗ trợ kết nối Ethernet Gigabit ở cả cổng WAN và LAN đảm bảo kết nối có dây tốc độ cao. Hơn nữa, thiết bị còn tích hợp nhiều giao thức VPN, bảo mật tốt và hiệu suất VPN cao, cho phép nhân viên kết nối từ xa đến văn phòng chính một cách an toàn như là họ đang ở văn phòng chính vậy. Bên cạnh đó, chiến lượt bảo mật phong phú của TL-R600VPN chẳng hạn như tường lửa SPI, chống DoS, ràng buộc địa chỉ IP-MAC giúp bảo vệ mạng của bạn chống lại các cuộc tấn công phổ biến. TL- R600VPN là một sự lựa chọn lý tưởng cho các văn phòng nhỏ cần giải pháp VPN với chi phí thấp và hiệu quả cao, đáng tin cậy.
Khả năng bảo mật cao
Thiết bị TL-R600VPN hỗ trợ các giao thức IPsec và PPTP VPN và có thể xử lý IPsec/PPTP/L2TP thông qua traffic rất tốt. Nó cũng có chức năng tích hợp VPN trong phần cứng cho phép router hỗ trợ và quản lý được 20 kết nối LAN-to-LAN và 16 kết nối PPTP VPN. Chức năng VPN nâng cao bao gồm: mã hóa DES/3DES/AES128/AES192/AES25, chứng thực MD5/SHA1, quản lý khóa Manual/IKE và chế độ đàm phán Main/Aggressive.
Tính năng bảo mật phong phú
Để chống lại các mối đe dọa bên ngoài, thiết bị TL-R600VPN có chức năng tường lửa SPI. Ngoài ra, nó cũng tự động phát hiện và khóa các cuộc tấn công từ chối dịch vụ (DoS) ví dụ như flood TCP/UDB/ICMP, Ping of Death và các mối đe dọa liên quan khác. Hơn nữa, router này cung cấp chức năng lọc theo IP/MAC/ tên miền để ngăn chặn các cuộc tấn công từ những kẻ xâm nhập và virus. Các ứng dụng như FTP, TFTP, H.323 và RTSP sẽ không tương thích tốt với NAT, thiết bị TL-R600VPN sẽ cung cấp cho quản trị viên click vào ALG để kích hoạt các ứng dụng tương ứng.
An toàn cho doanh nghiệp đầu tư
Công nghệ chống sét chuyên nghiệp được thiết kế để ngăn chặn dòng điện tăng nhanh, xâm nhập vào bên trong thiết bị, sau đó được thả ra một cách vô hại vào trái đất. Thiết bị này được thiết kế ra để ngăn chặn điện thế lên tới 4KV trong các điều kiện kết nối có tiếp đất. Chức năng này đảm bảo rằng cơ sở hạ tầng mạng vẫn an toàn với những thiên tai xảy ra.
Chi nhánh

TP-Link Omada offers enterprise-level VPN, real-time network monitoring, and quick network troubleshooting to meet the requirements of headquarters and branches.

VPN
Easy management
Network monitoring and troubleshooting
High security
TÍNH NĂNG PHẦN CỨNG
Chuẩn và Giao thức
IEEE 802.3, 802.3u, 802.3ab
TCP/IP, DHCP, ICMP, NAT, PPPoE, SNTP, HTTP, DNS, IPsec, PPTP

Giao diện
1 Fixed Gigabit WAN Port
1 Fixed Gigabit LAN Port
3 Changeable Gigabit WAN/LAN Ports
Mạng Media
10BASE-T: UTP category 3, 4, 5 cable (Max 100m)
EIA/TIA-568 100Ω STP (Max 100m)
100BASE-TX: UTP category 5, 5e cable (Max 100m)
EIA/TIA-568 100Ω STP (Max 100m)
1000BASE-T: UTP category 5, 5e, 6 cable (Max 100m)
Nút
Reset Button
Bộ cấp nguồn
External 9V/0.6A DC Adapter
Flash
SPI 16MB
DRAM
DDR II 128MB
LED
PWR, SYS, WAN, LAN
Kích thước ( R x D x C )
6.2 × 4.0 × 1.0 in. (158 × 101 × 25mm)
HIỆU SUẤT
Concurrent Session
20000
NAT Throughput
680Mbps
IPsec VPN Throughput (3DES)
13Mbps
CÁC TÍNH NĂNG CƠ BẢN
Dạng kết nối WAN
Static/Dynamic IP,PPPoE/Russian PPPoE, PPTP/Russian PPTP, L2TP/Russian L2TP, Bigpond Cable
MAC Clone
Modify WAN MAC Address
DHCP
DHCP Server/Client
DHCP Address Reservation
TÍNH NĂNG NÂNG CAO
ACL
IP/MAC/Domain Name Filtering
Advanced Routing
Static Routing
ARP Inspection
IP/MAC Binding
Kiếm soát băng tần
IP/Port-based Bandwidth Control
Guarantee & Limited Bandwidth
Forwarding
Virtual Server
Port Triggering
DMZ
UPnP
Bảo mật
SPI Firewall
VPN Passthrough
FTP/TFTP/H.323/RTSP ALG
DoS Defence, Ping of Death
Local Management
VPN
IPsec VPN
20 IPsec VPN Tunnels
LAN-to-LAN
Main, Aggressive Negotiation Mode
DES, 3DES, AES128, AES192, AES256 Encryption Algorithm
MD5, SHA1 Authentication Algorithm
Manual, IKE Key Management Mode
Dead Peer Detection (DPD)
Perfect Forward Secrecy (PFS)
PPTP VPN
16 PPTP VPN Tunnels
PPTP VPN Server
PPTP with MPPE Encryption
L2TP VPN
16 L2TP VPN Tunnels
QUẢN LÝ
Dịch vụ
Dynamic DNS (Dyndns, No-IP, Peanuthull, Comexe)
Maintenance
Time Setting
Diagnostic
Firmware Upgrade
Factory Defaults/Reboot
Backup&Restore
System Log
Remote Management
Statistics
KHÁC
Chứng chỉ
CE, FCC, RoHS
Sản phẩm bao gồm
TL-R600VPN
Power Adapter
RJ-45 Ethernet Cable
Quick Installation Guide
System Requirements
Microsoft® Windows® 8, 7,Vista™, XP or MAC® OS, NetWare®, UNIX® or Linux
Môi trường
Operating Temperature: 0℃~40℃ (32℉~104℉);
Storage Temperature: -40℃~70℃ (-40℉~158℉)
Operating Humidity: 10%~90% non-condensing
Storage Humidity: 5%~90% non-condensing
Giải Thưởng

Eco-Award

R600VPN received the "Ecology Award" from Smarthelpers

2014, Germany
From United States?
Get products, events and services for your region.