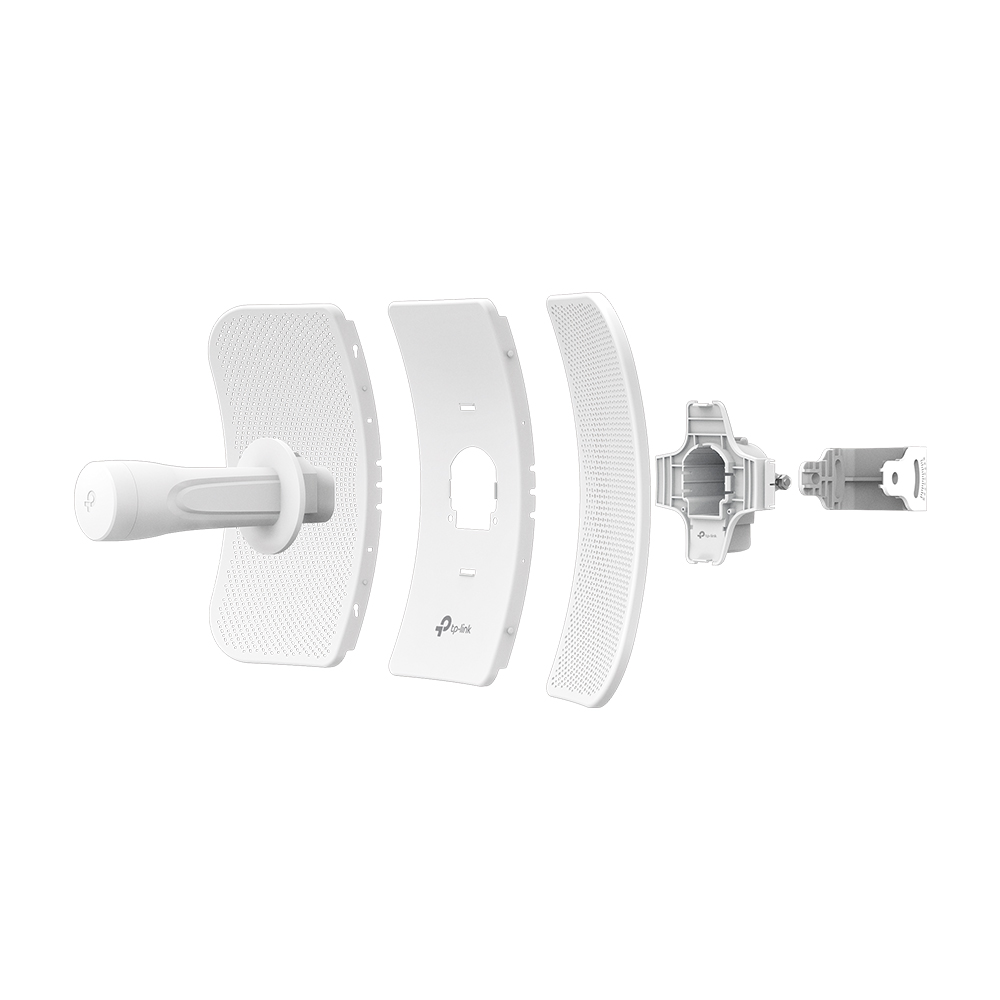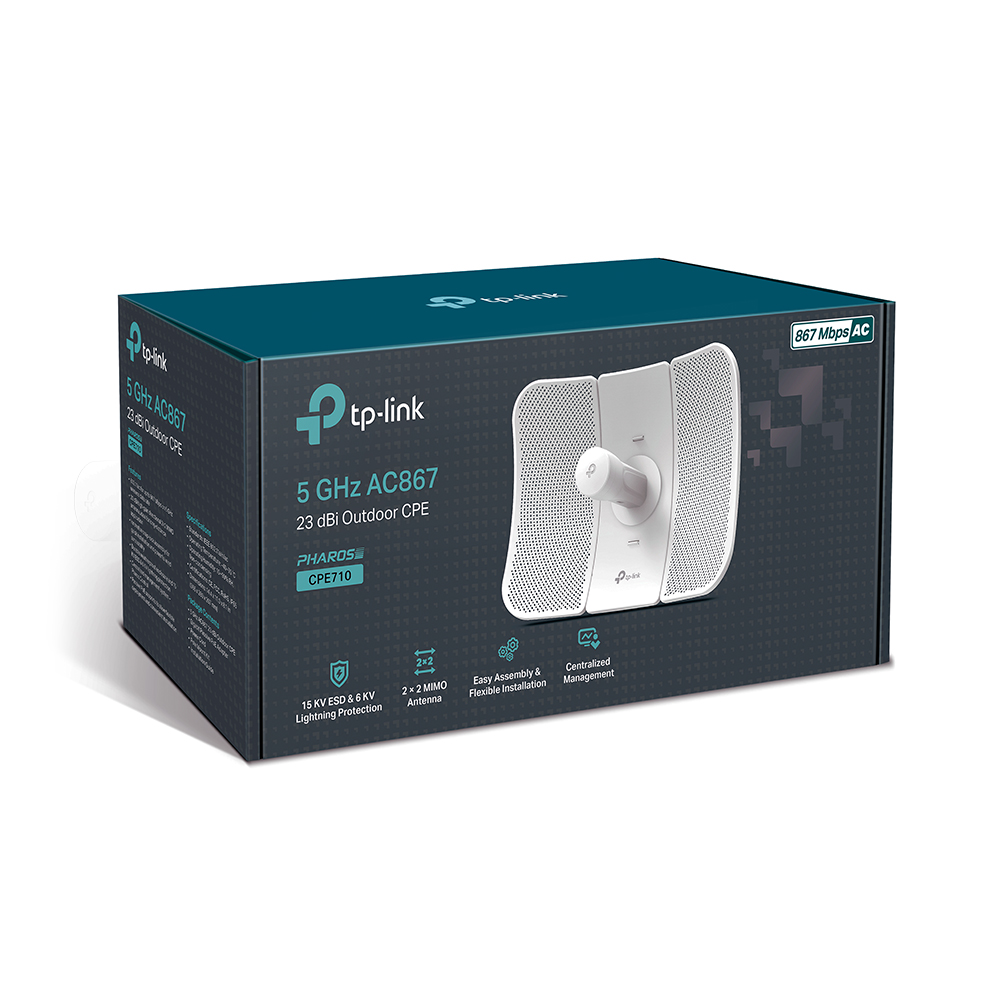 5GHz AC 867Mbps 23dBi Outdoor CPE CPE710
•

802.11ac for up to 867Mbps on 5GHz wireless data rate
•

23dBi high-gain directional 2×2 MIMO, ideal for long-distance application
•

Excellent beam directivity,

improved latency and noise cancellation
•

Innovative snap-lock parts make for fast assembly and a sturdy structural design keeps

CPE

710

stable even in strong winds
•

Durable IP65 weatherproof enclosure along with 15kV ESD and 6kV lightning protection ensures all-weather suitability
•

Pharos Control gives administrators a free, centralized management system
•

Passive

PoE

supports to allow flexible deployment and convenient installation


Uzun Mesafe İletimi için
Kararlı Dış Mekan Wi-Fi
23 dBi Yönlü
2 × 2 MIMO Anten

15 KV ESD & 6 KV
Yıldırımdan Koruma

Kolay Montaj &
Esnek Kurulum

Merkezi
Yönetim

Su ve Toza Karşı
Dayanıklı Yapı

IP65 Hava Koşullarına
Dayanıklı
Hiç Beklemeden Yüksek Hız
256 QAM ve 80 MHz bant genişliği toplam hızları 802.11n Wi-Fi'den 3 kat daha hızlı olan 867 Mbps'ye kadar artırır.
5 GHz
2 × 2 MIMO 802.11n
300 Mbps
2 × 2 MIMO 802.11ac
867 Mbps
3X
Profesyonel standartda 23dBi Yönlü
Uzun Menzilli Kablosuz İletim için Anten
23dBi yüksek kazançlı yönlü Cassegrain anteni ve özel metal reflektörü ile CPE710 mükemmel ışın yönlendirmesi, gelişmiş gecikme ve gürültü bağışıklığı sağlar. Profesyonel performans, kullanıcı dostu tasarımla birleştiğinde, 5GHz 867Mbps 23dBi Dış Mekan CPE710'u dış mekan uzun mesafeli kablosuz ağ uygulamaları için ideal bir seçim ve uygun maliyetli bir çözüm haline getirir.
Kararlı Yapısal Tasarım ve Esnek Kurulum
Anten
Besleme
Yan
Reflektör Paneli
Center
Reflektör Paneli
Yan
Reflektör Paneli
Direk Montajına Uygun
Besleme Alıcısı
Geçmeli kilit parçaları montajı basit ve kullanışlı hale getirir
Direğe montaj kitleri ve üç eksenli hizalama özgürlüğü esnek kurulumu kolaylaştırır
Sağlam tasarım, rüzgarlı koşullarda stabilite sağlar
Kompakt ve
Hafif Ambalaj
Küçük ve hafif kutusu
sayesinde nakliye, lojistik ve perakende gönderilerinizde için fayda sağlar.
15.5 cm
0cm
0cm
32.6 cm
0cm
32.5 cm
0cm
14.2 cm
Pharos Kontrol - Merkezi Yönetim Sistemi
CPE710, kullanıcılara yardımcı olan "Pharos Control "merkezi yönetim yazılımı ile donatılmıştır. Bu sayede ağlarındaki tüm cihazları tek bir bilgisayardan kolayca yönetin. İşlevler arasında aygıt bulma, durum izleme, ve ağ bakımı. Sezgisel bir web tabanlı arayüz - PharOS -alternatif bir yönetim yöntemidir ve profesyonellerin daha ayrıntılı yapılandırmalara erişmesini sağlar.
İlgili Ürünler
Model

CPE710

CPE610

CPE605

Wireless Performans

Wireless Hızı

5GHz 867Mbps

5GHz 300Mbps

5GHz 150Mbps

Transmit Power

27dBm

25dBm

23dBm

MIMO

2 x 2

2 x 2

-

Donanım

Uyumluluk

802.3a/n/ac

802.3a/n

802.3a/n

Anten Kazancı

23dBi

23dBi

23dBi

Hava Koşullarına Dayanıklılık

IP65

IP65

IP65

Lightning Protection

6kV

6kV

6kV

Power Supply

24V Passive PoE Adapter

24V Passive PoE Adapter

24V Passive PoE Adapter

Yazılım

Operasyon Modları

AP / Client / AP Client Router (WISP Client) / AP Router Mode

Channel Bandwidth

20/40/80MHz

5/10/20/40MHz

5/10/20/40MHz

Transmit Power Control

Stepping 1dBm

Stepping 1dBm

Stepping 1dBm

MAXtream TDMA Mode

-

√

√

Throughput Monitors

√

√

√

Spectrum Analyzer

√

√

√

Iperf Speed Test Tool

√

√

√

Pharos Control Destekli
(Merkezi Ağ Yönetim Uygulaması)

√

√

√
*Maximum wireless transmission rates are the physical rates derived from IEEE Standard 802.11 specifications. Range and coverage specifications along with the number of connected devices were defined according to test results under normal usage conditions. Actual wireless transmission rate, wireless coverage, and number of connected devices are not guaranteed, and will vary as a result of 1) environmental factors, including building materials, physical objects and obstacles, 2) network conditions, including local interference, volume and density of traffic, product location, network complexity, and network overhead and 3) client limitations, including rated performance, location, connection quality, and client condition.
*Protection against lightning and electro-static discharge may be achieved through proper product setup, grounding and cable shielding. Refer to the instruction manual and consult an IT professional to assist with setting up this product.
*Power supply distances are based on test results under normal usage conditions. Actual power supply distance will vary as a result of 1) AP status, including transmit power, connected devices and network traffic, 2) cable properties, including type and texture and 3) environmental factors, which include temperature and humidity.
DONANIM ÖZELLİKLERİ
İşlemci
Qualcomm 750MHz CPU, MIPS 74Kc
Bellek
128 MB DDR2 RAM, 16 MB Flash
Arabirim
1 10/100/1000 Mbps Shielded Ethernet Port (LAN/POE)1 Reset Button
Güç Kaynağı
Passive Power over Ethernet via LAN (+4,5pins; -7,8pins)Voltage range: 16-27V DC
Boyutlar ( W X D X H )
366 x 280 x 207 mm (14.4 x 11.0 x 8.1 in.)
Anten Kazancı
23 dBi
Anten Beamwidth
9° (Azimuth)/7° (Elevation)
Koruma
15 KV ESD Protection6 KV Lightning Protection
Muhafaza
Material: Outdoor PC stabilized plasticWeatherproof: IP65 water and dust proof design
KABLOSUZ ÖZELLİKLERİ
Kablosuz Standartlar
IEEE 802.11a/n/ac
Kablosuz Hızı
Up to 867 Mbps (80 MHz, Dynamic)Up to 400 Mbps (40 MHz, Dynamic)Up to 173.4 Mbps (20 MHz, Dynamic)
Frekans
5.15~5.85 GHz
İletim Gücü
Max. 27 dBm (Adjustable power by 1dBm)
YAZILIM ÖZELLİKLERİ
Ağ Yapılandırma
WAN: Static/ Dynamic/ PPPoELAN: Static/ Dynamic/ DHCPForwarding: ALG/ UPnP/ Virtual Server/ Port TriggerSecurity: SPI Firewall/ Ping Forbidden/ DoS ProtectionAccess ControlStatic RoutingBandwidth ControlIP & MAC Binding
Kablosuz Konfigürasyonlar
Selectable Channel Width: 20/40/80MHzAuto Channel SelectionTransmit Power ControlDynamic Frequency Selection(DFS)WDS Enable/ DisableSecurity: WPA/WPA2, WPA-PSK/WPA2-PSK (AES/TKIP) Encryption,SSID Broadcast Enable/ DisableMulti-SSID with VLAN Tagging(AP Mode only)Distance/ ACK Timeout SettingWireless MAC Address FilterWireless Advanced:Beacon Interval/ RTS Threshold/ Fragmentation Threshold/ DTIM Interval/ AP Isolation/ Short GI/ Wi-Fi MultimediaLong Range PtP
Yönetim
Discovery and Remote Management via Pharos Control applicationHTTP/ HTTPS Web-based managementSystem logSNMP Agent(v2c)Ping Watch DogDynamic DDNSSSH Server
Sistem Araçları
Indicators:Signal Strength/ Noise/ Transmit CCQ/ CPU/ MemoryMonitors: Throughput/ Stations/ Interfaces/ ARP/ Routes/ WAN/ DHCPSpectrum AnalyzerSpeed TestPingTraceroute Antenna Alignment
Sistem Düzeyindeki Optimizasyonlar
Optimized IGMP Snooping / Proxy for multicast applications
POE ADAPTÖR ÖZELLİKLERİ
Boyutlar (H X W X D)
85.8×43.9×29.7 mm
Arayüzler
1 AC Jack with Earth Ground1 10/100Mbps Shielded Ethernet Port (Power + Data)1 10/100Mbps Shielded Ethernet Port (Data)
Buton
Remote Reset Button
Güç Durum LEDleri
Green
Giriş
100-240VAC, 50/60Hz
Çıkış
24VDC, 0.5A Max+4, 5pins; -7, 8pins. (Support up to 60m Power over Ethernet)
Verimlilik
>84.29%
Sertifikalar
CE/FCC/UL/IC/GS/PSB/C-tick/SAA/S-Mark/KC-mark
DİĞERLERİ
Sertifika
CE, FCC, RoHS, IP65, IC
Paket İçeriği
Outdoor Wireless CPE24V 0.5A Passive PoE AdapterPole Mounting KitsAC Power CordInstallation Guide
Sistem Gereksinimleri
Microsoft Windows 98SE, NT, 2000, XP, Vista™ or Windows 10, Windows 8, Windows 7, MAC OS, NetWare, UNIX or Linux.Note: We recommend you to use one of following Web browsers for an improved user experience: Google Chrome, Safari, and Firefox. IE browsers are not recommended.
Ortam
Operating Temperature: -40℃~70℃ (-40℉~158℉)Storage Temperature: -40℃~70℃ (-40℉~158℉)Operating Humidity: 10%~90% non-condensingStorage Humidity: 5%~95% non-condensing
AbonelikTP-Link takes your privacy seriously. For further details on TP-Link's privacy practices, see TP-Link's Privacy Policy.