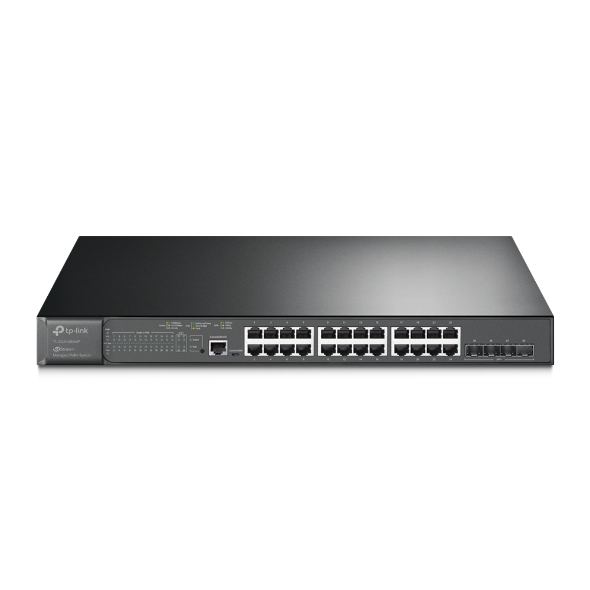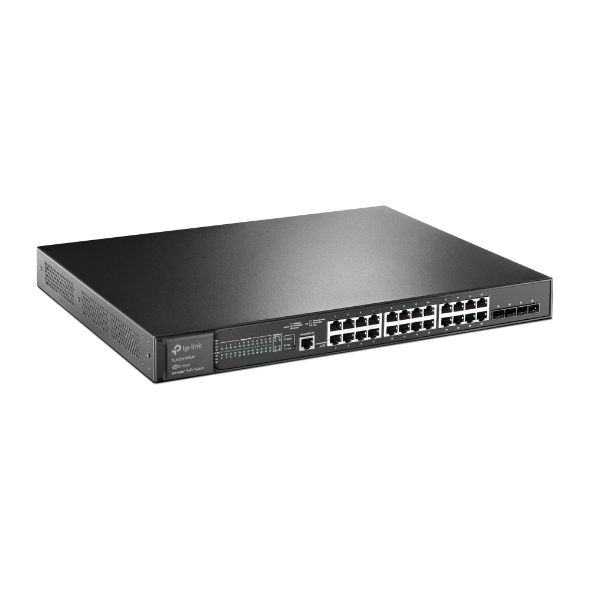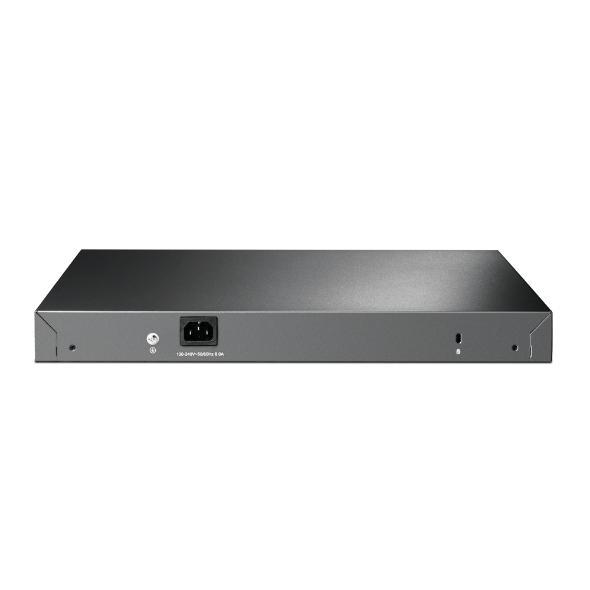 JetStream 24-Port Gigabit and 4-Port 10GE SFP+ L2+ Managed Switch with 24-Port PoE+
10G Lightning-Fast Uplink: 4× 10 Gbps SFP+ slots enable high-bandwidth connectivity and non-blocking switching capacity.
384 W PoE Budget: 24× 802.3at/af-compliant PoE+ ports with a total power supply of 384 W*.
Integrated into Omada SDN: Zero-Touch Provisioning (ZTP)**, Centralized Cloud Management, and Intelligent Monitoring.
Centralized Management: Cloud access and Omada app for ultra convenience and easy management.
Static Routing: Helps route internal traffic for more efficient use of network resources.
Robust Security Strategies: IP-MAC-Port Binding, ACL, Port Security, DoS Defend, Storm control, DHCP Snooping, 802.1X, Radius Authentication, and more.
Optimize Voice and Video Applications: L2/L3/L4 QoS and IGMP snooping.
Standalone Management: Web, CLI (Console Port, Telnet, SSH), SNMP, RMON, and Dual Image bring powerful management capabilities.
Learn more about TP-Link PoE technology >
Learn more about Omada Cloud SDN>​

Centralized Management
10G Uplink Managed Switch with
24 PoE+ Ports for a Complete Omada Network
TL-SG3428XMP
10G Lightning-Fast Uplink Connection

4× 10 Gbps SFP+ Slots for High-Bandwidth Connectivity

PoE+ Output

24× Gigabit PoE+ Ports with Total 384 W Power Budget*

Centralized Cloud Management

SDN Solutions Integration for a Highly Efficient Network

Advanced L2+ Features

Static Routing, IGMP Snooping, 802.1Q VLAN and More
Enterprise Switch with 10G Uplink
4× 10 Gbps SFP+ slots provide non-blocking switching performance and ultra-low latency, so reliable and lightning-fast connections to servers and other switches are easily built.
Dedicated 24 PoE+ Ports (384 W Budget)
for Numerous Applications
Features 24× 802.3af/at compliant PoE+ ports, the switch supports up to 384 W total PoE power budget.* Designed to use a single Ethernet cable for both data and power transmission, it offers flexible deployment for PoE-supported devices such as wireless access points, IP cameras, and IP phones, lowering infrastructure costs for small businesses.
IP Camera
IP Phone
Access Point
TL-SG3428XMP
Router
Internet
24× Gigabit PoE+ Ports Up to 30 W on Each Port Total 384 W Power Budget
Software-Defined Networking (SDN) with Cloud Access
Omada's Software-Defined Networking (SDN) platform integrates network devices, including access points, switches, and gateways, providing 100% centralized cloud management. Omada creates a highly scalable network—all controlled from a single interface. Seamless wireless and wired connections are provided, ideal for use in hospitality, education, retail, offices, and more.
Wi-Fi 6
Celling Mount
Wall Plate
Outdoor
Unified Management Interface
Cloud
Hassle-Free Cloud or
On-Premises Controllers

Multi-Site Cloud
Management

Zero-Touch
Provisioning (ZTP)**
Advanced L3 Features
An abundance of L2+ and L3 features are supported to help build a highly scalable and robust network, providing a reliable and efficient solution for enterprises, campuses and ISPs.
Secure Networking
Security features include IP-MAC-Port-VID Binding, Port Security, Storm Control, and DHCP Snooping to defend against a range of network threats. An integrated list of common DoS attacks is available, making it easier than ever to prevent them. In addition, the Access Control Lists (ACL, L2 to L4) feature restricts access to sensitive network resources by denying packets based on source and destination MAC address, IP address, TCP/UDP ports, or VLAN ID. Users' network access can be controlled via 802.1X authentication, which works with a RADIUS/Tacacs+ server to grant access only when valid user credentials are provided.
Enterprise Level Features
A complete lineup of L2+ features is supported, including 802.1Q VLAN, Port Mirroring, STP/RSTP/MSTP, Link Aggregation Control Protocol, and 802.3x Flow Control. Advanced IGMP Snooping ensures the switch intelligently forwards multicast streams to only the appropriate subscribers, cutting out unnecessary traffic, while IGMP throttling & filtering restrict each subscriber on a port level to prevent unauthorized multicast access. Static Routing is a simple way of segmenting the network and internally routs traffic through the switch for improved efficiency.
Advanced QoS
Voice and video traffic can be prioritized based on IP address, MAC address, TCP port number, UDP port number, and more. With QoS (Quality of Service), voice and video services remain smooth, even when bandwidth is in short supply.
ISP Features***
sFlow, QinQ, L2PT PPPoE ID Insertion, and IGMP authentication features are provided, developed with service providers in mind. 802.3ah OAM and Device Link Detection Protocol (DLDP) offer easy monitoring and troubleshooting of Ethernet links.
IPv6 Support
IPv6 functions such as Dual IPv4/IPv6 Stack, MLD Snooping, IPv6 ACL, DHCPv6 Snooping, IPv6 Interface, Path Maximum Transmission Unit (PMTU) Discovery, and IPv6 Neighbor Discover guarantee your network is ready for the Next Generation Network (NGN) without upgrading your hardware.
Switches for Surveillance

สำหรับการเฝ้าระวังต่างๆ , TP-Link ได้ออกแบบสวิซต์แบบ PoE มาเพื่อตอบสนองความต้องการของ IPC ส่วนใหญ่ ฟีเจอร์ต่างๆขั้นพื้นฐานเพื่อใช้งานบนระบบเครือข่ายเน็ตเวิร์ค เพื่อจะทำให้ธุรกิจของคุณเติบโตและได้รับมาตรฐาน

การใช้งาน PoE ระยะไกล (Long-Range PoE)
การเรียกคืนกล้องอัตโนมัติ (Auto Camera Recovery)
ความปลอดภัยเครือข่ายขั้นสูง (Enhanced Network Security)

Switches for Business WiFi

สำหรับธุรกิจขนาดเล็กและขนาดกลาง เครือข่ายสวิตช์เป็นองค์ประกอบพื้นฐานในการสร้างเครือข่ายธุรกิจ ช่วยให้พนักงานสามารถสื่อสารและแบ่งปันข้อมูลภายในเครือข่าย (LAN) สนับสนุนความต้องการในเครือข่ายทางธุรกิจของคุณ และเพิ่มประสิทธิภาพการทำงาน

ใช้งานอินเทอร์เน็ตเต็มสปีดผ่านสาย LAN
ควบคุมจัดการง่าย
กลยุทธ์ด้านความปลอดภัยที่เชื่อถือได้
ใช้งบไม่เยอะ/ค่าใช้จ่ายต่ำ
HARDWARE FEATURES
Interface
• 24× 10/100/1000 Mbps RJ45 Ports• 4× 10G SFP+ Slots• 1× RJ45 Console Port• 1× Micro-USB Console Port
Fan Quantity
2
Power Supply
100-240 V AC~50/60 Hz
PoE+ Ports(RJ45)
• Standard: 802.3at/af compliant• PoE+ Ports: 24 Ports, up to 30 W per port• Power Budget: 384 W
Dimensions ( W x D x H )
17.3 × 13.0 × 1.7 in (440 × 330 × 44 mm)
Mounting
Rack Mountable
Max Power Consumption
• V1: 465.8 W (110V/60Hz) ( with 384 W PD device connected); 34.4 W (110V/60Hz) ( no PD device connected)• V2: 455.5 W (110V/60Hz) ( with 384 W PD connected)
Max Heat Dissipation
• V1: 1589.31 BTU/h (110 V/60 Hz) (with 384 W PD device connected); 117.38 BTU/h (110 V/60 Hz) (no PD device connected)• V2: 1554.39 BTU/hr (110 V/60 Hz) (with 384 W PD connected)
PERFORMANCE
Switching Capacity
128 Gbps
Packet Forwarding Rate
95.23 Mpps
MAC Address Table
16 K
Packet Buffer Memory
12 Mbit
Jumbo Frame
9 KB
SOFTWARE FEATURES
Quality of Service
• 8 priority queues• 802.1p CoS/DSCP priority• Queue scheduling - SP (Strict Priority) - WRR (Weighted Round Robin) - SP+WRR• Bandwidth Control - Port/Flow based Rating Limiting• Smoother Performance• Action for Flows - Mirror (to supported interface) - Redirect (to supported interface) - Rate Limit - QoS Remark
L2 and L2+ Features
• Link Aggregation - static link aggregation - 802.3ad LACP - Up to 8 aggregation groups, containing 8 ports per group• Spanning Tree Protocol - 802.1d STP - 802.1w RSTP - 802.1s MSTP - STP Security: TC Protect, BPDU Filter, Root Protect• Loopback Detection - Port based - VLAN based• Flow Control - 802.3x Flow Control - HOL Blocking Prevention• Mirroring - Port Mirroring - CPU Mirroring - One-to-One - Many-to-One - Tx/Rx/Both
L2 Multicast
• IGMP Snooping - IGMP v1/v2/v3 Snooping - Fast Leave - IGMP Snooping Querier - IGMP Authentication• IGMP Authentication• MLD Snooping - MLD v1/v2 Snooping - Fast Leave - MLD Snooping Querier - Static Group Config - Limited IP Multicast• MVR• Multicast Filtering: 256 profiles and 16 entries per profile
VLAN
• VLAN Group - Max 4K VLAN Groups• 802.1Q Tagged VLAN• MAC VLAN: 30 Entries• Protocol VLAN: Protocol Template 16, Protocol VLAN 16• Private VLAN• GVRP• VLAN VPN (QinQ) - Port-Based QinQ - Selective QinQ• Voice VLAN
Access Control List
• Time-based ACL• MAC ACL - Source MAC - Destination MAC - VLAN ID - User Priority - Ether Type• IP ACL -Source IP - Destination IP - Fragment - IP Protocol - TCP Flag - TCP/UDP Port - DSCP/IP TOS - User Priority• Combined ACL• Packet Content ACL• IPv6 ACL• Policy - Mirroring - Redirect - Rate Limit - QoS Remark• ACL apply to Port/VLAN
Security
• IP-MAC-Port Binding - 512 Entries - DHCP Snooping - ARP Inspection - IPv4 Source Guard: 100 Entries• IPv6-MAC-Port Binding - 512 Entries - DHCPv6 Snooping - ND Detection - IPv6 Source Guard: 100 Entries• DoS Defend• Static/Dynamic Port Security - Up to 64 MAC addresses per port• Broadcast/Multicast/Unicast Storm Control - kbps/ratio control mode• 802.1X - Port base authentication - Mac base authentication - VLAN Assignment - MAB - Guest VLAN - Support Radius authentication andaccountability• AAA (including TACACS+)• Port Isolation• Secure web management through HTTPS with SSLv3/TLS 1.2• Secure Command Line Interface (CLI) management with SSHv1/SSHv2• IP/Port/MAC based access control
IPv6
• IPv6 Dual IPv4/IPv6• Multicast Listener Discovery (MLD) Snooping• IPv6 ACL• IPv6 Interface• Static IPv6 Routing• IPv6 neighbor discovery (ND)• Path maximum transmission unit (MTU) discovery• Internet Control Message Protocol (ICMP) version 6• TCPv6/UDPv6• IPv6 applications - DHCPv6 Client - Ping6 - Tracert6 - Telnet (v6) - IPv6 SNMP - IPv6 SSH - IPv6 SSL - Http/Https - IPv6 TFTP
L3 Features
• 16 IPv4/IPv6 Interfaces• Static Routing - 48 static routes• Static ARP - 128 Static Entries• Proxy ARP• Gratuitous ARP• DHCP Server • DHCP Relay - DHCP Interface Relay - DHCP VLAN Relay• DHCP L2 Relay
Advanced Features
• Automatic Device Discovery• Batch Configuration• Batch Firmware Upgrading• Intelligent Network Monitoring• Abnormal Event Warnings• Unified Configuration• Reboot Schedule
MIBs
• MIB II (RFC1213)• Interface MIB (RFC2233)• Ethernet Interface MIB (RFC1643)• Bridge MIB (RFC1493)• P/Q-Bridge MIB (RFC2674)• RMON MIB (RFC2819)• RMON2 MIB (RFC2021)• Radius Accounting Client MIB (RFC2620)• Radius Authentication Client MIB (RFC2618)• Remote Ping, Traceroute MIB (RFC2925)• Support TP-Link private MIB
MANAGEMENT
Omada App
Yes. Requiring the use of OC300, OC200, Omada Cloud-Based Controller, or Omada Software Controller.
Centralized Management
• Omada Cloud-Based Controller• Omada Hardware Controller (OC300)• Omada Hardware Controller (OC200)• Omada Software Controller
Cloud Access
Yes. Requiring the use of OC300, OC200, Omada Cloud-Based Controller, or Omada Software Controller.
Zero-Touch Provisioning
Yes. Requiring the use of Omada Cloud-Based Controller.
Management Features
• Web-based GUI• Command Line Interface (CLI) through the console port, telnet• SNMP v1/v2c/v3 - Trap/Inform - RMON (1,2,3,9 groups)• SDM Template• DHCP/BOOTP Client• 802.1ab LLDP/LLDP-MED• DHCP AutoInstall• Dual Image, Dual Configuration• CPU Monitoring• Cable Diagnostics• EEE• Password Recovery• SNTP• System Log
OTHERS
Certification
CE, FCC, RoHS
Package Contents
• TL-SG3428XMP Switch• Power Cord• Quick Installation Guide• Rackmount Kit• Rubber Feet
System Requirements
Microsoft® Windows® 98SE, NT, 2000, XP, Vista™ or Windows 7/8/10/11, MAC® OS, NetWare®, UNIX® or Linux.
Environment
• Operating Temperature: 0–45 ℃ (32–113 ℉);• Storage Temperature: -40–70 ℃ (-40–158 ℉)• Operating Humidity: 10–90% RH non-condensing• Storage Humidity: 5–90% RH non-condensing
*PoE budget calculations are based on laboratory testing. Actual PoE power budget is not guaranteed and will vary as a result of client limitations and environmental factors.
**Zero-Touch Provisioning requires the use of Omada Cloud-Based Controller. Please go to Omada Cloud-Based Controller Product List to find all the models supported by Omada Cloud-Based Controller.
***ISP features can only be configured in standalone mode.
Attention: It is recommended to use only one TL-SM5310-T module for TL-SG3428XMP.
From United States?
Get products, events and services for your region.