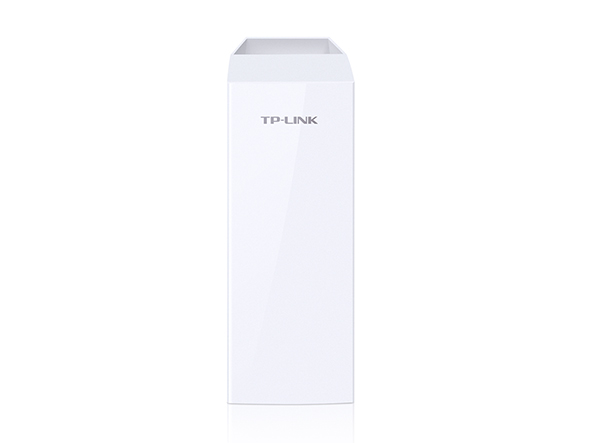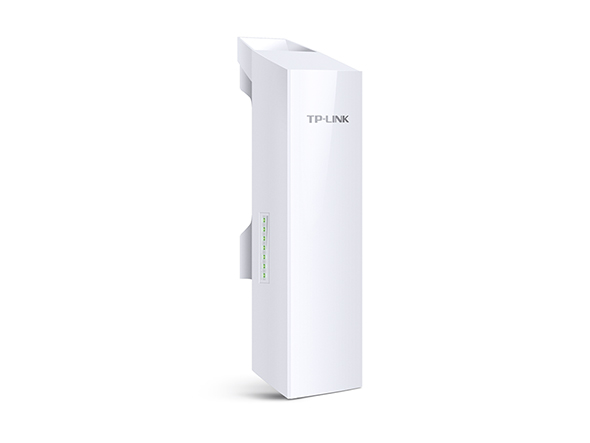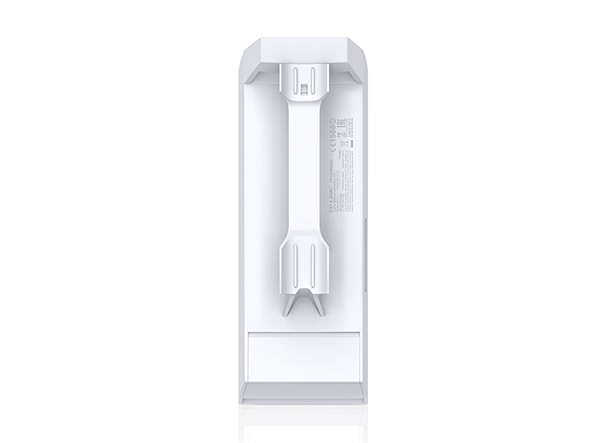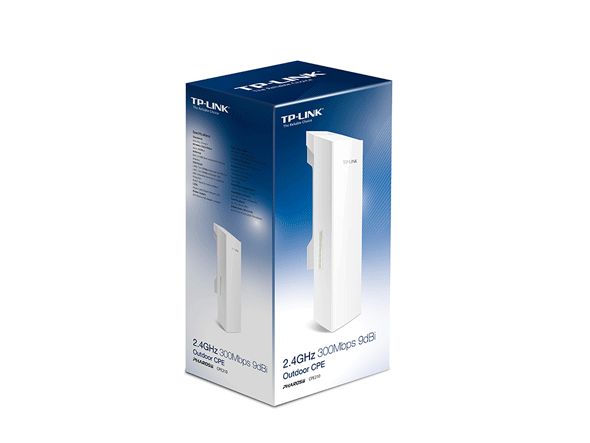 CPE210
2.4GHz 300Mbps 9dBi Outdoor CPE
คุณสมบัติที่โดดเด่น:
เสา 2x2 ภายในซึ่งสามารถรับและส่งได้ทั้งแบบคลื่นแนวตั้งและแนวนอน 9dBi
สามารถปรับเปลี่ยนค่ากำลังส่งจาก 0 ได้ถึง 27dBm/500mw
เพิ่มประสิทธิภาพของระบบให้รองรับได้ไกลมากกว่า 5km
TP-LINK Pharos MAXtream TDMA (Time-Division-Multiple-Access) เป็นเทคโนโลยีที่ช่วยเพิ่มประสิทธิภาพของ Throughput , ปริมาณผู้ใช้ , ลดค่าการดีเลย์ให้น้อยลง แนวคิดนี้สำหรับ Point to Multipoint
สามารถใช้ Pharos Control เป็นศูนย์กลางจัดการระบบ
มีระบบปฏิบัติการ AP / Client / Repeater / AP Router / AP Client Router (WISP)
Passive POE Adapter ที่ช่วยให้ติดตั้งได้ไกลถึง 60 เมตร (200 ฟีต) และยังสามารถเป็น Remote ไว้สำหรับ Reset ค่าอุปกรณ์
Point-to-Multi-Point Connections
TP-LINK's 2.4GHz 300Mbps 9dBi Outdoor CPE หรือ CPE210 ของทีพี-ลิงค์ ให้การทำงานที่มีประสิทธิภาพสำหรับเครือข่ายสัญญาณไร้สายภายนอกอาคาร ด้วยการจัดการผ่านศูนย์กลาง เหมาะสำหรับการเชื่อมต่อแบบ point-to-point , point-to-multipoint และ การครอบคลุมสัญญาณ Wi-Fi ภายนอกอาคาร ด้วยประสิทธิภาพการทำงานที่ดีเยี่ยม ควบคู่ไปกับการออกแบบมาเพื่อให้ผู้ใช้ใช้งานง่าย ให้ CPE510 เป็นอีกทางเลือกหนึ่งสำหรับ ธุรกิจและบ้านของคุณ
Enterprise Hardware
ด้วยชิพเซ็ทระดับ Enterprise จาก Qualcomm Atheros , สายอากาศกำลังส่งสูงและวัสดุที่มีคุณภาพสูงที่ออกแบบมาเป็นพิเศษ และ PoE ออกแบบมาเพื่อการใช้งานภายนอกอาคาร สามารถทำงานได้อย่างไม่มีที่ติในเกือบทุกสภาพภูมิอากาศด้วยอุณหภูมิตั้งแต่ -30°C (-22°F) ถึง +70 °C (158°F)
Qualcomm Atheros enterprise 560MHz CPU
High power Tx and high sensitivity Rx radio front-end design
Advanced Antenna System
สายอากาศภายในแบบสองแกน (Dual-Polarized)
กำลังส่งสูงและมีโลหะเพื่อป้องกันการสะท้อนกลับของสัญญาณ
เพื่อให้มั่นใจได้ว่าจะได้กำลังส่งสูงและการถูกรบกวนต่ำ
V-Pol Co-polarization Pattern
H-Pol Co-polarization Pattern
5km+ Wireless Data Transmission
การออกแบบมาเป็นพิเศษเพื่อใช้งานกลางแจ้ง สำหรับการส่งข้อมูลผ่านสัญญาณไร้สายที่ระยะ 5 km+ ,จากการทดสอบในการใช้งานจริง
5km+
TP-LINK MAXtream TDMA Technology
เมื่อขนาดของเครือข่ายใหญ่ขึ้นจะเกิดการชนกันของข้อมูลระหว่าง CPEs และสถานีส่ง ทำให้ประสิทธิภาพโดยรวมของเครือข่ายลดลง ผลลัพธ์ทำให้เกิดผลกระทบต่อผู้ใช้งาน เพื่อป้องกันปัญหา CPE510 จึงใช้เทคโนโลยี MAXtream TDMA
Pharos Control – Centralized Management System
CPE210 มาพร้อมกับฟังก์ชันสำหรับจัดการผ่านศูนย์กลาง ซึ่งช่วยให้ผู้ใช้งานจัดการอุปกรณ์อย่างง่ายดายบนเครือข่ายจาก PC Pharos Control ฟังก์ชั่นเช่นเดียวกับการค้นหาอุปกรณ์ การตรวจสอบ การอัพเกรดเฟริมแวร์ และการบำรุงรักษาเครือข่าย
PharOS
ระบบจัดการบนเว็บที่ง่ายต่อผู้ใช้ อนุญาตให้ผู้เชี่ยวชาญตั้งค่าแบบ เฉพาะเจาะจงมากยิ่งขึ้น
2.4GHz 300Mbps 9dBi Outdoor CPE
CPE210
สายอากาศภายใน MIMO ขนาด 9 dBi แบบสองแกน กระจายสัญญาณไปในทิศทางเดียว
AP / Client / Repeater / AP Router /
AP Client Router (WISP) operation modes
6000V Lightning Protection
Weather Proof Enclosure
15KV ESD Protection
Passive PoE Adapter
CPE210
TL-WA7510N
TL-WA7210N
TL-WA5210G

Wireless Performance

Wireless Speed

2.4GHz 300Mbps

5GHz 150Mbps

2.4GHz 150Mbps

2.4GHz 54Mbps

Transmit Power

27dBm

27dBm

27dBm

27dBm

Antenna

9dBi

15dBi

12dBi

12dBi

MIMO

√

-

-

-

Coverage Range

5km+

5km+

5km+

2km+

Hardware

Processor

560MHz
(Enterprise Level)

400MHz

400MHz

180MHz

Memory

64MB DDR2
(Enterprise Level)

32MB DDR

32MB DDR

16MB DDR

Compatibility

802.11b/g/n

802.11a/n

802.11b/g/n

802.11 b/g

External Antenna Interface

-

1 * RP-SMA

1 * RP-SMA

1 * RP-SMA

Weatherproof Enclosure

√(IPX5)

√

√

√

Dual Ethernet Ports

√

-

-

-

PoE Passthrough

√

-

-

-

Grounding Terminal

√

√

√

√

Lightning Protection over
Ethernet Cable

√

-

-

-

ESD Protection

15kV

15kV

15kV

15kV

Lightning Protection

6kV

4kV

4kV

4kV

Power Supply

24V Passive PoE
Adapter

12V Power Adapter + Passive PoE Injector

Software

Operation Modes

AP / Client / Bridge / Repeater / AP Client Router (WISP Client) / AP Router Mode

MAXtream TDMA Mode

√

-

-

-

Channel Bandwidth

5/10/20/40MHz

20/40MHz

20/40MHz

20MHz

Transmit Power Control

Stepping 1dBm

Stepping 3dBm

Stepping 3dBm

-

Antenna Alignment

√

√

√

√

Throughtput Monitors

√

-

-

-

Spectrum Analyzer

√

-

-

-

Iperf Speed Test Tool

√

-

-

-

Pharos Control Supported
(Central Network Management Application)

√

-

-

-
Wireless Networking for Elevators

TP-Link offers wireless point to point link delivering up to 300 Mbps throughput. The point to point link provides wireless coverage to the entire shaft, and delivers network to the elevator car, connecting the surveillance cameras or digital signage. So that real time video can be recorded to a DVR without hard wiring coax cable directly from the camera to the recorder.

Easy, Flexible Installation
Stable Connections at High-Speeds
Ideal for Elevator Camera
No Complex Cabling
PoE Support
HARDWARE FEATURES
Processor
Qualcomm Atheros 560MHz CPU, MIPS 74Kc
Memory
64MB DDR2 RAM, 8MB Flash
Interface
1 10/100Mbps Shielded Ethernet Port (LAN0,Passive PoE in)
1 Grounding Terminal
1 Reset Button
Power Supply
Passive Power over Ethernet via LAN0 (+4,5pins; -7,8pins)
Voltage range: 16-27VDC
Power Consumption
10.5 Watts Max
Note: When deployed using Passive PoE, the power drawn from the power source will be higher by some amount depending on the length of the connecting cable.
Dimensions ( W x D x H )
224 x 79 x 60 mm
Antenna Type
Built-in 9dBi 2x2 Dual-polarized Directional Antenna
Beam Width: 65° (H-Plane) / 35° (E-Plane)
Note: For more details, please refer to datasheet
Protection
15KV ESD Protection
6KV Lightning Protection
Enclosure
Outdoor ASA stabilized plastic material
IPX5 waterproof Certification
WIRELESS FEATURES
Wireless Standards
IEEE 802.11b/g/n (with Pharos MAXtream disabled)
Proprietary Protocol
TDMA Mode (with Pharos MAXtream enabled)
Wireless Speeds
Up to 300Mbps (40MHz,Dynamic)
Up to 144.4Mbps (20MHz,Dynamic)
Up to 72.2Mbps (10MHz,Dynamic)
Up to 36.1Mbps (5MHz,Dynamic)
Frequency
2.4~2.483GHz
Note: Available operating frequency may vary depending on the limitations of the countries or regions in which the device is used.
Transmission Power
27dBm/500mw (Adjustable power by 1dBm)
Note: Maximum transmission power may vary across different channels depending on the limitations of the countries or regions in which the device is used.
SOFTWARE FEATURES
Wireless Configurations
Pharos MAXtream TDMA Technology
802.11b/g/n Modes
Selectable Channel Width: 5/10/20/40MHz
Automatic Channel Selection
Transmission Power Control
Dynamic Frequency Selection (DFS)
WDS Enable/Disable
Security: WPA/WPA2, WPA-PSK/WPA2-PSK (AES/TKIP) Encryption, 64/128/152-bit WEP Encryption
SSID Broadcast Enable/Disable
Multi-SSID with VLAN Tagging (AP mode only)
Distance/ACK Timeout Setting
Wireless MAC Address Filter
Wireless Advanced:
> Beacon Interval/RTS Threshold/Fragmentation
>Threshold/DTIM Interval/AP Isolation/Short GI/Wi-Fi Multimedia
Management
Discovery and Remote Management via Pharos Control application
HTTP/HTTPS Web-based management
System Log
SNMP Agent(v2c)
Ping Watch Dog
Dynamic DDNS
SSH Server
System Tools
Wireless Signal Quality Indicators:
Signal Strength/Noise/Transmit CCQ/CPU/Memory
Monitors: Throughput/Stations/Interfaces/ARP/Routes/WAN/DHCP
Spectrum Analyzer
Speed Test
Ping
Traceroute
System-level Optimizations
Optimized IGMP Snooping/Proxy for multicast applications
Hardware watch dog
POE ADAPTER FEATURES
Dimensions(W x D x H)
110*57*33.5mm
Interfaces
1 AC Jack with Earth Ground
1 10/100/1000Mbps Shielded Ethernet Port (Power + Data)
1 10/100/1000Mbps Shielded Ethernet Port (Data)
Button
Remote Reset Button
Power Status LEDs
0~0.8A: Green
0.8A~1.0A: Red
Input
100-240VAC, 50/60Hz
Input Voltage
100VA~240VAC @ 50Hz~60Hz
Input Current
0.8A Max @ 100VAC
Output
24VDC, 1.0A Max
+4, 5pins; -7, 8pins. (Support up to 60m Power over Ethernet)
Output Voltage
24VDC(+4,5pins; -7,8pins)
Efficiency
>80%
Certifications
CE/FCC/UL/IC/GS/PSB/C-tick/SAA/S-Mark/KC-mark
OTHERS
Certification
CE, FCC, RoHS, IPX5
Package Contents
Outdoor Wireless CPE
24V 1A Passive PoE Adapter
Pole Mounting Straps
AC Power Cord
Installation Guide
System Requirements
Microsoft Windows 98SE, NT, 2000, XP, Vista™ or Windows 10, Windows 8, Windows 7, MAC OS, NetWare, UNIX or Linux.
Note: We recommend you to use one of following Web browsers for an improved user experience: Google Chrome, Safari, and Firefox. IE browsers are not recommended.
Environment
Operating Temperature: -30°C~70°C (-22℉~158℉)
Storage Temperature: -40℃~70℃ (-40℉~158℉)
Operating Humidity: 10%~90% non-condensing
Storage Humidity: 5%~95% non-condensing
SubscriptionTP-Link takes your privacy seriously. For further details on TP-Link's privacy practices, see TP-Link's Privacy Policy.
From United States?
Check products and services for your region.