How to add an Omada Gateway to the network? (Controller 4.4.3 or above)
If you would like to replace your existing router with an Omada Gateway to the working network, you will face some problems, such as IP conflict or adoption failure. This article will introduce the recommended configuration process and help sort out the configuration process, taking the below network as an example.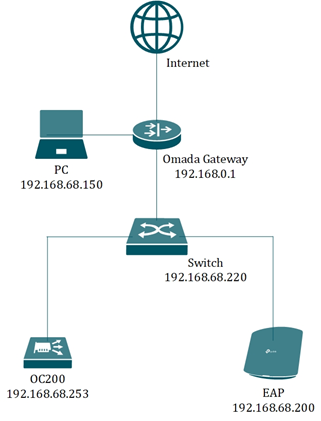 All existing devices in this network have obtained IP addresses in the subnet of 192.168.68.0/24. However, the default LAN IP address of Omada Gateway is 192.168.0.1, which is in a different subnet from the devices, and will cause adoption failure.
Step 1. Change the LAN IP address in Omada Controller
Before replacing the old router, please log into the Controller page, go to Settings-Wired Networks-LAN, edit LAN network, change the Gateway/Subnet to 192.168.68.1/24. Click "Update DHCP range", and then click "Save".

Step 2. Change the LAN IP address of Omada Gateway in standalone mode
Connect one PC and get an IP address from the Omada Gateway. Input 192.168.0.1 to the address bar in the web browser and you will visit the management page of Omada gateway.
After logging into the page, go to Network-LAN, change the IP Address to 192.168.68.1, and modify Starting IP Address and Ending IP Address, click save.
Now you can replace the old router with your Omada Gateway.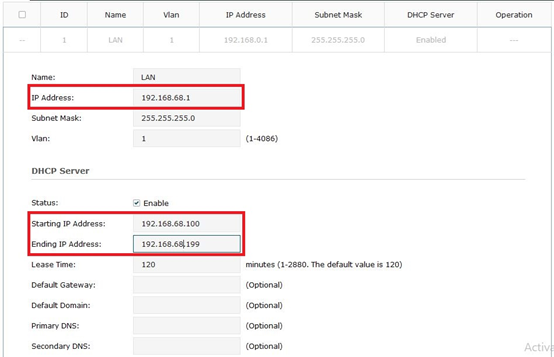 Step 3. Adopt the Omada Gateway
Go back to the Controller page, there will be the Omada Gateway in Pending status. Please click the gateway and adopt it.
Step 4. Renew IP address of devices or set static IP
Since we have changed the gateway in the network, the IP address of switch/EAP/OC200 will be changed if the DHCP release time expires. And then you may need to use the Omada Controller to manage these devices again.
We suggest settings static IP addresses for these devices in the Omada Controller in advance.
You can also unplug and plug the Ethernet cable of these devices to upgrade the IP address manually and use the Omada Controller to manage them again.
Related Articles:
How to add an Omada Gateway to the network? (Controller 4.3.5 or below)
Este guia foi útil?
A sua resposta ajuda-nos a melhorar o nosso site.
SubscriçãoA TP-Link Corporation Limited leva a sua privacidade a sério. Para mais detalhes sobre as Politicas de Privacidade da TP-Link, consulte Termos e Condições de Privacidade.
From United States?
Obtenha produtos, eventos e serviços para a sua região.