Frequently Asked Questions about EAP115-Wall
Q: What is EAP115-Wall's advantage over ceiling mount designed EAP product?
A: Though software design exactly the same, EAP115-wall's hardware design outweighs ceiling mount designed EAP in the following 4 ways:
The appearance is concise, compactly designed, merging perfectly with indoor-decoration.
More suitable for Hotel, Office, Campus and flat, where need both Ethernet Interface and Wi-Fi.
Installation is easy and fast. The only tool you need is a utility screwdriver.
Fit for the mainstream two kinds of wall junction box: both 86mm wall junction box and stand EAP junction box.
Q: How to Install EAP-wall?
A: To begin with, you should first get to know EAP115-Wall Front Panel and Back Panel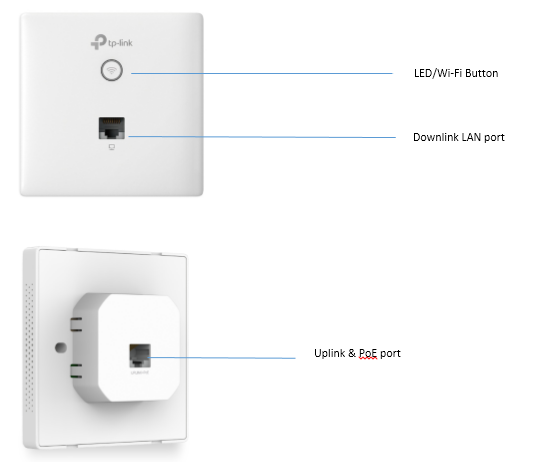 Installation Step 1: Detach the faceplate of the junction box with a utility screwdriver.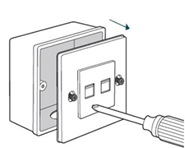 Installation Step 2: Remove the faceplate of EAP115-Wall.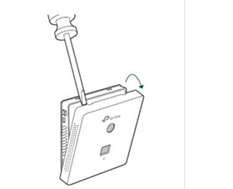 Installation Step 3: Connect one in-wall Ethernet Cable to Uplink PoE port.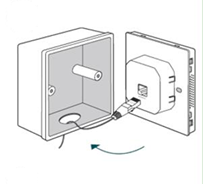 Installation Step 4: Secure the access point to the wall using the nails provided.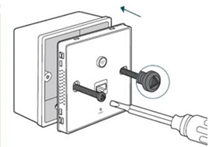 Installation Step 5: Press the faceplate back into position.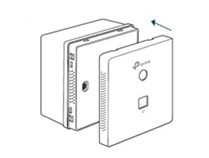 Note:
EAP115-wall fits for the mainstream two kinds of wall junction box: 86mm wall junction box and stand EAP junction box.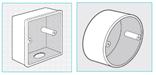 Q: How to use "Wi-Fi" button on EAP-wall?


A: By factory default settings, LED ON/OFF is enabled, which means that you can press to turn off/on the LED. At this configuration, Wi-Fi button has no control over Wi-Fi.

Q: How to use "Wi-Fi button" as "Wi-Fi Controller"?
A: If you want to control over Wi-Fi using "Wi-Fi button", please log in to the web GUI of EAP115-wall and enable "Wi-Fi Control".

Note: Before you enable Wi-Fi Control, please first enable "LED ON/OFF".
Q: How to reset EAP-wall?
A: There are software reset and hardware reset methods. You can use either EAP Controller or Web-GUI to factory reset EAP. Or if you want hardware reset, you should first remove the faceplate of EAP115-wall, then use a pin to press the reset hole for 5 seconds until LED light flashes.
Q: Does EAP115-wall support PoE passthrough?
A: If there is PoE IPC or IP Phone, it will be better if the downlink port of EAP115-wall can supply PoE. The bad news is that EAP115-wall does not support PoE passthrough at present. If you have any feedback or good ideas to help improve our EAP-wall product, you are very welcomed to drop a letter to support@tp-link.com .
Este guia foi útil?
A sua resposta ajuda-nos a melhorar o nosso site.
From United States?
Obtenha produtos, eventos e serviços para a sua região.