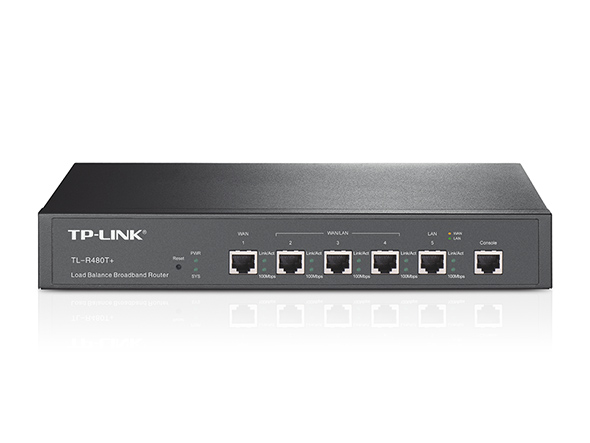 Load Balance Broadband Router TL-R480T+
Até 4 portas WAN equipadas com equilíbrio de carregamento avançado para garantir largura de banda máxima e recursos de backup
Fornece conta de cliente extensa e gerenciamento da rede para os administradores com Servidor alimentado por PPPoE
Recurso de Controle da largura de banda para clientes específicos com base em seus ambientes e seus aplicativos exclusivos
What This Product Does
The TL-R480T+ load balance broadband router is a wise choice for small business. It brings you high return on investment with low overhead. Featured with three changeable WAN/LAN ports, TL-R480T+ supports up to 4 WAN ports, which can satisfy various Internet access requirements through one device. TL-R480T+ integrates multiple load balancing strategies, advanced QoS and strong firewall to provide you with consistent network uptime and reliable Ethernet connectivity. Moreover, it is easy to manage the TL-R480T+ via a web-based utility, which makes building and managing your network more convenient.
Three Changeable WAN/LAN Ports
The TL-R480T+ features three changeable ports that can be set to either LAN or WAN, allowing the router to support up to four WAN ports to satisfy various Internet access requirements through one device. The router also has an integrated smart load balancing function which automatically selects the most efficient line according to load and bandwidth requirements, providing users with consistent network uptime and reliable Ethernet connectivity.
Abundant Security Features
For defense against external threats, TL-R470T+ can automatically detect and block Denial of service (DoS) attacks such as TCP/UDP/ICMP Flooding, Ping of Death and other related threats. Moreover, this router provides IP/MAC/URL/Web ­filtering functions, which forcefully prevent attacks from intruders and viruses. For better management of the internal network, TL-R480T+ allows administrators to set rules to block specific web sites and IM/P2P applications with just one click, and restrict staff to use specific services such as FTP, HTTP and SMTP.
Efficient Access Management
By setting a PPPoE Server to allocate PPPoE accounts to private network users, the router only allows users with legal accounts that have passed authentication to access the Internet. Cooperating with IP-based Bandwidth Control, it is capable of confining bandwidth usage of certain PPPoE accounts. Moreover, the E-Bulletin function is able to release a bulletin in the form of webpage to certain user groups periodically, which notifies the users about the expiration date of the PPPoE account. With the above features, the router will prioritize different users in surfer jurisdictions for more efficient management.
Safety Minded Enterprise Investments
Professional lightning protection technology is designed to prevent electrical surges from penetrating the interior of the device, to be discharged harmlessly into the Earth. This router is designed to prevent lightning damage of up to 4Kv in the well-grounded connection conditions. This feature ensures that networking infrastructure investments remain as safe as possible from one of Mother Nature's more violent elements.
Note: Above information apply to 
TL-R480T+ version 5.0 & 6.0
 ONLY.
IP dinâmico, IP estático, PPPoE, L2TP, PPTP, Acesso Duplo e Bigpond Cable são as opções de conexão com a Internet que realizam uma conexão de modo mais fácil
Servidor DHCP integrado suporta a distribuição de endereços IP estáticos
Controle de acesso baseado no horário permite que os pais ou administradores estabeleçam políticas de acesso restrito para as crianças ou funcionários
IP baseado no controle da banda permite que os administradores possam determinar quanta largura de banda é alocada para cada PC que garante o desempenho das aplicações de VoIP ou vídeo HD
Servidor PPPoE e boletim eletrônico ajudam os administradores de rede a gerenciar melhor as contas dos clientes
Função de controle de aplicativo ajuda os administradores a implantar restrições de IM/P2P, proxy ou outros aplicativos de forma fácil.
Firewall Incorporado suporta filtragem de endereços IP,filtragem de MAC address, filtragem de URL e filtragem de conteúdos da Web (Java, ActiveX, cookies)
Função de vinculação de IP e de MAC efetivamente impede ataques de vírus ARP
Poderosa garantia de proteção contra ataque de DoS para a sua rede
Servidor Virtual, aplicação especial, host DMZ e UPnP ajudam os usuários a criar seus próprios servidores
DDNS ajuda os usuários a utilizar o gerenciamento remoto facilmente com um nome de domínio
Nota: As informações acima se aplicam ao TL-R480T+ versão 5.0 APENAS.
CARACTERÍSTICAS DE HARDWARE
Protocolos e Normas
IEEE 802.3, 802.3u, 802.3x, TCP/IP, DHCP, ICMP, NAT, PPPoE, SNTP, HTTP, DDNS
Interface
1 Fixed Ethernet WAN Port
1 Fixed Ethernet LAN Port
3 Changeable Ethernet WAN/LAN Ports
Network Media
10BASE-T: UTP category 3, 4, 5 cable (Max 100m)
100BASE-TX: UTP category 5, 5e cable (Max 100m)
Botão
Reset Button
Fonte de alimentação
Internal Universal Power Supply
AC100-240V~50/60Hz input
Flash
8MB
DRAM
64MB
LED
PWR, SYS, WAN, LAN, WAN/LAN
Dimensões (L x P x A)
11.6*7.1*1.7in. (294*180*44mm)
13-inch Standard Rack-Mount Width, 1U Height
BASIC FUNCTIONS
WAN Connection Type
Static/Dynamic IP, PPPoE, PPTP, L2TP, Dual Access, Bigpond Cable
DHCP
DHCP Server/Client, DHCP Address Reservation
MAC Clone
Modify WAN/LAN MAC Address
Switch Setting
Port Mirror, Rate Control, Port Configuration, Port VLAN
FUNÇÕES AVANÇADAS
ACL
IP/MAC/URL/WEB Filtering
IGMP
IGMP Proxy/IGMP Snooping
Forwarding
Virtual Server, Port Triggering, DMZ
Load Balance
Policy Routing, Link Backup
NAT
One-to-One NAT, Multi-Nets NAT
Routing
Static Routing
Security
FTP/SIP/PPTP/IPsec/H.323 ALG, DoS Defence, Ping of Death
Traffic Control
Bandwidth Control, Session Limit
GESTÃO
Service
PPPoE Server, E-Bulletin, Dynamic DNS, UPnP, App Control
Maintenance
Time Setting, Daylight Saving Time, SNMP, Diagnostics, Firmware Upgrade, Factory Defaults/Reboot, Backup/Restore, System Log, Remote Management, Statistics
OUTROS
Certificações
CE, FCC, RoHS
Conteúdo da embalagem
TL-R480T+
Power Cord
RJ-45 Ethernet Cable
Installation Guide
Resource CD

Requisitos de Sistema
Microsoft® Windows® 98SE, NT, 2000, XP, Vista™ or Windows 7, MAC® OS, NetWare®, UNIX® or Linux
Environment
Operating Temperature: 0℃~40℃ (32℉~104℉)
Storage Temperature: -40℃~70℃ (-40℉~158℉)
Operating Humidity: 10%~90% non-condensing
Storage Humidity: 5%~90% non-condensing