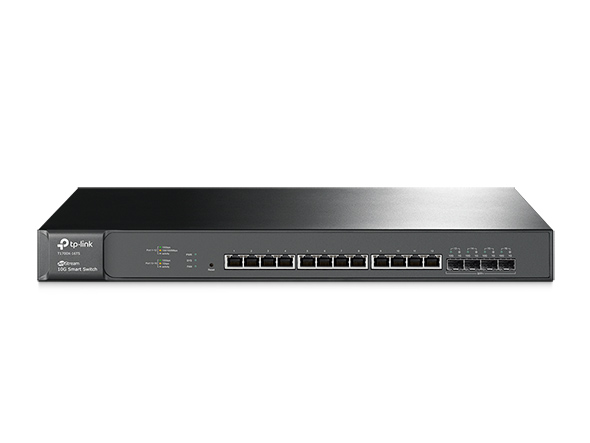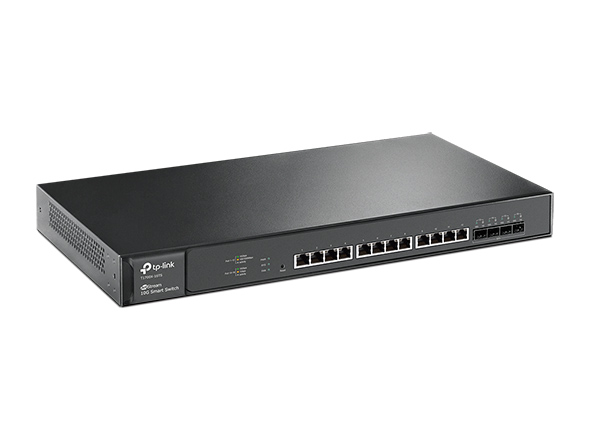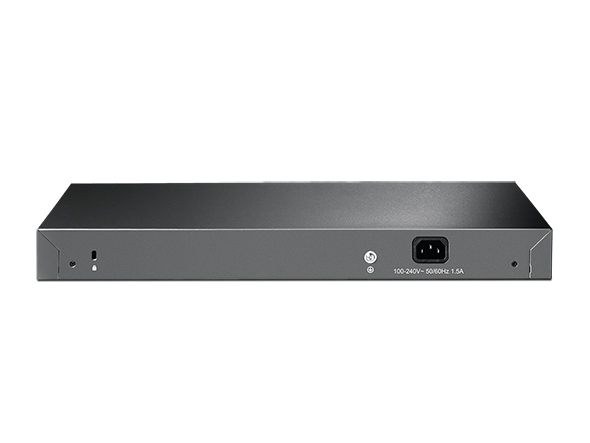 Switch Smart Gigabit de 12 Puertos 10GBase-T y 4 Ranuras SFP+ 10G JetSteam
Equipado con 12 puertos RJ45 10GBase-T y 4 puertos de fibra SFP+ a 10G, proporcionando una capacidad de conmutación de 320Gbps
La tecnología 10GBase-T proporciona un método rentable para migrar la red actual a Ethernet 10G utilizando conexiones CAT5e / CAT6 de hasta 55m y conexiones CAT6A / CAT7 existentes (hasta 100m).
La característica L2+ de enrutamiento estático ayuda a enrutar el tráfico interno para un uso más eficiente de los recursos de la red
Las funciones de seguridad avanzadas incluyendo la vinculación de puertos IP-MAC, ACL, Seguridad de puertos, Defensa DoS, Control de tormentas, DHCP Snooping, 802.1X y Autenticación Radius
Compatibilidad integral con IPv6 para gestión, QoS y ACL
Modos de gestión WEB / CLI. SNMP, RMON mejoran la gestión
La imágen de Firmware Dual mejora la confiabilidad y el tiempo de funcionamiento de su red
Solución Económica de Switching a 10 Gigabit para PYMEs en Crecimiento
Switches Smart 10G de la Serie T1700
En un mundo de empresas en expansión y virtualización en crecimiento, los servicios y aplicaciones basados en cloud, como VoIP, streaming de vídeo HD y vigilancia IP, las redes SMB necesitan evolucionar más allá de la simple fiabilidad para proporcionar escalabilidad y ancho de banda mayor y rendimiento mejorado. La nueva Serie de Switches Smart 10G T1700 representa la solución ideal que reúne estas características. La serie incluye el Switch Smart 10-Gigabit T1700X-16TS y el Switch Smart Gigabit Apilable con 10G de Uplink T1700-28TQ, ambos proporcionan altos niveles de rendimiento, escalabilidad y económicos que requieren las SMBs en sus soluciones de red de 10G.
SWITCH SMART
FULL 10-GIGABIT
Switch Smart de 12 puertos 10GBase-T
Con 4 ranuras SFP+ 10G
Tecnología del Futuro
10GBase-T
Hasta hace poco, la conectividad 10-Gigabit sólo estaba disponible en costosas tecnologías basada en fibra que soportaban el acceso de alta velocidad al backbone de la red o al entorno del centro de datos.
Hoy en día, la tecnología 10GBase-T se está volviendo más común y asequible. El cableado Base-T de 10G es compatible también con Fast Ethernet y Gigabit Ethernet y puede negociar automáticamente entre conexiones de velocidad más alta y baja. Lo que es más importante, 10GBase-T proporciona un método rentable para migrar de su red actual a Ethernet 10G utilizando sus conexiones RJ-45 CAT5e / CAT6 de corto alcance (hasta 55m) y CAT6A / CAT7 (hasta 100m). Esto reduce la complejidad del cableado y, en última instancia, proporciona ahorros significativos para los clientes.
16 Puertos 10-Gigabit
Capacidad de Switching de 320Gbps
El T1700X-16TS cuenta con 12 puertos RJ45 10GBase-T y cuatro ranuras SFP+ de fibra, que pueden soportar hasta 320Gbps de ancho de banda de conmutación combinado. Esto proporciona gran resiliencia, aliviando la congestión asociada con aplicaciones de uso intensivo de ancho de banda y garantiza una transmisión de datos fluida.
APILABLE GIGABIT
CON UPLINK DE 10G
Switch Smart Apilable de 24 Puertos Gigabit
with 4 10GE SFP+ Slots
Apilamiento Físico
Con la tecnología True Physical Stacking, se pueden apilar hasta seis unidades T1700G-28TQ con una sola dirección IP.
Esto proporciona una escalabilidad mejorada, administración sencilla y mayor redundancia para el despliegue de alta densidad. También apoya la expansión eficiente de la red en el futuro.
6 Unidades

Tecnología True Physical Stacking de hasta seis unidades compatible con la simplificación de red

Puertos 144 GE

Hasta 144 puertos Gigabit Ethernet por pila

24 SFP+ 10G

Hasta 24 ranuras SFP+ 10G por pila

768 Gbps

Hasta 768Gbps de capacidad de conmutación para redes agregadas

1 Gestión por IP

Con todas las unidades identificadas por una sola dirección IP, la configuración y supervisión de la pila es fácil
Diseño sin ventilador para funcionamiento silencioso
El T1700G-28TQ utiliza un diseño sin ventilador, que reduce la cantidad de ruido ambiental en su oficina. La extracción del ventilador también reduce el consumo de energía y le ayuda a construir una red más rentable.
Características Software
Enrutamiento Estático L2+

La simple segmentación de red, con enrutamiento interno a través del switch, permite a los dispositivos de diferentes VLAN / subredes comunicarse entre sí y hace que el flujo de tráfico de red sea más eficiente.

Abundantes Características L2

Los dispositivos de la serie T1700 están equipados con una completa gama de características L2 que satisfacen sus necesidades actuales y futuras de redes y movilidad unificadas.

VLAN1 802.1Q/MAC/Protocol/Private

Grupo de Link Aggregation(LAG)

IGMP & MLD Snooping

Multicast VLAN

Robustas Estrategias de Seguridad

Support for numerous security strategies allow you to create a secure, unified network by preventing unauthorized access, external attacks, and malware infiltration.

Lista de Control de Acceso (ACL)

DHCP Snooping

Autenticación 802.1x

IP-MAC-Port Binding

Exhaustivas Características QoS

Los controles avanzados proporcionan un rendimiento optimizado de la red y una entrega eficiente de tráfico sensible al tiempo.

basada en puertos o en 802.1p

Priorización basada en capa 3 (DSCP)

Rate Limit

VLAN de Voz

Soporta IPv6

La serie T1700 ofrece características completas de IPv6, incluyendo administración IPv6, enrutamiento estático, ACL y QoS2, que facilitan la transición a una red basada en IPv6 y protegen el valor de su inversión.

Imagen Dual

El firmware de doble imagen reduce el tiempo de inactividad cuando se actualiza el firmware. La imagen de copia de seguridad también se activará en caso de que se produzca algún error en la imagen activa.
1 Solo el T1700X-16TS soporta VLANs privadas
2 Enrutamiento estático IPv6 / ACL / QoS serán soportado en una futura versión de firmware
Especificaciones Hardware
T1700X-16TS
T1700G-28TQ
Puertos RJ45 10/100/1000Mbps
-
24
Puertos RJ45 10GBase-T
12
-
Uplink
4 SFP+ 10G Dedicados
4 SFP+ 10G Dedicados
Capacidad de Switching
320Gbps
128Gbps
Dimensiones(W×D×H)
17.3×8.7×1.73 in.


(440×220×44mm)

17.3×7.1×1.73 in.


(440×180×44mm)

Cantidad de Ventiladores
Dos Ventiladores Smart
Ventilador
Buscar más detalles
GO
GO
Accesorios
Transceiver SFP+ LC 10GBase-SR

Transceiver multimodo 850nm
distancia máxima 300m
Conector LC/UPC

TXM431-SR

Transceiver SFP+ LC 10GBase-LR

Transceiver monomodo 1310nm
distancia máxima 10km
Conector LC/UPC

TXM431-LR

Cable SFP+ Ataque Directo 1M/3M

Longitud de cable 1M/3M
Conector SFP+ en ambos lados

TXC432-CU1M / TXC432-CU3M
Soborka ISP

TP-Link Helps ISP Soborka Provide Better Service for Subscribers

Soborka ISP

TP-Link Helps ISP Soborka Provide Better Service for Subscribers

"TP-Link's products offer tremendous value, which allowed us to reduce the cost of updating our large network without compromising performance. Our customers are much more satisfied with the network since the upgrade. It has done a lot to improve our reputation." —Soborka's CEO
CARACTERÍSTICAS DE HARDWARE
Estándares y Protocolos
IEEE 802.3i, IEEE 802.3u, IEEE 802.3ab, IEEE802.3z, IEEE 802.3 an,
IEEE 802.3ae, IEEE 802.3ad, IEEE 802.3x, IEEE 802.1d, IEEE 802.1s,
IEEE 802.1w, IEEE 802.1q, IEEE 802.1x, IEEE 802.1p
Interface
12 Puertos RJ45 100/1000/10GBase-T
(Auto Negociación/Auto MDI/MDIX)
4 Ranuras SFP+ 10G

Medios de Red
100BASE-TX/1000Base-T: cables UTP categorías 5, 5e o superior (máximo 100m)
10GBase-T: cables UTP categorías 5e, 6 (máximo 55m) o superior (máximo 100m)
1000BASE-X: MMF, SMF
10GBASE-LR
10GBASE-SR

Cantidad de Ventiladores
2 Ventiladores Smart
Cerradura de Seguridad Física
Yes
Fuente de Alimentación
100-240V, 50/60Hz
Dimensiones (W X D X H)
440 * 220 * 44 mm (17.3 * 8.7 * 1.73 in.)
Montaje
Rack Mountable
Consumo Máximo de energía
76.58W
Disipación Máxima de Calor
261.29 BTU/h
RENDIMIENTO
Capacidad de Switcheo
Hasta 320Gbps
Tasa de Reenvío de Paquetes
Hasta 238.1Mpps para un switch solo
Tabla de MAC Address
16K
Paquetes de Memoria de búfer
2MB
Jumbo Frame
9KB
Número de Rutas Estáticas
32 IPv4
Número de Interfaces IP
16
CARACTERÍSTICAS DE SOFTWARE
Calidad de servicio
Soporta prioridad 802.1p CoS/DSCP
Soporta 8 colas de prioridad
Horario de colas: SP, WRR, SP+WRR
Port/Flow- basado en Límite de Ratio
QoS* IPv6
VLAN de Voz


Características de L2 y L2 +
Enrutamiento estático
DHCP Relay*
IGMP Snooping V1 / V2 / V3
802.3ad LACP (Hasta 14 grupos de agregación, con 8 puertos por grupo)
Spanning Tree STP / RSTP / MSTP
Filtrado de BPDU / Guardia
Protección TC / Root
Detección de Loopback
Control de flujo 802.3x
LLDP, LLDP-MED *
VLAN
Soporta hasta 4K VLANs simultáneamente (de 4K IDs de VLAN)
VLAN basada en MAC / Protocolo
VLAN privada

Lista de control de acceso
L2 ~ L4 Filtrado de paquetes basado en la dirección MAC de origen y destino, dirección IP, puertos TCP / UDP
ACL* IPv6

Seguridad
AAA *
Seguridad de Puertos
DHCP Snooping
IP-MAC-Puerto Binding
Inspección ARP
Autenticación Radius 802.1x
SSH v1 / v2
SSL v3 / TLSv1
Control de tormentas Broadcast / Multicast / Desconocidas-Unicast
Defensa Dos

IPv6
Doble pila IPv4 / IPv6
Detección de escuchas de multidifusión (MLD)
Detección de vecinos IPv6 (ND)
Descubrimiento de unidad de transmisión máxima de trayecto (MTU)
Protocolo de mensajes de control de Internet (ICMP) versión 6
TCPv6 / UDPv6

Aplicaciones IPv6
Cliente DHCPv6
Ping6
Tracert6
Telnet (v6)
IPv6 SNMP
IPv6 SSH
IPv6 SSL
Http/Https
IPv6 TFTP

Administración
Gestión GUI basada en Web y CLI
SNMP v1 / v2c / v3, compatible con MIB públicas y
MIBs privadas de TP-LINK
RMON (1, 2, 3, 9 grupos)
Monitorización de CPU
Port Mirroring
Actualización de firmware: TFTP & Web
Diagnóstico del sistema: VCT
SYSLOG y MIBS públicos
Imagen Dual
Otros
Certificacion
CE, FCC, RoHS
Contenidos del Paquete
T1700X-16TS
Cable de Alimentación
Guía de Instalación
CD de Recursos
Kit de Montaje en Rack
Pies de Goma
Requisitos del Sistema
Microsoft® Windows® XP, Vista™ or Windows 7,
Windows 8/8.1, MAC® OS, NetWare®, UNIX® o Linux.
Ambiente
Temperatura de Funcionamiento: 0℃~40℃ (32℉~104℉);
Temperatura de Almacenamiento: -40℃~70℃ (-40℉~158℉)
Humedad de Funcionamiento: 10%~90%RH sin condensación
Humedad de Almacenamiento: 5%~90%RH sin condensación

*Estas características serán soportadas en una futura publicación de firmware.
SuscripciónTP-Link toma en serio su privacidad. Para obtener más detalles sobre las prácticas de privacidad de TP-Link, consulte la Política de privacidad de TP-Link.
From United States?
Get products, events and services for your region.