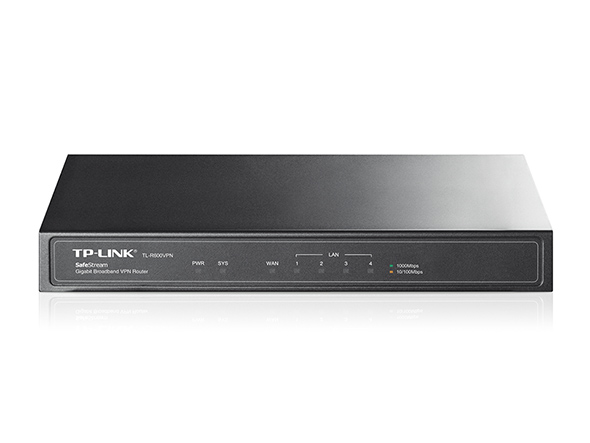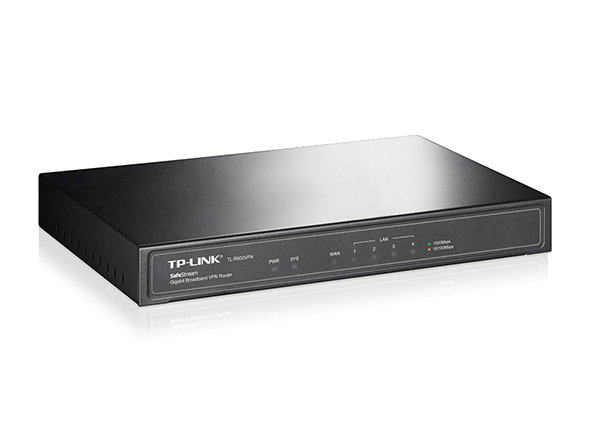 SafeStream™ gigabit breedband VPN router TL-R600VPN
1 Gigabit WAN poort en 4 Gigabit LAN poorten voor kabelverbindingen met hoge snelheid
Ondersteunt IPsec/PPTP VPN protocollen. Max. 20 IPsec VPN tunnels en 16 PPTP VPN tunnels worden tegelijkertijd ondersteund
SPI firewall en DoS bescherming beveiligen uw netwerk tegen de meeste bekende Internet aanvallen
Professionele 4 KV bliksembeveiliging beschermt uw investering optimaal
Wat doet dit product?
De TL-R600VPN, de SafeStream™ gigabit breedband VPN router van TP-LINK, ondersteunt gigabit ethernet verbindingen via zowel WAN als LAN poorten, zodat kabelverbindingen met zeer hoge snelheid gegarandeerd zijn. Bovendien integreert hij meerdere VPN protocollen en VPN functies met hoog beveiligingsniveau en hoge prestaties, waardoor de verbinding van thuiswerkers met het hoofdkantoor even veilig is als wanneer zij op kantoor zouden werken. Daarnaast biedt de TL-R600VPN een groot aantal beveiligingsstrategieën, zoals SPI Firewall, DoS Defense en IP-MAC Binding, die uw netwerk tegen de meeste bekende aanvallen helpen beschermen. De TL-R600VPN is ook een ideale partner voor kleine kantoren, die betaalbare en betrouwbare VPN oplossingen nodig hebben.
VPN functies met hoog beveiligingsniveau
De TL-R600VPN ondersteunt de IPsec en PPTP VPN protocollen en kan ook IPsec/PPTP/L2TP pass-through verkeer afhandelen. Hij heeft een ingebouwde, hardware-gebaseerde VPN engine, waardoor de router max. 20 LAN-to-LAN IPsec en 16 PPTP VPN verbindingen kan ondersteunen en beheren. Geavanceerde VPN functies zijn o.a.: DES/3DES/AES128/AES192/AES256 versleuteling, MD5/SHA1 verificatie, handmatig/IKE sleutelbeheer en Main/Aggressive onderhandelingsmodi.
Uitgebreide veiligheidsfuncties
Ter verdediging tegen aanvallen van buitenaf beschikt de TL-R600VPN over de SPI Firewall functie. Bovendien kan hij automatisch Denial of Service (DoS) aanvallen zoals TCP/UDP/ICMP Flooding, Ping of Death en andere aanverwante bedreigingen detecteren en blokkeren. Daarnaast beschikt de router over IP/MAC/domeinnaam filterfuncties, waardoor aanvallen van indringers en virussen met kracht worden tegengehouden. Voor applicaties zoals FTP, TFTP, H.323 en RTSP, die niet goed compatibel zijn met NAT, biedt de TL-R600VPN voor systeembeheerders via één klik inschakelen van ALG keuzen die overeenkomen met de hierboven vermelde vier applicaties.
Investeren in veiligheid
De professionele bliksembeschermingstechniek voorkomt dat stroompieken tot in het apparaat kunnen doordringen en die worden veilig naar de aarde afgevoerd. De router is voorzien van bliksembescherming tot 4 kV bij goed geaarde aansluitingen. Dit zorgt ervoor dat de investering in de netwerk infrastructuur zo goed mogelijk beschermd is tegen de krachten van de natuur.
Dynamisch/statisch IP, PPPoE/Russisch PPPoE, L2TP/Russisch L2TP, PPTP/Russisch PPTP en BigPond bekabelde WAN verbindingstypen
Max. 20 IPsec VPN tunnels, 16 PPTP VPN tunnels
DES, 3DES, AES128, AES192, AES256 versleuteling
MD5, SHA1 verificatie
Handmatige, IKE sleutelbeheer modus
LAN-to-LAN IPsec VPN
Statische routing
MAC Clone, IP&MAC Binding, Bandwidth Control
DHCP Client/Server, DHCP Address Reservation
Virtual Server, Port Triggering, DMZ, UPnP
SPI Firewall, PPTP/L2TP/IPsec Passthrough, FTP/TFTP/H.323/RTSP ALG
DoS Attack Defence, Ping of Death
ACL
Dynamisch DNS
Beheer op afstand
Functionaliteit van de Hardware
Standaarden en protocollen
IEEE 802.3, 802.3u, 802.3ab
TCP/IP, DHCP, ICMP, NAT, PPPoE, SNTP, HTTP, DNS, IPsec, PPTP
Interface
1 Gigabit WAN port
4 Gigabit LAN ports
Netwerkmedia
10BASE-T: UTP category 3, 4, 5 cable (Max 100m)
EIA/TIA-568 100Ω STP (Max 100m)
100BASE-TX: UTP category 5, 5e cable (Max 100m)
EIA/TIA-568 100Ω STP (Max 100m)
1000BASE-T: UTP category 5, 5e, 6 cable (Max 100m)
Knop
Reset Button

Uitgangsvermogen
Internal Universal Power Supply
AC100-240V~ 50/60Hz Input
Flash
SPI 8MB
Dram
DDR II 64MB
LED
PWR, SYS, WAN, LAN
Afmetingen ( B x D x H )
8.23*4.96*1.02 in. (209*126*26 mm)
Prestatie
Concurrent Session
10000
NAT Throughput
120Mbps
IPsec VPN Throughput (3DES)
20Mbps
Basisfuncties
WAN verbindingstype
Static/Dynamic IP,PPPoE/Russian PPPoE, PPTP/Russian PPTP, L2TP/Russian L2TP, Bigpond Cable
DHCP
DHCP Server/Client
DHCP Address Reservation
MAC Kloon
Modify WAN MAC Address
ADVANCED FUNCTIONS
ACL
DHCP Server/Client
DHCP Address Reservation
Advanced Routing
Static Routing

ARP Inspectie
IP/MAC Binding
Bandbreedte Controle
IP/Port-based Bandwidth Control
Guarantee & Limited Bandwidth
Forwarding
Virtual Server
Port Triggering
DMZ
UPnP
Beveiliging
SPI Firewall
VPN Passthrough
FTP/TFTP/H.323/RTSP ALG
DoS Defence, Ping of Death
Local Management
VPN
IPsec VPN
20 IPsec VPN Tunnels
LAN-to-LAN
Main, Aggressive Negotiation Mode
DES, 3DES, AES128, AES192, AES256 Encryption Algorithm
MD5, SHA1 Authentication Algorithm
Manual, IKE Key Management Mode
Dead Peer Detection (DPD)
Perfect Forward Secrecy (PFS)
PPTP VPN
16 PPTP VPN Tunnels
PPTP VPN Server
PPTP with MPPE Encryption
L2TP VPN
16 L2TP VPN Tunnels
Beheer
Services
Dynamic DNS (Dyndns, No-IP, Peanuthull, Comexe)
Onderhoud
Time Setting
Diagnostic
Firmware Upgrade
Factory Defaults/Reboot
Backup&Restore
System Log
Remote Management
Statistics
Overige
Certificatie
CE, FCC, RoHS
Pakketinhoud
TL-R600VPN
Power Cord
RJ-45 Ethernet Cable
Quick Installation Guide
Resource CD
Systeemvereisten
Microsoft® Windows® 8, 7,Vista™, XP or MAC® OS, NetWare®, UNIX® or Linux
Omgeving
Operating Temperature: 0℃~40℃ (32℉~104℉);
Storage Temperature: -40℃~70℃ (-40℉~158℉)
Operating Humidity: 10%~90% non-condensing
Storage Humidity: 5%~90% non-condensing
Awards

Eco-Award

R600VPN received the "Ecology Award" from Smarthelpers

2014, Germany