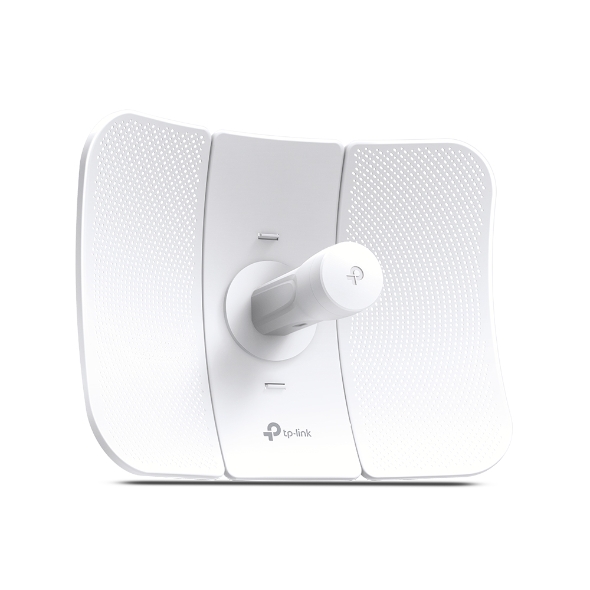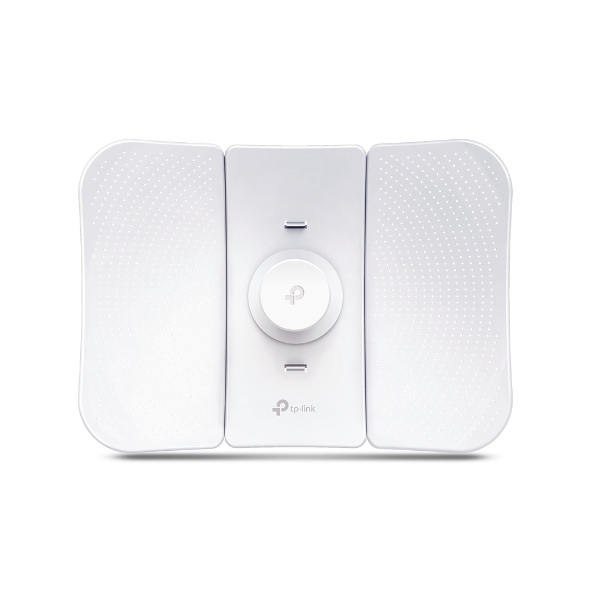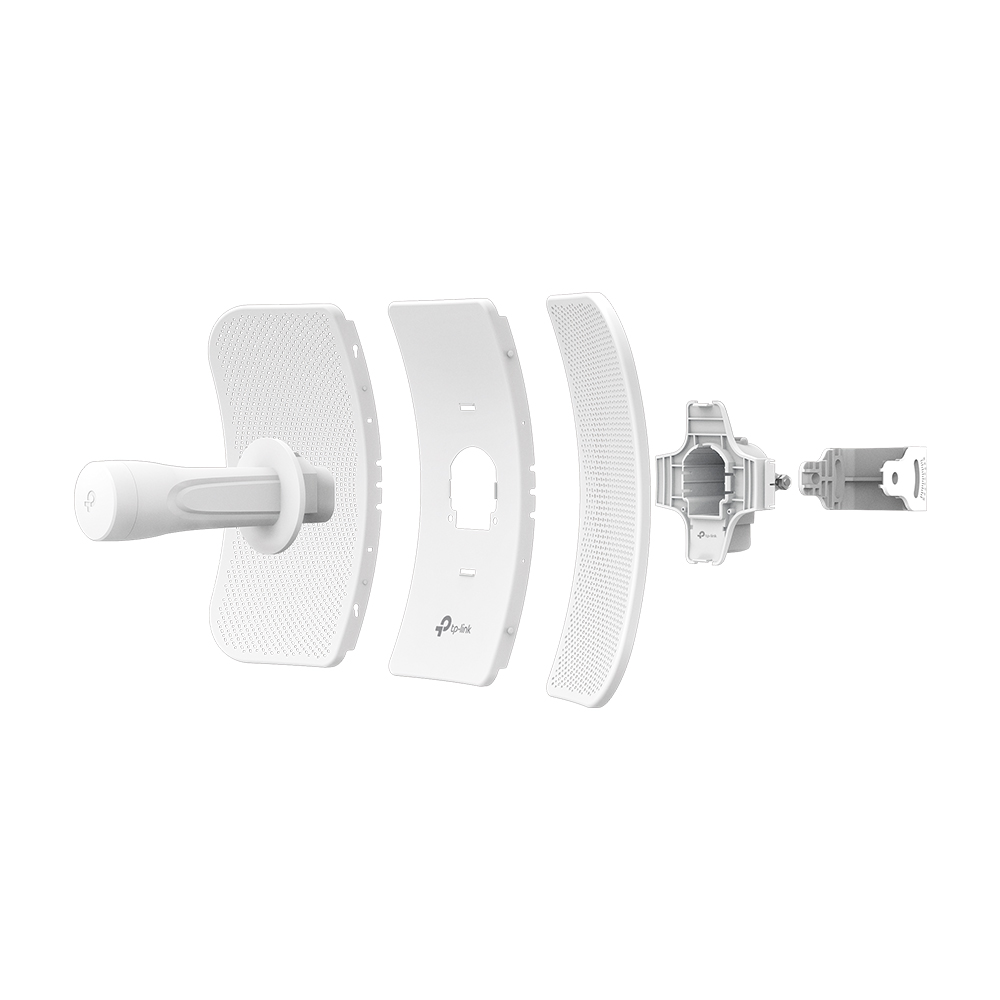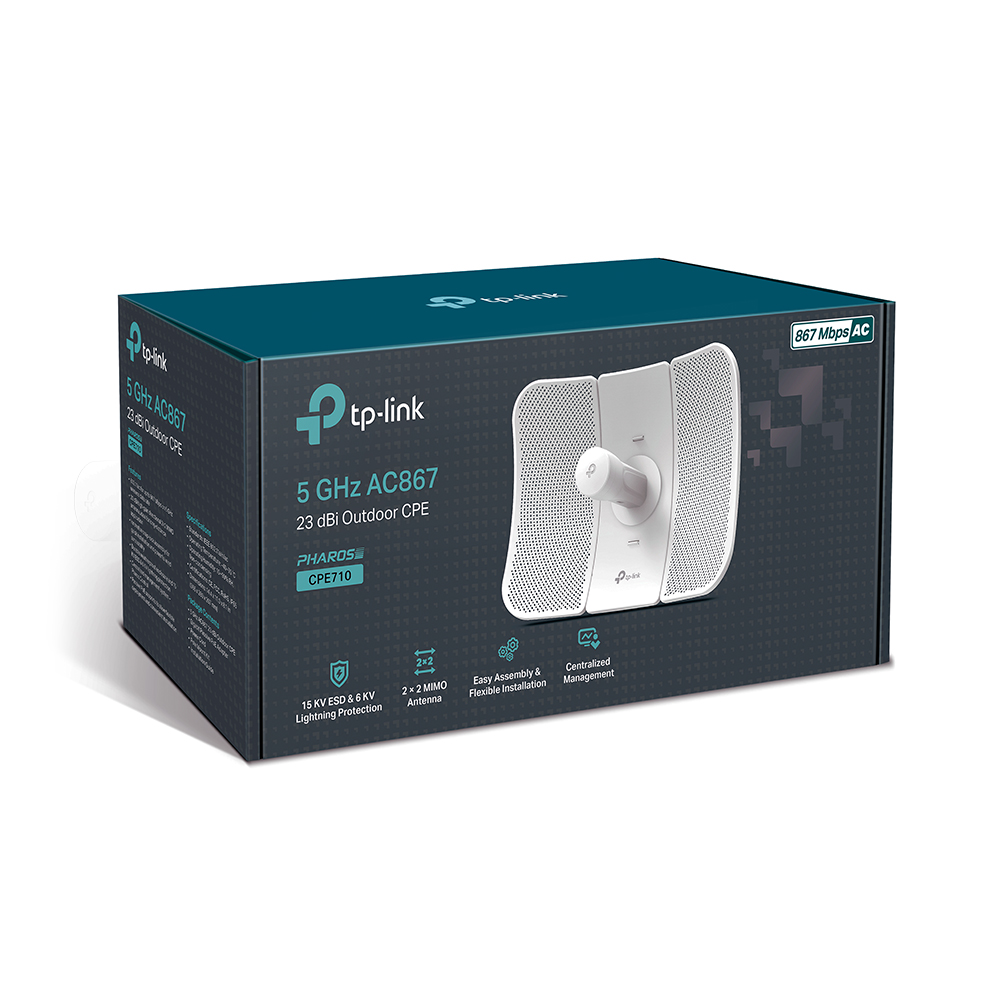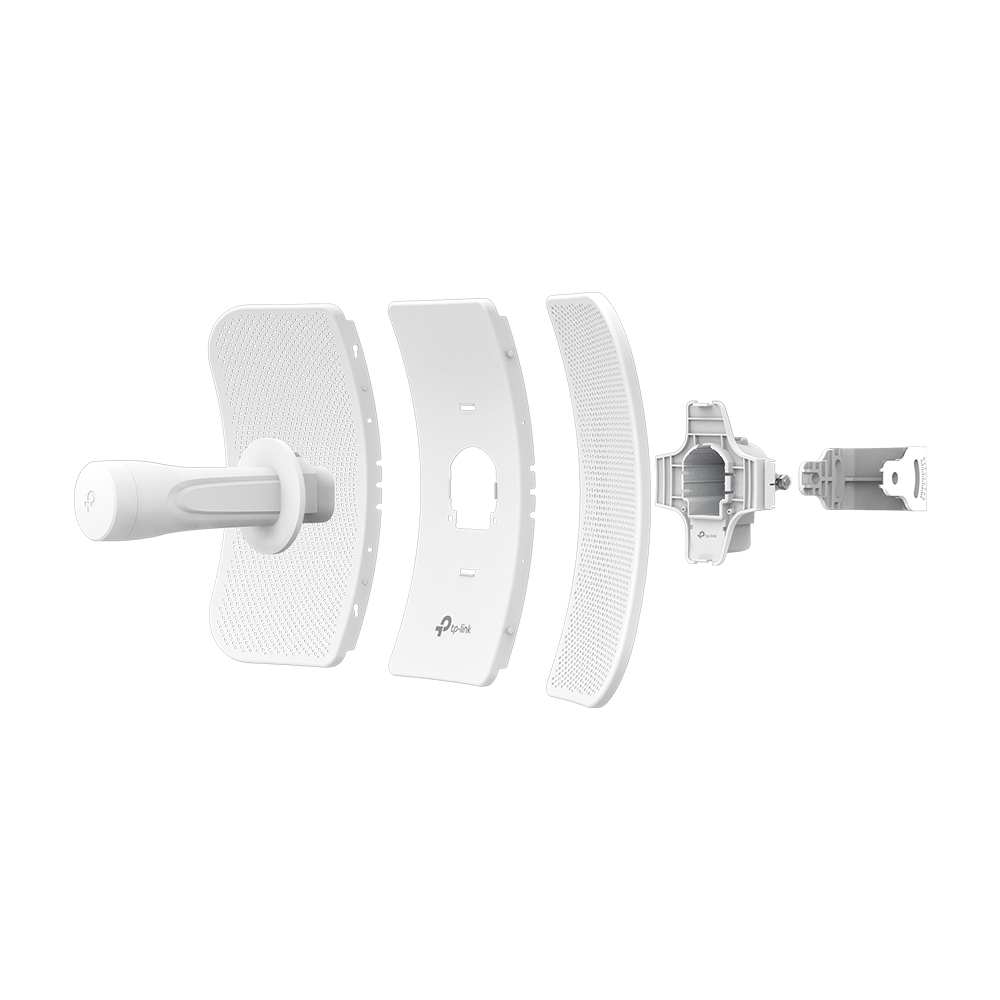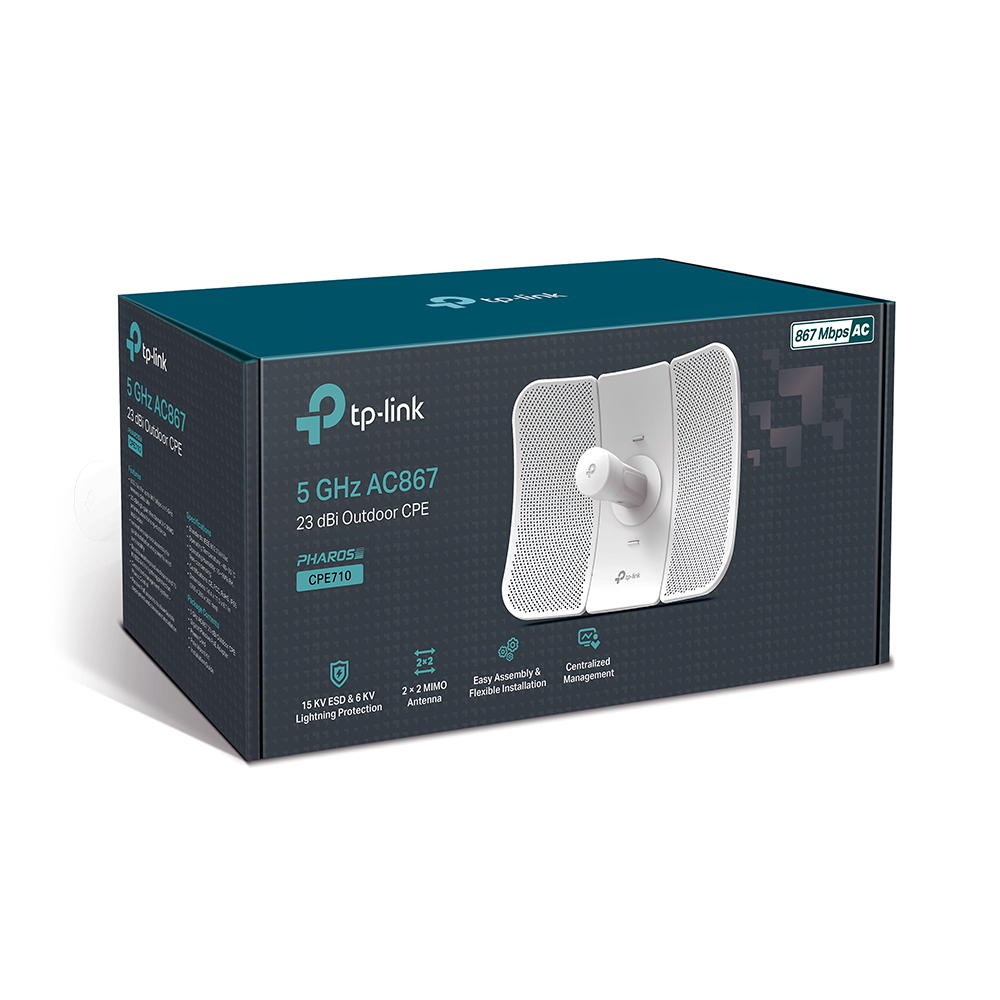 CPE710
5 GHz AC 867 Mbps 23 dBi Outdoor CPE
• 802.11ac voor wel 867Mbps op de 5GHz-band
• 23 dBi high-gain directionele 2×2 MIMO, ideaal voor lange afstanden
• Uitstekende richtingsgevoeligheid, verbeterde latentie- en ruisonderdrukking
• Innovatieve klikbevestiging voor een snelle montage en het stevige, constructieve ontwerp zorgt dat de CPE710 zelfs bij harde wind stabiel blijft hangen
• Door de duurzame IP65 weerbestendige behuizing en 15kV-ESD-beveiliging en 6kV-bliksembeveiliging is hij geschikt voor alle weersomstandigheden
• Met Pharos Control kunnen beheerders gebruikmaken van een gratis, gecentraliseerd managementsysteem
• Ondersteunt passief PoE voor een flexibele inzetbaarheid en eenvoudige installatie


Stabiele wifi buiten
met een groot bereik
23 dBi directionele
2 × 2 MIMO antenne

15kV-ESD-beveiliging en
6kV-bliksembeveiliging
Eenvoudige montage en
flexibele installatie

Gecentralseerd
beheer

Windbestendige
constructie

IP65 weerbestendige
behuizing
Razendsnel zonder wachttijd
256 QAM en een bandbreedte van 80 MHz verhogen de snelheden tot 867 Mbps, dat is 3 sneller dan 802.11n wifi.
5 GHz
2 × 2 MIMO 802.11n
300 Mbps
2 × 2 MIMO 802.11ac
867 Mbps
3X
Professionele 23 dBi directionele
antenne voor draadloze overdracht over lange afstanden
Met de 23 dBi high-gain directionele Cassegrain-antene en een speciale metalen reflector beschikt de CPE710 over uitstekende richtingsgevoeligheid en een verbeterde onderdrukking van latentie en ruis. Door de professionele prestaties en het gebruiksvriendelijke ontwerp is de 5 GHz 867 Mbps 23 dBi Outdoor CPE710 voor buiten de perfecte en efficiënte oplossing voor draadloze netwerktoepassingen voor buitenshuis.
Stabiel, constructief ontwerp en flexibele installatie
Voeding
Zijreflector
Middenreflector
Zijreflector
Paalbevestiging
Ontvanger
De klikbevestiging zorgt voor een snelle en eenvoudige montage

Paalmontage en de drie assen zorgen voor een flexibele installatie

Stevig ontwerp is goed bestand tegen harde wind
Compacte en
lichte verpakking
Kleine en lichte dozen
zijn bevorderlijk voor de levering, logistiek en retail.
15,5 cm
0 cm
0 cm
32,6 cm
0 cm
32,5 cm
0 cm
14,2 cm
Pharos Control – gecentraliseerd beheersysteem
De CPE710 wordt bovendien geleverd met de gecentraliseerde managementsoftware Pharos Control waarmee gebruikers eenvoudig alle apparaten binnen hun netwerk kunnen beheren vanaf één computer. Functies zoals apparaten zoeken, statuscontrole, firmware bijwerken en netwerkonderhoud. De intuïtieve online interface PharOS biedt een alternatieve beheermethode waarmee professionals specifieke configuraties kunnen toepassen.
Gerelateerde producten
Model

CPE710

CPE610

CPE605

Draadloze prestaties

Draadloze snelheid

5 GHz 867 Mbps

5 GHz 300 Mbps

5 GHz 150 Mbps

Zendvermogen

27 dBm

25 dBm

23 dBm

MIMO

2 x 2

2 x 2

-

Hardware

Compatibiliteit

802.11a/n/ac

802.11a/n

802.11a/n

Antenne

23 dBi

23 dBi

23 dBi

Weerbestendige behuizing

IP65

IP65

IP65

Bliksembeveiliging

6 kV

6 kV

6 kV

Voeding

24 V Passive PoE- adapter

24 V Passive PoE- adapter

24 V Passive PoE- adapter

Software

Bewerkingsmodi

AP / Client / AP-clientrouter (WISP-client) / AP-routermodus

Kanaalbandbreedte

20/40/80MHz

5/10/20/40MHz

5/10/20/40MHz

Zendvermogenregeling

Met stappen van 1 dBm

Met stappen van 1dBm

Met stappen van 1dBm

MAXtream TDMA-modus

-

√

√

Doorvoerbewaking

√

√

√

Spectrumanalyse

√

√

√

Iperf-speedtest

√

√

√

Ondersteunt Pharos Control
(gecentraliseerd netwerkbeheer)

√

√

√
Wireless Networking for Elevators

TP-Link offers wireless point to point link delivering up to 300 Mbps throughput. The point to point link provides wireless coverage to the entire shaft, and delivers network to the elevator car, connecting the surveillance cameras or digital signage. So that real time video can be recorded to a DVR without hard wiring coax cable directly from the camera to the recorder.

Easy, Flexible Installation
Stable Connections at High-Speeds
Ideal for Elevator Camera
No Complex Cabling
PoE Support
Peru WISP

TP-Link Helps WISP to Provide Reliable Wireless Connectivity in Peru

Peru WISP

TP-Link Helps WISP to Provide Reliable Wireless Connectivity in Peru

"The performance of CPE was better than expected, working stable even with -85 dBm of received power." —David Grillo, Engineer, Kroton

ADINET WISP in Indonesia

TP-Link Helps Local WISP Provide Long Distance Wireless Connectivity in Indonesia

ADINET WISP in Indonesia

TP-Link Helps Local WISP Provide Long Distance Wireless Connectivity in Indonesia

"Amazing! The performance of the Pharos Wireless Broadband Solution has exceeded even our wildest expectations." —Bagus Prakoso, Owner of ADINET
Functionaliteit van de Hardware
Processor
Qualcomm 750MHz CPU, MIPS 74Kc
Geheugen
128 MB DDR2 RAM, 16 MB Flash
Interface
1 10/100/1000 Mbps afgeschermde Ethernetpoort (LAN/POE)
1 resetknop
Uitgangsvermogen
Passief Power over Ethernet via LAN (+4,5 pins; -7,8 pins)
Spanningsbereik: 16-27 V DC
Afmetingen ( B x D x H )
366 x 280 x 207 mm
Antenneversterking
23 dBi
Beambreedte Antenne
9° (azimut)/7° (hoogte)
Beveiliging
15kV-ESD-beveiliging
6kV-bliksembeveiliging
Enclosure
Materiaal: polycarbonaat
Weerbestendig: IP65 water- en stofbestendig design
Draadloze Functies
Standaarden voor Draadloze Netwerken
IEEE 802.11a/n/ac
Wireless Speeds
Tot 867 Mbps (80 MHz, dynamisch)
Tot 400 Mbps (40 MHz, dynamisch)
Tot 173.4 Mbps (20 MHz, dynamisch)
Frequentie
5.15–5.85 GHz
Draadloos Zendvermogen
Max. 27 dBm (vermogen aanpasbaar met 1 dBm)
Functionaliteit van de Software
Netwerkconfiguratie
WAN: statisch / dynamisch / PPPoE
LAN: statisch / dynamisch / DHCP
Forwarding: ALG/ UPnP/ Virtual Server/ Port Trigger
Beveiliging: SPI Firewall/ Ping Forbidden/ DoS Protection
Toegangsbeheer
Statische routering
Bandbreedtebeheer
IP & MAC-binding
Wireless Configuraties
Selecteerbare kanaalbreedte: 20/40/80 MHz
Automatische kanaalselectie
Zendvermogen beheren
Dynamic Frequency Selection(DFS)
WDS inschakelen/uitschakelen
Beveiliging: WPA/WPA2, WPA-PSK/WPA2-PSK (AES/TKIP) versleuteling,
SSID Broadcast inschakelen/uitschakelen
Multi-SSID met VLAN Tagging(alleen AP-modus)
Distance/ ACK Timeout Setting
Draadloos MAC-adresfilter
Geavanceerde draadloze functies:
Beacon Interval/ RTS Threshold/ Fragmentation Threshold/ DTIM Interval/ AP Isolation/ Short GI/ Wi-Fi Multimedia
Long Range PtP
Management
Apparaten zoeken en extern beheer via de Pharos Control app
HTTP/ HTTPS webgebaseerd beheer
Systeemlogboeken
SNMP Agent (v2c)
Ping Watch Dog
Dynamic DDNS
SSH-server
System Tools
Indicators: signaalsterkte/ ruis/ zendvermogen CCQ/ CPU/ geheugen
Monitors: doorvoercapaciteit/ stations/ interfaces/ ARP/ routes/ WAN/ DHCP
Spectrumanalyse
Speedtest
Ping
Traceroute
Richten van de antenne
System-level Optimizations
Geoptimaliseerde IGMP Snooping / Proxy voor multicast-toepassingen
POE ADAPTER FEATURES
Dimensions(W x D x H)
85,8 × 43,9 × 29,7 mm
Interfaces
1 AC-jack met aarding
1× 10/100/1000 Mbps afgeschermde Ethernet-poort (voeding + data)
1× 10/100/1000 Mbps afgeschermde Ethernet-poort (data)
Knop
Externe resetknop
Power Status LEDs
Groen
Input
100-240 VAC, 50/60 Hz
Output
24 VDC, 0,5A max.
+4, 5 pins; -7, 8 pins. (ondersteuning voor Power over Ethernet tot 60 m)
Efficiëntie
>84,29%
Certificaties
CE/FCC/UL/IC/GS/PSB/C-tick/SAA/S-Mark/KC-mark
Overige
Certificatie
CE, FCC, RoHS, IP65, IC
Pakketinhoud
Draadloze CPE voor Buiten
24 V 0.5 A Passive PoE-adapter
Bevestigingsset voor palen
AC-netsnoer
Installatiegids
Systeemvereisten
Microsoft Windows 98SE, NT, 2000, XP, Vista™ of Windows 10, Windows 8, Windows 7, MAC OS, NetWare, UNIX of Linux.
Opmerking: We raden aan dat u een van de volgende webbrowsers gebruikt voor een verbeterde gebruikerservaring: Google Chrome, Safari en Firefox. IE wordt niet aanbevolen.
Omgeving
Gebruikstemperatuur: 0°C~40℃
Bewaartemperatuur: -40°C~70℃
Rel. luchtvochtigheid gebruik: 10%~90%, niet-condenserend
Rel. luchtvochtigheid bewaren: 5%~90%, niet-condenserend
*Maximale draadloze overdrachtssnelheden op basis van specificaties van de IEEE 802.11-standaard. Het bereik, de dekking en het aantal verbonden apparaten zijn gebaseerd op testresultaten onder normale gebruiksomstandigheden. De werkelijke draadloze overdrachtssnelheid, het draadloos bereik en aantal verbonden apparaten kunnen niet gegarandeerd worden en variëren op basis van 1) omgevingsfactoren, met inbegrip van bouwmaterialen, fysieke objecten en obstakels, 2) netwerkomstandigheden, met inbegrip van lokale interferentie, omvang en dichtheid van het verkeer, locatie van het product, complexiteit van het netwerk en overhead, en 3) clientbeperkingen, met inbegrip van nominaal vermogen, locatie, verbinding, kwaliteit en toestand van de client.
*Beveiliging tegen bliksem en elektrostatische ladingen is mogelijk op basis van de juiste opstelling, aarding en kabelmantels. Raadpleeg de gebruiksaanwijzing en neem contact op met een IT-specialist voor advies over de opstelling van dit product.
*Het bereik van de voeding is gebaseerd op testresultaten onder normale gebruiksomstandigheden. Het werkelijke bereik van de voeding varieert op basis van 1) status van het access point, met inbegrip van het zendvermogen, de verbonden apparaten en het netwerkverkeer, 2) eigenschappen van de kabel, met inbegrip van type en textuur en 3) omgevingsfactoren, met inbegrip van temperatuur en luchtvochtigheid.
AbonneerTP-Link hecht veel waarde aan privacy. Voor meer informatie over ons privacybeleid kan je onze Privacy Policy bekijken.
Krijg updates over nieuwe producten, samenwerkingen en ander interessant nieuws
From United States?
Get products, events and services for your region.