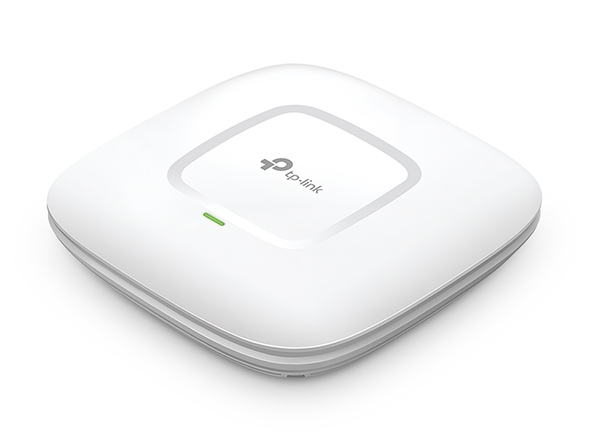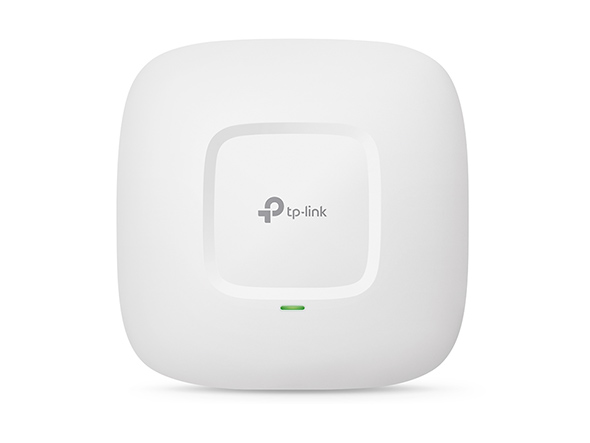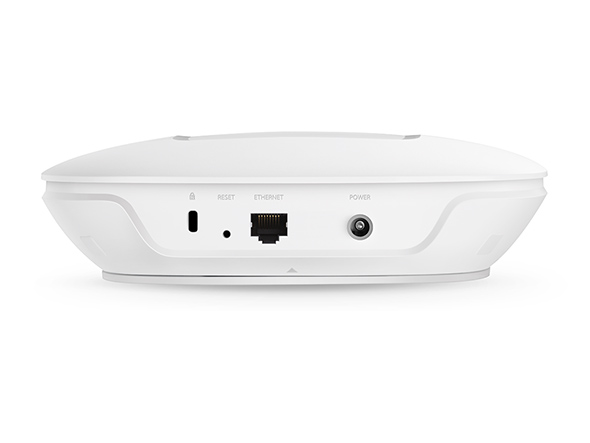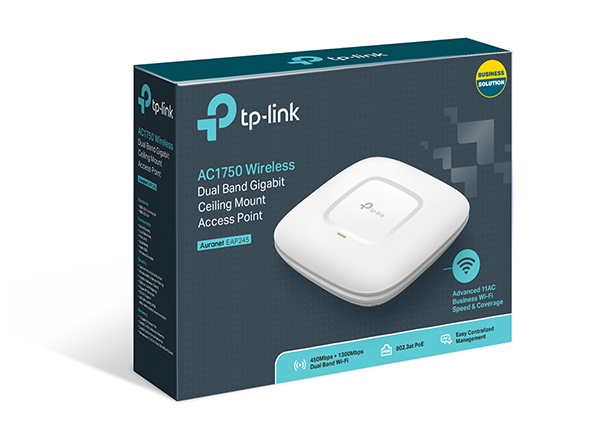 AC1750 Banda Dual Inalámbrica Gigabit con Punto de Acceso de Montaje en Techo
450Mbps simultáneos en 2.4Ghz y 1300Mbps en 5GHz, en total 1750Mbps de velocidad en Wi-Fi
Plataforma de administración gratuita ( EAP Controller ) de fácil manejo, permite administrar cientos de Access Points
Soporta alimentación PoE ( 802.3at) para una instalación conveniente y asequible
El portal cautivo provee un método sencillo y seguro de autenticación para los invitados o clientes
La función de Band Steering en automático asigna la banda de 5GHz a los dispositivos que cuentan con esta capacidad
El Balanceo de Carga asegura una experiencia satisfactoria a los clientes, aun en ambientes con alta densidad
Soporta administracion de VLANS y administracion avanzada de la red
Una Solución Empresarial de Wi-Fi con 802.11ac escalable a un precio razonable
Wi-Fi Superior con
Velocidades 11ac y
Tecnología MIMO 3x3
La generación más reciente de Wi-Fi 802.11ac es combinado con la tecnología avanzada MIMO 3x3 asegurando velocidades Wi-Fi superiores y una gran cobertura en las bandas inalámbricas de 2.4GHz y 5GHz.
El EAP245 proporciona velocidades Wi-Fi de hasta 1.75Gbps, con 1300Mbps en la banda de 5GHz y 450Mbps en la banda de 2.4GHz.
El EAP225 proporciona velocidades de hasta 867Mbps y 300Mbps en 5GHz y 2.4GHz respectivamente.
802.11ac
802.11n
1300Mbps
450Mbps
*El EAP225 soporta la tecnología 11ac MIMO 2×2.
Software Controlador EAP de Auranet
Administración Centralizada sin problemas. Fácil y Sencillo
Administrar y supervisar cientos de EAPs con facilidad, todo desde una sola ubicación. El software Controlador Auranet de TP-Link proporciona una interfaz de administración intuitiva. Controla y administre toda la red desde cualquier PC conectada. No hay costo adicional, y no hay necesidad de un entrenamiento especial. La administración del Wi-Fi empresarial nunca ha sido tan eficaz y rentable.
Aprender más

Portal Cautivo
Autenticación Eficiente de la red Wi-Fi de Invitados
El portal Cautivo proporciona configuraciones personalizables de autenticación para los invitados, maximiza el control de los usuarios. Los administradores pueden configurar fácilmente y ajustar la configuración de la Conexión Wi-Fi de los invitados mediante el diseño de una página única de autenticación, estableciendo un sistema de comprobantes y la página de autenticación personalizada que puede proporcionar una experiencia de marca, puedes anunciar a los clientes u ofrecer cupones.
Diseño estético y Fácil de Montar con PoE
Implementación sencilla
Los EAPs están diseñados para una fácil instalación en cualquier pared o techo. La función de Alimentación a través de Ethernet (PoE) le permite que los cables de red transporten la energía eléctrica para reducir el desorden de los cables. No tiene que preocuparse por un fastidioso cableado cuando ponga en funcionamiento su sistema de administración centralizada con PoE.
Un sistema Wi-Fi Unificado para Multiples Entornos
La solución empresarial Auranet de Wi-Fi 11ac está diseñada para manejar multi-usuarios en zonas grandes, sin encontrar los mismos problemas de estabilidad con enrutadores y puntos de acceso estándar cuyo propósito eran para uso doméstico. Los EAPs son una excelente opción para hoteles, salones de eventos, Centros Comerciales, instituciones educativas y restaurantes.
Motel

Restaurantes

Centros Comerciales

Instituciones educativas
Cloud Centralized Management
- Anytime, Anywhere
Omada Hardware Controller OC200 and Omada Software Controller make it easy to manage and monitor the whole Omada network in real-time, while cloud service enables remote and secure access no matter where you find yourself.
Hospitality

TP-Link Omada permite a los hoteles construir redes WiFi confiables. Se presentan las soluciones de redes WiFi para hoteles que incluyen topología, diseño, características, instalación y productos de la red.

Cobertura WiFi completa y conexiones por cable
Control de invitados flexible
Roaming sin interrupciones
Manejo sencillo

Education

Debido a su solución de red confiable, escalable y segura, TP-Link ha sido ampliamente reconocido por los clientes globales en el mercado de la educación, desde escuelas infantiles con algunos AP hasta colegios y universidades con cientos de AP.

Manejo sencillo
WiFi de alta densidad
Cobertura WiFi completa y conexiones por cable
VPN y seguridad

Retail

Una buena red inalámbrica no solo puede servir al sistema de oficina en red del centro comercial, sino que también puede brindar una experiencia de compra más cómoda a los clientes. La solución TP-Link Omada SDN permite a los propietarios de las tiendas crear una experiencia moderna y atractiva en la tienda para cada cliente.

Impulse el negocio online
Cobertura WiFi completa
Roaming sin interrupciones
Clientes de alta concurrencia
Manejo sencillo
CARACTERÍSTICAS DE HARDWARE
Interface
1 Puerto Gigabit Ethernet (RJ-45)(Soporta IEEE802.3at PoE)

Cerradura de Seguridad Física
Ranura para Candado Kensington

Botón
Reset
Fuente de Alimentación
Alimentación PoE o Fuente de Alimentación Externa 12VDC / 1.5A

Consumo de Energía
12.7 W

Dimensiones (W X D X H)
180*180*47.5mm. (7.1 x 7.1 x 1.9in)

Tipo de Antena
Omnidireccional Interna2.4GHz: 3* 4dBi5GHz: 3*4dBi

Montaje
Montaje en Techo /Pared (Kit incluído)

CARACTERÍSTICAS INALÁMBRICAS
Estándares Inalámbricos
IEEE 802.11ac/n/g/b/a

Frecuencia
2.4GHz y 5GHz

Tasa de Señal
5GHz:Hasta 1300Mbps2.4GHz:Hasta 450Mbps
Funciones Inalámbricas
Multiples SSIDs(Hasta 16 SSIDs, 8 para cada banda)Habilitar/deshabilitar Wireless RadioAsignación Automática de CanalControl de Potencia de Transmisión(Ajuste de Potencia Transmitida en dBm)QoS(WMM)Band SteeringBalanceo de CargaLímite de VelocidadProgramación de ReinicioProgramación InalámbricaEstadísiticas Inalámbricas basasdas en SSID/AP/Cliente

Seguridad Inalámbrica
Autenticación mediante Portal CautivoControl de AccesoFiltrado de Direcciones MAC InalámbricasAislamiento entre Clientes InalámbricosMapeo de VLAN a SSIDRogue AP DetectionSoporte 802.1X64/128/152-bit WEP / WPA / WPA2-Enterprise,WPA-PSK / WPA2-PSK
Potencia de Transmisión
CE:<19dBm(2.4GHz)<23dBm(5GHz)FCC:<25dBm(2.4GHz)<27dBm(5GHz)

ADMINISTRACIÓN
Omada App
Yes
Centralized Management
• Omada Cloud-Based Controller• Omada Hardware Controller (OC300)• Omada Hardware Controller (OC200)• Omada Software Controller
Cloud Access
Yes (Through OC300, OC200, Omada Cloud-Based Controller, or Omada Software Controller)
EAP Controller Software
Sí
Alertas de Correo Electrónico
Sí

LED ON/OFF Control
Sí
Management MAC Access Control
Sí

SNMP
Sí

System Logging Local/Remote Syslog
SysLog Local/Remoto

Telnet
Sí

SSH
Yes
Web-based Management
HTTP/HTTPS

L3 Management
Sí

Multi-site Management
Sí

Management VLAN
Sí

Otros
Certificacion
CE, FCC, RoHS

Contenidos del Paquete
Punto de Acceso Gigabit Inalámbrico de Doble Banda AC1750 EAP245Fuente de AlimentaciónKits de MontajeGuía de Instalación

Requisitos del Sistema
Microsoft Windows XP, Vista, Windows 7, Windows 8, Windows10

Ambiente
Temperatura de Funcionamiento: 0℃~40℃ (32℉~104℉)Temperatura de Almacenamiento: -40℃~70℃ (-40℉~158℉)Humedad de Funcionamiento: 10%~90% sin condensaciónHumedad de Almacenamiento: 5%~90% sin condensación

SuscripciónTP-Link toma en serio su privacidad. Para obtener más detalles sobre las prácticas de privacidad de TP-Link, consulte la Política de privacidad de TP-Link.
From United States?
Check products and services for your region.