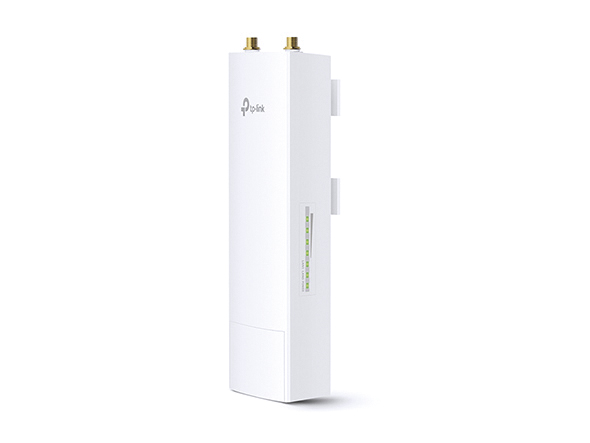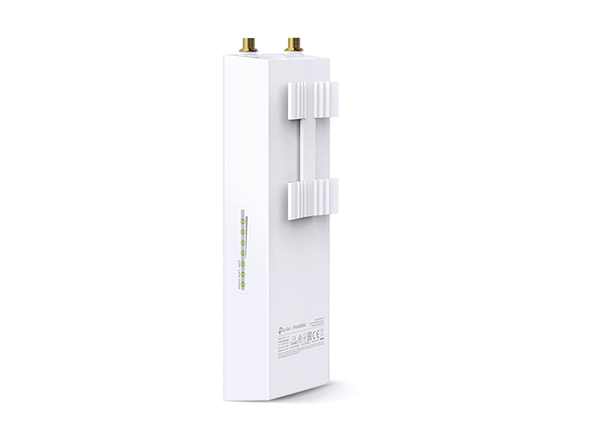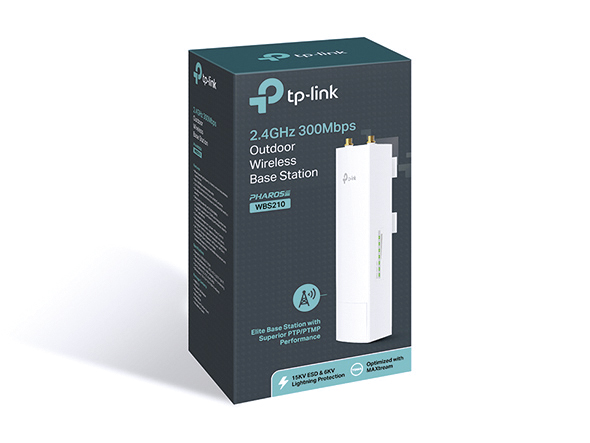 Base Station 2.4GHz 300Mbps Outdoor
Minore interferenza wireless grazie a canali di frequenza ad ampio spettro
Wireless N fino a 300Mbps
Larghezza di banda selezionabile: 5/10/20/40MHz
Trasmissione della potenza regolabile da 0 a 20dBm
2 connettori RP-SMA femmina connectorsper antenne esterne MIMO
Compatibile con antenna parabolica TP-LINK per il trasferimento dati wireless a lunga distanza
Injector PoE Passivo (incluso nella confezione) con capacità fino a 60m e funzionalità di RESET remoto
TP-LINK Pharos MAXtream (Time-Division Multiple-Access-), la tecnologia migliora il rendimento del prodotto, la capacità e le prestazioni di latenza, ideale per le applicazioni PtMP
Sistema di gestione centralizzata - Pharos Control
Supporto modalità operative Router AP, Client Router AP, AP, Client AP e Multi-Bridge
Chassis impermeabile, con protezione fino a 15kV ESD e 6KV
Descrizione
Outdoor Base Station WBS210 Wireless 300Mbps 2.4GHz di TP-LINK è stata progettata specificatamente per fornire una soluzione efficace per le applicazioni di rete wireless outdoor. Con la sua piattaforma di gestione centralizzata e grande flessibilità, è la scelta ideale per fornire una copertura Wi-Fi punto-punto, punto-multipunto e all'aperto. L'Outdoor Wireless Base Station di TP-LINK concilia prestazioni professionali con un design user-friendly, che la rende la soluzione ideale sia per gli utenti home sia per quelli business.
Trasmissioni dati a lunga distanza
Due antenne esterne RP-SMA femmina permettono all'Outdoor Wireless Base Station di iraggiungere un'ampia versatilità. Dove la trasmissione dati in wireless a lunga distanza è necessaria, WBS210 può essere accoppiato con un'antenna parabolica TP-LINK, che consente di trasferire i dati su lunghe distanze.
Semplice installazione
La procedura di montaggio e installazione del WBS210 è molto semplice sia in caso di point to point che poit to multipoint.
Hardware di livello enterprise
Per massimizzare le prestazioni e stabilire trasmissioni wireless sulla lunga distanza, la serie Pharos è prodotta con chipset Qualcomm Atheros di livello enterprise, antenne ad alto guadagno e amplificatori ad alta potenza. In aggiunta dispone di una scocca impermeabile e capacità PoE. Queste cratteristiche permetto l'impiego del prodotto anche nelle situazioni climatiche più estreme (-30°C~70°C)..
Chipset di livello EnterpriceQualcomm Atheros
Wireless N 300Mbps
Scocca impermeabile
Adattatore PoE passivo
Protezione dai fulmini 6KV
Protezione 15KV ESD
Tecnologia MAXstream TDMA; Massimo Throughput
Con l'aumento del numero di stazioni base e del numero di client aumenta esponenzialmente il numero di collisione in trasmissione con un conseguente collasso delle prestazioni. Il tradizionale metodo di accesso casuale al mezzo trasmissivo diviene quindi inefficiente. La tecnologia MAXstream TDMA introduce un sistema di coordinamento che applica una divsione temporale per l'accesso al mezzo trasmissivo da parte di ogni stazione, limitando così drasticamente le collisioni ed il conseguente collasso della rete.
Pharos Control - Sistema di gestione centralizzato
Le stazioni base Pharos dispongono del Pharos Control, un software di gestione centralizzata che aiuta gli utenti a gestire facilmente tutti le stazioni della rete da un singolo PC. Il Pharos Control fornisce agli utenti la possibilità di rilevare le stazioni base, monitorare lo stato della rete, aggiornare il firmware, oppure effettuare la manutenzione della rete.
PharOS
PharOS è un'interfaccia di gestione web semplice da utilizzare che permette agli utenti e ai network professionali di effettuare calibrazioni ed eseguire le configurazioni più avanzate.
Simulatore
TP-LINK Pharos Provides High Performance Solutions
TP-LINK Pharos series products are dedicated to provide high performance solutions for outdoor wireless networking applications. Nowadays Pharos includes a variety of CPE and Base station devices, carrier class antennas, and a centralized management application.
WBS510
WBS210

Wireless Performance

Compatibility

802.11 a/n

802.11 b/g/n

Wireless Speed

300Mbps

300Mbps

Transmit Power

27dBm

27dBm

Maximum Transfer distance

50km+

30km+

MIMO

√

√

Hardware

External Antenna Interface

2 RP-SMA female connectors for MIMO antenna

Weatherproof Enclosure

√(IP65)

√(IP65)

ESD Protection

15kV

15kV

Lightning Protection

6kV

6kV

Software

Operation Modes

AP / Client / Bridge / Repeater / AP Client Router (WISP Client) / AP Router Mode

MAXtream TDMA Mode

√

√

Channel Bandwidth

5/10/20/40MHz

5/10/20/40MHz

Pharos Control Supported

√

√
Peru WISP

TP-Link Helps WISP to Provide Reliable Wireless Connectivity in Peru

Peru WISP

TP-Link Helps WISP to Provide Reliable Wireless Connectivity in Peru

"The performance of CPE was better than expected, working stable even with -85 dBm of received power." —David Grillo, Engineer, Kroton
CARATTERISTICHE HARDWARE
Processore
Qualcomm Atheros Enterprise AR9350B 560MHz CPU, MIPS 74Kc
Memoria
64MB DDR2 RAM, 8MB Flash
Interfaccia
1 10/100Mbps Shielded Ethernet Port (LAN0/POE)
1 10/100Mbps Shielded Ethernet Port (LAN1)
2 RP-SMA Female
1 Grounding Terminal
1 Reset Button

Alimentazione
Passive Power over Ethernet via LAN0 (+4,5pins; -7,8pins)
Voltage range: 16-27VDC

Dimensioni ( L x P x A )
198 x 74 x 40 mm
Sicurezza
15KV ESD Protection
6KV Lightning Protection

Enclosure
Outdoor ASA stabilized plastic material
IP65 water and dust proof Certification

CARATTERISTICHE WIRELESS
Standard wireless
IEEE 802.11b/g/n
Protocollo proprietario
TDMA Mode (with Pharos MAXtream enabled)
Velocità wireless
Up to 300Mbps (40MHz,Dynamic)
Up to 144.4Mbps (20MHz,Dynamic)
Up to 72.2Mbps (10MHz,Dynamic)
Up to 36.1Mbps (5MHz,Dynamic)

Frequenza
2.4~2.483GHz
Note: Available operating frequency may vary depending on the limitation of the contries or regions in which the device is used.
Potenza di trasmissione
<20db EIRP (normativa CE)
CARATTERISTICHE SOFTWARE
Modalità operative
AP / Client / Bridge /Repeater
AP Router Mode / AP Client Router(WISP Client) Mode
Configurazione di rete
WAN: Static/Dynamic/PPPoE/L2TP/PPTP
LAN: Static/Dynamic/Dynamic/DHCP
Forwarding: DMZ/ALG/UPnP/Virtual Server/Port Trigger
Security: SPI Firewall/Ping Forbidden/VPN/DOS Protection
Access Control
Static Routing
Bandwidth Control
IP & MAC Binding

Configurazioni wireless
Pharos MAXtream TDMA Technology
802.11b/g/n Modes
Selectable Channel Width: 5/10/20/40MHz
Automatic Channel Selection
Transmission Power Control
Dynamic Frequency Selection (DFS)
WDS Enable/Disable
Security: WPA/WPA2, WPA-PSK/WPA2-PSK (AES/TKIP) Encryption, 64/128/152-bit WEP Encryption
SSID Broadcast Enable/Disable
Multi-SSID with VLAN Tagging (AP mode only)
Distance/ACK Timeout Setting
Wireless MAC Address Filter
Wireless Advanced:
> Beacon Interval/RTS Threshold/Fragmentation Threshold/DTIM Interval/AP Isolation/
Short GI/Wi-Fi Multimedia

Gestione
Discovery and Remote Management via Pharos Control application
HTTP/HTTPS Web-based management
System Log
SNMP Agent(v2c)
Ping Watch Dog
Dynamic DDNS
SSH Server

Tool di sistema
Wireless Signal Quality Indicators:
Signal Strength/Noise/Transmit CCQ/CPU/Memory
Monitors: Throughput/Stations/Interfaces/ARP/Routes/WAN/DHCP
Spectrum Analyzer
Speed Test
Ping
Traceroute

Ottimizzazioni di sistema
802.11b/g/n Tx beamforming technology
Optimized IGMP Snooping/Proxy for multicast applications
Hardware watch dog

ALTRO
Certificazione
CE, FCC, RoHS, IP65
Contenuto della confezione
Outdoor Wireless Base Station
24V 1A Passive PoE Adapter
Pole Mounting Kit
AC Power Cord
Quick Installation Guide

Requisiti di sistema
Nessuno.
Ambiente
Operating Temperature: -30°C~70°C (-22℉~158℉)
Storage Temperature: -40℃~70℃ (-40℉~158℉)
Operating Humidity: 10%~90% non-condensing
Storage Humidity: 5%~95% non-condensing

Iscriviti alla newsletter TP-Link prende la Privacy seriamente. Per maggiori informazioni sul trattamento dei tuoi dati consulta l'Informativa Privacy.
From United States?
Check products and services for your region.