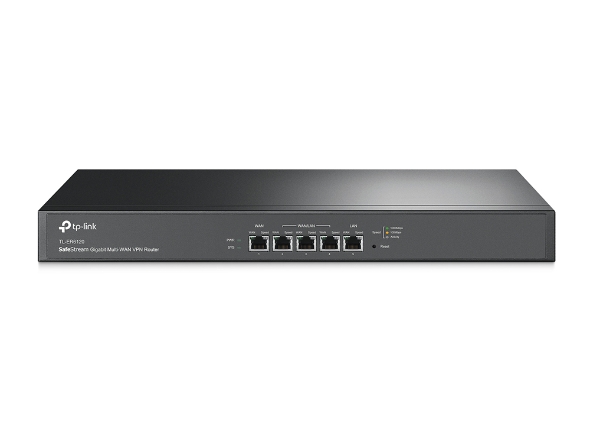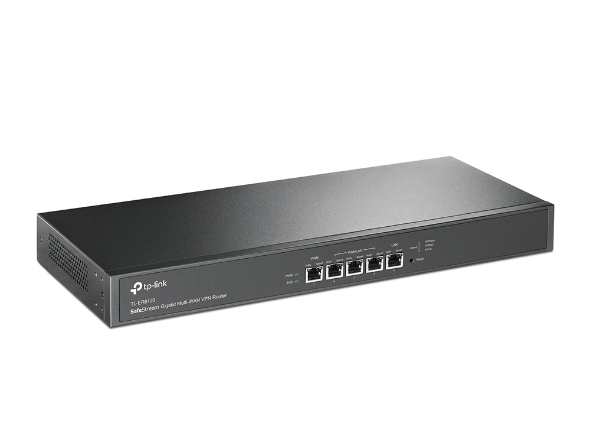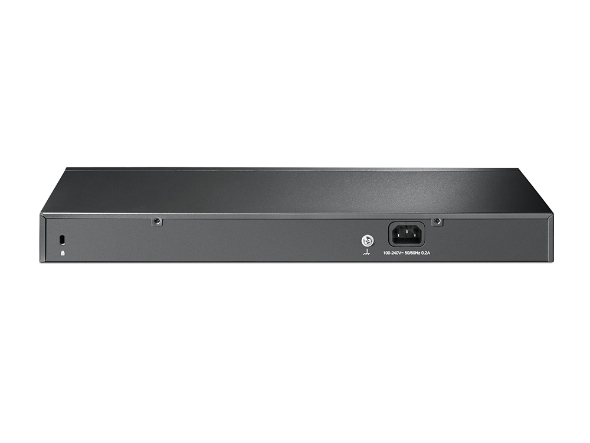 TL-ER6120
SafeStream gigabites, duál WAN-os VPN router
64 bites hálózatra dedikált processzor, 512MB DDRIII nagy sebességű memória a nagyobb üzleti hálózat-teljesítményért
1 db gigabites WAN port, 3 db gigabites WAN/LAN port, 1 db gigabites LAN port
Támogatott többféle VPN protokoll, többek közt az IPsec/PPTP/L2TP, ami flexibilis VPN kialakítását segíti
Akár 100 IPsec VPN csatornát is támogat a hardveres VPN kezelés
Beléptető oldal a vendégek kényelmes hitelesítéséhez
Sokrétű biztonsági funkció,többek között sávszélesség-vezérlés és hozzáférés-vezérlés
Professzionális 4kV villámlás elleni védelmi a beruházásokat a lehető legbiztonságosabban tartja
Hogyan működik?
A TL-ER6120 SafeStream gigabites több WAN-os VPN router a TP-Linktől kiváló adatfeldolgozási képességgel és több erőteljes funkcióval rendelkezik, többek között az IPsec/PPTP/L2TP VPN, Load Balance, hozzáférés-szabályozás, DoS elleni védelem, sávszélesség-felügyelet. A TL-ER6120 ideális kis-és középvállalkozások, szállodák és közösségek nagy mennyiségű felhasználó igényeinek kielégítésével, ami hatékony és könnyen kezelhető hálózatot igényel magas biztonsági szinttel.
Vállalati szintű VPN
A TL-ER6120 számos VPN protokollt támogat, többek között IPsec, PPTP és L2TP kliens és szerver módban. Tartalmaz egy beépített hardveres VPN kezelést is, amely lehetővé teszi a routernek, hogy akár 100 LAN-LAN/kliens-LAN IPSec VPN kapcsolatot támogasson és kezeljen. További VPN funkciók közé tartozik: DES/3DES/aes128/AES192/AES256 titkosítás, MD5/SHA1 hitelesítés és a Main/Aggressive negotiation mód.
Intelligens sávszélesség-elosztás
A TL-ER6120 1 WAN porttal és 3 WAN / LAN porttal rendelkezik, amely lehetővé teszi, hogy egyetlen készülék megfeleljen a többszörös követelményeknek. Az intelligens Load Balance az egyes WAN-portok sávszélesség arányának megfelelően osztja meg az adatfolyamokat, hogy a több vonalas szélessávból a legtöbbet hozza ki. Az IP-alapú sávszélesség-szabályozás és a munkamenet-időkorlátozás funkciók lehetővé teszik a hálózati rendszergazdák számára a sávszélesség használatának rugalmas kezelését.
Kiváló hardver
A 64 bites hálózati processzorral és az 512 MB-os DDR3 memóriával a TL-ER6120 többféle feladatot képes kezelni, miközben kiváló teljesítményt és nagyobb megbízhatóságot nyújt.
Védelem minden időjárási körülmény között
A professzionális szabványú villámlás elleni védelem megakadályozza, hogy az elektromos túlfeszültségek bejussanak a hálózati eszközökbe, inkább ártalmatlanítja földeléssel. Ezt a routert úgy tervezték, hogy megfelelő földelési viszonyok között védelmet nyújtson legfeljebb 4 kV-ig villámlás ellen, így a lehető legvédettebb marad az anyatermészet egyik legrombolóbb eleme ellen.
Branch Location

TP-Link Omada offers enterprise-level VPN, real-time network monitoring, and quick network troubleshooting to meet the requirements of headquarters and branches.

VPN
Easy management
Network monitoring and troubleshooting
High security
Grupoinfo 24

TP-Link Helps Grupoinfo24 to Build Reliable and Affordable Business Network

Grupoinfo 24

TP-Link Helps Grupoinfo24 to Build Reliable and Affordable Business Network

"TP-Link's products provide us with excellent performance, ease-of-management, and a robust feature set. All the important features that we can expect from a correct networking infrastructure are provided by TP-Link's products, and a wise configuration will permit us to profit from the benefits and security required by each company or case." —Grupoinfo 24
Hardver jellemzők
Szabványok és protokollok
IEEE 802.3, IEEE802.3u, IEEE802.3ab
TCP/IP, DHCP, ICMP, NAT, PPPoE, SNTP, HTTP, DNS, IPsec, PPTP, L2TP
Csatlakozások
1 db gigabites WAN csatlakozó (V2 hardware verziótól)
3 db gigabites WAN/LAN csatlakozó
1 db gigabites LAN csatlakozó
Hálózati összeköttetés
10BASE-T: UTP 3, 4, 5 kategóriájú kábel (Max. 100 m)
EIA/TIA-568 100Ω STP (Max 100m)
100BASE-TX: UTP 5, 5e kategóriájú kábel (Max. 100 m)
EIA/TIA-568 100Ω STP (Max. 100m)
1000BASE-T: UTP 5, 5e, 6 kategóriájú kábel (Max. 100 m)
Gomb
Reset gomb
Hálózati tápegység
Saját belső tápegység
AC100-240V~50/60Hz input
Flash
32MB
DRAM
DDRIII 512MB
LED
PWR (áram), SYS (rendszer), Link/Act, Speed
Méretek (Sz x Mé x Ma)
440 x 180 x 44 mm (17.3 x 7.1 x 1.7 in.)
Működési jellemzők
Egyidejű munkamenet
150000
NAT(iMIX)
936Mbps
NAT(DHCP)
878Mbps
NAT(PPPoE)
665Mbps
IPsec VPN Throughput (AES256)
373Mbps
Alapfunkciók
WAN kapcsolati típus
Statikus/Dinamikus IP,
PPPoE/orosz PPPoE,
PPTP/orosz PPTP,
L2TP/orosz L2TP,
Optikai kábel
MAC klónozása
Módosítható WAN MAC-cím
DHCP
DHCP-szerver/kliens,
DHCP címfoglalás
IPv6
IPv6 támogatás
VLAN
802.1Q VLAN, Port VLAN
IPTV
Bridge, Egyéni
Haladó funkciók
Load Balance
Intelligens load balance
Beugró vonal megadása (időalapon, csatlakozási hiba)
Online detektálás
NAT
One-to-One NAT
Multi-nets NAT
Virtuális szerver, DMZ Host, Port Triggering, UPnP
FTP/H.323/SIP/IPsec/PPTP ALG
Routing
Statikus routing
Policy routing
Forgalomvezérlés
IP-alapú sávszélesség-felügyelet
IP-alapú időkorlát
VPN
IPsec VPN
100 IPsec VPN csatorna
LAN-LAN, Kliens-LAN
Main/Aggressive negotiation mód
DES, 3DES, AES128, AES192, AES256 titkosítási algoritmus
MD5, SHA1 engedélyező algoritmus
IPsec NAT Traversal (NAT-T)
Dead Peer észlelés (DPD)
Perfect Forward Secrecy (PFS)
PPTP VPN
50 PPTP VPN csatorna
PPTP VPN-szerver/kliens
PPTP MPPE titkosítással
L2TP VPN
50 L2TP VPN csatorna
L2TP VPN-szerver/kliens
L2TP over IPsec
VPN Pass-through
IPsec (ESP), PPTP, L2TP
Biztonság
Szűrés
MAC-szűrés
URL/kulcsszavas szűrés

ARP-s támadás elleni védelem
GARP csomagok küldése
WAN/LAN-on ARP szkennelés
IP-MAC összekapcsolás
Hálózati támadások elleni védelem
TCP/UDP/ICMP Flood védelem
TCP Scan blokkolás (Stealth FIN/Xmas/Null)
Wan-ról pingelés blokkolása
Hozzáférés-vezérlés
Eredet/Cél IP-alapú hozzáférés-vezérlés
Vezérlés
Szolgáltatás
Dinamikus DNS (Dyndns, No-IP, Peanuthull, Comexe)

Kezelés
Webes vezérlési felület
Távoli vezérlés
Kofigurálás elmentése/visszaállítása
SNMP
Diagnosztika (Ping és Traceroute)
NTP szinkron
Syslog támogatás
Webes felelületű vezérlés
Helyi felhasználó hítelesítése
RADIUS-szerver hítelesítés
Onekey Online
Egyéb jellemzők
Tanúsítványok
CE, FCC, RoHS
Csomagolás tartalma
TL-ER6120
Tápkábel
Rack-szerelési készlet
Telepítési útmutató
Rendszerkövetelmény
Microsoft® Windows® 98SE, NT, 2000, XP, Vista™ vagy Windows 7/8/8.1/10
MAC® OS, NetWare®, UNIX® vagy Linux
Környezet
Működési hőmérséklet: 0℃~40℃ (32℉~104℉)
Tárolási hőmérséklet: -40℃~70℃ (-40℉~158℉)
Működési páratartalom: 10%~90% változatlan halmazállapot
Tárolási páratartalom: 5%~90% változatlan halmazállapot
Díjak

Good

TL-ER6120 won award (good) from c´t in DE.-2012

2012, Germany
From United States?
Get products, events and services for your region.