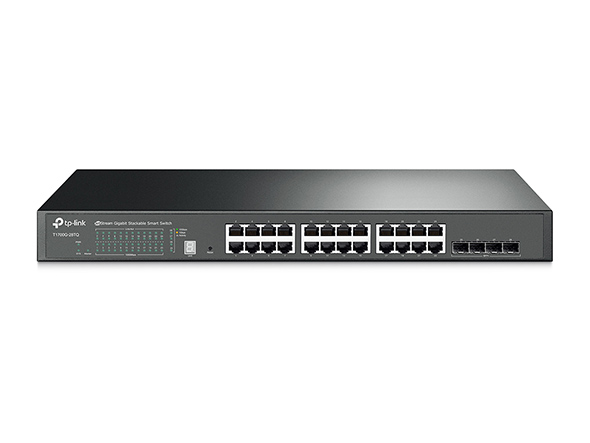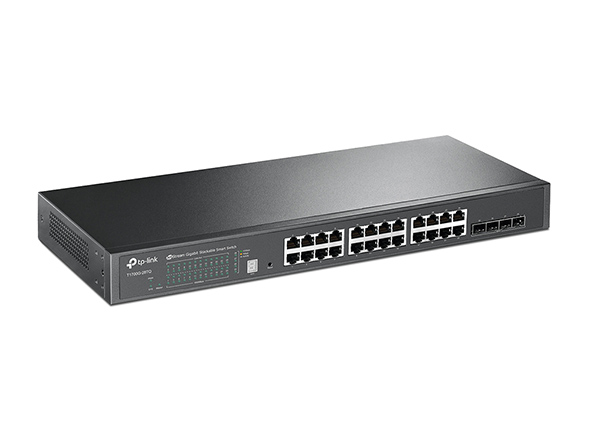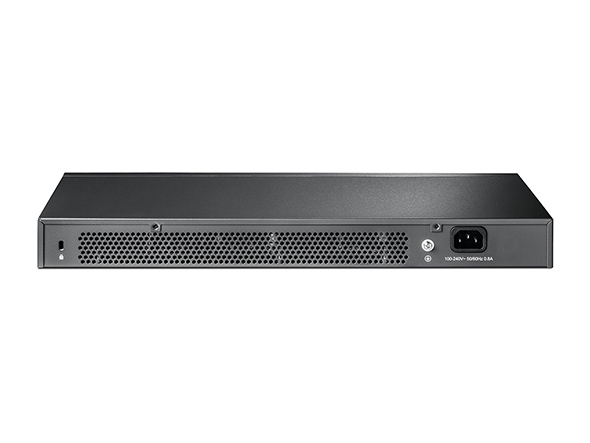 T1700G-28TQ
JetStream™ 24 csatlakozós gigabites stackelhető Smart Switch 4 db 10 GE SFP+ foglalat
Valós fizikai egymásba építhetőség akár 6 egységet és 40 Gbps-os, kétirányú sávszélességet támogat a magas skálázhatóság és hatékony redundancia érdekében
10 G SFP+ portok stackeléshez és/vagy uplinkhez, amely támogatja a nagy sávszélesség igényű alkalmazások forgalmának torlódásának enyhítését és zavartalan adatforgalmat
L2+ funkció, statikus routing segít a belső forgalom megadásában és a hálózati erőforrások hatékonyabb felhasználásában
Fejlett biztonsági funkciók közé tartozik az IP-MAC-Port Binding, ACL, Port Security, DoS Defend, Storm Control DHCP Snooping, 802.1X és a Radius hitelesítés
IPv6 támogatás lehetővé teszi a kettős IPv4/IPv6 stackelést, MLD snooping-ot és IPv6 környezet felderítést
WEB/CLI vezérlés, SNMP, RMON és a kettős kép fokozza menedzselést
Megfizethető 10 Gigabites Switching megoldás növekedő kis- és középvállalatoknak
T1700 sorozatú 10G Smart Switch
A növekvő vállalkozások, a növekvő virtualizáció, a felhő alapú szolgáltatások és alkalmazások, mint a VoIP, HD videó továbbítás és az IP alapú felügyeleti lehetőségek világában az üzleti hálózatokat az egyszerű megbízhatóságon túl úgy kell kialakítani, hogy az fokozza skálázhatóságot, a nagyobb sávszélességet és a nagyobb teljesítményt. A TP-LINK új T1700 sorozata, a 10 G Smart Switch-ei jelentik az ideális megoldást, amelyek megfelelnek ezeknek a követelményeknek. A sorozat T1700X-16TS tagja teljes 10 gigabites Smart Switch és a T1700G-28TQ tagja gigabites, stackelhető Smart Switch 10 G uplinkkel, amelyek magas szintű teljesítményt, skálázhatóságot és költséghatékonyságot biztosítanak, amit a vállalkozások 10 G hálózatai igényelnek megoldásként.
FULL 10-GIGABIT
SMART SWITCH
12-Port 10GBase-T Smart Switch
with 4 10G SFP+ Slots
Future-Proof
10GBase-T Technology
Until recently, 10-Gigabit connectivity was available only in the expensive fiber based technology that supports high-speed access to the network backbone or data center environment.
Today, 10GBase-T Technology is becoming more common and affordable. Low-Latency, Line-Rate 10G Copper Base-T is backward compatible with Fast Ethernet and Gigabit Ethernet and can automatically negotiate between higher and lower speed connections. Most importantly, 10GBase-T provides a cost-effective method for migrating from your current network to 10G Ethernet by utilizing your existing CAT5e/CAT6 RJ-45 short connections (up to 55m) and CAT6A/CAT7 connections (up to 100m). This reduces cabling complexity and ultimately results in significant savings for customers.
16 10-Gigabit Ports,
320Gbps Switching Capacity
The T1700X-16TS features 12 10GBase-T RJ45 ports and four dedicated SFP+ fiber slots, which can support up to 320Gbps of combined switching bandwidth. This provides great resiliency, relieves congestion associated with bandwidth-intensive applications, and guarantees smooth data transmission.
GIGABITES, STACKELHETŐ
10G UPLINKKEL
24 portos gigabites, stackelhető Smart Switch
4 db 10 GE SFP+ foglalattal
Fizikai összekapcsolás
A valós fizikai összekapcsolási technológia akár 6 db T1700G-28TQ egységet enged összekapcsolni egyetlen IP-cím alatt.
Ez továbbfejlesztett skálázhatóságot, egyszerű kezelést, valamint fokozott redundanciát biztosít nagy eszközszámú környezetben. Ugyancsak támogatja a jövőbeni hatékony hálózat bővítést.
6 egység

Valós fizikai összeköttetési technológia akár hat egységig is támogatja a hálózati egyszerűsítést

144 GE csatlakozó

Akár 144 gigabites Ethernet csatlakozó egységenként

24 db 10G SFP+

Akár 24 db 10G SFP+ lehetőség egységenként

768 Gbps

Akár 768 Gbps switching kapacitás az összesített hálózathoz

1 vezérelt IP

A teljes egység egyetlen IP-címmel, egyszerű konfigurálás és monitorozás
Ventilátor nélküli tervezés a csendes működésért
A T1700G-28TQ ventilátor nélkül működik, amely csökkenti a zajt az irodában. A ventilátor eltávolításával csökken az energiafogyasztás, és segít felépíteni egy költséghatékonyabb hálózatot.
Software jellemzők
L2+ statikus routing

Egyszerű hálózati szegmentáció, a switch-en keresztüli belső routinggal lehetővé teszi az eszközöknek különböző VLAN-okon/alhálózatokon, hogy kommunikáljanak egymással, és a hálózati adatforgalmat is hatékonyabbá teszi.

Nagy számú L2 funkciók

A T1700 sorozatú készülékek a teljes L2 funkciókat felsorakoztatják, amelyek megfelelnek a jelenlegi és jövőbeli igényeknek az egységes kialakítás és áthelyezhetőség érdekében.

802.1Q/MAC/Protokoll/Privát VLAN*

Link Aggregation Group (LAG)

IGMP- és MLD Snooping

Multicast VLAN

Erős biztonsági stratégiák

Számos biztonsági stratégiatámogatás lehetővé teszi, hogy egy biztonságos, egységes hálózatot hozzon létre, ezzel megakadályozza a jogosulatlan hozzáférést, a külső támadásokat és a rosszindulatú szoftverek beszivárgását.

Access Control List (ACL)

DHCP Snooping

802.1x hítelesítés

IP-MAC-Port összekapcsolás

Átfogó QoS funkciók

Részletekbe menően megadhatja és optimalizálhatja a hálózati teljesítményt és a hatékony idő-érzékeny forgalmat.

Port alapú vagy 802.1p-alapú priorizálás

Layer 3-alapú (DSCP) priorizálás

Sebességkorlát

Hang VLAN

IPv6 támogatás

A T1700 sorozat átfogó IPv6 jellemzőket nyújt, köztük az IPv6 menedzsmentet, statikus routingot, ACL-t és QoS-t**, amelyek megkönnyítik az IPv6-alapú hálózati átmenetet, és védik a befektetés értékét.

Kettős kép

Kettős firmware kép (image) csökkenti az állásidőt, amikor a firmware frissítése folyamatban van. A backup image is aktiválható abban az esetben, ha valamilyen hiba fordul elő, hogy az aktív leképzésen.
* Csak a T1700X-16TS támogatja a Privát VLAN-t
** IPv6 statikus routing/ACL/QoS egy későbbi firmware frissítéssel lesz elérhető
Hardware specifikáció
T1700X-16TS
T1700G-28TQ
10/100/1000 Mbps RJ45 csatlakozók
-
24
10 G Base-T RJ45 csatlakozók
12
-
Uplink
4 db dedikált 10 G SFP+
4 db dedikált 10 G SFP+
Switching kapacitás
320 Gbps
128 Gbps
Méret(Sz×Mé×Ma)
440×220×44 mm


(17.3×8.7×1.73 in.)

440×180×44 mm


(17.3×7.1×1.73 in.)

Ventilátorok száma
2 Smart ventilátor
Ventilátor nélküli
További részletek
Ugrás
Ugrás
Kiegészítők
10GBase-SR SFP+ LC adóvevő

850nm multimódú adóvevő
300 m max. távolság
LC/UPC csatlakozó

TXM431-SR

10GBase-LR SFP+ LC adóvevő

1310nm single-módú adóvevő
10 km max. távolság
LC/UPC csatlakozó

TXM431-LR

1 m/3 m direkt csatlakozós SFP+ kábel

1 m/3 m kábelhossz
SFP+ foglalat mind két végen

TXC432-CU1M / TXC432-CU3M
Hardver jellemzők
Szabványok és protokollok
IEEE 802.3i, IEEE 802.3u, IEEE 802.3ab, IEEE802.3z, IEEE 802.3ae, IEEE 802.3ad, IEEE 802.3az, IEEE 802.3x, IEEE 802.1d, IEEE 802.1s, IEEE 802.1w, IEEE 802.1q, IEEE 802.1x, IEEE 802.1p
Csatlakozások
24 db 10/100/1000 Mbps RJ45 csatlakozó
4 db fix 10G SFP+ bemenet
Hálózati összeköttetés
10BASE-T: UTP 3, 4, 5 kábel (maximum 100 m)
100BASE-TX/1000Base-T: UTP 5, 5e vagy újabb (maximum 100 m)
1000BASE-X: MMF, SMF
10GBASE-LR
10GBASE-SR
Ventilátorok száma
Nincs
Fizikai biztonsági zár
Yes
Hálózati tápegység
100-240V, 50/60Hz
Energiafelvétel
21,8 W
Súly
2,8 kg
Méretek (Sz x Mé x Ma)
440 x 180 x 44 mm (17.32 * 7.1 * 1.73 in.)
Felszerelés
Rack Mountable
Max. áramfelvétel
21.8W (220V/50Hz)
Max Heat Dissipation
74.38 BTU/h
Fizikai összeköttetés
Telepíthető SFP+ átjátszók és közvetlenül csatlakoztatott Copper (DAC) kábelek
TXM431-SR
TXM432-LR
TXC432-CU1M
TXC432-CU3M

Max. telepíthető összekapcsolási portok száma
2 SFP+
Összefúzéskori sebesség (portonként)
20 Gbps (Full-Duplex)
Egységek száma összefűzésenként
Max. 6 egység
Működési jellemzők
Switching teljesítmény
Max. 128 Gb/s egyedülálló switch-ként
Csomagtovábbítási sebesség
Max. 95,2 Mpps egyedüálló switch-ként
Fizikai (MAC) cím tábla
16K
Csomag puffer memória
1,5 MB
Jumbo Frame
9 KB
Statikus útvonalak száma
32 db IPv4
IP interfészek száma
16
Szoftver jellemzők
QoS (szolgáltatás minősége)
802.1p CoS/DSCP elsőbbség támogatása
8 elsődleges sor
Sorbanállás megadása: SP, WRR, SP+WRR
Port- és adatmennyiségű alapú szabályozás
IPv6 QoS*
Voice VLAN
L2 és L2+ jellemzők
Statikus routing
DHCP relay*
IGMP Snooping V1/V2/V3
802.3ad LACP (Max. 14 egyesített csoport, 8 port csoportonként)
Spanning Tree STP/RSTP/MSTP
BPDU Filtering/Guard
TC/Root Protect
Loop back detection
802.3x Flow Control
LLDP, LLDP-MED*
VLAN
Támogatott max. 4K VLAN egyidejűleg
MAC/Protokoll-alapú VLAN
Hozzáférés-jogosultsági lista (ACL)
L2~L4 csomagszűrés forrás- és Mac/IP-cím, TCP/UDP port alapon
IPv6 ACL*
Biztonság
AAA*
Port biztonság
DHCP Snooping
IP-MAC-Port összekapcsolás
ARP ellenőrzés
802.1X és Radius hitelesítés
SSH v1/v2
SSL v2/v3/TLSv1
Broadcast/Multicast/Unknown-unicast Storm Control
DoS elleni védelem
IPv6
Kettős IPv4/IPv6 halmaz
Multicast Listener Discovery (MLD) Snooping
IPv6 környezet felderítés (ND)
Path maximum transmission unit (MTU) felderítés
Internet Control Message Protocol (ICMP) v6
TCPv6/UDPv6
IPv6 alkalmazás
DHCPv6 Client
Ping6
Tracert6
Telnet(v6)
IPv6 SNMP
IPv6 SSH
IPv6 SSL
Http/Https
IPv6 TFTP
Vezérlés
Web-alapú GUI és CLI vezérlés
SNMP v1/v2c/v3, kompatibilis a publikus MIB-vel és
a TP-LINK private MIB-vel
RMON (1, 2, 3, 9-csoport)
CPU Monitoring
Port Mirroring
Firmware frissítés: TFTP & Web
System Diagnózis: VCT
SYSLOG & Public MIBS
Kettős megjelenítés

* Ezek a jellemzők egy későbbi firmware kiadással lesznek elérhetőek
Egyéb jellemzők
Tanúsítványok
CE, FCC, RoHS
Csomagolás tartalma
T1700G-28TQ
Elektromos kábel
Telepítési útmutató
Telepítő CD
Rackbe szerelési készlet
Gumitalp
Rendszerkövetelmény
Microsoft® Windows® XP, Vista™ vagy Windows 7, Windows 8/8.1, MAC® OS, NetWare®, UNIX® vagy Linux
Környezet
Működési hőmérséklet: 0℃~40℃ (32℉~104℉)
Tárolási hőmérséklet: -40℃~70℃ (-40℉~158℉)
Működési Páratartalom: 10%~90% változatlan halmazállapot
Tárolási Páratartalom: 5%~90% változatlan halmazállapot
From United States?
Get products, events and services for your region.