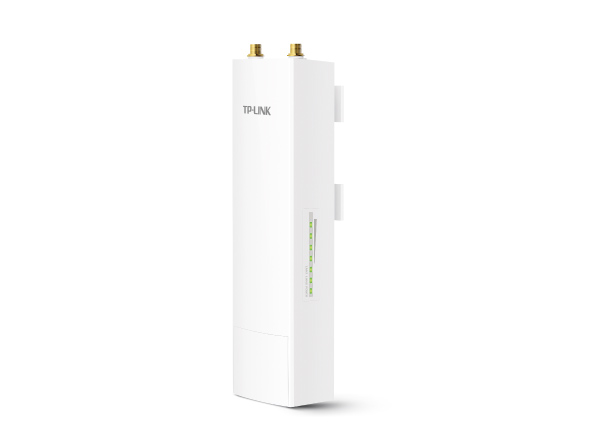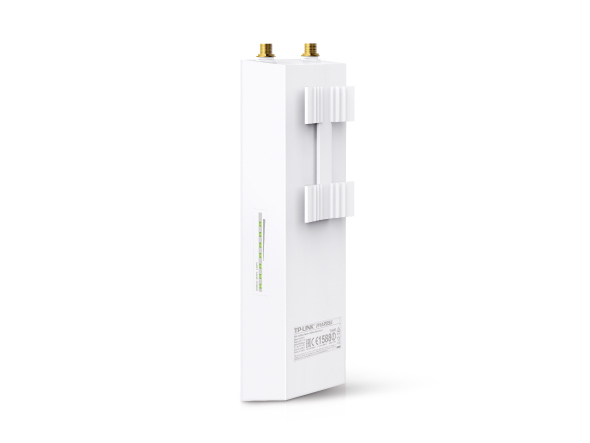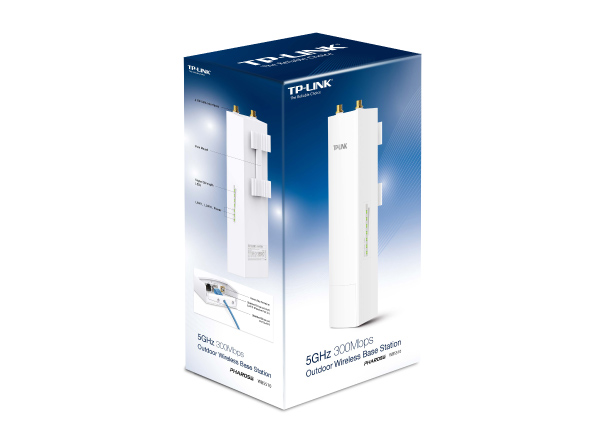 WBS510
5 GHz-es 300 Mbps Kültéri vezeték nélküli bázis
Széles működési frekvenciacsatornák biztosítják a kevesebb vezeték nélküli interferenciát
Vezeték nélküli N-es sebesség, akár 300 Mb/s
Kiválasztható 5/10/20/40MHz sávszélesség
Állítható sugárzási teljesítmény 1-től 27dBm/500mW-g
2 db RP-SMA csatlakozó külső MIMO antennához
Együttműködik a TP-LINK parabola antennájával a hosszú távú vezeték nélküli adatátvitelhez, akár 50 km-ig
1 db 10/100 Mb/s Ethernet csatlakozó a passzív PoE tápláláshoz és 1 db 10/100Mb/s Ethernet csatlakozó távolabbi felhasználáshoz
A TP-LINK Pharos MAXtream (Time-Division-Multiple-Access) technológia javítja a termék átviteli, kapacitásbeli és késleltetési teljesítményét, ideális PtMP alkalmazásokhoz
Központosított irányítás rendszer - Pharos vezérlés
Támogatja az AP router, AP kliens router, AP, AP kliens, Multi-Bridge és a jelismétlő üzemmódot
Időjárásálló borítás, 15kV-ig elektrosztatikus kisülés elleni és 6KV villámlás elleni védelem
Hozzáférés, ahol a legjobban szükség van rá
TP-LINK 5 GHz-es 300 Mb/s kültéri vezeték nélküli bázisállomása kifejezetten hatékony megoldás kültéri vezeték nélküli hálózati alkalmazásokhoz. A központosított menedzsment platform és a nagyfokú rugalmasság ideális választássá teszi point-to-point, point-to-multipoint és kültéri Wi-Fi használathoz. A TP-LINK kültéri vezeték nélküli bázisállomása professzionális felhasználóbarát kialakítással párosul, így tökéletes megoldás mind az üzleti, mind az otthoni felhasználók számára.
Nagy távolságú vezeték nélküli adatátvitel
Két külső RP-SMA antennacsatlakozás lehetővé teszi, hogy a kültéri vezeték nélküli bázisállomás integrálható legyen a TP-LINK szektor- és parabola antennáival. Amennyiben nagy távolságú vezeték nélküli adatátvitelre van szükség, a WBS510-et egy TP-LINK parabola antennával lehet párosítani, amely lehetővé teszi az adatok továbbítását akár 50 km-es távolságra is.
Egyszerű beüzemelés, szerszámmentes felszerelés
Pharos bázisállomások zökkenőmentesen együtt működnek a TP-LINK parabola- és szektor antennáival, hogy hatékony PtP és PtMP adatátvitel nyújtsanak. Pharos bázisállomások beépített felszerelési lehetőséggel is rendelkeznek, ami azt jelenti, hogy nincs szükség szerszámokra a telepítéshez.
Vállalkozásoknak szánt hardware kialakítás
A teljesítmény maximalizálásához és a nagy távolságú adatátvitel stabilizálásához a Pharos-sorozat Qualcomm Atheros vállalkozásoknak szánt chipsettel, nagy nyereségű antennákkal, nagy teljesítményű erősítőkkel felszerelt. A Pharos-sorozat bázisállomásai nagyszerű belső alkatrészei mellett különleges formatervezésével és PoE-s lehetőséggel is rendelkezik. Az iparági vezető hardver biztosítja, hogy a Pharos-sorozat bázisállomásai széleskörű környezeti tényezők és különböző időjárási viszonyok mellett is használhatóak (-40℃ /-40℉ - +70℃/158℉) legyenek.
Qualcomm Atheros vállalati szintű chipset
Nagy nyerességű antenna
Időjárásálló borítás
Passzív PoE adapter
6000V-ig villámlás elleni védelem
15KV-ig ESD elleni védelem
MAXtream TDMA technológia – garantált átvitel
A hálózat nagyságának növekedésével, a bázisállomások és CPE-k között a vezeték nélküli verseny és az ütközések olyan nagymértékűek lesznek a közeljövőben, hogy a valós hálózati teljesítmény csökken, ami komoly hatással lesz a végfelhasználói élményre. Pharos bázisállomások MAXtream TDMA technológiát felhasználva ellensúlyozzák ezt a versenyt, így biztosítva, hogy megmarad a nagy adatátviteli sebesség akkor is, ha az elérési igény növekszik.
Pharos vezérlés - központosított irányítási rendszer
Pharos bázisállomások központi vezérlőrendszerrel érkeztek, ami segíti a felhasználókat abban, hogy könnyedén és egyszerűen vezérelhessék az összes eszközt egy egyszerű számítógépről. A Pharos Control tökéletes kényelmet kínál a felhasználók számára, akik szeretnék vezérelni az eszköz észlelést, státusz figyelést, firmware frissítést és az egyéb hálózati karbantartási feladatokat.
PharOS
A felhasználóbarát webes alapú vezérlő rendszer megadja a lehetőséget a profiknak, hogy minden részletre kiterjedően konfigurálják a hálózatot.
Emulátor
TP-LINK Pharos nagy teljesítményű megoldást nyújt
A TP-LINK Pharos sorozata elkötelezett, hogy kiváló teljesítményt nyújtó kültéri, vezeték nélküli, hálózati alkalmazhatóságot nyújtson. Ma már a Pharos magában foglalja a különböző CPE-ket és a bázisállomású eszközöket, továbbító szintű antennákat és a központosított vezérlési alkalmazást.
WBS510
WBS210

Vezeték nélküli teljesítmény

Kompatibilitás

802.11 a/n

802.11 b/g/n

Vezeték nélküli sebesség

300 Mb/s

300 Mb/s

Átviteli teljesítmény

27 dBm

27 dBm

Max. átviteli távolság

50 km+

30 km+

MIMO

√

√

Hardware

Külső antenna csatlakozás

2 db RP-SMA csatlakozó MIMO antennához

Időjárásálló borítás

√(IP65)

√(IP65)

EK elleni védelem

15 kV

15 kV

Villámlás elleni védelem

6 kV

6 kV

Software

Üzemmódok

AP / Kliens / Bridge / Jelismétlő / AP Kliens Router (WISP kliens) / AP Router mód

MAXtream TDMA mód

√

√

Csatorna-sávszélesség

5/10/20/40 MHz

5/10/20/40 MHz

Pharos Control támogatott

√

√
Wireless Networking for Elevators

TP-Link offers wireless point to point link delivering up to 300 Mbps throughput. The point to point link provides wireless coverage to the entire shaft, and delivers network to the elevator car, connecting the surveillance cameras or digital signage. So that real time video can be recorded to a DVR without hard wiring coax cable directly from the camera to the recorder.

Easy, Flexible Installation
Stable Connections at High-Speeds
Ideal for Elevator Camera
No Complex Cabling
PoE Support
Hardver jellemzők
Processzor
Qualcomm Atheros Enterprise 560MHz CPU, MIPS 74Kc
Memória
64MB DDR2 RAM, 8MB Flash
Csatlakozások
1 db 10/100 Mb/s árnyékolt Ethernet port
1 db 10/100 Mb/s árnyékolt Ethernet port (LAN1)
2 db RP-SMA
1 db földelő terminál
1 db Reset gomb
Hálózati tápegység
Passzív PoE LAN0 porton keresztül (+4,5pins; -7,8pins)
Feszültség tartomány: 16-27VDC
Méretek (Sz x Mé x Ma)
198 x 75 x 40 mm
Védelem
15KV elektrosztatikus kisülés elleni védelem
6000V-ig villámlásvédelem
Burkolat
Kültéri ASA rögzített borítás
IP65 vízálló és porállótanúsítvány
Vezeték nélküli jellemzők
Wi-Fi sztenderd
IEEE 802.11a/n
Szabadalmazott protokoll
TDMA Mód (Pharos MAXtream eléréssel)
Vezeték nélküli sebességek
Max. 300 Mbps (40MHz,Dinamikus)
Max. 144,4 Mbps (20MHz,Dinamikus)
Max. 72,2 Mbps (10MHz,Dinamikus)
Max. 36,1 Mbps (5MHz,Dinamikus)
Frekvencia
5,15~5,85 GHz
Megjegyzés: az elérhető frekvencia az ország- és a régiószabályozás függvénye.
Átviteli teljesítmény
27dBm/500mw (állítható teljesítmény 1dBm-től)
Megjegyzés: az elérhető továbbítási teljesítmény az ország- és a régiószabályozás függvénye.
Szoftver jellemzők
Üzemmód
AP / kliens / Bridge /jelismétlő
AP Router / AP kliens router(WISP kliens)
Hálózati konfigurálás
WAN: Static/Dynamic/PPPoE/L2TP/PPTP
LAN: Static/Dynamic/Dynamic/DHCP
Forwarding: DMZ/ALG/UPnP/Virtuális szerver/Port Trigger
Biztonság: SPI tűzfal/Ping Forbidden/VPN/DOS elleni védelem
Hozzáférés-vezérlés
statikus routing
Sávszélesség-felügyelet
IP- és MAC-cím összekapcsolás
Vezeték nélküli konfiguráció
Pharos MAXtream TDMA Technológia
802.11a/n módok
Kiválasztható csatorna szélesség: 5/10/20/40MHz
Automatikus csatorna választás
Átviteli teljesítmény szabályozása
Dinamikus Frekvencia kiválasztás (Dynamic Frequency Selection - DFS)
Bekapcsolható/Kikapcsolható WDS
Biztonság: WPA/WPA2, WPA-PSK/WPA2-PSK (AES/TKIP) titkosítás, 64/128/152-bit WEP titkosítás
Bekapcsolható/Kikapcsolható SSID (hálózatnév) sugárzás
Multi-SSID VLAN Tagging (csak AP módban)
Távolság/ACK Timeout Setting
Vezeték nélküli MAC-cím szűrése
Haladó Wi-Fi beállítás:
>Beacon Interval/RTS Threshold/Fragmentation Threshold/DTIM Interval/AP Isolation/Short GI/Wi-Fi Multimedia
Vezérlés
Észlelő- és távoli vezérlés Pharos Control alkalmazással
HTTP/HTTPS webalapú kezelés
System Log
SNMP Agent(v2c)
Ping Watch Dog
Dynamic DDNS
SSH Server
Rendszereszközök
Vezeték nélküli jelminőség mutató:
Jel erőssége/zaj/átvitel CCQ/CPU/Memory
Monitorozás: Throughput/állomások/csatlakozások/ARP/Routes/WAN/DHCP
Spektrumanalizátor
Sebességteszt
Ping
Traceroute
Rendszerszintű optimalizáció
802.11a/n Tx nyalábformálási technológia
Optimalizált IGMP Snooping/Proxy multicast alkalmazásokhoz
Hardware watch dog
Egyéb jellemzők
Tanúsítványok
CE, FCC, RoHS, IP65
Csomagolás tartalma
Kültéri vezeték nélküli egység
24V 1,0A Passzív PoE Adapter
Rögzítő pántok
AC tápkábel
Gyors telepítési útmutató
Rendszerkövetelmény
Microsoft Windows 98SE, NT, 2000, XP, Vista™ vagy Windows 8, Windows 7, MAC OS, NetWare, UNIX vagy Linux
Megjegyzés: az alábbi internetböngészők valamelyikének használata javasolt: Google Chrome, Safari, Firefox.
Internet Explorer böngésző használata nem javasolt.
Környezet
Működési hőmérséklet: -40℃~70 ℃ (-40℉~158℉)
Tárolási hőmérséklet: -40℃~70℃ (-40℉~158℉)
Működési Páratartalom: 10%~90% változatlan halmazállapot
Tárolási Páratartalom: 5%~95% változatlan halmazállapot
From United States?
Get products, events and services for your region.