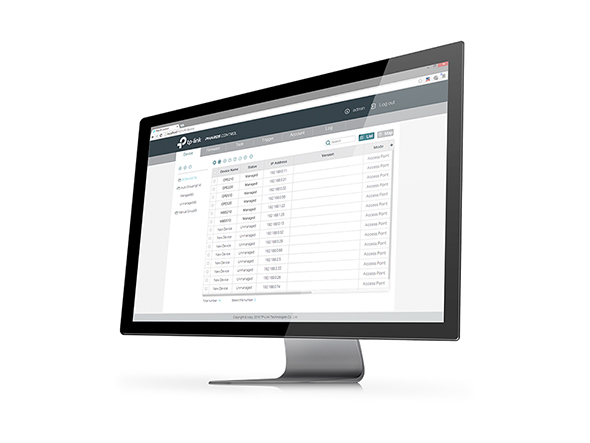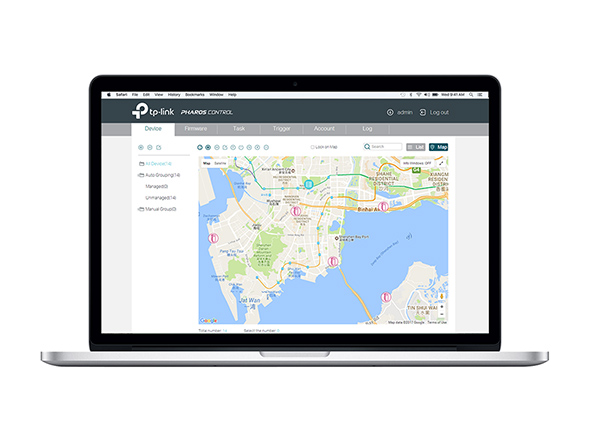 Pharos Control
Pharos központi vezérlő platform
Szabad központi vezérlési lehetőség a határtalan skálázhatóságért
Google Térkép-integrációja a pontosság érdekében
Böngésző / szerver architektúra az ultra kényelem érdekében (A kiszolgáló támogatja a Windows és a Linux rendszert)
Könnyen megfigyelhető hálózat bárhonnan
Bejelentett karbantartás azonnali riasztásokkal
Továbbfejlesztett funkciók,
intuitív megjelenés
Vezeték nélküli
hálózati vezérléshez
Pharos Control 2.0
Integrált
Google Map
Könnyű rálátás
a hálózatra bárhonnan
Riasztás küldése
e-mailben
A TP-Link ingyenes Pharos Control szoftvere lehetővé teszi a , hogy könnyedén kezelhessen korlátlan számú Pharos terméket a teljes, akadálytalan hálózati skálázhatóság érdekében. A tömeges kezelés egyszerre több eszköz konfigurálását és kezelését teszi lehetővé, így a rendszergazdák hatékony, költséghatékony és központosított kezelési platformot biztosíthatnak egy optimalizált hálózat számára.
Google Térkép Integráció a pontosságért
A Google Térkép integrálásával a valós idejű hálózati topológia és az eszközkezelés érthetőbb, korszerűbb és pontosabb, mint valaha. Minden hálózati eszköz tényleges helye, állapota és lefedettsége megjelenik a folyamatosan frissített Google Térképen, amely további hasznos információkat nyújt az eszközkezeléshez és a bővítéshez.
Kényelmes, böngésző alapú felépítés
A kényelem érdekében a Pharos Control 2.0 böngésző / szerver architektúrát használ (a szerver támogatja a Widnows és a Linux rendszert). Ahelyett, hogy a kliensszoftvert a hagyományos ügyfél / kiszolgáló modellbe telepítette volna, a rendszergazdák az egész hálózatot bármely PC böngészőjével kezelhetik. A kivételesen felhasználóbarát webes felület leegyszerűsíti az adminisztratív ellenőrzést, ami lényegesen nagyobb hálózati és menedzsment hatékonyságot eredményez.
Hagyományos C/S felépítés
Kényelmes hozzáférés böngészővel
Figyelje a hálózatot bárhonnan
A Pharos termékek felügyelete és kezelése több telephelyről a hálózatra csatlakoztatott bármelyik számítógépről lehetővé teszi a rendszergazdák számára, hogy teljes vezeték nélküli és távoli hálózati vezérlést végezzenek.
Azonnali risztás
Amikor a csatlakoztatott eszközök szakadozást
érzékelnek vagy megszakad a kapcsolat a központi
állomással, riasztást küldenek e-mailben a
rendszergazdának a helyzet kezeléséhez, mielőtt a
hálózatra és az ügyfelekre hatással lenne.
Eszközfelderítés és
állapot-megfigyelés
Ütemezett- és
karbantartási feladatok
Firmware frissítés és
konfigurálás
Wireless Networking for Elevators

TP-Link offers wireless point to point link delivering up to 300 Mbps throughput. The point to point link provides wireless coverage to the entire shaft, and delivers network to the elevator car, connecting the surveillance cameras or digital signage. So that real time video can be recorded to a DVR without hard wiring coax cable directly from the camera to the recorder.

Easy, Flexible Installation
Stable Connections at High-Speeds
Ideal for Elevator Camera
No Complex Cabling
PoE Support
From United States?
Get products, events and services for your region.