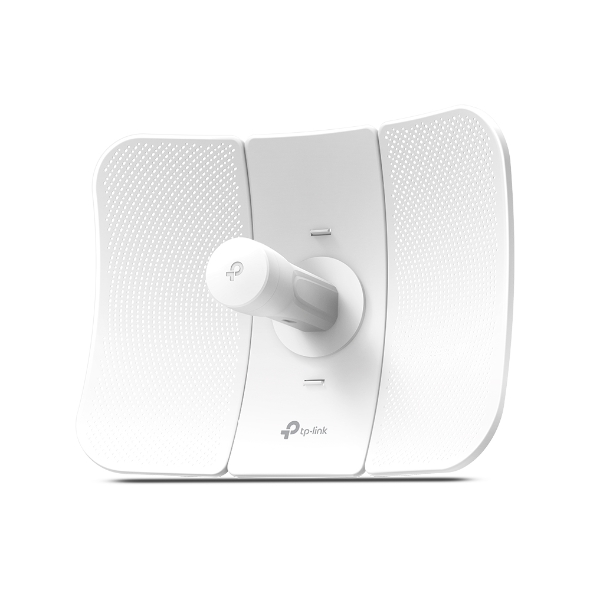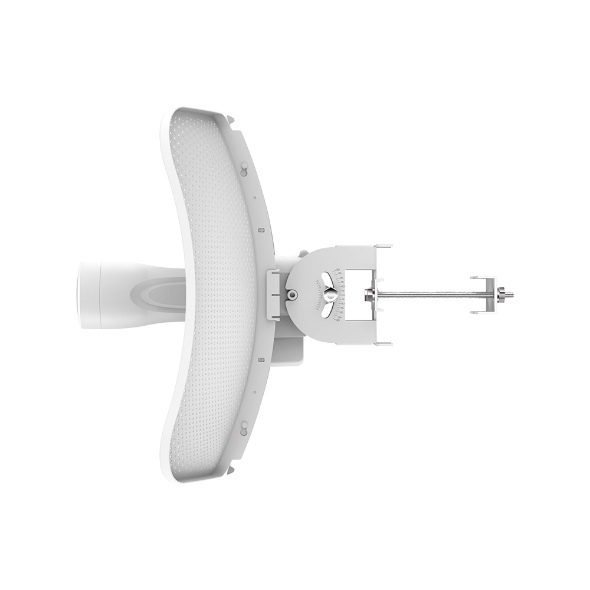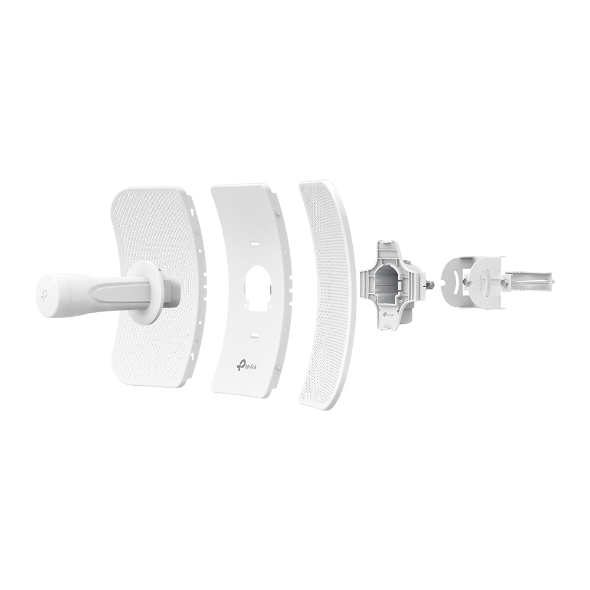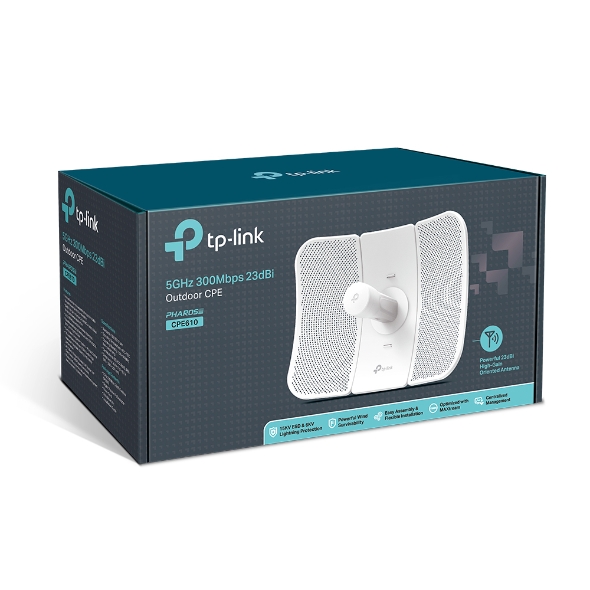 CPE610
5GHz 300Mbps 23dBi kültéri egység
Max. 300Mbps az 5GHz vezeték nélküli sebesség
23dBi nagy nyereségű irányított 2×2 MIMO antenna és dedikált fém reflektor, ideális nagy távolságú használathoz
Kiváló nyaláb irányíthatóság, javított késleltetés és zajkioltás
Az innovatív bepattintható részeknek köszönhetően gyorsan összeszerelhető és a masszív dizájnnak köszönhetően a CPE610 stabil marad még az erős viharokban is
A tartós IP65 időjárásálló burkolat a 15kV ESD és 6kV villámvédelem biztosítja a mindenféle időjárásban való használhatóságot
A TP-Link Pharos MAXtream TDMA technológia javítja az átviteli kapacitást és a késleltetés teljesítményét
A Pharos Control segítségével a rendszergazdák központilag irányíthatják a rendszert
AP / Kliens / Bridge / Repeater / AP Router / AP Kliens Router (WISP) működési módok
Passzív PoE rugalmas és kényelmes telepítési lehetőségeket nyújt
2×2 MIMO
MAXtream TDMA
23dBi irányított antenna és professzionális struktúrális stabilitás a nagy távolságú szabadtéri Wi-Fi átvitel érdekében
23dBi Irányított
antenna

Könnyű összeszerelés &
flexiblis telepítés

Stabil szerkezet,
ami ellenáll a szélnek

IP65 időjárásálló
burkolat

6KV villámvédelem &
15KV ESD védelem
Professzionális 23dBi irányított
antenna a nagy távolságú vezeték nélküli átvitelhez
A 23dBi nagy teljesítményű irányított 2×2 MIMO Cassegrain antenna és dedikált fém reflektor - a CPE610 - kiváló nyaláb irányíthatóságot biztosít, javítja a késleltetést és csökkenti a zajt. A professzionális teljesítmény és a felhasználóbarát kialakításnak köszönhetően az 5GHz 300Mbps 23dBi kültéri CPE610 ideális és költséghatékony választás lehet kültéri vezeték nélküli hálózatok üzemeltetéséhez.
Stabil struktúrális kialakítás és rugalmas telepítés
Antenna
táplálás
Oldalsó
reflektor panel
Középső
reflektor panel
Oldalsó
reflektor panel
Oszlop felfogatás
Táplálás vevő
Bepattintható alkatrészeknek köszönhetően könnyen összeszerelhető
Az oszlopra való felfogatás lehetőségnek és a 3 irányban irányítható kialakításnak köszönhetően rugalmasak a telepítési lehetőségek
A masszív kialakításnak köszönhetően stabil marad nagy viharokban is
Kompakt és könnyű csomagolás
A kicsi és könnyű csomagolás megkönnyíti a szállítást, tárolást és értékesítést.
17.5cm
0cm
0cm
32.6cm
0cm
32.5cm
0cm
14.2cm
Pharos Control – Központi Kezelő rendszer
A CPE610 központi vezérlőrendszerrel érkezett, ami segíti a felhasználókat abban, hogy könnyedén és egyszerűen vezérelhessék az összes eszközt egy egyszerű számítógépről. Az olyan lehetőségek, mint eszköz észlelés, státusz figyelés, firmware frissítés és hálózatkarbantartás egyszerűen intézhetőek a Pharos Control-on keresztül.
Wireless Networking for Elevators

TP-Link offers wireless point to point link delivering up to 300 Mbps throughput. The point to point link provides wireless coverage to the entire shaft, and delivers network to the elevator car, connecting the surveillance cameras or digital signage. So that real time video can be recorded to a DVR without hard wiring coax cable directly from the camera to the recorder.

Easy, Flexible Installation
Stable Connections at High-Speeds
Ideal for Elevator Camera
No Complex Cabling
PoE Support
Hardver jellemzők
Processzor
Qualcomm 560MHz CPU, MIPS 74Kc
Memória
64MB DDR2 RAM,8MB Flash
Csatlakozások
1 10/100Mbps Árnyékolt Ethernet Csatlakozó (LAN/POE)
1 Reset gomb
Hálózati tápegység
Passive Power over Ethernet LAN-on keresztül (+4,5pins; -7,8pins)
Feszültség: 16-27VDC
Energiafelvétel
8.8 WNote: When deployed using Passive PoE, the power drawn from the power source will be higher by some amount depending on the length of the connecting cable.
Méretek (Sz x Mé x Ma)
366 x 280 x 207 mm (14.4 x 11.0 x 8.1 in.)
Dimensions
360 x 280 x 207 mm (14.4 x 11.0 x 8.1 in.)
Antenna nyeresség
23dBi
Antenna sugárzási szöge
9°(Azimuth), 7°(Elevation)
Védelem
15KV ESD Védelem
6KV Villámvédelem
Burkolat
Anyag: Kültéri PC stabilizált műanyag
Időjárásállóság: IP65 víz és por mentes kialakítás
Vezeték nélküli jellemzők
Wi-Fi sztenderd
IEEE 802.11a/n
Szabadalmazott protokoll
TDMA Mód (Pharos MAXtream eléréssel
Vezeték nélküli sebességek
Max 300Mbps (40MHz,Dynamic)
Max 144.4Mbps (20MHz,Dynamic)
Max 72.2Mbps (10MHz,Dynamic)
Max 36.1Mbps (5MHz,Dynamic)
Frekvencia
5.15~5.85GHz
Sugárzási teljesítmény
Max. 29dBm/790mW (állítható teljesítmény 1dBm-től)
Szoftver jellemzők
Üzemmód
AP / Kliens / Bridge / Repeater / AP Router / AP Kliens Router (WISP Kliens)
Hálózati konfigurálás
WAN: Static/Dynamic/PPPoE/L2TP/PPTP
LAN: Static/Dynamic/DHCP
Forwarding: DMZ/ALG/UPnP/Virtual Server/Port Trigger
Biztonság: SPI tűzfal/ Ping Forbidden/VPN/DoS Protection
Elérés Vezérlés
Static Routing
Sávszélesség Vezérlés
IP & MAC Binding
Vezeték nélküli konfiguráció
Pharos MAXtream TDMA Technológia
Kiválasztható csatorna szélesség: 5/10/20/40MHz
Automatikus csatorna választás
Átviteli teljesítmény szabályozása
Dinamikus Frekvencia kiválasztás (Dynamic Frequency Selection - DFS)
Bekapcsolható/Kikapcsolható WDS
Biztonság: WPA/WPA2, WPA-PSK/WPA2-PSK (AES/TKIP) titkosítás, 64/128/152-bit WEP titkosítás
Bekapcsolható/Kikapcsolható SSID (hálózatnév) sugárzás
Multi-SSID VLAN Tagging (csak AP módban)
Távolság/ACK Timeout Setting
Vezeték nélküli MAC-cím szűrése
Haladó Wi-Fi beállítás:
Beacon Interval/RTS Threshold/Fragmentation Threshold/DTIM Interval/AP Isolation/Short GI/Wi-Fi Multimedia
Vezérlés
Észlelő- és távoli vezérlés Pharos Control alkalmazással
HTTP/HTTPS webalapú kezelés
System Log
SNMP Agent(v2c)
Ping Watch Dog
Dynamic DDNS
SSH Server
Rendszereszközök
Vezeték nélküli jelminőség mutató:
Jel erőssége/zaj/átvitel CCQ/CPU/Memory
Monitorozás: Throughput/ Álomások/csatlakozások/ARP/Routes/WAN/DHCP
Spektrumanalizátor
Sebességteszt
Ping
Traceroute
Rendszerszintű optimalizáció
Optimalizált IGMP Snooping/Proxy multicast alkalmazásokhoz
Hardware watch dog
PoE adapter jellemzői
Méretek (Sz x Mé x Ma)
85.8×43.9×29.7 mm
Csatlakozók
1 AC Jack with Earth Ground1 10/100Mbps Shielded Ethernet Port (Power + Data)1 10/100Mbps Shielded Ethernet Port (Data)
Gomb
Remote Reset Button
Tápellátást mutató LED-ek
Green
Bemeneti tápfeszültség
100-240VAC, 50/60Hz
Kimeneti tápfeszültség
24VDC, 0.5A Max+4, 5pins; -7, 8pins. (Support up to 60m Power over Ethernet)
Hatékonyság
>84.29%
Tanúsítványok
CE/FCC/UL/IC/GS/PSB/C-tick/SAA/S-Mark/KC-mark
Egyéb jellemzők
Tanúsítványok
CE, FCC, RoHS, IP65
Csomagolás tartalma
Kültéri Vezeték nélküli CPE
24V 0.5A Passive PoE Adapter
Oszlopra szerelhető szíj
AC tápcsatlakozó
Üzembehelyezési Útmutató
Rendszerkövetelmény
Microsoft Windows 98SE, NT, 2000, XP, Vista™ vagy Windows 10, Windows 8, Windows 7, MAC OS, NetWare, UNIX vagy Linux.
Megjegyzés: az alábbi internetböngészők használata javasolt: Google Chrome, Safari, Firefox.
Internet Explorer böngésző használata nem javasolt.
Környezet
Működési hőmérséklet: -40℃~70 ℃ (-40℉~158℉)
Tárolási hőmérséklet: -40℃~70℃ (-40℉~158℉)
Működési Páratartalom: 10%~90% változatlan halmazállapot
Tárolási Páratartalom: 5%~90% változatlan halmazállapot
From United States?
Get products, events and services for your region.