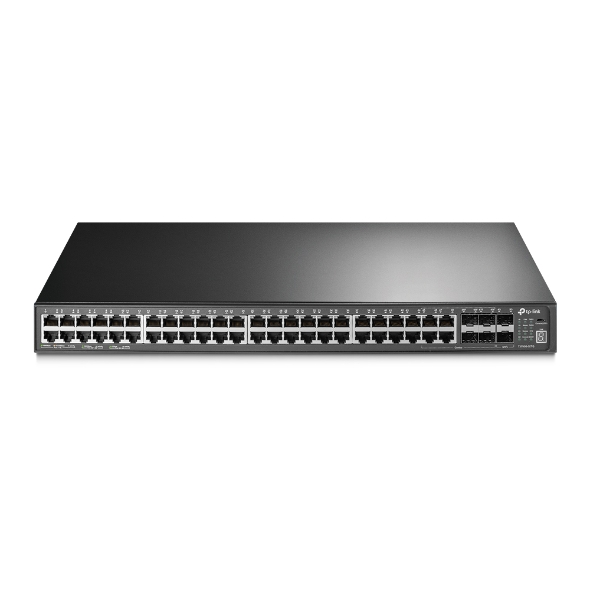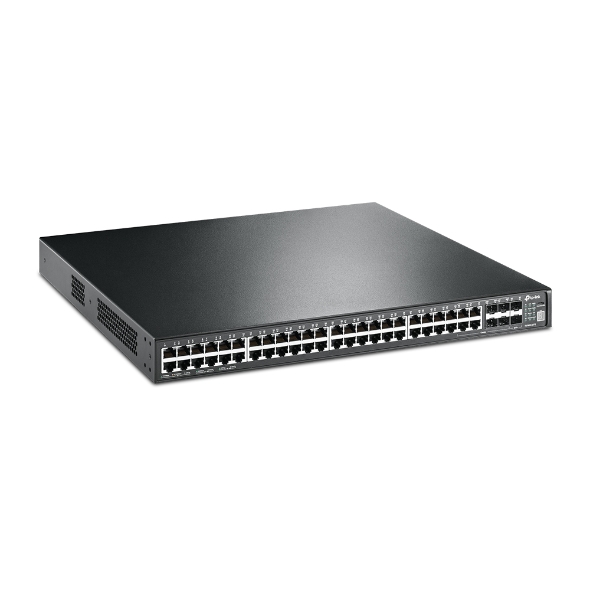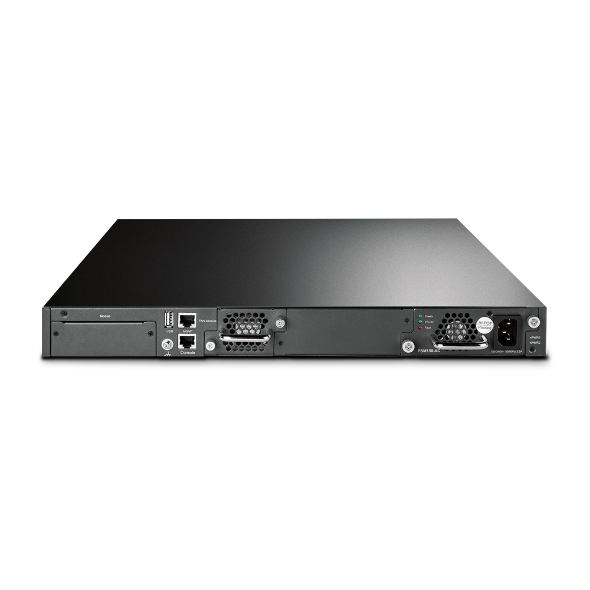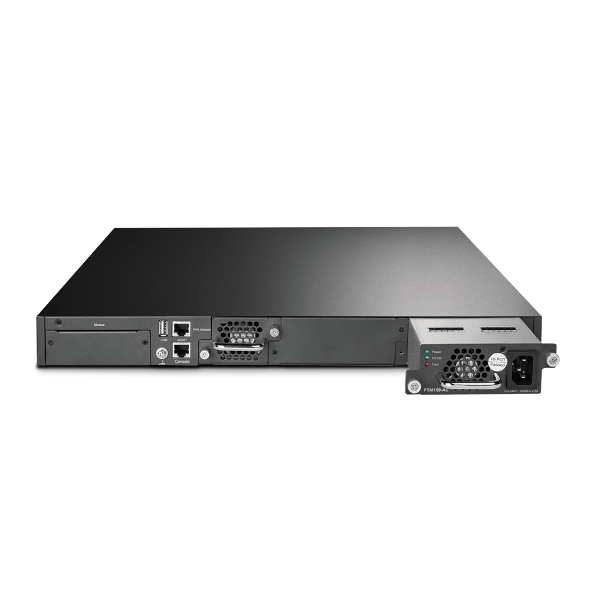 T3700G-52TQ
JetStream 52 csatlakozós Gigabites Stackelhető L3 vezérelhető Switch
Sokféle Layer 3 routing protokollok, köztük RIP/OSPF/ECMP/VRRP, amelyek támogatják a skálázható hálózatot
True Physical Stacking (fizikailag egymásba építhető) technológia 8 egységig a magas skálázhatóság és hatékony redundancia érdekében
10 Gigabit Ethernet uplink nagy sávszélességű alkalmazások okozta torlódások enyhítésére és a folyamatos adatszolgáltatásra
Dual kivehető tápegység és a redundáns tápegység funkció minimálisra csökkenti a leállás idejét
PIM-SM/PIM-DM/IGMP-snooping a rugalmas videó alkalmazásokhoz

RJ45/Micro-USB Console csatlakozók és az out-of-band Management portoknak köszönhetően széles választéka van a hálózat kezelésének

Az USB 2.0 portnak köszönhetően könnyen importálhat fájlokat és visszaállíthatja a beállításokat
Áttekintés
A TP-Link JetStream T3700 L3-as menedzselhető switchei magas elérhetőségre,skálázhatóságra és robosztus hálózatok kialakítására tervezték. Az útvonaltervező protokollok bőséges támogatottságának, a 10Gbps-os vezetékes hálózati sebességnek, a fizikai összekapcsolás lehetőségének, a változatos menedzselési lehetőségnek és a választható redundáns tápegységnek köszönhetően a TP-Link JetStream T3700 sorozatú switche megbízható, biztonságos és költséghatékony megoldást biztosít vállalati, kollégiumi és ISP hálózatoknak.
Haladó L3 tulajdonságok
A T3700 sorozatú swichek támogatják a Layer 3 routing protocolokat többek között a Static Routing, RIP, OSPF és VRRP, melyeknek segítségül szolgálnak skálázható megbízható hálózatok kiépítésében. A Multicast routing protocolok mint például a PIM-SM és PIM-DM garantálja az effektív forgalomirányítást a multicast csoportok számára.
Fizikailag Egymásba Építhetőség
A swich rendelkezik 2 fix 10G SPF+ csatlakozóval ami opcionálisan további kettővel bővíthető amelyekkel fizikailag egymásba lehet építeni több swichet. A T3700G-52TQ-ból maximálisan 8 építhető egybe így maximálisan 384GE, 32 Gigabit combo SFP és 32 10G SFP+ port fizikai stackenként ami biztosítja a maximum 1408 Gbps kapcsolási kapacitást a hálózat számára. Mivel az összes eszköz egy IP-vel elérhető, így az egész stack egyszerűen konfigurálható és monitorozható.
Out-of-band management port
A T3700 sorozatú swichek 3 féle out-of-band management portal rendelkeznek: RJ45 console port, Micro-USB console port és RJ45 out-of-band management port. A micro-USB console port azokhoz a laptopokhoz találták ki amelyek nem támogatják az RS232 (DB9) interfészt. A felhasználók az USB kábelt használhatják a swich managelésére egy CLI (parancssori interfész) keresztül. Az RJ45 out-of-band management porton keresztül kizárólag a webes management felület használható, így meghagyja a lehetőséget az RJ45 portokat az adatátvitel számára.
Hardver jellemzők
Szabványok és protokollok
IEEE 802.3i, IEEE 802.3u, IEEE 802.3ab, IEEE802.3z, IEEE 802.3ae, IEEE 802.3ad, IEEE 802.3x, IEEE 802.1d, IEEE 802.1s, IEEE 802.1w, IEEE 802.1q, IEEE 802.1x, IEEE 802.1p
Csatlakozások
48 10/100/1000Mbps RJ45 csatlakozó
(Auto Negotiation/Auto MDI/MDIX)
4 Combo Gigabit SFP port
4 10G SFP+ csatlakozó max (2 fix és 2 választható)
1 Micro-USB, 1 RJ45 Console Port
1 Management Port
1 USB port
Hálózati összeköttetés
10BASE-T: UTP 3, 4, 5 kategóriájú vezeték (maximum 100m)
100BASE-TX/1000Base-T: UTP 5, 5e vagy magasabb kategóriájú (maximum 100m)
100BASE-FX: MMF, SMF
1000BASE-X: MMF, SMF
10GBASE-LR
10GBASE-SR
Ventilátorok száma
2 eltávolítható
Fizikai biztonsági zár
No
Hálózati tápegység
100~240VAC, 50/60Hz
Kettő Hot-swapot támogató tápegység: PSM150 (Maximum teljesítmény: 150W)
Méretek (Sz x Mé x Ma)
440*420*44 mm
Felszerelés
Rack Mountable
Max. áramfelvétel
58.82W (220V/50Hz)
Max Heat Dissipation
200.69 BTU/h
Fizikai összeköttetés
Telepíthető SFP+ átjátszók és közvetlenül csatlakoztatott Copper (DAC) kábelek
TXM431-SRTXM431-LRTXC432-CU1MTXC432-CU3M
Max. telepíthető összekapcsolási portok száma
2 SFP+
Összefúzéskori sebesség (portonként)
20 Gbps (Full-Duplex)
Egységek száma összefűzésenként
8
Működési jellemzők
Switching teljesítmény
Max. 176Gbps önálló switchként
Csomagtovábbítási sebesség
Max. 130.9Mpps önálló switchként
Fizikai (MAC) cím tábla
32K
Csomag puffer memória
4MB
Jumbo Frame
12KB
Útvonalak száma
8K IPv4
Statikus útvonalak száma
256 IPv4
IP interfészek száma
128 IPv4
Szoftver jellemzők
QoS (szolgáltatás minősége)
802.1p CoS/DSCP prioritás támogatás
8 prioritás sor
Sorbanállás megadása: SP, WRR, SP+WRR
Ingress/Egress DiffServ
Port- és adatmennyiségű alapú szabályozás
Voice VLAN
L2 jellemzők
IGMP Snooping V1/V2/V3MVR802.3ad LACP (Up to 64 aggregation groups, 8 ports per group)Spanning Tree STP/RSTP/MSTPBPDU Filtering/GuardTC/Root ProtectLoop back detection802.3x Flow Control
VLAN
Supports up to 4K VLANs simultaneously IEEE 802.1Q VLAN/MAC VLAN/Protocol VLAN/QinQ/Private VLAN/GVRP
Biztonság
IP-MAC-Port-VID BindingIEEE 802.1XAAARadius/Tacacs+ Authentication and AccountingDoS DefenceDynamic ARP inspection (DAI)IP Source GuardSSH v1/v2SSL v2/v3/TLSv1Port SecurityAccess Control listBroadcast/Multicast/Unknown-unicast Storm Control
L3 jellemzők
Wire-speed IP forwardingStatic RoutingRIP v1, v2OSPF v2ECMPPIM-SM/PIM-DM/IGMPDHCP Server/RelayARP ProxyVRRP
Vezérlés
Web-alapú GUI és CLI vezérlés
SNMP v1/v2c/v3, kompatibilis a publikus MIB-vel és a TP-LINK private MIB-vel
RMON (1, 2, 3, 9-csoport)
DHCP/BOOTP Client, DHCP Snooping, DHCP Option82
CPU Monitoring
Port Mirroring
Idő megadás: SNTP
Integrált NDP/NTDP jellemzők
Firmware frissítés: TFTP & Web
SYSLOG & Publikus MIBS
IPv6 Management
Kettős megjelenítés
Egyéb jellemzők
Tanúsítványok
CE, FCC, RoHS
Csomagolás tartalma
Switch; elektromos kábel; gyorstelepítési útmutató; Telepítő CD; Rackbe szerelési készlet; gumitalp
Rendszerkövetelmény
Microsoft® Windows® 98SE, NT, 2000, XP, Vista™ vagy Windows 7/8, MAC® OS, NetWare®, UNIX® vagy Linux.
Környezet
Működési hőmérséklet: 0℃~40 ℃ (32 ℉~104℉)
Tárolási hőmérséklet: -40℃~70 ℃ (-40 ℉~158℉)
Működési Páratartalom: 10%~90% változatlan halmazállapot
Tárolási Páratartalom: 5%~90% változatlan halmazállapot
From United States?
Get products, events and services for your region.