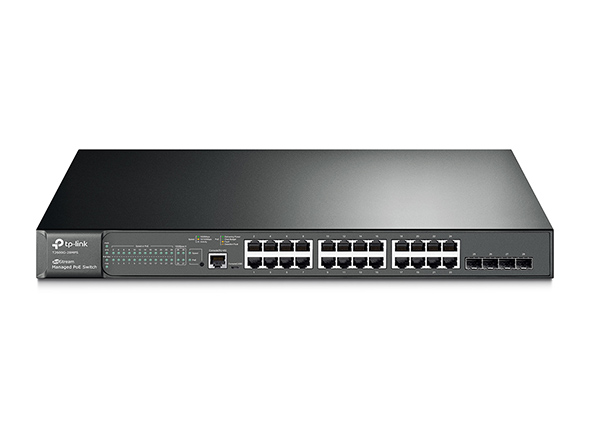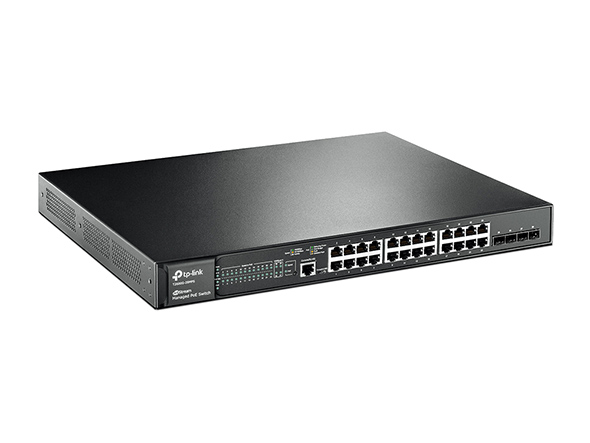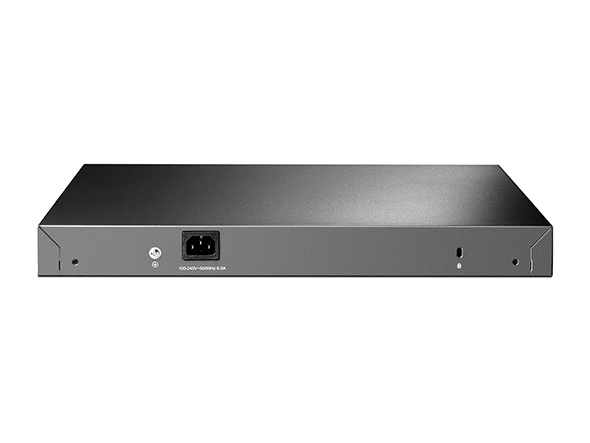 T2600G-28MPS (TL-SG3424P)
JetStream 24 csatlakozós gigabites L2 vezérelhető PoE+ Switch 4 SFP csatlakozással
Támogatott mind a 24 db 802.3at/af-kompatibilis PoE+ csatlakozó, amely összesített áramellátása 384W

L2+ funkció - Statikus routing, segíti a belső forgalmi útvonalat a hálózati erőforrások hatékonyabb felhasználása érdekében

IP-MAC-Port-VID összekapcsolás, ACL, Port biztonság, DoS elleni védelem, Storm felügyeletl, DHCP Snooping, 802.1X engedélyezés és Radius kínál erős biztonsági stratégiákat

L2/L3/L4 QoS és IGMP snooping optimalizálja a hang és a videó alkalmazásokat

IPv6 támogatás kettős IPv4 / IPv6 stack, MLD-snooping, IPv6 felderítés

WEB/CLI vezérlési mód (Console Port, Telnet, SSH), SNMP, RMON és kettős megjelenítés nagyszámú vezérlési jellemzőket kínál
Működés
A T2600G-28MPS 24 db 10/100/1000 Mb/s csatlakozóval rendelkezik, amely támogatja 802.3at/af-kompatibilis PoE-t, a teljes PoE tápellátás, ami akár 180W is lehet, elég erős és rugalmas ahhoz, hogy a felhasználók üzembe helyezhessenek vezeték nélküli Access Pointokat vagy IP-alapú hálózati biztonsági kamerákat. Ezen túlmenően nagy teljesítményű, vállalati szintű QoS-t, hasznos biztonsági stratégiákat és gazdag Layer 2 vezérlési funkciókat kínál. Ezekkel a fejlett jellemzőkkel a gigabites Smart PoE switch ideális választás kis és közepes vállalkozások hálózatához.
Ez a switch nagy teljesítményű, erőteljes L2 és L2+ funkciókkal rendelkezik, mint statikus routing, vállalati szintű QoS-t és hasznos biztonsági stratégiák. Az OAM, az L2PT és a sFlow a nagy internet szolgáltatók ügyfeleinek igényeinek felel meg, az IP-MAC-Port összekapcsolás és Access Control List (ACL) funkciók védenek a továbbítási zavarok, ARP és DoS támadások, stb. ellen. Quality of Service (QoS, L2-L4) további forgalomvezérlési lehetőségeket kínál az adatok zökkenőmentesebb és gyorsabb forgalmazásához. A könnyen kezelhető webes kezelőfelületen keresztül, valamint a CLI, SNMP és RMON és a kettős leképzés gyorsabb telepítési és konfigurálási, de kevesebb állásidőt jelent. Azoknak a munkacsoportoknak és osztályoknak, amik költség-érzékeny L2 switch és gigabites képességet igényelnek, a TP-Link JetStream 24 portos gigabites L2 vezérelhető PoE+ T2600G-28MPS switch ideális hozzáférési megoldást nyújt.
IEEE 802.3at/af-kompatibilis Power over Ethernet
A T2600G-28MPS 24 porton támogatja az IEEE 802.3at/af-kompatibilis PoE-t és összesen 384 W áramellátását biztosít bármilyen 802.3at vagy 802.3af kompatibilis hálózati eszköz tápellátásához. Ez egy hatékony és költségkímélő választás, ha vezeték nélküli Access Pointokkal, térfigyelő kamerákkal, IP telefonokkal és egyéb PoE támogatott készülékekkel dolgozik, miközben megszabadul az elektromos kábelektől és további elosztóktól. A kompakt és rugalmas T2600G-28MPS ideális, hogy rugalmasan használhassa a PoE-t vezeték nélküli Access Point vagy IP-alapú hálózati megfigyelő kamera elhelyezéséhez területenként vagy kisvállalati hálózatokhoz.
Biztonságos hálózat
A T2600G-28MPS lehetőséget biztosít az IP-MAC-Port összekapcsolásra, Port biztonságra, Storm vezérlésre, DHCP-snoopingra, ami véd a továbbítási zavarok, az ARP támadások, stb. ellen. A DoS elleni védelmet is nyújt, és néhány tipikus DoS támadási típust előre kiválaszthat. Ezen kívül az Access Control List (ACL, L2-L4) korlátozza a hozzáférést az érzékeny hálózati erőforrásokhoz, elutasítva a forrás és cél MAC-cím, IP-cím, TCP / UDP port, de még a VLAN ID csomagokat is. Sőt, a switch támogatja a 802.1X hitelesítést, mellyel együtt a RADIUS kiszolgáló igényel némi hitelesítési információkat, mielőtt a hálózati hozzáférést engedélyezi. A vendég VLAN a nem-802.1X ügyfeleknek is biztosítja, hogy elérhessenek meghatározott hálózati erőforrásokat.
Sokrétű L2 és L2+ funkciók
A T2600G-28MPS több felhasználási lehetőséget is támogatnak, beleértve a 802.1Q VLAN tag VLAN, port tükrözés, STP / RSTP / MSTP, Link Aggregation Control Protocol és 802.3x Flow Control funkciókat. Ezen túlmenően a switch fejlett funkciókat biztosít a hálózat karbantartásához is. Ilyen a hurok védelem, kábeldiagnosztika. Az IGMP Snooping biztosítja, hogy a switch intelligensen továbbítsa a multicast adatfolyamot csak az arra jogosult eszközök felé, miközben IGMP elutasít minden olyan port-szintű csatlakozást, ami illetéktelen hozzáférés lenne. Sőt, a T2600G-28MPS támogatja L2+ funkciókat - statikus routing, amely egy egyszerű módja annak, hogy a szegmentálódjon a hálózat egy belső routinggal a switchen keresztül, ami segíti a hálózati forgalmat hatékonyabban felhasználni.
IPv6 támogatás
T2600G-28MPS támogatja a különböző IPv6 funkciókat, mint például a kettős IPv4/IPv6 stack, MLD snooping, IPv6 ACL, DHCPv6-snooping, IPv6 felület, Path maximális átviteli egység (PMTU) felderítés és az IPv6 környezet felderítést, amelyek garantálják, hogy a hálózat készen áll a következő generációs hálózatra (NGN) a hálózati eszközök frissítése nélkül is.
Ethernet OAM
The T2600G-28MPS biztosítja 802.3ah OAM és a Device link felismerési (DLDP) funkciókat, javítva az Ethernet hálózatok monitorozását és hibaelhárítását, ezzel is megkönnyítik a hálózat vezérlését.
Vállalati szintű vezérlés
T2600G-28MPS-t könnyű használni és vezérelni. Támogatja a különböző felhasználóbarát megszokott kezelési funkciókat, mint például a web alapú grafikus felhasználói felület (GUI), vagy a szabványos Command Line Interface (CLI), illetve egyes adatforgalmak védhetőek SSL vagy SSH titkosítással. Az SNMP (v1/2/3) és RMON támogatás lehetővé teszi a switch-nek, hogy értékes státusz információkat kérdezzen le, és riasztást küldjön az abnormális eseményekről.
Hospitality

TP-Link Omada allows hotels to build reliable WiFi networks. Hotel WiFi network solutions including network topology, design, features, installation, and products are introduced.

Full WiFi coverage and wired connections
Flexible guest control
Seamless roaming
Easy Management

Education

Due to its reliable, scalable, and secure network solution, TP-Link has been widely acknowledged by global customers in the Education market ranging from infant schools with a few APs up to colleges and universities with hundreds of APs.

Easy management
High-density WiFi
Full WiFi coverage and wired connections
VPN and security

Switches for Business WiFi

For small and medium-sized businesses, a network switch is the fundamental component to build their business network. TP-Link offers an extensive portfolio of network switches with abundant functions and flexible options for every stage of your business growth.

High-Speed Wired LAN Network
Manage with Ease
Abundant Security Strategies
Lower Yours Costs
Comprehensive Products
Hardver jellemzők
Szabványok és protokollok
IEEE 802.3i, IEEE 802.3u, IEEE 802.3ab, IEEE802.3z, IEEE 802.3ad, IEEE 802.3az, IEEE 802.3x, IEEE 802.1d, IEEE 802.1s, IEEE 802.1w, IEEE 802.1q, IEEE 802.1x, IEEE 802.1p
Csatlakozások
24 db 10/100/1000 Mb/s RJ45 csatlakozó (Auto Negotiation/Auto MDI/MDIX)4 db 1000 Mb/s SFP csatlakozó1 db konzol csatlakozó1 db micro USB konzol csatlakozó
Hálózati összeköttetés
10BASE-T: UTP 3, 4, 5 kategóriájú kábel (Max. 100 m)100BASE-TX/1000BASE-T: UTP 5, 5e vagy magasabb kategóriájú kábel (Max. 100 m)1000BASE-X: MMF, SMF
Ventilátorok száma
2
Fizikai biztonsági zár
Yes
Hálózati tápegység
100~240VAC, 50/60Hz
Energiafelvétel
Maximum (PoE használattal): 468,7 W (110V/50Hz)
PoE+ portok (RJ45)
Szabványos: 802.3at/af kompatibilisPoE+ csatlakozók: 24 dbTápellátás: 384 W
Méretek (Sz x Mé x Ma)
440 x 330 x 44 mm (17.3*13*1.7 in.)
Felszerelés
Rack Mountable
Max. áramfelvétel
18.26W (220V/50Hz with no PD connected)450.80W (110V/60Hz with 384W PD connected)
Max Heat Dissipation
99.02 BTU/h (with no PD connected)1599.20 BTU/h (with 384W PD connected)
Működési jellemzők
Switching teljesítmény
56Gbps
Csomagtovábbítási sebesség
41.7Mpps
Fizikai (MAC) cím tábla
16k
Jumbo Frame
9KB
Szoftver jellemzők
QoS (szolgáltatás minősége)
802.1p CoS/DSCP elsőbbség támogatása8 elsődleges sorSorbanállás megadása: SP, WRR, SP+WRRPort- és adatmennyiségű alapú szabályozásHang VLAN
L2 és L2+ jellemzők
Statikus RoutingDHCP RelayIGMP Snooping V1/V2/V3802.3ad LACP (Max. 14 egyesített csoport, 8 port csoportonként)STP/RSTP/MSTPBPDU Filtering/GuardTC/Root ProtectLoop back detection802.3x Flow ControlL2PT
VLAN
Támogatott max. 4K VLAN egyidejűlegPort/MAC-cím/protokoll alapú/Private VLANGARP/GVRP
Hozzáférés-jogosultsági lista (ACL)
L2~L4 csomagszűrés forrás és Mac/IP-cím szűrés alapján, TCP/UDP portok, 802.1p, DSCP, protokoll és VLAN IDIdőkeret alapú
Biztonság
IP-MAC-Port összekapcsolásAAA802.1X és Radius hitelesítésDoS elleni védelemDinamikus ARP ellenőrzés (DAI)SSH v1/v2SSL v2/v3/TLSv1Port biztonságBroadcast/Multicast/Unknown-unicast Storm Control
IPv6
Kettős IPv4/IPv6 halmazMulticast Listener Discovery (MLD) SnoopingIPv6 környezet felderítés (ND)Path maximum transmission unit (MTU) felderítésInternet Control Message Protocol (ICMP) v6TCPv6/UDPv6IPv6 ACLDHCPv6 SnoopingIPv6 Interface
IPv6 alkalmazás
DHCPv6 ClientPing6Tracert6Telnet(v6)IPv6 SNMPIPv6 SSHIPv6 SSLHttp/HttpsIPv6 TFTPIPv6 ACLIPv6 InterfaceIPv6 RoutingDHCPv6 RelayDHCPv6 Snooping
Vezérlés
Web-alapú GUI és CLI vezérlésSNMP v1/v2c/v3, kompatibilis a publikus MIB-vel és a TP-LINK private MIB-velRMON (1, 2, 3, 9-csoport)sFlowPPPoE Circuit IDDHCP RelayDHCP-szerverDHCP/BOOTP Client, DHCP Snooping, DHCP Option82Kettős megjelenítésCPU MonitoringPort tükrözésIdő megadás: SNTPIntegrált NDP/NTDP jellemzőkFirmware frissítés: TFTP & WebSystem Diagnózis: VCTSYSLOG & Public MIBSJelszó visszaállítás
Egyéb jellemzők
Tanúsítványok
CE, FCC, RoHS
Csomagolás tartalma
SwitchElektromos kábelTelepítési útmutatóTelepítő CDRackbe szerelési készletGumitalp
Rendszerkövetelmény
Microsoft® Windows® XP, Vista™, 7, 8, 10, MAC® OS, NetWare®, UNIX® vagy Linux
Környezet
Működési hőmérséklet: 0℃~40℃ (32℉~104℉)Tárolási hőmérséklet: -40℃~70℃ (-40℉~158℉)Működési Páratartalom: 10%~90% változatlan halmazállapotTárolási Páratartalom: 5%~90% változatlan halmazállapot
From United States?
Get products, events and services for your region.