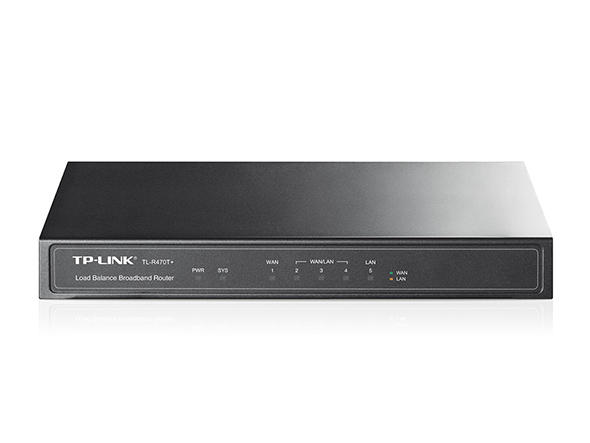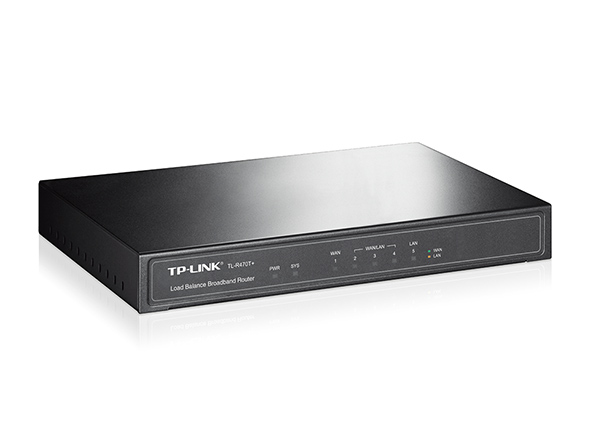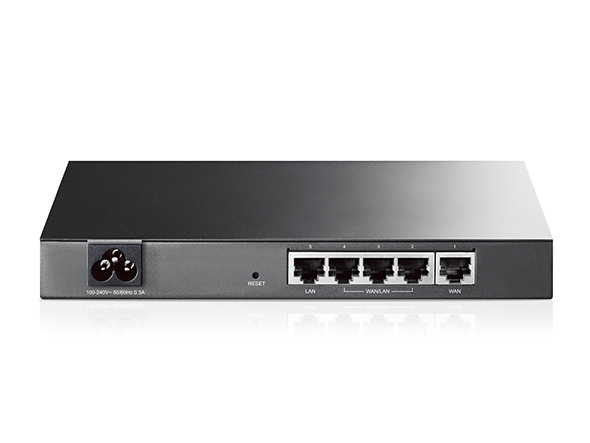 Szélessávú load balance router
4 WAN port korszerű load balance funkcióval felszerelve, így garantálva a maximális sávszélességet és átvevő képességeket
Nagyszámú kliens kezelése, akár fiók szinten is, és hálózati menedzsment rendszergazdák számára a támogatott PPPoE-szerverrel
Kiosztható sávszélesség-kihasználtság egyes ügyfeleknek az egyedi alkalmazások alapján
Egyes esetekben költséghatékony megoldás a kis irodai vagy internet kávézói hálózatoknál
Hogyan működik?
A TL-R470T+ load balance szélessávú router bölcs döntés a kisvállalkozások számára. Magas megtérülést ad alacsony rezsi mellett. Három cserélhető WAN/LAN porttal a TL-R470T+ 4 WAN portig támogatott, így képes eleget tenni egy készülékkel is a különböző internet-hozzáférés követelményeknek. A TL-R470T+ több terhelés elosztási stratégiával integrált, fejlett QoS és erős tűzfal nyújt állandó hálózati rendelkezésre állást és megbízható Ethernet kapcsolatot. Sőt, a TL-R470T+ webes alapú segédprogramjával könnyű a kezelés, amely kényelmessé teszi a hálózat kezelését és kialakítását.
Három variálható WAN/LAN csatlakozó
A TL-R470T+ három cserélhető porttal rendelkezik, aminek révén lehet állítani, hogy LAN vagy WAN funkciót töltsön be, hiszen a router akár négy WAN portot is támogat, kielégítve a különböző internetes hozzáférési követelményeket egy készülékben. A routernek is van egy beépített intelligens terhelés elosztási rendszere, amely automatikusan kiválasztja a leghatékonyabb vonalat a forgalom és a sávszélesség-igény alapján, állandó hálózati rendelkezésre állást és megbízható Ethernet kapcsolatot nyújtva.
Sokféle biztonsági funkció
A külső támadásokkal szembeni védelemként a TL-R470T+ képes automatikusan felismerni és blokkolni Denial of Service (DoS) támadásokat, mint a TCP/UDP/ICMP Flooding, Ping of Death és egyéb fenyegetettségeket. Sőt, ez a router IP/MAC/URL/WEB-szűrés funkcióval is rendelkezik, melyek erőteljesen védelmeznek a betolakodókkal és a vírusokkal szembeni támadásoktól. Olyan alkalmazásokhoz, mint például az FTP, H.323, SIP, IPsec és PPTP, amelyek NAT-tal nem igazán összeegyeztethetőek, a TL-R470T+ adminisztrátoroknak egykattintásos ALG választási lehetőséget nyújt, ami megfelel a fenti öt alkalmazásnak.
Hatékony hozzáférés-kezelés
PPPoE szervert használva a PPPoE fiókok kiosztásához, a router csak azoknak teszi lehetővé az internet elérést, akik rendelkeznek hitelesítői adatokkal, és sikeresen is azonosította a router őket. Az IP-alapú sávszélesség-szabályozással együttműködve arra is képes, hogy egyes PPPoE fiókok sávszélességét korlátozza. Sőt, az E-Bulletin funkciót képes weboldal formájában felhívni az egyes felhasználói csoportok figyelmét a fiókhoz tartozó lejárati időpontról. A fenti funkciókkal a router felhasználói környezet alapján előnyben részesíthet egyes felhasználókat a hatékonyabb kezelés érdekében.
Biztonsági befektetés
Professzionális villámlás elleni védelem technológia célja, hogy megakadályozza az elektromos túlfeszültség bejutását a készülék belsejébe, ártalmatlanítani földeléssel. Ezt a routert úgy tervezték, hogy megfelelő földelési viszonyok között védelmet nyújtson legfeljebb 4 kV-ig villámlás ellen. Ez azt biztosítja, hogy a hálózati infrastrukturális beruházások a lehető legvédettebbek maradnak továbbra is az anyatermészet egyik legrombolóbb eleme ellen.
Megjegyzés: A fenti információk CSAK a TL-R470T+ 2.0 és 3.0 verziójára vonatkoznak.
Hardver jellemzők
Szabványok és protokollok
IEEE 802.3, 802.3u, 802.3x, TCP/IP, DHCP, ICMP, NAT, PPPoE, SNTP, HTTP, DDNS
Csatlakozások
1 db fix Ethernet WAN csatlakozó
1 db fix Ethernet LAN csatlakozó
3 db variálható Ethernet WAN/LAN csatlakozó
Hálózati összeköttetés
10BASE-T: UTP 3, 4, 5 kategóriájú kábel (Max. 100 m), 100BASE-TX: UTP category 5, 5e kategóriájú kábel (Max. 100 m)
Gomb
Reset gomb
Hálózati tápegység
Saját belső tápegység
AC100-240V~50/60Hz input
Flash
16MB
DRAM
128MB
LED
PWR (áram), SYS (rendszer), WAN, LAN, WAN/LAN
Méretek (Sz x Mé x Ma)
209 x 126 x 26 mm (8.2 x 5.0 x 1.0 in.)
Alapfunkciók
WAN kapcsolati típus
Statikus/Dinamikus IP, PPPoE, PPTP, L2TP, Dual Access, optikai kábel
MAC klónozása
Módosítható WAN/LAN MAC-cím
DHCP
DHCP-szerver/kliens, DHCP Címfoglalás
Switch beállítások
Port tükrözés, sebességfelügyelet, port konfiguráció, VLAN port
Haladó funkciók
ACL
IP/MAC/URL/WEB szűrése
IGMP
IGMP Proxy/IGMP Snooping
Átírányítás
Virtuális szerver, Port Triggering, DMZ
Load Balance
Szabályozás, beugró vonal megadása
Routing
Statikus routing
Biztonság
FTP/SIP/PPTP/IPsec/H.323 ALG, DoS-védelem, Ping of Death, IP/MAC-összekapcsolás
Forgalomvezérlés
Sávszélesség-felügyelet, időkorlát
Vezérlés
Szolgáltatás
PPPoE szerver, E-Bulletin, Dynamic DNS, UPnP
Kezelés
Dátum és idő, nyári időszámítás megadása, SNMP, diagnosztika, Firmwarefrissítés, gyári beállítások visszaállítása/Reboot, beállítások elmentése/fájlból betöltése, rendszernapló, távoli vezérlés, statisztika
Egyéb jellemzők
Tanúsítványok
CE, FCC, RoHS
Csomagolás tartalma
TL-R470T+
Tápkábel
RJ-45 Ethernet kábel
Gyors telepítési útmutató
Telepítési segéd CD
Rack-beszerelési készlet
Rendszerkövetelmény
Microsoft® Windows® 8, 7,Vista™, XP vagy MAC® OS, NetWare®, UNIX® vagy Linux
Környezet
Működési hőmérséklet: 0℃~40℃ (32℉~104℉)
Tárolási hőmérséklet: -40℃~70℃ (-40℉~158℉)
Működési páratartalom: 10%~90% változatlan halmazállapot
Tárolási páratartalom: 5%~90% változatlan halmazállapot
From United States?
Get products, events and services for your region.