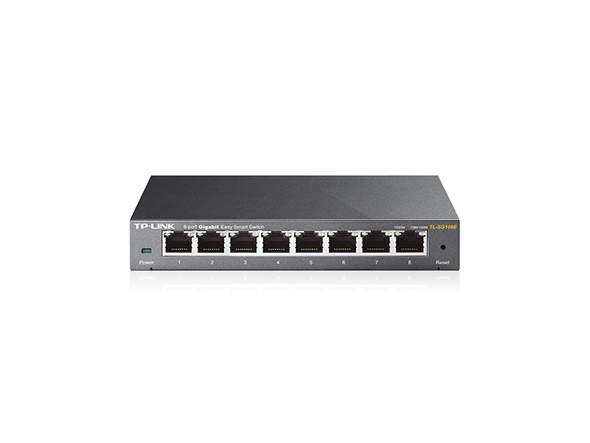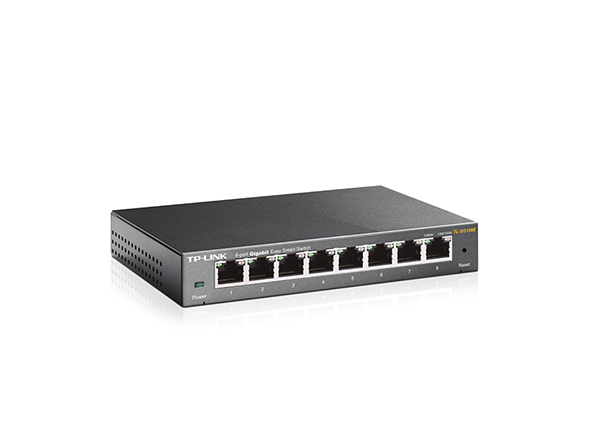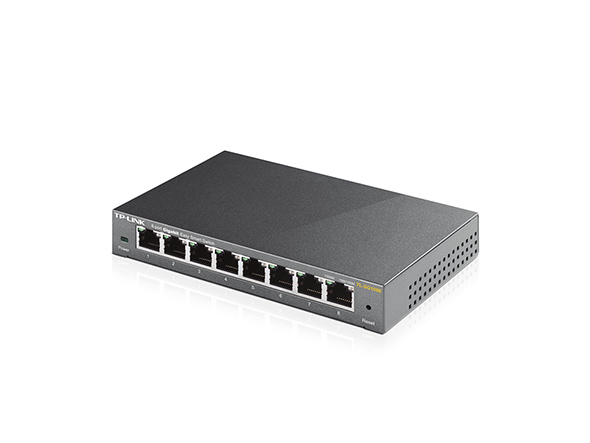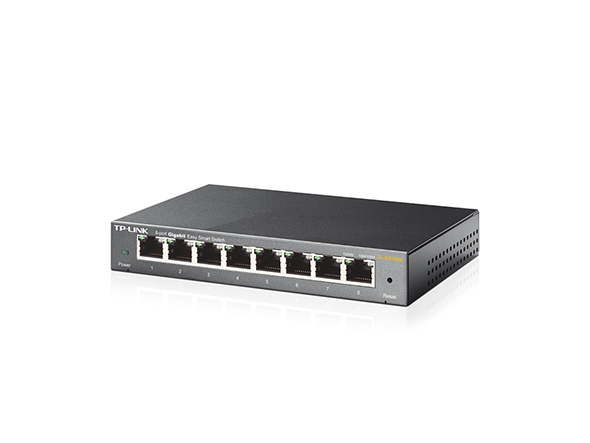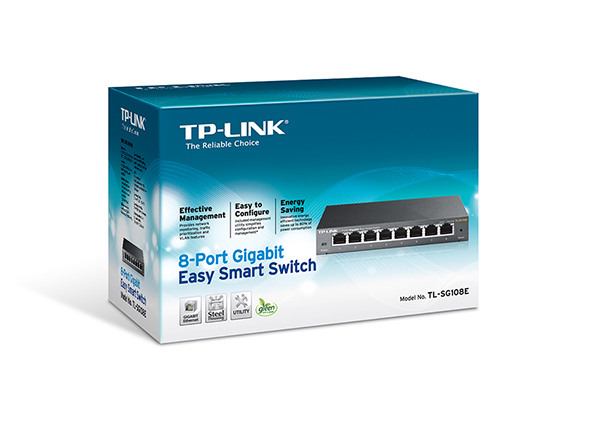 TL-SG108E
8 portos gigabites Easy Smart Switch
8 db 10/100/01000 Mbps RJ45 csatlakozó
Biztosítja a hálózati monitoringot, a forgalom rangsorolását és a VLAN funkciókat
Innovatív energiafelhasználási technológiával akár 58%-os áramfelhasználási megtakarítás is elérhető
Egyszerű hálózat beállítás a Plug & Play alapján
Webes alapú felhasználói és vezérlési felület egyszerűsíti a konfigurálást
Működése
A TL-SG108E 8 csatlakozós gigabites Easy Smart Switch ideális fejlesztés egy kis- és közepes vállalkozásoknak szánt vezérlés nélküli switch-ről, ha a hálózat már megkövetel némi egyszerű hálózati vezérlést. A hálózati rendszergazdák hatékonyan tudják ellenőrizni a forgalmat port tükrözési, hurok megelőzési és kábeldiagnosztikai funkción keresztül. A vállalkozás forgalmának optimalizálásához a TL-SG108E port prioritást/802.1p/DSCP QoS-t biztosít, hogy a sebességet igénylő forgalmat zökkenőmentesen és akadozásmentesen tartsa. Továbbá, a port alapú, tag alapú és az MTU VLAN növeli a biztonságot és megfelelnek több hálózati szegmentációs követelménynek. Sőt, az innovatív energiahatékony technológiával a TL- SG108E 58%-os energiamegtakarítást is elérhet, ami egy környezetbarát megoldás a vállalati hálózathoz.
Hatékony vezérlés
TP-LINK gigabites Easy Smart Switch, a TL-SG108E hálózati felügyeletet nyújt a felhasználók számára, hogy megfigyelhető legyen az adatforgalom. A port tükrözéssel, hurok elleni védelemmel és a kábeldiagnosztikával a TL-SG108E be tudja azonosítani, és akár lokalizálhatja is a csatlakozási problémákat a hálózaton. Sőt, a rendszergazdák kijelölhetik a forgalmi prioritást a port prioritás és Port/802.1p/DSCP prioritás alapján, hogy hang és videó mindig tiszta, sima és akadásmentes legyen. Továbbá, a biztonság és a hálózati teljesítmény javításához a TL-SG108E támogatja MTU VLAN, port alapú VLAN és 802.1Q alapú VLAN funkciók. A TL-SG108E egy plug & play, nem menedzselhető switch fejlesztése, nagy értéket hordozva, miközben erőteljesebbé teszi hálózatát és hasonlóan nagy értéket ad a végfelhasználónak is.
Váltson Zöldre Ethernettel
Önnél a lehetőség, hogy Zöldre és Gigabitre váltson egyszerre! Ezt az új generációs TL-SG108E 16 portos gigabites easy smart switch-et a legfrissebb fejlesztésű energiahatékony technológiák jellemzik, amivel nagyban megnövelheti hálózati kapacitását kevesebb energiafelhasználással. Automatikusan beállítja az áramfelvételt a kapcsolati állapotoknak, illetve a kábelhosszának megfelelően annak alapján, ami a szénlábnyom értéke az adott hálózaton.
Tétlen portok lekapcsolása
Amikor egy számítógép vagy hálózati berendezés ki van kapcsolva, a kapcsolódó port továbbra is jelentős mennyiségű energiát fogyaszt egy hagyományos switch esetében. A TL-SG108E automatikusan felismeri minden egyes kapcsolódó port állapotát és csökkenti az energiafogyasztást tétlen portok irányába.
Energiamegtakarítás a kábel hosszától függően
Ideális esetben a rövidebb kábel kevesebb energiát használ, mert kevesebb energia vész el hosszuk következtében; nem ez a helyzet a legtöbb eszköz esetében, ugyanis ugyanazt a mennyiségű energiát használja a kábel a hosszától függetlenül. A TL-SG108E elemzi a csatlakoztatott Ethernet-kábel hosszát, és ennek megfelelően beállítja a energiafelhasználást ahelyett, hogy a energiafogyasztást a hagyományos módon kezelje.
Könnyű használni
A TL-SG108E-t egyszerű használni és vezérelni. Nem kell konfigurálni, meglévő Auto-MDI/MDI-X kábelészlelés révén nincs szükség fordított bekötésű kábelre és uplink portra. Az Auto-negotiation minden porton érzékeli a kapcsolat sebességét (akár 10, 100 vagy 1000 Mbps) és intelligensen beállítja a kompatibilitást és az optimális teljesítményt. Kompakt méretének köszönhetően ideális asztali elhelyezéshez is, ugyanakkor rackbe is szerelhető, így téve kényelmessé és biztonságossá. Dinamikus LED lámpái valós idejű működési állapotról és alapvető hibakeresési eredményről nyújtanak információt.
Hardver jellemzők
Szabványok és protokollok
IEEE 802.3i, IEEE 802.3u, IEEE 802.3ab, IEEE 802.3x, IEEE 802.1q, IEEE 802.1p
Csatlakozások
8 db 10/100/1000 Mbps RJ45 csatlakozó
AUTO Negotiation/AUTO MDI/MDIX
Hálózati összeköttetés
10BASE-T: 3, 4, 5 kategóriás UTP-kábel (maximum 100 m)
EIA/TIA-568 100Ω STP (maximum 100 m)
100BASE-TX: 5, 5e kategóriás UTP-kábel (maximum 100 m)
EIA/TIA-568 100Ω STP (maximum 100 m)
1000BASE-T: 5, 5e, 6 vagy magasabb kategóriás UTP-kábel (maximum 100 m)
EIA/TIA-568 100Ω STP (maximum 100m)
Ventilátorok száma
Ventilátor nélküli
Hálózati tápegység
External Power Adapter(Output: 5 VDC/ 0.6 A)
Energiafelvétel
Maximum: 4,48W (220V/50Hz)
Méretek (Sz x Mé x Ma)
158 x 101 x 25 mm (6.2 x 4.0 x 1.0 in.)
Max. áramfelvétel
3.68 W (220 V/ 50 Hz)
Max Heat Dissipation
12.55 BTU/h
Működési jellemzők
Switching teljesítmény
16 Gbps
Csomagtovábbítási sebesség
11,9 Mpps
Fizikai (MAC) cím tábla
4 K
Csomag puffer memória
1,5 Mb
Jumbo Frame
16 KB
Szoftver jellemzők
QoS (szolgáltatás minősége)
Támogatott a port alapú/802.1p/DSCP prioritás
Támogatott a 4 prioritás sor
Sebességszabályozás
Storm felügyelet
L2 jellemzők
IGMP Snooping
Link Aggregation
Port tükrözés
Kábeldiagnosztika
Hurok elleni védelem
VLAN
Támogatott a 32 VLAN egyidejűleg
MTU/Port/Tag VLAN
Továbbítás módja
Tárol és továbbít
Egyéb jellemzők
Tanúsítványok
FCC, CE, RoHS
Csomagolás tartalma
TL-SG108E
Tápkábel
Beüzemelési útmutató
Telepítési segéd-CD
Gumitalp
Rendszerkövetelmény
Microsoft® Windows® XP, Vista™ Windows 7 vagy Windows 8, MAC® OS, NetWare®, UNIX® vagy Linux
Környezet
Működési hőmérséklet: 0℃~40℃ (32℉~104℉)
Tárolási hőmérséklet: -40℃~70℃ (-40℉~158℉)
Működési Páratartalom: 10%~90% változatlan halmazállapot
Tárolási Páratartalom: 5%~90% változatlan halmazállapot
1. For V2 and later version.
2. DSCP QoS is for V2 and later version.
From United States?
Get products, events and services for your region.