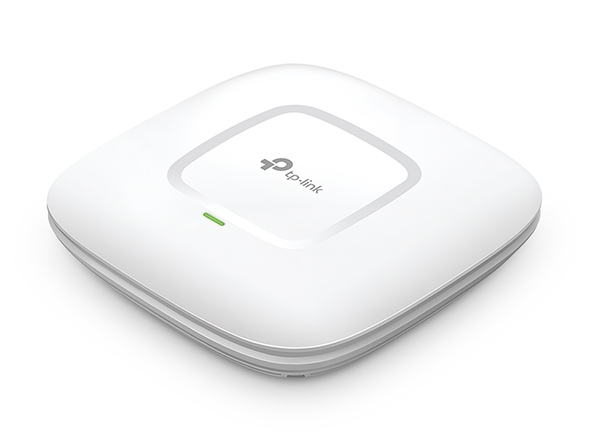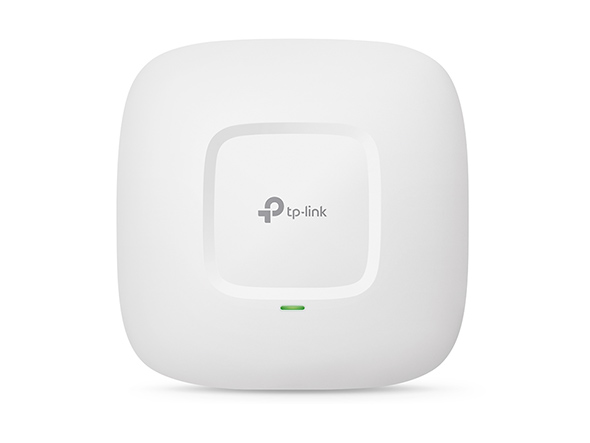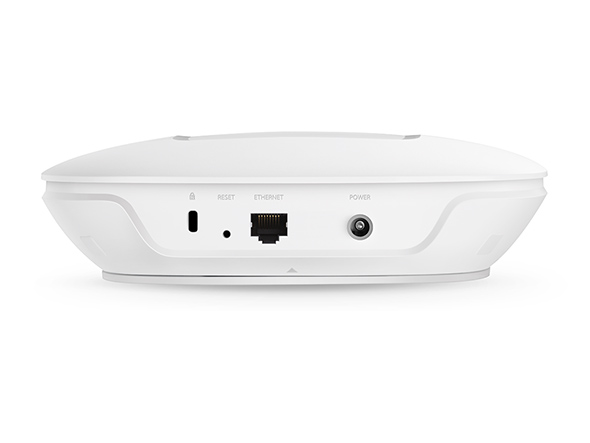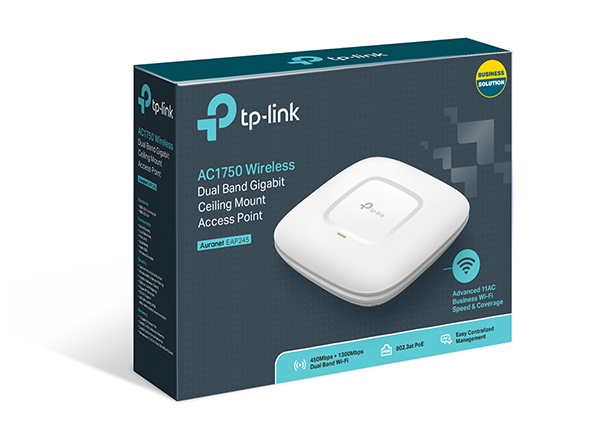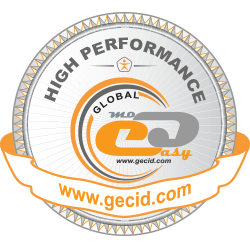 AC1750 Vezeték nélküli Dual Bandes Gigabites Plafonra szerelhető Access Point
Egyidejű 450 Mb/s a 2,4 GHz-en és 1300 Mb/s az 5 GHz-en, összesen 1750 Mb/s Wi-Fi sebesség
Ingyenes EAP Controller Software lehetőséget ad a rendszergazdának több 100 EAP egyszerű kezeléséhez
Power over Ethernet (PoE - 802.3af) támogatás a kényelmes és megfizethető elhelyezéshez
Az engedélyező oldal egy kényelmes módot kínál a vendégeknek a Wi-Fi eléréshez
BSA (Band Steering Automatically) az 5 GHz-képes eszközöket erre a frekvenciára irányítja a gyorsabb kapcsolat érdekében
Load balance nagyszámú felhasználók esetében folyamatos kapcsolódást nyújt céges hálózatokon
VLAN vezérlés támogatása a jobb hálózatvezérléshez
Egy elérhető

üzleti színvonal


802.11ac


Wi-Fi

megoldás
Kiváló Wi-Fi
Sebesség 3x3 11ac
MIMO technológiával
A legújabb 802.11ac Wi-Fi generáció a fejlett 3x3 MIMO technológiával karöltve kiváló Wi-Fi sebességet és lefedettséget biztosít, mind a 2,4 GHz-es, mind az 5 GHz-es frekvencián.
Az EAP245 eléri az akár 1,75 Gb/s-os

Wi-Fi

sebességet, 1300 Mb/s-ot az 5 GHz-es és 450 Mb/s-ot a 2,4 GHz-es tartományban.
Az EAP225 867 Mb/s sebességet nyújt az 5 GHz-es, és 300 Mb/s-ot a 5GHz and 2,4 GHz-es sávban.
802.11ac
802.11n
1300 Mb/s
450 Mb/s
EAP Controller Software
Könnyű központi vezérlés
Vezéreljen és monitorozzon több száz EAP-t könnyen egy helyről. A TP-Link Auranet Controller software intuitív kezelőfelületet nyújt ehhez. Ellenőrizze és derítse fel a teljes hálózatot bármelyik PC-ről, ami a hálózathoz csatlakozik. Nincs járulékos költsége, és nem szükséges speciális képzés sem. Az üzleti Wi-Fi vezérlése még sosem volt ilyen hatékony és gazdaságos.
Tudjon meg többet

Hitelesítő oldal
Hatékony vendégbeléptetés
A beléptető oldal egy kényelmes módja annak, hogy a Wi-Fi vendéget azonosítsa és hitelesítse a hálózatra belépés előtt. Használhat voucher rendszert és testreszabhatja az oldalt a cég megjelenésének megfelelően.
Könnyű felszereléshez és PoE-hez tervezve
Flexibilis elhelyezés
Az EAP egyszerű kinézete és könnyen felszerelhető borítása gond nélküli beüzemelést eredményez akár falra, akár plafonra szánják, és belesimul bármilyen beltéri kialakításba. Az EAP eszközök támogatják a Power over Ethernet (PoE) alkalmazását, ezzel is erőlködés mentessé és flexibilissé téve az elhelyezést.
Egységesített
Wi-Fi

hálózat a

több szintű

üzleti felhasználói környezetben

Az Auranet üzleti szintű 11ac-s Wi-Fi megoldását úgy tervezték, hogy kezelhető legyen a nagy számú több szintű felhasználó nagy területen anélkül, hogy szembesülne azzal a stabilitási problémával, amit az otthoni routerek és access pointok okoznak otthoni környezetben. Tökéletesen megfelel motelek, szalonok, áruházak, iskolák és éterremek kiszolgálására.
Motel

Kávézó

Áruház

Iskola
Cloud Centralized Management
- Anytime, Anywhere
Omada Hardware Controller OC200 and Omada Software Controller make it easy to manage and monitor the whole Omada network in real-time, while cloud service enables remote and secure access no matter where you find yourself.
Hospitality

TP-Link Omada allows hotels to build reliable WiFi networks. Hotel WiFi network solutions including network topology, design, features, installation, and products are introduced.

Full WiFi coverage and wired connections
Flexible guest control
Seamless roaming
Easy Management

Education

Due to its reliable, scalable, and secure network solution, TP-Link has been widely acknowledged by global customers in the Education market ranging from infant schools with a few APs up to colleges and universities with hundreds of APs.

Easy management
High-density WiFi
Full WiFi coverage and wired connections
VPN and security

Retail

A good wireless network cannot only serve the network office system of the mall, but also bring a more comfortable shopping experience to customers. The TP-Link Omada SDN Solution empowers store owners to create a modern and compelling in-store experience for every customer.

Boost online business
Full WiFi coverage
Seamless roaming
High-concurrent clients
Easy management
Hardver jellemzők
Csatlakozások
1 db Gigabites Ethernet (RJ-45) port (támogatott az IEEE802.3af PoE)
Fizikai biztonsági zár
Kensington zárnyílás
Gomb
Reset
Hálózati tápegység
PoE vagy külső 12VDC / 1,5 A tápegység
Energiafelvétel
12,7 W
Méretek (Sz x Mé x Ma)
180 x 180 x 47,5 mm (7.1 x 7.1 x 1.9in.)
Antenna típusa
Belső Omni2,4 GHz: 3 x 4dBi5 GHz: 3 x 4dBi
Felszerelés
Plafonra/Falra szerelhető (készlet a dobozban)
Watch Dog
Igen
Hardware Watch Dog
Yes
Vezeték nélküli jellemzők
Wi-Fi sztenderd
IEEE 802.11ac/n/g/b/a
Frekvencia
2,4 GHz és 5 GHz
Adatátvitel
5 GHz: max. 1300 Mb/s 2,4 GHz: max. 450 Mb/s
Vezeték nélküli funkciók
Többszörös SSID (max. 16 SSID, 8 minden sávhozKi/Bekapcsolható Wi-Fi sugárzásAutomatikus csatornakijelölésSugárzás erősségének vezérlése (sugárzás igazítása dBm alapon)QoS (WMM)SávnavigálásLoad BalanceSebességkorlátÚjraindítás ütemezéseVezeték nélküli ütemezésVezeték nélküli statisztika SSID/AP/Kliens alapján
Vezeték nélküli biztonság
Engedélyező oldalHozzáférés szabályozásaVezeték nélküli Mac-cím szűrésVezeték nélküli izoláció kliensek közöttSSID-VLAN MappingIdegen behatolás megfigyelés802.1X támogatott64/128/152-bit WEP / WPA / WPA2-Enterprise,WPA-PSK / WPA2-PSK
Átviteli teljesítmény
CE:<20dBm (2,4 GHz)<23dBm(5 GHz)FCC:<27dBm (2,4 GHz & 5 GHz)
Vezérlés
EAP vezérlő szoftver
Igen
Riasztás e-mailben
Igen
LED ki/bekapcsolás
Igen
Mac-cím alapú vezérlés
Igen
SNMP
Igen
Syslog helyi/távoli
Helyi/Távoli napló
Telnet
Igen
Webes felelületű vezérlés
HTTP/HTTPS
L3 Management
Igen
Multi-site vezérlés
Igen
Management VLAN
Igen
Egyéb jellemzők
Tanúsítványok
CE, FCC, RoHS
Csomagolás tartalma
AC1750 Vezeték nélküli gigabites dual bandes Access Point EAP245TápegységSzerelési készletBeüzemelési útmutató
Rendszerkövetelmény
Microsoft Windows XP, Vista, Windows 7, Windows 8, Windows10
Környezet
Működési hőmérséklet: 0℃~40℃ (32℉~104℉)Tárolási hőmérséklet: -40℃~70℃ (-40℉~158℉)Működési Páratartalom: 10%~90% változatlan halmazállapotTárolási Páratartalom: 5%~90% változatlan halmazállapot
From United States?
Get products, events and services for your region.