Frequently Asked Questions about Unmanaged Switch
Q1. How to connect an Unmanaged Switch in a network?
The unmanaged switch is only used to extend the Ethernet ports in the network, allowing more devices to access the network simultaneously. The uplink device like a router or a switch can be connected to any ports on the switch, and the end-clients like computers can be connected to other ports, then the setup is done.
Q2. Can I manage the Unmanaged Switch via Utility or Web interface?
The unmanaged switch is a plug-and-play device which does not require any configuration. It cannot be managed and does not have management interface or IP address.
Q3. Can Unmanaged Switch be rack mounted?
For Unmanaged switch, it will be identified as Rackmount Switch on the official website if it is rack mountable. So we can search the switch model on the TP-Link official website to confirm if it can be rack mounted.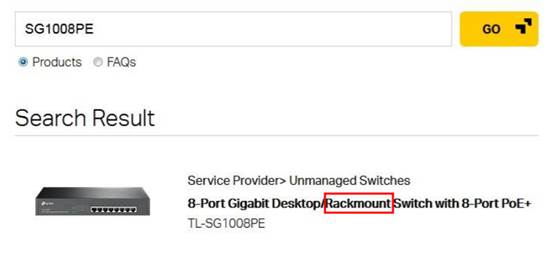 Q4. How do I select the correct mounting brackets if I have lost the original ones?
Q5. Can Unmanaged Switch be wall mounted?
Normally there is a wall-mounted hole at the bottom of the switch if it is wall mounted. We can also check it on the https://www.tp-link.com/business-networking/unmanaged-switch/, choosing Wall-Mounting as factor for Filter to check the model which can be wall mounted.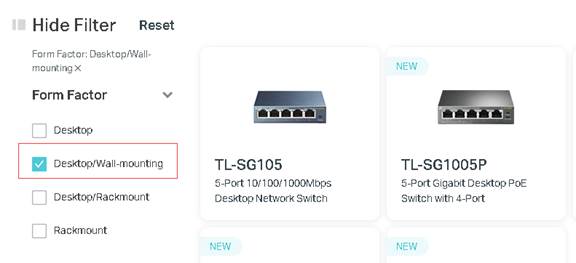 Q6. Does the Unmanaged switch support PoE?
Switches that contain the letter "P" in their model support PoE. For example, TL-SG1005P.
Q7. Can I connect non-PoE devices into PoE ports on PoE switch?
Yes, you can connect a non-PoE device to a PoE port for data transmission with no problem, but the non-PoE device cannot be powered by switch.
In fact, when there is a device connected to its PoE port, it will automatically detect the connection. If it is an ordinary device such as a computer, the PoE port will just work as an Ethernet port to transfer data only, which won't damage ordinary devices.
Q8. Can Shielded twisted Pair (STP) work with an Unmanaged Switch?
Switch can communicate with devices as usual with Shielded Twisted Pair connected. But to make shielding function take effect, the switch needs to be grounded.
Please refer to Q9 to verify which model supports grounding.
Q9. Can an Unmanaged switch be Earth Grounded?
Plastic –shell switches cannot be grounded, and here we are talking about steel-shell switches:
a. Check whether unmanaged switch is rack mountable or not. Most Rack mount switches can be Earth Grounded.
b. Switch with a three-pin power socket can be grounded, the Protecting Earth cable connects to the shell of the steel switch, which allows the switch to be Earth Grounded.
c. Switch with a grounding terminal on the back can be grounded. We can connect a grounding cable to Ground terminal on the switch.

For more details about Earth Grounding, please refer to Lightning Protection Guide
Q10. Does Unmanaged Switch support Jumbo Frame?
Jumbo Frame parameter of TP-Link switches can be found in the product specification on our official website. Take the example of unmanaged switch TL-SG1024, we can go to product specification for TL-SG1024, in "performance" column, we can see that it supports Jumbo Frame with maximum 10K Bytes in frame size.

If there is no declaration for Jumbo Frame in product specification for one switch, that means this model number does not support jumbo frame feature, that is to say, the maximum frame size of this switch is 1522 Bytes/Supporting Baby Jumbo frame.
More QA of Jumbo Frame feature, please refer to Frequently Asked Questions Regarding Jumbo Frame (MTU) about TP-Link switches.
Is this faq useful?
Your feedback helps improve this site.

TP-Link Community
Still need help? Search for answers, ask questions, and get help from TP-Link experts and other users around the world.
From United States?
Get products, events and services for your region.