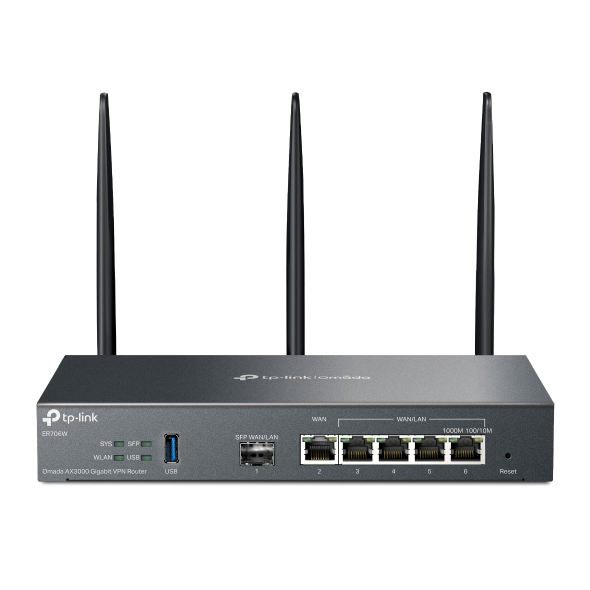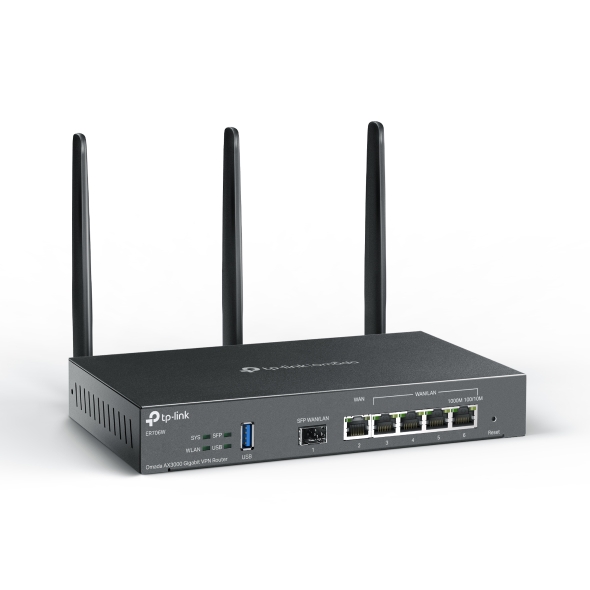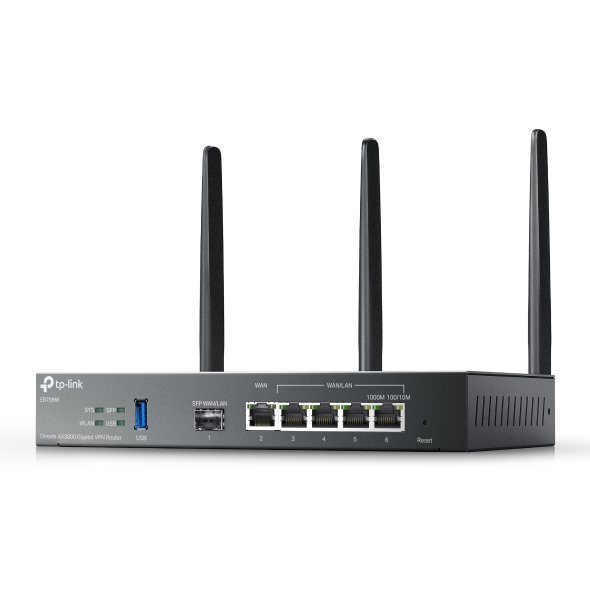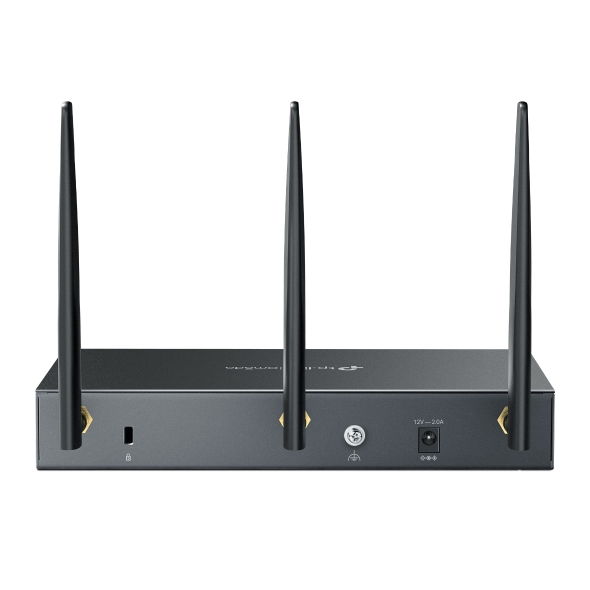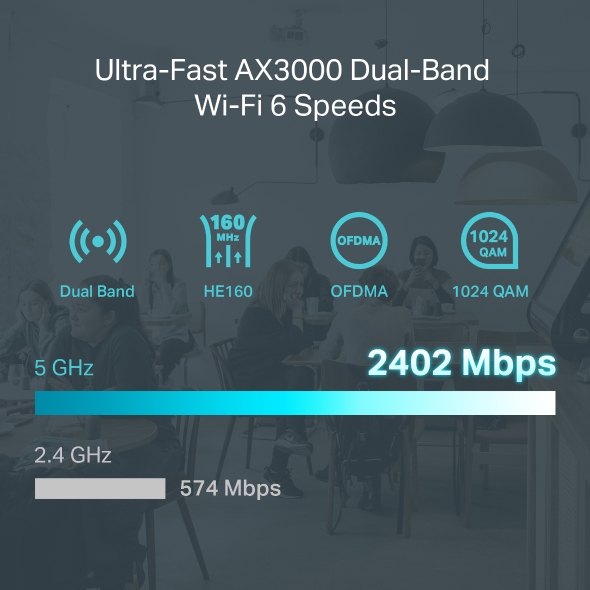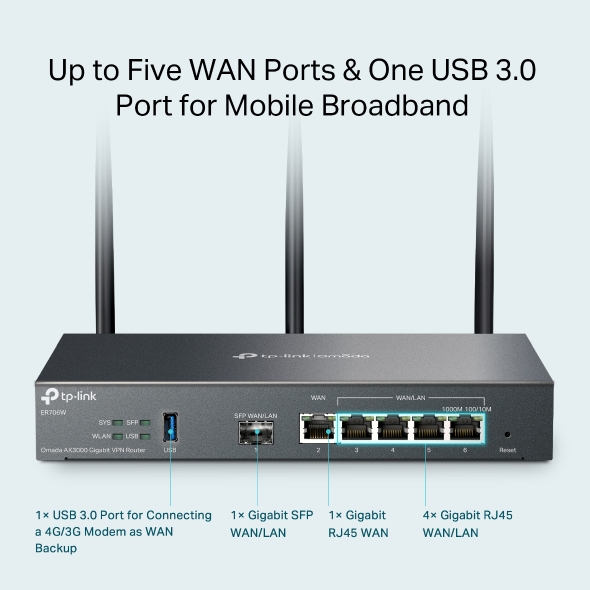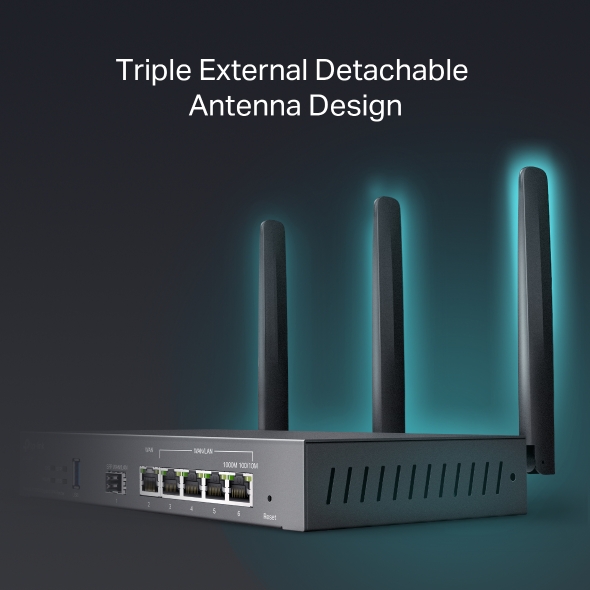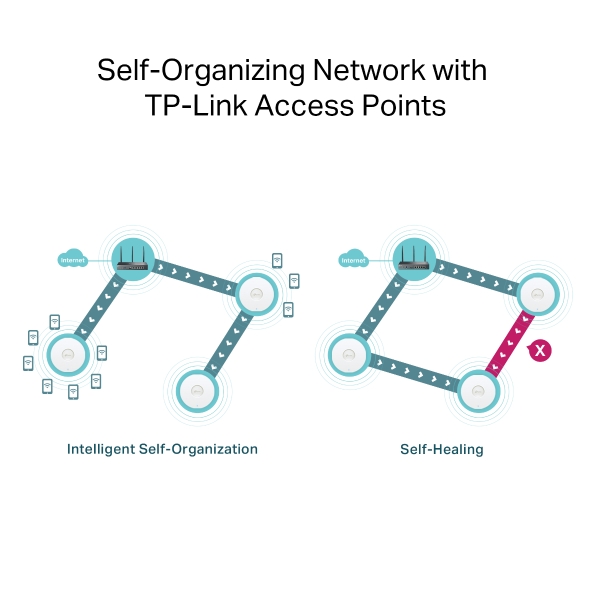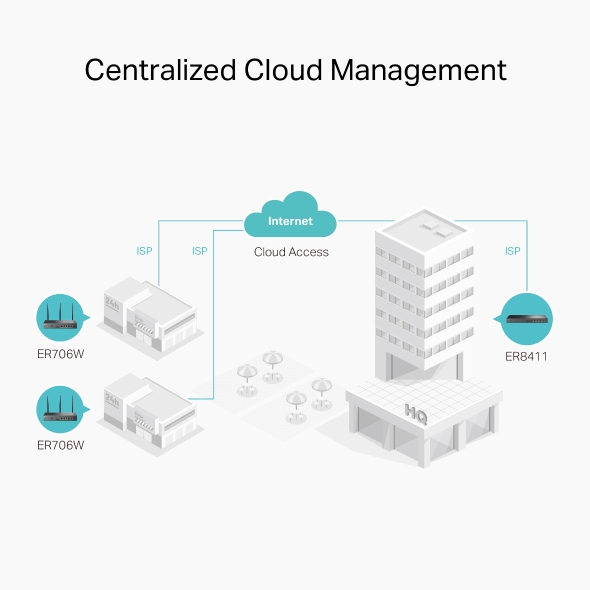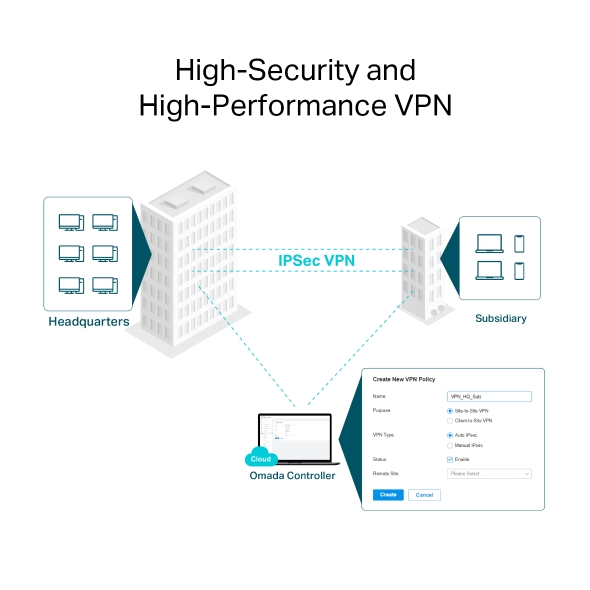 Omada AX3000 Gigabit VPN Router
AX3000 Dual-Band WiFi: Supports 2402 Mbps on 5 GHz and 574 Mbps on 2.4 GHz*
6 Gigabit Ethernet Ports: 1 gigabit SFP and 5 gigabit RJ45 ports provide high-speed wired connectivity.
Omada Mesh Technology: Seamlessly connects to EAPs that support mesh technology, ideal for large-scale scenarios.**
Centralized Management: Cloud access and Omada app for ultra convenience and easy management.
Boosted Coverage: Triple external antennas extend and concentrate the Wi-Fi signals.
High-Security VPN: Supports multiple VPN protocols including IPSec / SSL / Wireguard / PPTP / L2TP VPN, helping users to establish remote connections more flexibly.△
Abundant Security Features: Advanced firewall policies, DoS defense,IP/MAC/URL filtering, and more security functions protect your network and data.
Learn more about Omada Cloud SDN>​
2402 Mbps +
574 Mbps*

6× Gigabit
Ethernet Ports

Omada Mesh
Technology**

IPSec/SSL
/Wireguard/PPTP
/L2TP VPN△

Centralized
Management

Load
Balancing

Powerful
Firewall

Omada
App
Ubiquitous Connectivity Starts with WiFi 6
ER706W is an enterprise-grade dual-band wireless router. It's ideal for remote administration that requires high performance due to the revolutionary combination of the latest WiFi 6 technologies, including HE160, OFDMA, 1024 QAM, and more.‡ Simultaneously supporting 2402 Mbps on 5 GHz and 574 Mbps on 2.4 GHz, ER706W's concurrent transmission rate reaches up to 3 Gbps.* Bufferless network experience is at your fingertips.
Dual Band

HE160

OFDMA

1024 QAM
Up to Five WAN Ports & One USB 3.0 Port for Mobile Broadband
Up to 5× WAN SFP and RJ45 ports allow the router to support various internet access requirements. Multi-WAN Load Balancing distributes data streams according to the bandwidth proportion of every WAN port to raise the utilization rate of multi-line broadband. The USB 3.0 port delivers a higher transmission rate for mobile connectivity. Mobile broadband via a 4G/3G modem is also supported for WAN backup by connecting to the USB port.
1× USB 3.0 Port for Connecting a 4G/3G Modem as WAN Backup
1× Gigabit SFP
WAN/LAN
1× Gigabit
RJ45 WAN
4× Gigabit RJ45
WAN/LAN
Professional Hardware Empowers the Wireless Future
The triple external detachable antenna design grants ER706W excellent wireless coverage, reliable signal strength, and higher receiving sensitivity. It's easier for users to adjust the quantity and angle of antennas to fit various network environments.
ER706W adopts steel material for higher thermal conductivity and heat dissipation, ensuring operation reliability.
Self-Organizing Network with Omada Access Points
ER706W is able to seamlessly connect to Omada access points that support mesh technology,** ideal for large-scale environments. Intelligent self-organization optimizes the best path between ER706W and Omada Access Points while self-healing ensures you stay online even when one AP is disrupted.
Intelligent Self-Organization
High-Security VPN
Pass-through traffic and a variety of VPN protocols, such as IPSec/SSL/Wireguard/PPTP/L2TP VPN, are available on ER706W, giving consumers versatile options. One-click auto IPSec VPN simplifies VPN configuration and facilitates network management and deployment.△ The router also features a built-in hardware engine to boost VPN performance.
Abundant Security Features
Powerful Firewall
Advanced firewall policies
protect your network and data.
IP/MAC/URL Filtering
Forcefully prevent viruses and attacks from intruders.
Convenient VLAN Support
Create virtual network segments for
enhanced security and simplified
network management.
IP-MAC Binding
Reserves static IP assignment
for clients to defend against ARP
attacks and spoofing.
DoS Defense
Automatically detects and blocks
Denial of Service (DoS) attacks such
as TCP/UDP/ICMP Flooding, Ping of
Death, and other related threats.
One-Click ALG Activation
One-Click ALG Activation for
applications such as FTP, H323, SIP,
IPsec, and PPTP.
Omada SDN—The Smarter Cloud Solution for Business Networking
The path to the future of wireless begins with the Omada Software Defined Networking (SDN) solution. As the gateway that seamlessly integrates into the Omada SDN platform, ER706W allows for remote and centralized management, anywhere, anytime.
ER706W
ER706W
ER8411
ISP
ISP
ISP
Cloud Access
Easy Management with the Omada App
Users can configure ER706W in both the standalone and controller modes via the Omada app. Standalone management ensures max convenience. No need to set up additional controllers.
Follow the configuration instructions on the app to get set up in minutes. Multi-function configuration is ready to go, including network status monitoring and client management, all from the comfort of a smartphone or tablet.
SECURITY
Access Control
Source/Destination IP Based Access Control
Filtering
• Web Group Filtering†• URL Filtering• Web Security†
ARP Inspection
• Sending GARP Packets• ARP Scanning†• IP-MAC Binding
Attack Defense
• TCP/UDP/ICMP Flood Defense• Block TCP Scan (Stealth FIN/Xmas/Null)• Block Ping from WAN
HARDWARE FEATURES
Interface
• 1 Gigabit SFP WAN/LAN Port• 1 Gigabit WAN Port• 4 Gigabit LAN/WAN Ports• 1 USB3.0 (supports USB LTE dongle and USB Storage)
Button
Reset Button
Power Supply
12VDC / 2A Power Adapter
Wi-Fi Frequency & Signal Rate
• 2.4 GHz: 574 Mbps• 5 GHz: 2402 Mbps (HE160)
Flash
128 MB NAND
DRAM
512 MB DDR4
Dimensions ( W x D x H )
8.9 × 5.2 × 1.4 in (226 × 131 × 35 mm) (Antenna dimensions are notincluded)
Antenna
• 2.4 GHz: 2x 3 dBi dual-band detachable antennas• 5 GHz: 3x 4.5 dBi dual-band detachable antennas
Mounting
Desktop/Wall-mounting
Max Power Consumption
• EU: 16.8W (with USB 3.0 connected), 11.8W (without USB 3.0 connected)• US: 22.7W (with USB 3.0 connected) 18.2W (without USB 3.0 connected)
PERFORMANCE
GRE
• Unencrypted: 624.2Mbps• Encrypted: 301.5Mbps
WireGuard VPN
393.5Mbps
Concurrent Session
150,000
New Sessions /Second
5,100
NAT (Static IP)
937.2 Mbps / 936.1Mbps
NAT(DHCP)
945.8 Mbps / 940.6Mbps
NAT(PPPoE)
942.9 Mbps / 942.9Mbps
NAT (L2TP)
837.4 Mbps / 881.5Mbps
NAT (PPTP)
803.0 Mbps / 910.5 Mbps
IPsec VPN Throughput
• ESP-SHA1-AES256: 646.9Mbps• ESP-SHA256-AES256: 642.8Mbps• ESP-SHA384-AES256: 648.9Mbps• ESP-SHA512-AES256: 658.4 Mbps
OpenVPN
129.3Mbps
L2TP VPN Throughput
• Unencrypted: 1034.0 Mbps• Encrypted: 570.0 Mbps
PPTP VPN Throughput
• Unencrypted: 1165.0 Mbps• Encrypted: 209.0 Mbps
SSL VPN Throughput
126.7Mbps
66 Byte Packet forwarding rate
1,453,489 pps / 1,453,488 pps
1,518 Byte Packet forwarding rate
81,274 pps / 91,275 pps
WIRELESS FEATURES
Advanced Functions
• Seamless Roaming• Mesh (with EAP that supports Mesh)• OFDMA• Beamforming• MU-MIMO• Wireless Encryption: WPA/WPA2/WPA3 Personal, WPA/WPA2/WPA3 Enterprise
Guest Network
Support
BASIC FUNCTIONS
WAN Connection Type
• Static IP• Dynamic IP• PPPoE (supports MRU Configuration)• PPTP• L2TP
MAC Clone
Modify WAN Address
DHCP
• DHCP Server• DHCPv6 PD Server (only in Standalone Mode)• DHCP Options Customization• DHCP Address Reservation• Multi-IP Interfaces• Multi-Net DHCP
IPv6
StaticIP / SLAAC / DHCPv6 / PPPoE / 6to4Tunnel / PassThrough / Non-Address mode
VLAN
802.1Q VLAN
IPTV
IGMP v2/v3 Proxy, Custom Mode, Bridge Mode
ADVANCED FUNCTIONS
ACL
IP/Port/Protocol/Domain Name Filtering
Advanced Routing
• Static Routing• Policy Routing• RIP†• OSPF†
Bandwidth Control
IP-Based Bandwidth Control
Load Balance
• Intelligent Load Balance• Application Optimized Routing• Link Backup(Timing, Failover)• Online Detection
NAT
• One-to-One NAT• Multi-Net NAT• Port Forwarding• Port Triggering†• NAT-DMZ• FTP/H.323/SIP/IPSec/PPTP ALG• UPnP
Session Limit
IP-Based Session Limit
VPN
SSL VPN
50 Tunnels
IPsec VPN
• 100 IPSec VPN Tunnels• LAN-to-LAN, Client-to-LAN• Main, Aggressive Negotiation Mode• DES, 3DES, AES128, AES192, AES256 Encryption Algorithm• IPsec Failover• IKE v1/v2• MD5, SHA1, SHA2-384 and SHA2-512 Authentication Algorithm• NAT Traversal (NAT-T)• Dead Peer Detection (DPD)• Perfect Forward Secrecy (PFS)
PPTP VPN
• PPTP VPN Server• PPTP VPN Client (10)△• 50 Tunnels• PPTP with MPPE Encryption
L2TP VPN
• L2TP VPN Server• L2TP VPN Client (10)△• 50 Tunnels• L2TP over IPSec
OpenVPN
• OpenVPN Server• OpenVPN Client (5)△• 55 OpenVPN Tunnels• "Certificate + Account" Mode• Full Mode
AUTHENTICATION
Web Authentication
• No Authentication• Simple Password§• Hotspot (Local User / Voucher§ / SMS§ / Radius§)• External Radius Sever• External Portal Sever§• LDAP
MANAGEMENT
Omada App
Yes.
Centralized Management
• Omada Cloud-Based Controller• Omada Hardware Controller (OC300)• Omada Hardware Controller (OC200)• Omada Software Controller
Cloud Access
Yes.
Service
Dynamic DNS (Dyndns, No-IP, Peanuthull, Comexe, DDNSCustomization)
Maintenance
• Web Management Interface• Remote Management• Export & Import Configuration• SNMP v1/v2c/v3• Diagnostics (Ping & Traceroute)†• NTP Synchronize†• Port Mirroring• CLI (only in Standalone Mode)• Syslog Support
Zero-Touch Provisioning
Yes. Require the use of Omada Cloud-Based Controller.
Management Features
• Automatic Device Discovery• Intelligent Network Monitoring• Abnormal Event Warnings• Unified Configuration• Reboot Schedule• Captive Portal Configuration
OTHERS
Certification
CE, FCC, RoHS
Package Contents
• ER706W• Power Adapter• Quick Installation Guide
System Requirements
• Microsoft Windows 98SE, NT, 2000, XP, Vista™ or Windows 7/8/8.1/10/11• MAC OS, NetWare, UNIX or Linux
Environment
• Operating Temperature: 0 °C to 40 °C (32 °F to 104 °F)• Storage Temperature: -40 °C to 70 °C (-40 °F to 158 °F)• Operating Humidity: 10% to 90% non-condensing• Storage Humidity: 5% to 90% non-condensing
*Maximum wireless signal rates are the physical rates derived from IEEE Standard 802.11 specifications. Actual wireless data throughput and coverage are not guaranteed and will vary.
**Omada Mesh Technology requires the use of EAPs that support mesh functionality. Please refer to https://www.tp-link.com/en/omada-mesh/product-list/ to confirm which Omada EAPs are compatible with Omada Mesh. Additionally, ER706W also supports standalone mesh. Please refer to https://www.tp-link.com/en/standalonemesh/product-list/ to confirm the specific models.
‡Use of WiFi 6 (802.11ax) and its features, including OFDMA, HE160, and 1024-QAM, require clients to support the corresponding features. The 160 MHz bandwidth is only available on the 5 GHz band. It may be unavailable in some regions/countries due to regulatory restrictions.
△For PPTP VPN and L2TP VPN, ER706W V1 can connect with up to 10 VPN servers. For OpenVPN, ER706W V 1 can connect withup to 5 VPN servers.
†These functions are supported only in Standalone Mode.
§These functions are supported only in Controller Mode.
Από United States?
Λάβετε προϊόντα, εκδηλώσεις και υπηρεσίες για την περιοχή σας.