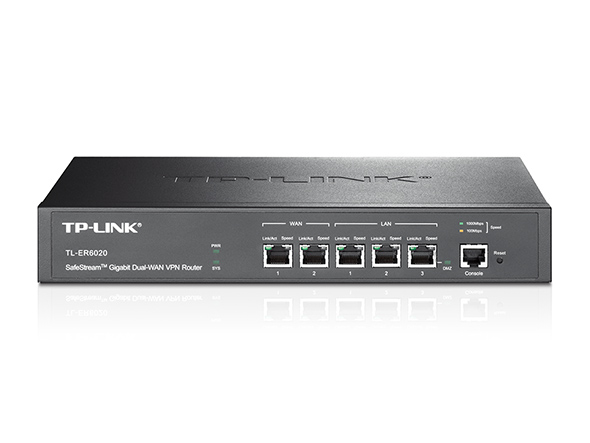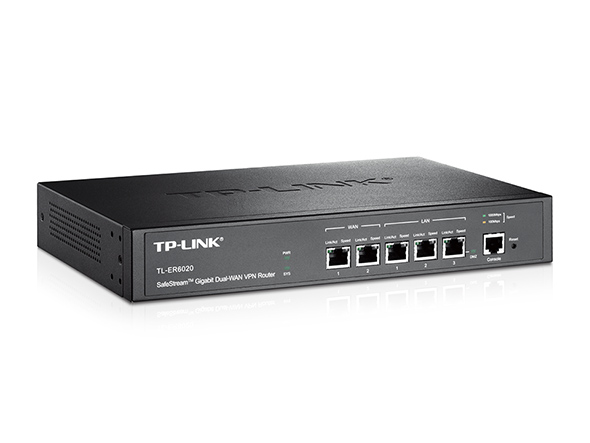 TL-ER6020
SafeStream™ Routeur VPN Double WAN Gigabit
2 ports WAN Gigabit, 2 ports LAN Gigabit, 1 port LAN/DMZ Gigabit et un port console.
Supporte des protocoles multiples de VPN incluant l'IPsec/PPTP/L2TP, ce qui permet aux utilisateurs d'établir leur VPN avec plus de souplesse.
Supporte jusqu'à 50 tunnels VPN IPsec avec un matériel intégré à base de moteur VPN.
Fonctionnalités de sécurité abondantes dont l'inspection ARP, la défense DoS, le filtrage URL/Mot-clé de Domaine et le contrôle d'accès.
Déploiement de restriction des applications IM/P2P en un clic pour gérer le comportement du personnel en ligne.
La protection professionnelle contre la foudre 4KV garde vos investissements sains et saufs.
Fonctions
Le TL-ER6020 SafeStream™ Routeur VPN Double WAN Gigabit de TP-LINK offre des capacités exceptionnelles de traitement de données et de fonctions multiples: VPN IPsec/PPTP/L2TP, répartition de charge, contrôles d'accès, blocage IM/P2P, défense contre les dénis de service DoS, contrôle de la bande passante, limite de session et serveur PPPoE qui répondent aux besoins des PME, hôtels et communautés regroupant un grand nombre d'utilisateurs et nécessitant un réseau de haute sécurité efficace et facile à gérer.
Haute Performance VPN
Le TL-ER6020 prend en charge plusieurs protocoles VPN, y compris IPsec, PPTP et L2TP en mode Client / Serveur et il peut gérer le trafic pass-through également. Il dispose aussi d'un matériel intégré à base de moteurs VPN permettant au routeur de soutenir et de gérer jusqu' à 100 connexions VPN IPsec LAN-to-LAN/Client-to-LAN. Les fonctions avancées VPN incluent: le cryptage DES/3DES/AES128/AES192/AES256, l'authentification MD5/SHA1 , la gestion des clés Manuel / IKE , et les modes de négociation principale / forcée .
Fonctionnalités de sécurité Abondantes
Pour sa défense contre les menaces extérieures, le TL-ER6020 procure des fonctionnalités automatique pour détecter et bloquer les attaques de déni de service (DoS) , tels que les inondations TCP / UDP / ICMP , TCP scanning, Ping of Death et toutes autres menaces connexes. Par ailleurs, ce routeur offre un port matériel DMZ, qui vous permet d'installer des serveurs public sans exposer votre réseau interne à des menaces de l'extérieur, ce qui force d'éviter les attaques d'intrus et les virus. Pour une meilleure gestion de votre réseau interne, le TL-ER6020 offre aux administrateurs la capacité de créer des règles pour bloquer des sites spécifiques et les applications IM/P2P en un clic, et aussi de restriendre le personnel d'utiliser des services tels que FTP, HTTP et SMTP.
Une optimisation de la bande passante
Le TL-ER6020 est doté de deux ports WAN afin de satisfaire différentes exigences d'accès Internet via un seul périphérique. La fonction Répartition de charge intelligente permet de distribuer le flux de données en fonction de la proportion de bande passante de chaque port WAN afin de maximiser le taux d'utilisation de plusieurs lignes haut débit. À l'aide des fonctions de Contrôle de bande passante sur IP et de Limite de session, les administrateurs réseau peuvent gérer la bande passante de manière plus souple afin d'optimiser son utilisation.
Des investissements orientés sécurité
La protection parafoudre professionnelle est conçue pour éviter que des surtensions endommagent vos équipements. Ce routeur est protégé contre la foudre jusqu'à 4000 V, dans des conditions de branchement conformes avec mise à la terre. Cette protection préserve votre infrastructure réseau des conditions violentes naturelles.
Branch Location

TP-Link Omada offers enterprise-level VPN, real-time network monitoring, and quick network troubleshooting to meet the requirements of headquarters and branches.

VPN
Easy management
Network monitoring and troubleshooting
High security
Sécurité
Contrôle d'Accès
Source/Destination IP Based Access Control
Port DMZ
1 Hardware DMZ Port
Contrôle d'application
IM, P2P, Web IM, Web SNS, Web Media, Protocol, Proxy Blocking
Filtrage
MAC Filtering
URL/Keywords Filtering
Web Content Filtering (Java, ActiveX, Cookies)
Inspection du protocole de résolution d'adresse ARP
Sending GARP Packets
ARP Scanning by WAN/LAN
IP-MAC Binding
Défense contre les attaques
TCP/UDP/ICMP Flood Defense
Block TCP Scan (Stealth FIN/Xmas/Null)
Block Ping from WAN
CARACTERISTIQUES MATERIELLES
Standards et Protocoles
IEEE 802.3, IEEE802.3u, IEEE802.3ab
TCP/IP, DHCP, ICMP, NAT, PPPoE, SNTP, HTTP, DNS, IPsec, PPTP, L2TP
Interface
2 Gigabit WAN ports
2 Gigabit LAN ports
1 Gigabit LAN/DMZ port
1 Console Port (RJ-45 On RS232)
Interface réseau
10BASE-T: UTP category 3, 4, 5 cable (Max 100m)
EIA/TIA-568 100Ω STP (Max 100m)
100BASE-TX: UTP category 5, 5e cable (Max 100m)
EIA/TIA-568 100Ω STP (Max 100m)
1000BASE-T: UTP category 5, 5e, 6 cable (Max 100m)
Nombre de ventilateurs
Fanless
Bouton
Reset Button
Alimentation
Internal Universal Power Supply
AC100-240V~ 50/60Hz Input
Flash
16MB
DRAM
DDRII 128MB
DEL
PWR, SYS, Link/Act, Speed, DMZ
Dimensions (LxPxH)
11.6*7.1*1.7in. (294*180*44mm)
13-inch Standard Rack-Mount Width, 1U Height
Performances
Session concurrente
30000
Bande passante NAT
180Mbps
Bande passante VPN IPsec (3DES)
80Mbps
Fonctions de base
Type de connexion WAN
Dynamic IP, Static IP, PPPoE, PPTP, L2TP, Dual Access, BigPond
Clone d'adresse MAC
Modify WAN/LAN/DMZ MAC Address
DHCP
DHCP Server/Client
DHCP Reservation
Réglage de commutation
Port Mirror
Rate Control
Port Config
Port VLAN
IPv6
IPv6 Support
VLAN
802.1Q VLAN, Port VLAN
IPTV
Bridge, Custom
Fonctions avancées
Répartition de charge
Intelligent Load Balance
Policy Routing
Protocol Binding
Link Backup (Timing, Failover)
Online Detection
NAT
One-to-One NAT
Multi-nets NAT
Virtual Server, DMZ Host, Port Triggering, UPnP
FTP/H.323/SIP/IPsec/PPTP ALG
Routage
Static Routing
Dynamic Routing (RIP v1/v2)
Mode opératoire du système
NAT, Non-NAT, Classical Routing
Contrôle du trafic
IP-based Bandwidth Control
Guarantee & Limited Bandwidth
Time-scheduled Policy
IP-based Session Limit

TRANSMISSION
Load Balance
Intelligent Load Balance
Link Backup (Timing, Failover)
Online Detection

NAT
One-to-One NAT
Multi-nets NAT
Virtual Server
Port Triggering
FTP/H.323/SIP/IPsec/PPTP ALG
UPnP

Routage
Static Routing
Policy Routing

Limite Session
IP-based Session Limit
Contrôle bande passante
IP-based Bandwidth Control
VPN
VPN IPsec
50 IPsec VPN Tunnels
LAN-to-LAN, Client-to-LAN
Main, Aggressive Negotiation Mode
DES, 3DES, AES128, AES192, AES256 Encryption Algorithm
MD5, SHA1 Authentication Algorithm
Manual, IKE Key Management Mode
IPsec NAT Traversal (NAT-T)
Dead Peer Detection (DPD)
Perfect Forward Secrecy (PFS)
VPN PPTP
16 PPTP VPN Tunnels
PPTP VPN Server/Client
PPTP with MPPE Encryption
VPN L2TP
16 L2TP VPN Tunnels
L2TP VPN Server/Client
L2TP over IPsec
VPN Pass-through (ne bloque pas les liens VPN)
IPsec (ESP), PPTP, L2TP
AUTHENTICATION
Authentification Web
Local User Authentication,
Radius Sever Authentication,
Onekey Online

Administration
Service
PPPoE Server
E-Bulletin
Dynamic DNS (Dyndns, No-IP, Peanuthull, Comexe)
Maintenance
Web/CLI/Telnet Management Interface
Remote Management
Export & Import Configuration
NTP Synchronize
Syslog Support
Autres
Certification
CE, FCC, RoHS
Contenu de l'emballage
TL-ER6020
Resource CD
Power Cord
Ground Cable
Rack-mount Kit
Installation Guide
Système requis
Microsoft® Windows® 98SE, NT, 2000, XP, Vista™ or Windows 7, MAC® OS, NetWare®, UNIX® or Linux
Environnement
Operating Temperature: 0℃~40℃ (32℉~104℉)
Storage Temperature: -40℃~70℃ (-40℉~158℉)
Operating Humidity: 10%~90% non-condensing
Storage Humidity: 5%~90% non-condensing
De United States?
Infos produits, événements, services pour votre pays.