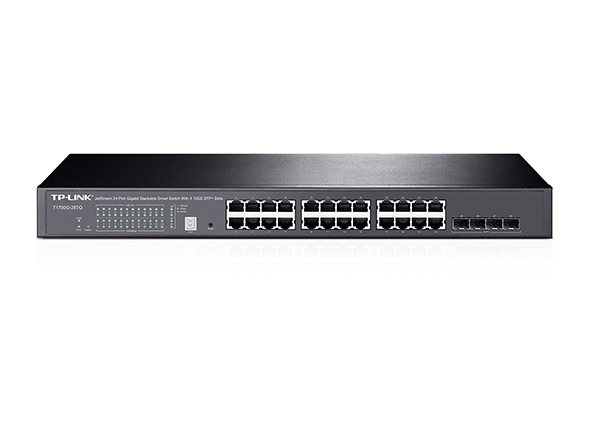 T1700G-28TQ
JetStream 24-Port Gigabit Stackable Smart Switch with 4 10GE SFP+ Slots
True physical stacking supports up to 6 units and 40Gbps bi-directional bandwidth for high scalability and efficient redundancy
10G SFP+ ports for stacking and/or uplink, providing support for high-bandwidth applications for congestion relief and smooth data delivery
L2+ feature, Static Routing help route internal traffic for more efficient use of network resources
Advanced security features include IP-MAC-Port Binding, ACL, Port Security, DoS Defend, Storm Control, DHCP Snooping, 802.1X, and Radius Authentication
IPv6 support provides dual IPv4/IPv6 stacking, MLD snooping, and IPv6 neighbor discovery
WEB/CLI managed modes, SNMP, RMON, and Dual Image enhance management
What This Product Does
TP-LINK's Gigabit Stackable Smart Switch, the T1700G-28TQ, is designed to help you build a network that is highly accessible, scalable, and robust. The switch is equipped with 24 10/100/100Mbps RJ-45 ports and 4 dedicated 10G SFP+ slots which can be used for uplinks and/or stacking, providing a strong interconnection between access and aggregation. It provides excellent performance, powerful L2 and L2+ features, enterprise-level QoS, and effective security strategies. Besides, with physical stacking improving performance and simplifies management, T1700G-28TQ is able to provide reliable, cost-effective networking solutions for SMBs.
Physical Stacking
Physical stacking technology connects multiple devices to form a unified system which allows multiple devices to work together and be managed as a single unit, which improves performance and simplifies management. The stack system of T1700G-28TQs supports up to 40G bi-directional stacking bandwidth with built-in redundancy and provides auto-failover. The switch supports up to 6 units in a stack, which allows it to provide up to 144 GE ports, 12 available 10G SFP+ uplinks and 768Gbps switching capacity, offering high-density developments as well as flexibility for future network expansion need.
Abundant L2 and L2+ Features
The T1700G-28TQ supports rich L2 features, including 802.1Q tag VLAN, Port Isolation, Port Mirroring, STP/RSTP/MSTP, Link Aggregation Groups, and 802.3x Flow Control function. Additionally, the switch provides advanced features for network maintenance, such as Loop Back Detection, Cable Diagnostics, and IGMP Snooping. IGMP snooping ensures that the switch can intelligently forward the multicast stream only to the appropriate subscribers, while IGMP throttling and filtering restrict each subscriber on a port level to prevent unauthorized multicast access. Besides, T1700G-28TQ supports L2+ feature: static routing, which provides simple network segmentation by routing internal transmissions to make the flow of network traffic more efficient.
Secure Networking
The T1700G-28TQ supports IP-MAC-Port Binding, Port Security, Storm control, and DHCP Snooping, which help to protect the network from broadcast storms, ARP attacks, and more. The Access Control List (ACL, L2 to L4) feature restricts access to sensitive network resources by rejecting certain packets based on the MAC address, IP address, TCP/UDP ports, and VLAN ID of both the source and destination. And the switch supports 802.1X, which allows network clients to be authenticated through external Radius servers and the guest VLAN function allows non-802.1X clients to access specific network resources.
Advanced QoS features
To support voice, data, and video services on one network, the switch utilizes rich QoS policies. Administrators can prioritize traffic based on a variety of factors, including Port Priority, 802.1P Priority, and DSCP Priority, to ensure that voice and video streams are always clear and smooth.
Enterprise Level Management Features
The T1700G-28TQ is easy to use and manage. It supports various user-friendly standard management features, such as intuitive web-based Graphical User Interface (GUI), industry-standard Command Line Interface (CLI), SNMP (v1/2/3), and RMON. This allows the switch to provide valuable status information and send reports on abnormal events. Comprehensive IPv6 support management ensures a smooth migration to an IPv6-based network. It also supports Dual Image to provide improved reliability and network uptime.
Affordable 10-Gigabit Switching Solution for Growing SMBs
T1700 Series 10G Smart Switches
In a world of expanding enterprises and growing virtualization, cloud-based services and applications, like VoIP, HD streaming video, and IP surveillance, SMB networks need to evolve beyond simple reliability to provide increased scalability, higher bandwidth, and enhanced performance. TP-LINK's new T1700 Series 10G Smart Switches represent an ideal solution that meets these requirements. The series includes the T1700X-16TS Full 10-Gigabit Smart Switch and the T1700G-28TQ Gigabit Stackable Smart Switch with 10G Uplink, which both provide high levels of performance, scalability, and cost-effectiveness that SMBs require from their 10G networking solutions.
FULL 10-GIGABIT
SMART SWITCH
12-Port 10GBase-T Smart Switch
with 4 10G SFP+ Slots
Future-Proof
10GBase-T Technology
Until recently, 10-Gigabit connectivity was available only in the expensive fiber based technology that supports high-speed access to the network backbone or data center environment.
Today, 10GBase-T Technology is becoming more common and affordable. Low-Latency, Line-Rate 10G Copper Base-T is backward compatible with Fast Ethernet and Gigabit Ethernet and can automatically negotiate between higher and lower speed connections. Most importantly, 10GBase-T provides a cost-effective method for migrating from your current network to 10G Ethernet by utilizing your existing CAT5e/CAT6 RJ-45 short connections (up to 55m) and CAT6A/CAT7 connections (up to 100m). This reduces cabling complexity and ultimately results in significant savings for customers.
16 10-Gigabit Ports,
320Gbps Switching Capacity
The T1700X-16TS features 12 10GBase-T RJ45 ports and four dedicated SFP+ fiber slots, which can support up to 320Gbps of combined switching bandwidth. This provides great resiliency, relieves congestion associated with bandwidth-intensive applications, and guarantees smooth data transmission.
GIGABIT STACKABLE
WITH 10G UPLINK
24-Port Gigabit Stackable Smart Switch
with 4 10GE SFP+ Slots
Physical Stacking
With True Physical Stacking Technology, up to six T1700G-28TQ units can be stacked with a single IP address.
This provides enhanced scalability, simple management, and increased redundancy for high-density deployment. It also supports efficient network expansion in the future.
6 Units

True Physical Stacking Technology of up to six units supports network simplification

144 GE Ports

Up to 144 Gigabit Ethernet ports per stack

24 10G SFP+

Up to 24 10G SFP+ slots per stack

768 Gbps

Up to 768Gbps of switching capacity for aggregated networks

1 Management IP

With all units identified by a single IP address, configuring and monitoring the stack is easy
Fanless Design for Silent Operation
The T1700G-28TQ utilizes a fanless design, which reduces the amount of ambient noise in your office. Removing the fan also reduces power consumption and helps you build a more cost-effective network.
Software Features
L2+ Static Routing

Simple network segmentation, with internal routing through the switch, allows devices in different VLANs/subnets to communicate with each other and makes the flow of network traffic more efficient.

Abundant L2 Features

T1700 Series devices are equipped with a full lineup of L2 features that meet your current and future needs for unified networking and mobility.

802.1Q/MAC/Protocol/Private VLAN1

Link Aggregation Group (LAG)

IGMP & MLD Snooping

Multicast VLAN

Robust Security Strategies

Support for numerous security strategies allow you to create a secure, unified network by preventing unauthorized access, external attacks, and malware infiltration.

Access Control List (ACL)

DHCP Snooping

802.1x Authentication

IP-MAC-Port Binding

Comprehensive QoS Features

Advanced controls provide optimized network performance and efficient delivery of time-sensitive traffic.

Port-Based or 802.1p-Based Prioritization

Layer 3-Based (DSCP) Prioritization

Rate Limit

Voice VLAN

IPv6 Support

The T1700 Series offers comprehensive IPv6 features, including IPv6 management, Static Routing, ACL, and QoS2, which ease the transition to an IPv6-based network and protect the value of your investment.

Dual Image

Dual image firmware reduces downtime when the firmware is being updated. The backup image will also be activated in the event that any error occurs on the active image.
1 Only T1700X-16TS supports Private VLAN
2 IPv6 Static Routing/ACL/QoS will be supported in a future firmware release
Hardware Specifications
T1700X-16TS
T1700G-28TQ
10/100/1000Mbps RJ45 Ports
-
24
10GBase-T RJ45 Ports
12
-
Uplink
4 Dedicated 10G SFP+
4 Dedicated 10G SFP+
Switching Capacity
320Gbps
128Gbps
Dimensions(W×D×H)
17.3×8.7×1.73 in.


(440×220×44mm)

17.3×7.1×1.73 in.


(440×180×44mm)

Fan Quatity
Two Smart Fans
Fanless
Find More Details
Go>
Go>
Accessories
10GBase-SR SFP+ LC Transceiver

850nm multi-mode transceiver
300m max distance
LC/UPC Connector

TXM431-SR

10GBase-LR SFP+ LC Transceiver

1310nm single-mode transceiver
10km max distance
LC/UPC Connector

TXM431-LR

1M/3M Direct Attach SFP+ Cable

1M/3M cable length
SFP+ connector on both sides

TXC432-CU1M / TXC432-CU3M
CARACTERISTIQUES MATERIELLES
Standards et Protocoles
IEEE 802.3i, IEEE 802.3u, IEEE 802.3ab, IEEE802.3z, IEEE 802.3ae, IEEE 802.3ad, IEEE 802.3x, IEEE 802.1d, IEEE 802.1s, IEEE 802.1w, IEEE 802.1q, IEEE 802.1x, IEEE 802.1p
Interface
24 10/100/1000Mbps RJ45 Ports
4 fixed 10G SFP+ Slots

Interface réseau
10BASE-T: UTP category 3, 4, 5 cable (maximum 100m)
100BASE-TX/1000Base-T: UTP category 5, 5e or above cable (maximum 100m)
1000BASE-X: MMF, SMF
10GBASE-LR
10GBASE-SR

Nombre de ventilateurs
Fanless
Système de verrou physique
Yes
Alimentation
100-240V, 50/60Hz
Consommation
21.8W
Poids
2.8kg
Dimensions (LxPxH)
17.32 * 7.1 * 1.73 in. (440 * 180 * 44 mm)
Montage
Rack Mountable
Consommation maximale
21.8W (220V/50Hz)
Max dissipation thermique
74.38 BTU/h
STACK PHYSIQUE
Modules SFP+ et câbles Direct Attach (DAC)
TXM431-SR
TXM432-LR
TXC432-CU1M
TXC432-CU3M

Nombre max de ports d'empilage installables
2 SFP+
Débit d'empilage (par port)
20Gbps (Full-Duplex)
No. d'unités par Stack
Up to 6 units
Performances
Capacité de commutation
Up to 128Gbps for a standalone switch
Taux de transfert de paquets
Up to 95.2Mpps for a standalone switch
Tableau d'adresses MAC
16K
Mémoire tampon des paquets
1.5MB
Trame Géante
9KB
Nb. de routes statiques
32 IPv4
Nb. d'interfaces IP
16
CARACTERISTIQUES LOGICIELLES
Qualité de Service QoS
Support 802.1p CoS/DSCP priority
Support 8 priority queues
Queue scheduling: SP, WRR, SP+WRR
Port/Flow- based Rate Limiting
IPv6 QoS*
Voice VLAN

Fonctions N2 et N2+
Static Routing
DHCP Relay*
IGMP Snooping V1/V2/V3
802.3ad LACP (Up to 14 aggregation groups, containing 8 ports per group)
Spanning Tree STP/RSTP/MSTP
BPDU Filtering/Guard
TC/Root Protect
Loopback detection
802.3x Flow Control
LLDP, LLDP-MED*

VLAN
Supports up to 4K VLANs simultaneously (out of 4K VLAN IDs)
MAC/Protocol-based VLAN

Liste de contrôle d'accès
L2~L4 package filtering based on source and destination MAC address, IP address, TCP/UDP ports
IPv6 ACL*

Sécurité
AAA*
Port Security
DHCP Snooping
IP-MAC-Port Binding
ARP Inspection
802.1x and Radius Authentication
SSH v1/v2
SSL v3/TLSv1
Broadcast/Multicast/Unknown-unicast Storm Control
Dos Defend

IPv6
Dual IPv4/IPv6 stack
Multicast Listener Discovery (MLD) Snooping
IPv6 neighbor discovery (ND)
Path maximum transmission unit (MTU) discovery
Internet Control Message Protocol (ICMP) version 6
TCPv6/UDPv6

Applications IPv6
DHCPv6 Client
Ping6
Tracert6
Telnet (v6)
IPv6 SNMP
IPv6 SSH
IPv6 SSL
Http/Https
IPv6 TFTP

Administration
Web-based GUI and CLI management
SNMP v1/v2c/v3,compatible with public MIBs and
TP-LINK private MIBs
RMON (1, 2, 3, 9 groups)
CPU Monitoring
Port Mirroring
Firmware Upgrade: TFTP & Web
System Diagnose: VCT
SYSLOG & Public MIBS
Dual Image


*These features will be supported in a future firmware release.
Autres
Certification
CE, FCC, RoHS
Contenu de l'emballage
T1700G-28TQ
Power Cord
Installation Guide
Resource CD
Rackmount Kit
Rubber Feet

Système requis
Microsoft® Windows® XP, Vista™ or Windows 7, Windows 8/8.1, MAC® OS, NetWare®, UNIX® or Linux.
Environnement
Operating Temperature: 0℃~40℃ (32℉~104℉);
Storage Temperature: -40℃~70℃ (-40℉~158℉)
Operating Humidity: 10%~90%RH non-condensing
Storage Humidity: 5%~90%RH non-condensing

De United States?
Infos produits, événements, services pour votre pays.