How to configure VLAN VPN on L2 Managed switches using the old GUI
VLAN-VPN (Virtual Private Network) function, the implement of a simple and flexible Layer 2 VPN technology, allows the packets with VLAN tags of private networks to be encapsulated with VLAN tags of public networks at the network access terminal of the Internet Service Provider. And these packets will be transmitted with double-tag across the public networks.
Now let´s learn how to configure the VLAN VPN on L2/L3 Managed Switches by the following example:
Network Topology:
As we can see,VLAN 2 is the private network while VLAN 20 is the public network, we are going to achieve the purpose that two Terminals can communicate with each other. The Provider Edge(T-3700G) encapsulate the private network's datagram with outer layer tag and packets transmitted with double tags in Public Network.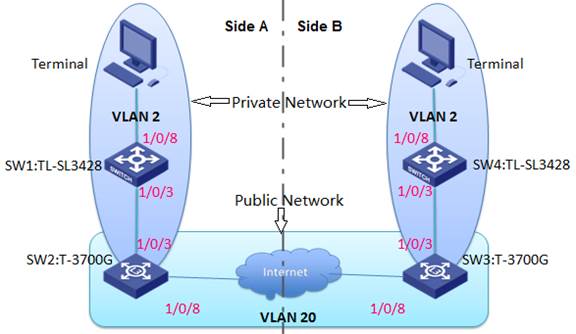 Here we take T-3700G and TL-SL3428 as an example.
The connection of Side A is like the following and the Side B is the same as Side A,here we take Side A as an example to config: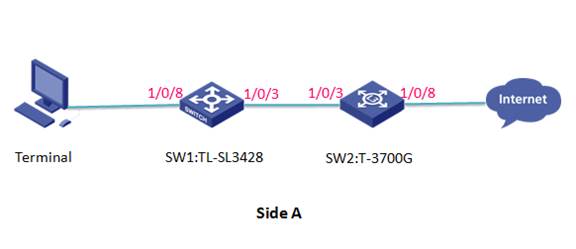 Configuration on TL-SL3428:
Create VLAN 2 contains port 3 tagged and port 8 untagged.

2. Set the Link type of port 3 as General and port 8 as Access. The pvid is 2.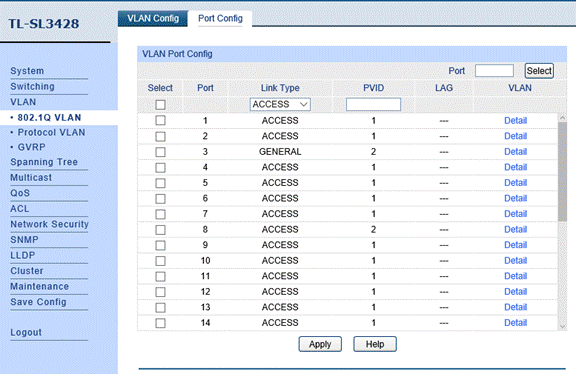 Configuration on T-3700G:
Create VLAN 2 contains port 3 tagged and VLAN 20 contains port 3 untagged and port 8 tagged.

2. Set the Link type of port 3 and port 8 as General. The pvid is 20.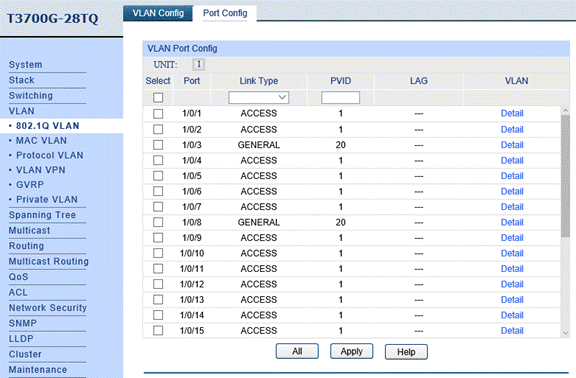 3. Enable the VLAN VPN mode and select port 8 as Up-link port.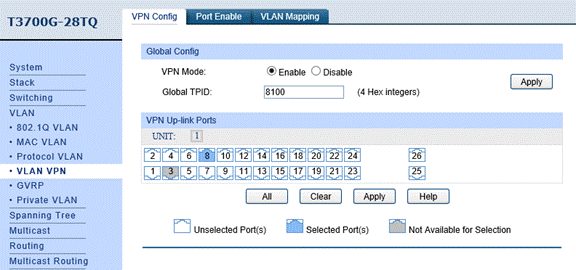 4.Select the port 3 and enable it.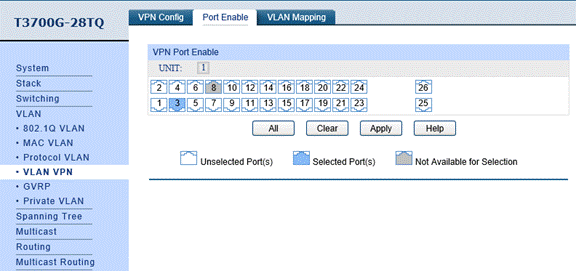 Configuration of side B is the same as this side A.
Now, the network will work as described Purpose.
Is this faq useful?
Your feedback helps improve this site.

TP-Link Community
Still need help? Search for answers, ask questions, and get help from TP-Link experts and other users around the world.
From United States?
Get products, events and services for your region.