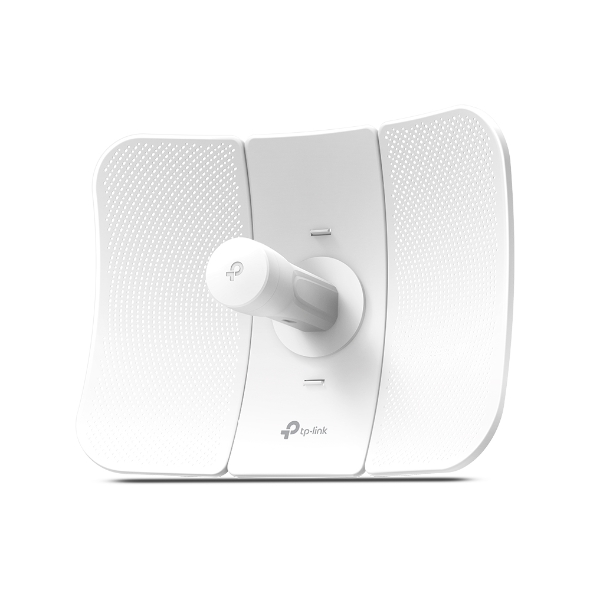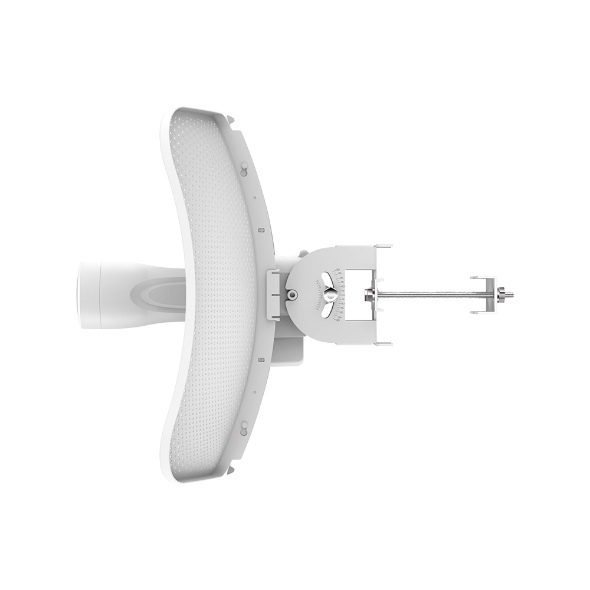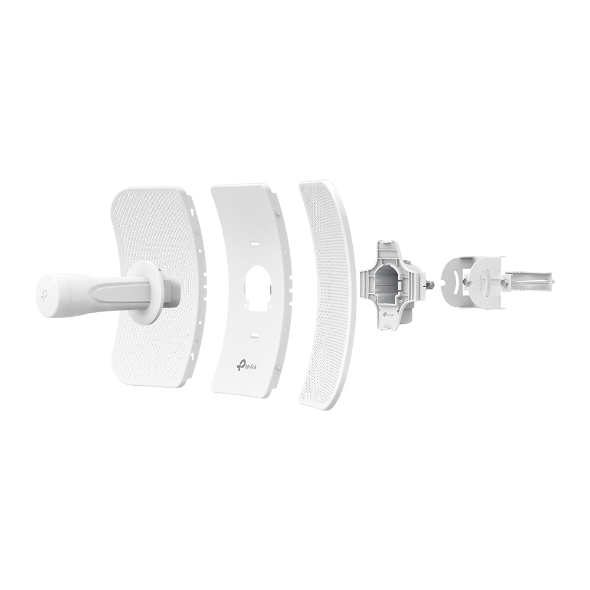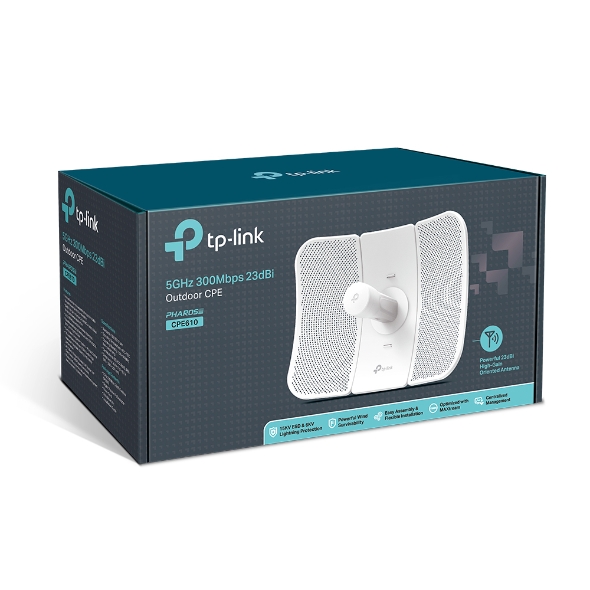 CPE610
CPE de Exterior 5GHz 300Mbps 23dBi
Hasta 300Mbps Inalámbrivos en 5GHz
Antena direccional de alta ganancia con 23dBi 2×2 MIMO y un metal reflector dedicado, ideal para depsliegues de larga distancia
Directividad de rayo excelente, mejora la latencia y cancelación de ruido
Piezas snap-lock inovadoreas para un rápido montaje y un diseño estructural robusto mantiene al CPE610 estable incluso con vientos fuertes
Carcasa impermeable duradera IP65, conjuntamente con protección de 15 kV ESD y rayos de hasta 6 kV ale hacen idóneo para cualquier clima
La tecnología TP-Link Pharos MAXtream TDMA aumenta la performance en velocidad, capacidad y latencia
Pharos Control da a los administradores un sistema de gestión centralizada gratuito
Modos de operación variados: AP / Client / Bridge / Repeater / AP Router / AP Client Router (WISP)
Soporte de PoE pasivo permite un despliegue flexible ey una instalación conveniente
2×2 MIMO
MAXtream TDMA
Antena direccional de 23dBi con una estructura estable y profesional para transmisiones Wi-Fi de exterior de larga distancia
Antena Direccional 23dBi

Montaje Fácil &
Instalación Flexible

Construcción Resistente al Viento

Carcasa Impermeable IP65


Protección contra Rayos de hsata 6KV &
Protección 15KV ESD
Antena Direccional de 23dBi bajo Estándar Profesional
Para Transmisiones Inalámbrcias de Larga Distancia
Antena direccional Cassegrain con 23dBi de alta ganancia 2×2 MIMO y un metal defelctor dedicado, el CPE610 proporciona una directividad de rayo excelente, latencia mejorada e inmunidad a ruído. Un rendimiento profesional, unido a un diseó amigable, hace al CPE610 de Exterior con 23 dBi y 300Mbps la solución más rentable para soluciones de redes inalámbricas de exterior.
Diseño Estructural Estable e Instalación Flexible
Alimentación
de Antena
Panel
Lateral Reflector
Panel
Central Reflector
Panel
Lateral Reflector
Montaje en Mástil
Receptor de Alimentación
Piezas snap-lock hace el montaje simple y conveniente
Kits de montaje en mástil y la libertad de la alineación de los 3 ejes, facilita una instalación flexible
Diseño robusto asegura la estabilidad en condiciones de viento
Embalaje Compacto y Leve
Cajas pequeñas y leves benefician
los envíos, logística y retail
17.5cm
0cm
0cm
32.6cm
0cm
32.5cm
0cm
14.2cm
Pharos Control – Sistema de Gestión Centralizado
CPE610 viene equipado con el software de gestión centralizado Pharos Control, ayudando a usuarios a manejar a todos los dispositivos con facilidad, en su red desde uun PC.Sus funcctiones inluyen descubrimiento, monitorización de estado, actualización de firmware y mantenimiento de red. Una interfaz intuituva vía Web - PharOS - proporciona un método de gestión alternativo, y permite a los profesionales acceder a configuraciones más detalladas.
Wireless Networking for Elevators

TP-Link offers wireless point to point link delivering up to 300 Mbps throughput. The point to point link provides wireless coverage to the entire shaft, and delivers network to the elevator car, connecting the surveillance cameras or digital signage. So that real time video can be recorded to a DVR without hard wiring coax cable directly from the camera to the recorder.

Easy, Flexible Installation
Stable Connections at High-Speeds
Ideal for Elevator Camera
No Complex Cabling
PoE Support
Peru WISP

TP-Link Helps WISP to Provide Reliable Wireless Connectivity in Peru

Peru WISP

TP-Link Helps WISP to Provide Reliable Wireless Connectivity in Peru

"The performance of CPE was better than expected, working stable even with -85 dBm of received power." —David Grillo, Engineer, Kroton
CARACTERÍSTICAS DE HARDWARE
Procesador
Qualcomm 560MHz CPU, MIPS 74Kc
Memoria
64MB DDR2 RAM,8MB Flash
Interface
1*Puerto 10/100Mbps Etehernet Apantallado (LAN/POE)
1*Botón Reset
Fuente de Alimentación
PoE PAsivo vía LAN (+4,5pins; -7,8pins)
Rango de Voltaje: 16-27VDC
Consumo de Energía
7.41 WNote: When deployed using Passive PoE, the power drawn from the power source will be higher by some amount depending on the length of the connecting cable.
Dimensiones (W X D X H)
366 x 280 x 207 mm (14.4 x 11.0 x 8.1 in.)
Dimensiones
14.4 x 11.0 x 8.1 in. (360 x 280 x 207 mm ) (Sin montaje)
Ganancia de Antena
23dBi
Cobertura de Antena
9°(Azimuth), 7°(Elevación)
Protección
Protección 15KV ESD
Protección Rayos 6KV
Cercado
Material: Plástico PC estabilizado de Exterior
Impermeable: IP65 - diseño a prueba de agua y polvo
CARACTERÍSTICAS INALÁMBRICAS
Estándares Inalámbricos
IEEE 802.11a/n
Protocolo Propietario
Modo TDMA (con Pharos MAXtream activado)
Velocidades Inalámbricas
Hasta 300Mbps (40MHz,Dinámico)
Hasta 144.4Mbps (20MHz,Dinámico)
Hasta 72.2Mbps (10MHz,Dinámico)
Hasta 36.1Mbps (5MHz,Dinámico)
Frecuencia
5.15~5.85GHz
Potencia de Transmision
Max. 27dBm/ 500 mW(Potencia ajustable por 1dBm)
CARACTERÍSTICAS DE SOFTWARE
Modos de Funcionamiento
AP / Client / Bridge / Repeater / AP Router / AP Client Router (WISP Client)
Configuracion De Red
WAN: Estático/Dinámico/PPPoE/L2TP/PPTP
LAN: Estático/Dinámico/DHCP
Reenvío de Puertos: DMZ/ALG/UPnP/Virtual Server/Port Trigger
Seguridad: SPI Firewall/ Ping Forbidden/VPN/DoS Protection
Control de Acceso
Enrutamiento Estático
Control de Ancho de Banda
Unión IP & MAC
Configuraciones Inalámbricas
Tecnología Pharos MAXtream TDMA
Ancho de Canal Ajustable: 5/10/20/40MHz
Selección Automática de Canales
Control de Potencia de Transmisión
Selección de Frecuencia Dinámica(DFS)
On/Off WDS
Seguridad: WPA/WPA2, WPA-PSK/WPA2-PSK (AES/TKIP) Encriptación,
64/128/152-bit Encriptación WEP
On/Off SSID Broadcast
Multi-SSID con tagueo VLAN (Modo AP solamente)
Distancia/ACK Ajuste de Tiempo de Espera
Filtrado Dirección MAC Inalámbrica
Inalámbrico Avanzado:
Beacon Interval/RTS Threshold/Fragmentation Threshold/DTIM Interval/AP Isolation/Short GI/Wi-Fi Multimedia
Administración
Descubrimiento y Gestión Remota vía aplicación Pharos Control
Gestión basada en Web - HTTP/HTTPS
System log
SNMP Agent(v2c)
Ping Watch Dog
DDNS Dinámico
Servidor SSH
Herramientas de sistema
Indicadores: Fuerza de Señal/Ruído/Transmisión CCQ/CPU/Memoria
Monitores: Velociudad/Estaciones/Interfaces/ARP/Rutas/WAN/DHCP
Analizador de Espectro
Test de Velocidad
Ping
Traceroute
Optimizaciones a Nivel de Sistema
IGMP Snooping/Proxy optimizado para aplicaciones multicast
Hardware watch dog
POE ADAPTER FEATURES
Dimensions(W x D x H)
85.8×43.9×29.7 mm
Interfaces
1 AC Jack with Earth Ground1 10/100Mbps Shielded Ethernet Port (Power + Data)1 10/100Mbps Shielded Ethernet Port (Data)
Botón
Remote Reset Button
Power Status LEDs
Green
Input
100-240VAC, 50/60Hz
Output
24VDC, 0.5A Max+4, 5pins; -7, 8pins. (Support up to 60m Power over Ethernet)
Eficiencia
>84.29%
Certifications
CE/FCC/UL/IC/GS/PSB/C-tick/SAA/S-Mark/KC-mark
Otros
Certificacion
CE, FCC, RoHS, IP65
Contenidos del Paquete
CPE Inalámbrico de Exterior
Adaptador PoE Pasico 24V 0.5A Passive
Correas de Montaje en Mástil
Cable de Alimentación CA
Guía de Instalación
Requisitos del Sistema
Microsoft Windows 98SE, NT, 2000, XP, Vista™ o Windows 10, Windows 8, Windows 7, MAC OS, NetWare, UNIX o Linux.
Nota: Recomendamos que use uno de los siguientes Exploradores WEB para una experiencia de uso mejorada: Google Chrome, Safari, y Firefox. Explorador IE no está recomendado.
Ambiente
Temperatura de Funcionamiento: -40°C~70°C (-40℉~158℉)
Temperatura de Almacenamiento: -40℃~70℃ (-40℉~158℉)
Humedad de Funcionamiento: 10%~90% sin condensación
Humedad de Almacenamiento: 5%~95% sin condensación
From United States?
Get products, events and services for your region.