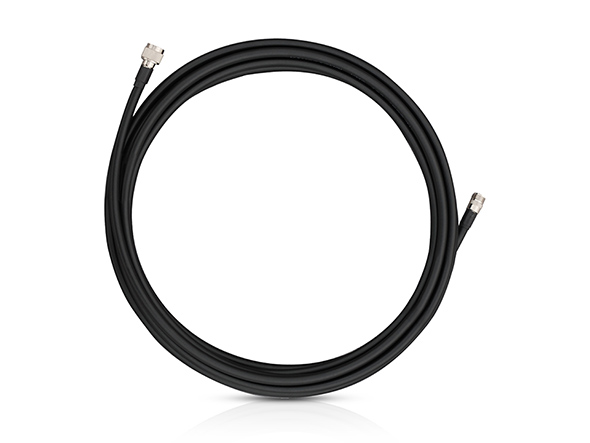 TL-ANT24EC6N
Câble d'extension à faible perte pour antenne de 6 m
Installation simple et rapide dans un environnement VLAN adapté
Un câble de 6 m. vous permet de bien positionner votre antenne afin d'optimiser la performance sans fil.
Haute performance et excellente flexibilité grâce au câble faible perte KMS-400 (LMR-400).
Design résistant aux intempéries, compatible avec la majorité des solutions d'extérieur
Connecteur mâle N vers femelle, fonctionne avec les antennes de type N
Fonctions
Que se passe-t-il lorsque votre signal sans fil est trop faible pour vous connecter à un point d'accès situé dans un autre bâtiment ou lorsque vous souhaitez mieux positionner votre antenne sans fil dans un lieu plus haut et plus large afin d'obtenir un meilleur signal ?

Le câble d'extension de l'antenne est la réponse à vos problèmes. Il est inutile de déplacer votre point d'accès ou votre routeur sans fil, parfois fixe, d'un lieu à un autre. Grâce aux différents types de câble d'extension à faible perte, vous disposerez d'une plus grande flexibilité pour déplacer votre antenne en vue d'optimiser vos performances sans fil.
LMR®-400 is made by Times Microwave. LMR® is a registered trademark of Times Microwave. Times Microwave is not affiliated with TP-LINK and does not endorse TP-LINK products.
Antenne
Fréquence
DC ~ 3GHz
Impédance
50Ω Nominal
Perte d'insertion
2.8dB
Type de connecteur
N Male to Female
Température de fonctionnement
-10℃~+60℃
Température de stockage
-40℃~+80℃

Dimension
6 Meters
SubscriptionTP-Link prend votre vie privée au sérieux. Pour plus de détails sur la politique de confidentialité de TP-Link, veuillez consultez la page suivante Politique de confidentialité de TP-Link .