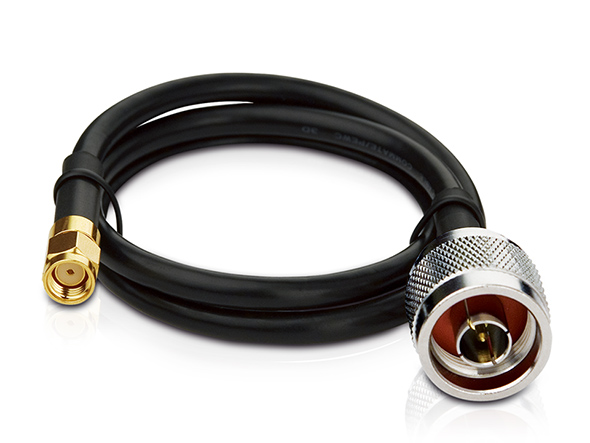 TL-ANT200PT
Cordon pigtail N M/ RP-SMA F de 50cm
Cordon compatible avec les fréquences 2.4GHz et 5GHz utilisées par les réseaux wifi 802.11a,b,g,n,ac
Cordon résistant aux intempéries conçu pour un usage externe
Cordon formé d'un câble LMR200 à faible pertes et compatible avec les fréquences 2.4GHz et 5GHz des signaux qu'il véhicule
Connectique N mâle et RP-SMA femelle adaptée à l'ensemble des produits TP-LINK à antennes détachables.
Fonctionnalités
Le cordon pigtail TL-ANT200PT est idéal pour relier une antenne externe à un point d'accès ou à un routeur interne. il est très facile à mettre en oeuvre et ne nécessite ni outils ni réglages.
1. LMR®-200 is made by Times Microwave. LMR® is a registered trademark of Times Microwave. Times Microwave is not affiliated with TP-LINK and does not endorse TP-LINK products.
Antenne
Fréquence
DC~6GHz
Impédance
50Ω Nominal
Perte d'insertion
2GHz 0.7dB
2.5GHz 0.8dB
3GHz 1.0dB
5GHz 1.2dB
5.5GHz 1.3dB
6.0GHz 1.4dB
VSWR(MAX.)
0~3GHz: 1.5:1 Max
3~6GHz: 1.6:1 Max
Type de connecteur
N-Type Male to RP-SMA Female
Température de fonctionnement
-10℃~+60℃
Température de stockage
-40℃~+80℃
Longueur
0.5m(1.64ft)
SubscriptionTP-Link prend votre vie privée au sérieux. Pour plus de détails sur la politique de confidentialité de TP-Link, veuillez consultez la page suivante Politique de confidentialité de TP-Link .