Dec.2021

27
TP-Link Rolls Out Its First WiFi 6E Bluetooth PCIe Adapter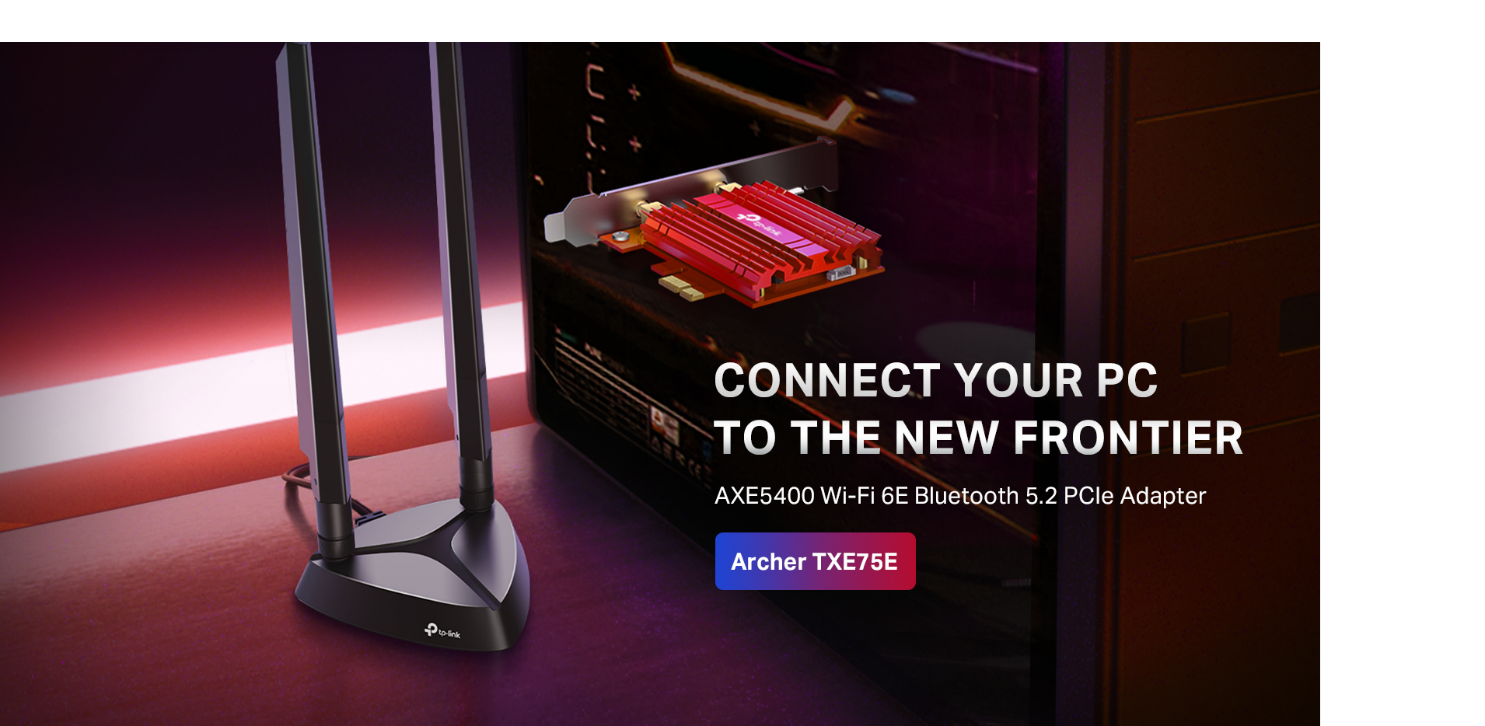 If you're not aware already: 6 GHz offers higher data rates, immense capacity, and excellent performance in dense environments.
The catch? Only WiFi 6E devices get to enjoy this all-new band.
While WiFi 6E routers are inching into the marketplace, not enough laptops, tablets, or smartphones support WiFi 6E yet. The hardware limits of clients are now the main constraint for building a WiFi 6E network.
But now, you can easily upgrade an existing computer into a WiFi 6E device without waiting or paying for a new one. TP-Link is rolling out its first WiFi 6E PCIe network adapter, Archer TXE75E.
By installing the new Archer TXE75E, your PC will benefit from the brand-new, exclusive 6 GHz band, which is wide enough for 7 extra 160 MHz channels. As an extension to the sixth generation of WiFi, WiFi 6E provides the same features as WiFi 6. That's why Archer TXE75E delivers faster and clearer WiFi with its equipped 1024-QAM and MU-MIMO technology.
The adapter also supports the latest WiFi security protocol, WPA3. WPA3 strengthens encryption for data transmission. Even if you're using public WiFi, WPA3 still keeps your traffic secure.
Furthermore, Archer TXE75E uses the latest Bluetooth 5.2 to enhance Bluetooth connections. This provides faster and wider coverage than previous versions and works perfectly with game controllers, headphones, keyboards, and other Bluetooth devices.
When it comes to hardware, Archer TXE75E also shows off some clever engineering. Its high-gain antennas with a magnetized base, for example, help extend existing WiFi reception capabilities. You can place the antenna base anywhere on the desktop to adjust the location for better signal reception.
In addition to the default full-height bracket, its low-profile bracket allows installation in mini-tower computer cases. These customized options give you the flexibility to find the best fit for your board design.
So, if you're someone who loves to be an early adapter but doesn't want to break the bank on a new PC, consider the simple upgrade to WiFi 6E: Archer TXE75E.
For further information, visit www.tp-link.com, follow TP-Link on
Facebook at www.facebook.com/TPLINK,
Twitter at www.twitter.com/TPLINK,
YouTube at www.youtube.com/tplinktech,
LinkedIn at https://www.linkedin.com/company/tp-link
TP-Link Forum at http://forum.tp-link.com
From United States?
Get products, events and services for your region.