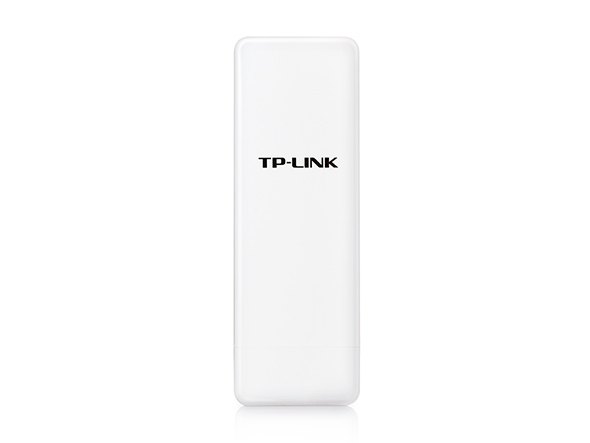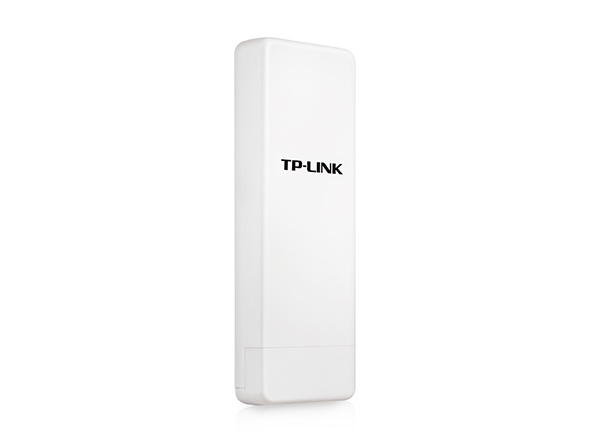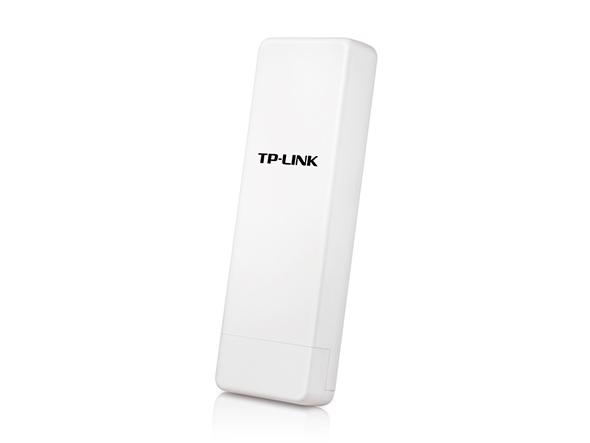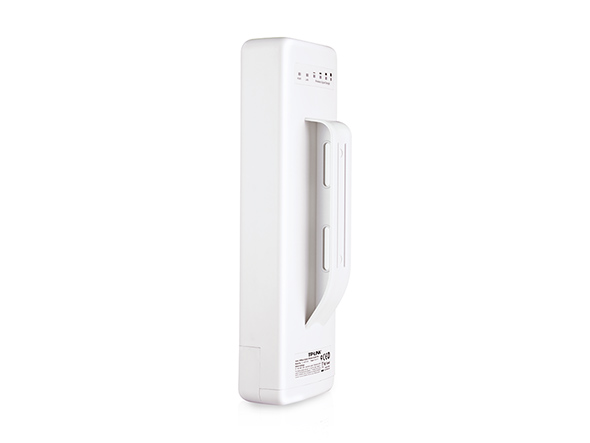 Punto de Acceso Inalámbrico Exterior de150Mbps de 5GHz
Cumple con la norma IEEE 802.11a/n, velocidad inalámbrica de hasta 150Mbps
La solución de 5GHz asegura menos interrupciones causadas por otros dispositivos de radio de 2.4GHz y más estables.
Diseño para uso exterior resistente a cualquier temperatura y con protección de 4000V contra rayos / ESD (Electro Static Discharge – Descarga Electromagnética) de 15KV
Antena con polarización dual de 15dBi para lograr conexiones Wi-Fi de larga distancia
Alta Potencia para elevar la cobertura de su señal y la velocidad de la conexión
Hasta 60 metros (200 pies) con Inyector de Alimentación a través de Ethernet incluido para un despliegue flexible
Alta Capacidad de Transmisión
Solución Profesional para Exterior
Con un máximo de potencia de transmisión inalámbrica de 500mw y una antena de alta ganancia de doble polarizado de 15dBi, el TL-WA7510N puede producir y recoger una señal potente y estable para una conexión inalámbrica de varios kilómetros.
El TL-WA7510N cuenta con una carcasa resistente a la intemperie y la protección especial contra ESD y relámpagos. Es compatible con la energía pasiva a través de Ethernet (PoE), por lo que es una solución versátil de redes de exterior.
A prueba de Intemperie
Protección Contra rayos 4000V
Protección 15KV ESD
Resistencia de Temperatura

-30°C to 70°C
Hasta 60 Metros PoE Terminal Puesta a Tierra
Múltiples Aplicaciones
El TL-WA7510N soporta los modos Router AP Cliente (WISP Cliente), Router AP , Puente, Repetidor y Cliente, proporcionando varios modos de operación inalámbricos wireless operating modes para dar cabida a la mayor cantidad de aplicaciones posibles.
Acceso Inalámbrico
Backbones Inalámbricos
Vigilancia Inalámbrica
TL-WA7510N
Herramientas de Administración Inteligente
Herramiente 1: Alineación de Antena los usuarios

Los usuarios pueden utilizar la herramienta de alineación de la antena para ajustar la dirección de sus puntos de acceso utilizando un medidor de intensidad de la señal en vivo para juzgar qué dirección es mejor configuración decisiones que mucho más simple.

Herramienta 2: ACK Tiempo en espera

Con la herramienta de tiempo de espera ACK de la AP capaz de ajustar la distancia entre dos puntos de acceso, permite a los usuarios establecer una distancia específica con el fin de establecer la conexión inalámbrica más robusta posible .

Herramienta 3: Ping Watch Dog

Ping Watch Dog permite a los usuarios mantener el comando ping para comprobar la calidad de la conexión inalámbrica y pueden reiniciar el AP remoto si la señal inalámbrica empeora o se desconecta .
CPE510
CPE210
TL-WA7510N
TL-WA7210N
TL-WA5210G

Wireless Performance

Wireless Speed

5GHz 300Mbps

2.4GHz 300Mbps

5GHz 150Mbps

2.4GHz 150Mbps

2.4GHz 54Mbps

Transmit Power

27dBm

27dBm

27dBm

27dBm

27dBm

Antenna

13dBi

9dBi

15dBi

12dBi

12dBi

MIMO

√

√

-

-

-

Coverage Range

15km+

5km+

5km+

5km+

2km+

Hardware

Processor

560MHz

560MHz

400MHz

400MHz

180MHz

Memory

64MB DDR2

64MB DDR2

32MB DDR

32MB DDR

16MB DDR

Compatibility

802.11a/n

802.11b/g/n

802.11a/n

802.11b/g/n

802.11 b/g

External Antenna Interface

-

-

1 * RP-SMA

1 * RP-SMA

1 * RP-SMA

Weatherproof Enclosure

√(IPX5)

√(IPX5)

√

√

√

Dual Ethernet Ports

√

√

-

-

-

PoE Passthrough

√

√

-

-

-

Grounding Terminal

√

√

√

√

√

Lightning Protection over
Ethernet Cable

√

√

-

-

-

ESD Protection

15kV

15kV

15kV

15kV

15kV

Lightning Protection

6kV

6kV

4kV

4kV

4kV

Power Supply

24V Passive PoE
Adapter
24V Passive PoE
Adapter

12V Power Adapter + Passive PoE Injector

Software

Operation Modes

AP / Client / Bridge / Repeater / AP Client Router (WISP Client) / AP Router Mode

MAXtream TDMA Mode

√

√

-

-

-

Channel Bandwidth

5/10/20/40MHz

5/10/20/40MHz

20/40MHz

20/40MHz

20MHz

Transmit Power Control

Stepping 1dBm

Stepping 1dBm

Stepping 3dBm

Stepping 3dBm

-

Antenna Alignment

√

√

√

√

√

Throughtput Monitors

√

√

-

-

-

Spectrum Analyzer

√

√

-

-

-

Iperf Speed Test Tool

√

√

-

-

-

Pharos Control Supported
(Central Network Management Application)

√

√

-

-

-
Wireless Networking for Elevators

TP-Link offers wireless point to point link delivering up to 300 Mbps throughput. The point to point link provides wireless coverage to the entire shaft, and delivers network to the elevator car, connecting the surveillance cameras or digital signage. So that real time video can be recorded to a DVR without hard wiring coax cable directly from the camera to the recorder.

Easy, Flexible Installation
Stable Connections at High-Speeds
Ideal for Elevator Camera
No Complex Cabling
PoE Support
Peru WISP

TP-Link Helps WISP to Provide Reliable Wireless Connectivity in Peru

Peru WISP

TP-Link Helps WISP to Provide Reliable Wireless Connectivity in Peru

"The performance of CPE was better than expected, working stable even with -85 dBm of received power." —David Grillo, Engineer, Kroton
CARACTERÍSTICAS DE HARDWARE
Interface
1 10/100Mbps Auto-Sensing RJ45 Port (Auto MDI/MDIX, PoE)
1 External Reverse SMA Connector
1 Grounding Terminal
Botón
Reset Button
Fuente de Alimentación Externa
12VDC / 1.0A
Estándares Inalámbricos
IEEE 802.11a , IEEE 802.11n
Dimensiones (W X D X H)
9.8 x 3.3 x 2.4 in. (250 x 85 x 60.5mm)
Antena
15dBi Dual-Polarized Directional Antenna
Cobertura de Antena
Horizontal: 60°
Vertical: 14°
Protección
15KV ESD Protection
4000V Lightning Protection
Grounding Terminal Integrated
CARACTERÍSTICAS INALÁMBRICAS
Frecuencia
5.150-5.250GHz
5.250-5.350GHz (Support Dynamic Frequency Selection)
5.470-5.725GHz (Support Dynamic Frequency Selection)
5.725-5.825GHz
Note: It varies in different countries or regions.
Tasa de Señal
11a: Up to 54Mbps (Dynamic)
11n: Up to 150Mbps (Dynamic)
Sensibilidad de Recepción
802.11a 54M: -77dBm 48M: -79dBm 36M: -83dBm 24M: -86dBm 18M:-91dBm 12M:-92dBm 9M:-93dBm 6M:-94dBm
802.11n 150M: -73dBm 121.5M: -76dBm 108M: -77dBm 81M: -81dBm 54M:-84dBm 40.5M:-88dBm 27M:-91dBm 13.5M:-93dBm
Modos Inalámbricos
AP Router Mode
AP Client Router Mode (WISP Client)
AP / Client / Bridge / Repeater Mode
Funciones Inalámbricas
WDS Bridge, Wireless Statistics
Seguridad Inalámbrica
SSID Enable/Disable
MAC Address Filter
64/128/152-bit WEP Encryption
WPA/WPA2, WPA-PSK/WPA2-PSK (AES/TKIP) Encryption
Funciones Avanzadas
Up to 60 meters PoE is supported
Provides 4-level signal LED indicator
Potencia de Transmisión
<20dBm (EIRP, For countries using CE Standards)
<27dBm (Peak Output Power, For countries using FCC Standards)
Otros
Certificacion
CE, FCC, RoHS
Contenidos del Paquete
TL-WA7510N
Power Supply Unit
Power Injector
Resource CD
Quick Installation Guide
Requisitos del Sistema
Microsoft Windows 98SE, NT, 2000, XP, Vista™ or Windows 7, MAC OS, NetWare, UNIX or Linux.
Ambiente
Operating Temperature: -30°C~70°C (-22℉~158℉)
Storage Temperature: -40℃~70℃ (-40℉~158℉)
Operating Humidity: 10%~90% non-condensing
Storage Humidity: 5%~95% non-condensing
From United States?
Get products, events and services for your region.