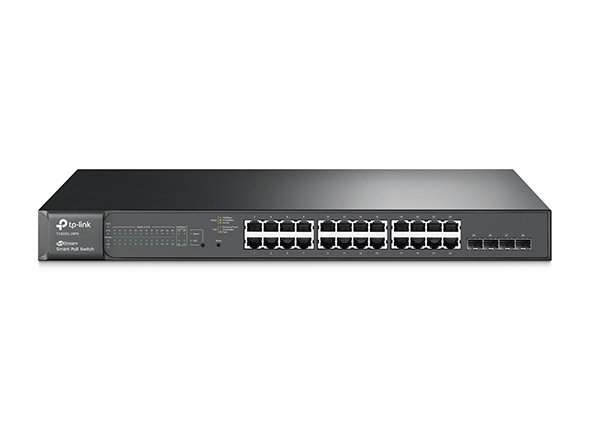 T1600G-28PS (TL-SG2424P)
Jetstream-24-Port-Gigabit-Smart-PoE+-Switch mit 4 SFP-Slots
24 802.3at/af-kompatible PoE+-Gigabit-LAN-Ports mit einer Gesamtleistung von 192W
4 SFP-Slots
L2+-Funktionen wie Statisches Routing helfen, Ihren internen Datenverkehr effizient zu routen
IP-/MAC-Port-Binding, ACL, Portsicherheit, DoS-Abwehr, Storm-Kontrolle, DHCP-Snooping, 802.1X-Authentifizierung und RADIUS-Authentifizierung ermöglichen eine robuste Sicherheitsstrategie
L2/L3/L4-QoS und IGMP-Snooping für optimierte Voice- und Videoanwendungen
IPv6-Unterstützung mit Dual-Stack, MLD-Snooping und IPv6-Neighbor-Discovery
Management über Web, CLI, SNMP und RMON
Dual-Image
Produktfunktionalitäten
TP-LINKs Gigabit-Smart-Poe+-Switch T1600G-28PS ist mit vier SFP-Slots und 24 Gigabit-LAN-Ports ausgestattet. Letztere geben insgesamt bis zu 192W Leistung ab, genug, um beispielsweise Accesspoints oder IP-Kameras zu speisen. Er bietet Enterprise QoS, zahlreiche Sicherheitsstrategien und umfassende Layer-2-Managementfunktionen und stellt damit eine kostengünstige Lösung für kleine und mittlere Unternehmen dar.
Das Statische Routing sorgt dafür, dass Sie Ihren internen Datenverkehr noch effizienter routen können. Storm Control schützt vor Broadcast-, Multicast- und unbekannten Unicast-Stürmen. 802.1x- und RADIUS-Authentifizierung ermöglichen weitere Möglichkeiten der Nutzerauthentifizierung. "Quality of Service" (QoS, L2 bis L4) für optimiertes Traffic-Management und schnellere und reibungslose Datentransfers. Dank benutzerfreundlicher Weboberfläche über CLI, SNMP und RMON, ermöglicht der T1600G-28PS eine schnelle Einrichtung und Konfiguration mit kürzeren Ausfallzeiten. Für Arbeitsgruppen und Abteilungen, die einen kostengünstigen Layer-2-PoE-Switch und Gigabit-Leistung benötigen, ist TP-LINKs Gigabit-Smart-Switch T1600G-28PS die perfekte Einsteigerlösung in die Oberklasse.
IEEE 802.3at/af-kompatibles Power over Ethernet
Der T1600G-28PS verfügt über 24 10/100/1000Mbps-RJ45-Ports, die 802.3at/af-kompatibles PoE mit einer Gesamtleistungsabgabe von 192W liefern, um 802.3at/af-kompatible Powered Devices zu speisen. Der T1600G-28PS stellt eine kompakte, fl­exible Lösung dar, um Accesspoints oder IP-Kameras in kleinen Unternehmensnetzen über PoE zu betreiben.
Üppige Layer-2-Features
Für weitere Layer-2-Switch-Anwendungen unterstützt der T1600G-28PS die komplette Reihe der Layer-2-Features wie 802.1Q-Tag-VLAN, Portisolierung, Port-Mirroring, STP/RSTP/MSTP, Link-Aggregation sowie Flusskontrolle nach IEEE802.3x. Zudem bietet der Switch erweiterte Funktionen für die Netzwerkpflege, wie Loopback-Erkennung, Kabeldiagnose und IGMP-Snooping. IGMP-Snooping stellt sicher, dass der Switch den Stream in intelligenter Weise nur an die entsprechenden Abonnenten weiterleitet, wogegen IGMP-Drosselung & Filterung unautorisierten Multicast-Zugriff der User auf Port-Ebene verhindern.
IPv6-Unterstützung
Der T1600G-28PS unterstützt verschiedene IPv6-Funktionen wie Dual-IPv4/IPv6-Stack, MLD-Snooping, Path-Maximum-Transmission-Unit-Discovery (PMTU) und IPv6-Neighbor-Discovery.
Erweiterte QoS-Merkmale
Der Switch verfügt über umfassende QoS-Eigenschaften für die Integration von Sprach-, Daten- und Videodiensten in einem Netzwerk. Der Administrator legt die Priorität des Verkehrs basierend auf mehreren Variablen fest, u. a. Port-, 802.1P- und DSCP-Priorität, um sicherzustellen, dass die Sprach- und Videoübertragung immer klar, reibungslos und frei von Störungen ist.
Management-Features auf Unternehmensebene
Der T1600G-28PS ist benutzer- und verwaltungsfreundlich. Er unterstützt viele benutzerfreundliche standardmäßige Managementfunktionen, z. b. die intuitive, webbasierte grafische Benutzeroberfläche (GUI) oder die branchenübliche Befehlszeilenschnittstelle (CLI), SNMP (v1/2/3) sowie RMON-Support für den Abruf wertvoller Statusinformationen über den Switch und Versand von Traps zu abnormalen Ereignissen.
Eine umfassende IPv6-Unterstützung stellt eine problemlose Migration zu IPv6 sicher.
Weiterhin unterstützt der Switch Dual-Image, was zu verringerter Downtime führt, wenn die Firmware aktualisiert wird.
Hospitality

TP-Link Omada allows hotels to build reliable WiFi networks. Hotel WiFi network solutions including network topology, design, features, installation, and products are introduced.

Full WiFi coverage and wired connections
Flexible guest control
Seamless roaming
Easy Management

Education

Due to its reliable, scalable, and secure network solution, TP-Link has been widely acknowledged by global customers in the Education market ranging from infant schools with a few APs up to colleges and universities with hundreds of APs.

Easy management
High-density WiFi
Full WiFi coverage and wired connections
VPN and security

Switches for Business WiFi

For small and medium-sized businesses, a network switch is the fundamental component to build their business network. TP-Link offers an extensive portfolio of network switches with abundant functions and flexible options for every stage of your business growth.

High-Speed Wired LAN Network
Manage with Ease
Abundant Security Strategies
Lower Yours Costs
Comprehensive Products
HARDWARE-FUNKTIONEN
Standards und Protokolle
IEEE802.3i
IEEE802.3u
IEEE802.3ab
IEEE802.3z
IEEE802.3ad
IEEE802.3x
IEEE802.1d
IEEE802.1s
IEEE802.1w
IEEE802.1q
IEEE802.1p
IEEE802.1x
Schnittstelle
24 10/100/1000Mbit/s-RJ45-Ports (Autoabstimmung/Auto-MDI/MDIX)
4 Gigabit-SFP-Slots
Kabel
10BASE-T: UTP-Kabel der Kategorien 3, 4, 5 (maximal 100m)
100BASE-TX: UTP-Kabel der Kategorie 5 oder höher (maximal 100m)
1000BASE-T: UTP-Kabel der Kategorie 6 oder höher (maximal 100m)
1000BASE-X: MMF, SMF
Anzahl Lüfter
2
Spannungsversorgung
100..240V/50..60Hz Wechselspannung
Energieverbrauch
Maximal mit PoE: 264,8W (230V/50Hz)
Maximal ohne PoE: 28,2W (230V/50Hz)
PoE+-Ports
Standard: 802.3at/af
Anzahl: 24
Gesamtleistung: 192W
Abmessungen (B*T*H)
440mm*220mm*44mm
Montage
Rack Mountable
Maximale Leistungsaufnahme
30.77W (110V/60Hz with no PD connected)235.8W (110V/60Hz with 192W PD connected)
Max Heat Dissipation
104.99 BTU/h (with no PD connected)804.55 BTU/h (with 192W PD connected)
PERFORMANCE
Switchingkapazität
56Gbps
Paketweiterleitungsrate
41,7Mpps
MAC-Adresstabelle
16k
Jumbo-Frames
9kB
SOFTWARE-FUNKTIONEN
Quality of Service
Unterstützt 802.1p-CoS/DSCP-Priorität
8 Prioritätswarteschlangen
Queue-Scheduling: SP, WRR, SP+WRR
Port-/flussbasierte Datenratenbegrenzung
IPv6-QoS*
Voice-VLAN
Layer2- und Layer2+-Funktionen
Statisches Routing
DHCP-Relay*
IGMP-Snooping V1/V2/V3
802.3ad LACP (Bis zu 14 Aggregationsgruppen mit 8 Ports pro Gruppe)
Spanning-Tree STP/RSTP/MSTP
BPDU-Filterung/-Guard
TC/Root-Protect
Loopback-Erkennung
Flusskontrolle nach IEEE802.3x
LLDP, LLDP-MED*
VLAN
Unterstützt bis zu 4k VLANs nach IEEE802.1q
MAC-Adress-basierendes VLAN
Zugriffskontrollliste
L2..L4-Paket-Filterung basierend auf Quell- und Ziel-MAC-Adresse, IP-Adresse und TCP/UDP-Ports
IPv6-ACL*
Sicherheit
AAA*
Port-Sicherheit
DHCP-Snooping
IP-/MAC-Adress-Portbindung
ARP-Inspektion
802.1x- und RADIUS-Authentifizierung
SSH v1/v2
SSL v3/TLSv1
Broadcast-/Multicast-/Unknown-Unicast-Sturmkontrolle
DoS-Abwehr
IPv6
IPv4/IPv6-Dual-Stack
Multicast-Listener-Discovery(MLD)-Snooping
IPv6-Neighbor-Discovery (ND)
Path-maximum-transmission-unit(MTU)-Discovery
Internet Control Message Protocol (ICMP) Version 6
TCPv6/UDPv6
IPv6-Anwendungen
DHCPv6-Client
Ping6
Tracert6
Telnet(v6)
IPv6-SNMP
IPv6-SSH
IPv6-SSL
HTTP/HTTPS
IPv6-TFTP
Verwaltung
Weboberfläche und CLI
SNMP v1/v2c/v3, kompatibel zu öffentlichen MIBs und TP-LINK-eigenen MIBs
RMON (Gruppen 1, 2, 3, 9)
CPU-Überwachung
Port-Mirroring
Firmware-Upgrade: TFTP und Web
Systemdiagnose: VCT
Systemprotokoll und öffentliche MIBs
Dual-Image

* per Firmware-Update nachrüstbar
SONSTIGES
Zertifizierung
CE
FCC
RoHS
Verpackungsinhalt
T1600G-28PS
Spannungskabel
Installationsanleitung
CD
Rackmountkit
Gummifüßchen
Systemanforderungen
Microsoft® Windows® 2000/XP/2003/Vista/2008/7/2012/8/10
MacOS®
NetWare®
UNIX®
Linux
Umgebung
Betriebstemperatur: 0°C..40°C
Lagertemperatur: -40°C..70°C
Betriebsfeuchtigkeit: 10%..90%, nicht kondensierend
Lagerfeuchtigkeit: 5%..90%, nicht kondensierend
Subscription Für TP-Link ist Datenschutz sehr wichtig. Weitere Informationen zu unseren Datenschutzbedingungen finden Sie in der Datenschutzerklärung von TP-Link.
Von United States?
Erhalten Sie Produkte, Events und Leistungen speziell für Ihre Region