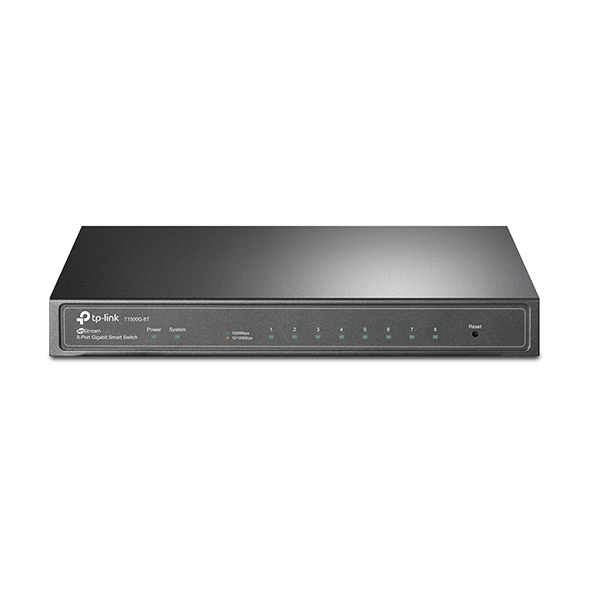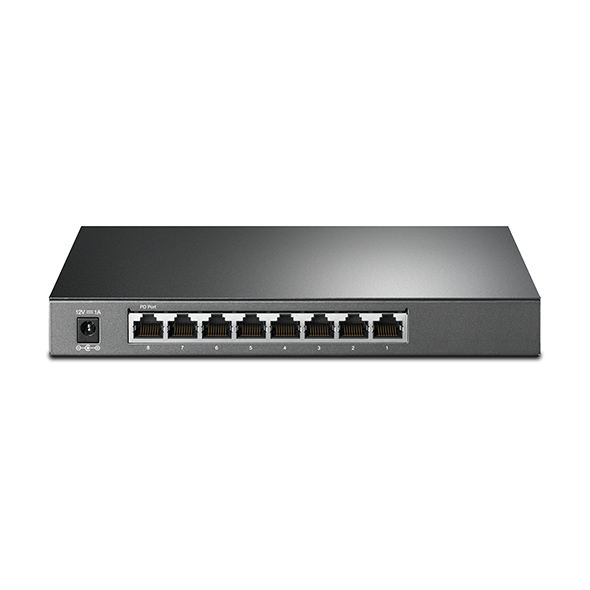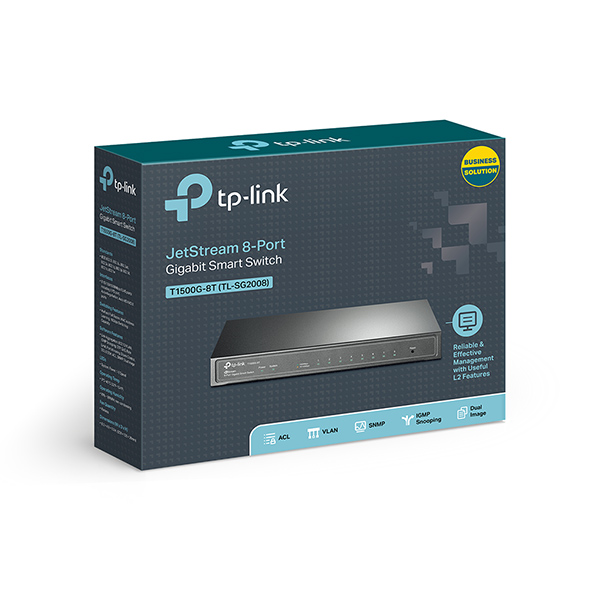 T1500G-8T
JetStream-8-Port-Gigabit-Smart-Switch
Power over Ethernet nach 802.3af
Ultraschnelle Datenübertragung auf allen acht Gigabit-LAN-Ports
Erweitere Sicherheitsfunktionen wie IP-/MAC-Adress-Port-Bindung, ACL, Portsicherheit, DoS-Abwehr, Storm-Control, DHCP-Snooping, 802.1x- und RADIUS-Authentifizierung erlauben wirkungsvolle Sicherheitsstrategien
L2/L3/L4-QoS und IGMP-Snooping optimieren Voice- und Videoanwendungen
Management über Web, CLI (Konsole/Telnet/SSH), SNMP und RMON
Dual-Image-Firmware verbessert die Zuverlässigkeit und die Uptime Ihres Netzwerks
Produktfunktionalitäten
Der Jetstream-8-Port-Gigabit-Easy-Smart-Switch verfügt über acht 10/100/1000Mbit/s-Ports, die PoE nach 802.3at/af unterstützen. Dieses Gerät bietet eine starke Leistung, QoS auf Enterprise-Ebene, erweiterte Sicherheitsstrategien und L2-Management Funktionen.
Dieser Switch ist optimal für alle "Small und Medium Business" geeignet, die Wert auf ein stabiles und zuverlässiges Netzwerk legen. Der T1500G-8T bietet eine breite Palette an nützlichen Funktionen wie Link-Aggregation, 802.1Q-VLAN, Access-Control-List (ACL), Quality of Service (QoS L2-L4), Storm-Control und IGMP-Snooping. Des Weiteren punktet das Gerät mit einer einfachen und übersichtlichen Verwaltung sowie Einrichtung und wird so zur optimalen Switch-Lösung.
Untersützt Power over Ethernet nach IEEE 802.3at/af
Der T1500G-8T unterstützt PoE nach dem Standard IEEE-802.3af/at. Der Switch kann sowohl über PoE, als auch über einen externen Spannungsadapter gespeist werden. Dies gibt Ihnen die größtmögliche Flexibilität bei der Platzierung des Gerätes.
Erweiterte QoS-Funktionen
Um Sprach-, Daten- und Videodienste in einem Netzwerk zu intergieren, wendet der T1500G-8T QoS-Richtlinien an. Der Administrator des Netzwerks kann mittels 802.1P-Priority, den Datentransfer nach Belieben priorisieren und somit sicherstellen, dass Sprach- oder Videoanwendungen auch komplett flüssig laufen. Mit der zusätzlichen Funktion "Voice-VLAN" laufen Sprachanwendungen noch besser.
Umfangreiche Layer-2 Funktionen
Als weitere Anwendung von Layer-2-Switches unterstützt der T1500G-8T die vollständige Palette an Layer-2-Funktionen, darunter 802.1Q-Tag-VLAN, Port-Mirroring, STP-/-RSTP-/-MSTP, Link-Aggregation-Control-Protocol und Flusskontrolle nach 802.3x. Weiterhin bietet der Switch erweiterte Funktionen für die Wartung des Netzes wie Loop-back-Erkennung, Kabeltest und IGMP-Snooping. IGMP-Snooping stellt sicher, dass der Switch Multicast-Streams intelligent nur an die entsprechenden Abonnenten leitet, während IGMP-Drosselung und -Filterung jeden Teilnehmer auf eine Port-Ebene beschränken, um Unbefugten den Zugriff auf die Multicast-Daten zu verhindern.
Verwaltungsfunktionen auf Unternehmensebene
Der T1500G-8T ist einfach zu bedienen und zu verwalten. Er unterstützt verschiedene benutzerfreundliche Standard-Managementfunktionen wie die intuitive, webbasierte grafische Benutzeroberfläche (GUI), SNMP (v1/2/3) sowie RMON, was dem Switch erlaubt, wertvolle Statusinformationen abzurufen und diese bei Gefahren direkt zu melden.
HARDWARE-FUNKTIONEN
Standards und Protokolle
IEEE802.3i
IEEE802.3u
IEEE802.3ab
IEEE802.3z
IEEE802.3ad
IEEE802.3x
IEEE802.3af
IEEE802.1d
IEEE802.1s
IEEE802.1w
IEEE802.1q
IEEE802.1x
IEEE802.1p
Schnittstelle
8 10/100/1000Mbit/s-RJ45-Ports
Über Port 8 als PoE-PD betreibbar
Kabel
10BASE-T: UTP-Kabel der Kategorie 3 oder höher (maximal 100m)
100BASE-TX: UTP-Kabel der Kategorie 5 oder höher (maximal 100m)
1000BASE-T: UTP-Kabel der Kategorie 6 oder höher (maximal 100m)
Anzahl Lüfter
0
Physischer Diebstahlschutz
No
Spannungsversorgung
12V/1A Gleichspannung
oder PoE nach IEEE802.3af
Energieverbrauch
Maximal 5,75W (230V/50Hz)
PD Port (RJ45)
Port8: IEEE802.3af/at
Abmessungen (B*T*H)
209mm*126mm*26mm
Maximale Leistungsaufnahme
5.75W (220V/50Hz)
Maximale Wärmeabgabe
19.62 BTU/h
PERFORMANCE
Switchingkapazität
16Gbps
Paketweiterleitungsrate
11,9Mpps
MAC-Adresstabelle
8k
Jumbo-Frames
9216 Bytes
SOFTWARE-FUNKTIONEN
Quality of Service
802.1p-CoS/DSCP-Priorität
4 Prioritätswarteschlangen
Queue-Scheduling: SP, WRR, SP+WRR
Port-/flussbasierte Datenratenbegrenzung
Voice-VLAN
Layer2-Funktionen
IGMP-Snooping V1/V2/V3
802.3ad-LACP (Bis zu 6 Aggregationsgruppen mit 4 Ports pro Gruppe)
Spanning-Tree STP/RSTP/MSTP
BPDU-Filterung/Guard
TC/Root-Protect
Loopback-Erkennung
Flusskontrolle nach IEEE802.3x
LLDP, LLDP-MED
Layer2-Multicast
• 512 IPv4,IPv6 shared multicast groups• IGMP Snooping - IGMP v1/v2/v3 Snooping - Fast Leave - IGMP Snooping Querier - IGMP Authentication - Static Group Config• MLD Snooping - MLD v1/v2 Snooping - Fast Leave - MLD Snooping Querier - Static Group Config• Multicast VLAN Registration• Multicast Filtering
IPv6 Support
• IPv6 Dual IPv4/IPv6• Multicast Listener Discovery(MLD) Snooping• IPv6 neighbor discovery (ND)• Path maximum transmission unit (MTU) discovery• Internet Control Message Protocol (ICMP) version 6• TCPv6/UDPv6• IPv6 applications - DHCPv6 Client - Ping6 - Tracert6 - Telnet(v6) - IPv6 SNMP - IPv6 SSH - IPv6 SSL - Http/Https - IPv6 TFTP
VLAN
Bis zu 512 VLANs aus 4k VLAN-IDs
Zugriffskontrollliste
L2..L4-Paket-Filterung basierend auf Quell- und Ziel-MAC-Adresse, IP-Adresse und TCP/UDP-Ports
Sicherheit
Portsicherheit
DHCP-Snooping
IP-/MAC-Adress-Port-Bindung
ARP-Inspektion
802.1x- und RADIUS-Authentifizierung
SSHv1/v2
SSLv3/TLSv1
Schutz vor Broadcast-, Multicast- und Unknown-Unicast-Angriffen
DoS-Abwehr
Verwaltung
Weboberfläche
Command Line Interface CLI (über Telnet)
SNMP v1/v2c/v3, kompatibel zu öffentlichen MIBs und TP-Link-eigenen MIBs
RMON (Gruppen 1, 2, 3, 9)
CPU-Überwachung
Port-Mirroring
Zeiteinstellung über SNTP
Firmware-Upgrade: TFTP und Web
Systemdiagnose: VCT
Systemprotokoll und öffentliche MIBs
Dual-Image
MIBs
• MIB II (RFC1213)• Interface MIB (RFC2233)• Ethernet Interface MIB (RFC1643)• Bridge MIB (RFC1493)• P/Q-Bridge MIB (RFC2674)• RMON MIB (RFC2819)• RMON2 MIB (RFC2021)• Radius Accounting Client MIB (RFC2620)• Radius Authentication Client MIB (RFC2618)• Remote Ping, Traceroute MIB (RFC2925)• Support TP-Link private MIBs
SONSTIGES
Zertifizierung
CE
FCC
RoHS
Verpackungsinhalt
T1500G-8T
Spannungsadapter
Schnellinstallationsanleitung
CD
Gummifüßchen
Systemanforderungen
Ethernet
Umgebung
Betriebstemperatur: 0°C..40°C
Lagertemperatur: -40°C..70°C
Betriebsfeuchtigkeit: 10%..90%, nicht kondensierend
Lagerfeuchtigkeit: 5%..90%, nicht kondensierend
Von United States?
Erhalten Sie Produkte, Events und Leistungen speziell für Ihre Region