Press Center
>
Blog
>
Making Hotel WiFi Secure and Easy to Use
Making Hotel WiFi Secure and Easy to Use
Hotel WiFi has become a standard feature of hotels worldwide. Accommodation providers spend significant sums to ensure that their guests can connect to the internet without any problems. They focus on providing an easy and secure connection as part of their broader customer service goals.
However, hotel WiFi faces a constant security risk. It is an easy target for hackers and data thieves, especially in hotels without any password or authentication protocols. Recent reports have revealed that criminals target hotel WiFi networks because users let their guard down. Of particular value is the information accessible on the laptops of business travelers.
Network vendors have focused on these security issues for both users and providers. They dedicate significant efforts to improving the security of public WiFi. TP-Link provides high-quality WiFi solutions for hotels and one-stop solutions for hotel networking.

Security on the Gateway
The gateway, or the entrance of hotel networking, works as the first barrier of network security. TP-Link Omada Gigabit Multi-WAN VPN Router ER7206 integrates many security functions to protect your network and data. These include a powerful firewall, highly secure VPN, DoS Defense, IP/MAC/URL filtering, IP-MAC Binding, One-Click ALG Activation, and VLAN.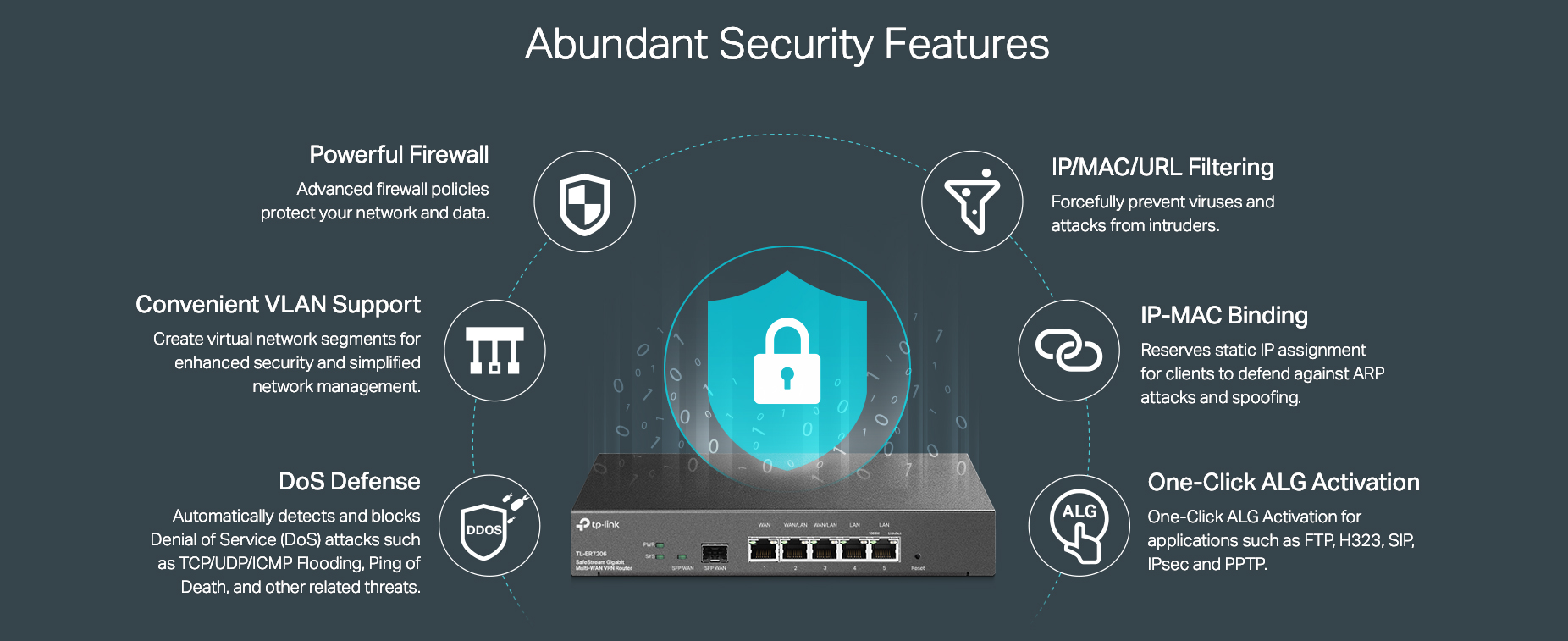 Security on the Switches
Switches connect and power the access points delivering fast WiFi. Advanced security functions, such as ACL and Storm Control, are generally integrated into the core switches. TP-Link Managed switches include enhanced security features to defend against a range of network threats.
An integrated list of common DoS attacks is available, making it easier than ever to prevent these attacks. The Access Control Lists feature also restricts access to sensitive network resources by denying packets to specified locations. Users' network access can be controlled via 802.1X authentication, granting access only on the provision of valid user credentials.
Security on the Access Points
Access points, also known as WiFi hotspots throughout the hotel, directly connect your mobile device to the hotel WiFi network. Practical methods for ensuring network security across a large property include captive portal authentication, 802.1X authentication, access control and wireless isolation between clients.
When connecting to hotel WiFi, some hotels redirect users to a page requiring guests to input their phone number and a CAPTCHA password. The captive portal authentication function controls the process and prevents unnecessary attacks from uncertified users. There are multiple authentication methods available to accommodation providers, such as vouchers and local users.
TP-Link Omada offers an enormous variety of authentication methods. These include SMS, Facebook, voucher, local user, simple password, and External RADIUS Portal. The range of choices of hotels ensures that only authorized users can use the network.
The guest network, in conjunction with a captive portal, provides secure access to authorized guests sharing your WiFi network. The addition of SMS and Facebook authentication simplifies the captive portal even further to streamline connectivity.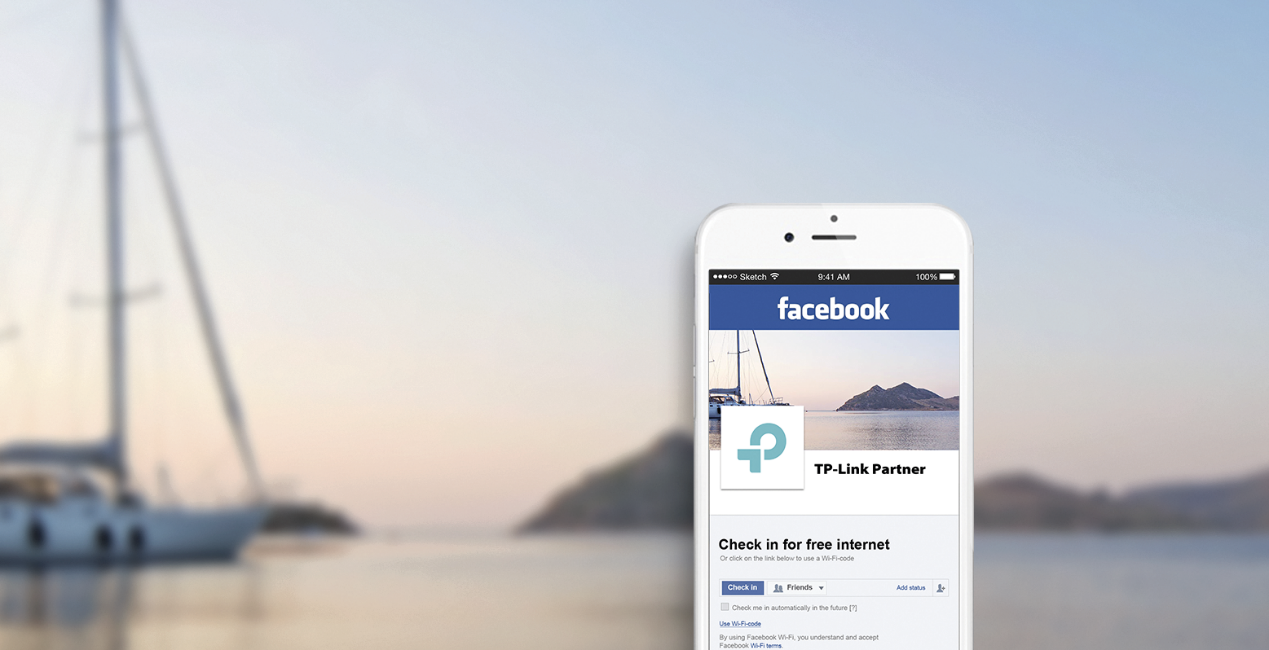 TP-Link Omada WiFi 6 access points use advanced wireless encryption, known as WPA3 Enhanced Open™, to provide more data security. WPA3 is essential when users log in to use unsecured, open WiFi hotspots, such as at local coffee shops or guest networks with a web portal in airports. WPA3 reinforces the confidentiality of the data transmitted with individual encryption to prevent the most common Man-in-the-Middle attacks.

The development of technology to provide safe and secure WiFi networks for the billions of guests that pass through hotels every year is simply staggering, and TP-Link supports all of our partners across the accommodation sphere. Should you want to know more about how hotel networks are designed and installed, go to the Hospitality solution offered by TP-Link to explore a curated portfolio of hotel networking devices.
Присъединете се към TP-Link общносттаTP-Link takes your privacy seriously. For further details on TP-Link's privacy practices, see TP-Link's Privacy Policy.
From United States?
Check products and services for your region.