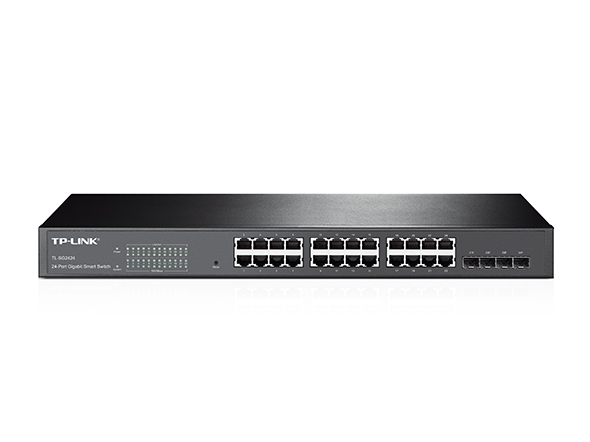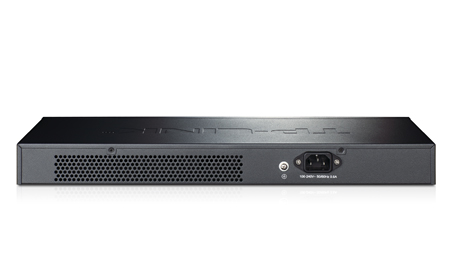 Switch Inteligente Gigabit de 24 Puertos con 4 ranuras SFP Combo
Las conexiones Ethernet Gigabit en todos los puertos proporcionan una máxima velocidad de transferencia de datos
Estrategia de seguridad integrada incluyendo 802.1Q VLAN, Seguridad de Puertos y Control de Tormentas ayudan a proteger su inversión en el área de LAN
La función QoS (Quality of Service – Calidad de Servicio) L2/L3/L4 y el snooping IGMP optimizan la aplicación de voz y video
Los modos administrador por WEB/CLI, SNMP, RMON aporta una gran variedad de características de administración
¿Qué hace este producto?
El TP-LINK Gigabit Smart Switch TL-SG2424 está equipado con 24 puertos RJ45 Gigabit y 4 ranuras SFP combinadas. El switch proporciona un alto rendimiento, calidad de servicio a nivel de empresa, estrategias de seguridad útiles y ricas características de administración de layer 2.
El TP-LINK Gigabit Smart Switch TL-SG2424 es una solución de producto rentable para pequeñas y medianas empresas. El TL-SG2424 tiene características de seguridad útiles. La función de control de tormentas protege contra Broadcast, Multicast y unicast desconocido. La calidad de Servicio (QoS, L2 a L4) proporciona una mayor capacidad de gestión de tráfico para mover los datos más rápida y fluidamente. Además, las interfaces fáciles de usar de gestión web, junto con CLI, SNMP y RMON, tienen una configuración más rápida y con menos tiempo de inactividad. Para grupos de trabajo y departamentos que requieren el switch gigabit layer 2, TP-LINK Gigabit Smart Switch TL-SG2424 le proporciona la solución ideal de acceso de última generación.
Funciones Avanzadas QoS
Para integrar voz, datos y servicio de video en una red, el switch aplica ricas políticas de calidad de servicio. El administrador puede designar la prioridad del tráfico basado en una variedad de medios, incluyendo Puerto Preferente, Puerto 802.1P y Puerto DSCP, para asegurar que la voz y el vídeo sean siempre claros, fluidos y sin trabas. En conjunto del soporte de switch de la VLAN de voz, las aplicaciones operarán con un rendimiento más fluido.
Abundantes Características Layer 2
Para mayor aplicación de conmutadores layer 2, el TL-SG2424 es compatible con una gama completa de funciones de layer 2, incluyendo etiqueta VLAN 802.1Q, Puerto de Aislamiento, Puerto de Reflejo, STP/RSTP/MSTP, Grupo de Link's Agregados y la función de control de flujo 802.3x. Algo más, los conmutadores proporcionan características avanzadas de mantenimiento de red, tales como Detección de Respaldo Loop, Diagnósticos de Cable e inspección IGMP. La inspección IGMP asegura que el interruptor transmita de forma inteligente el flujo de multidifusión sólo a los suscriptores adecuados, mientras que el límite de IGMP filtrado restringe a cada suscriptor en un nivel de puerto para evitar el acceso no autorizado de multidifusión.
Funciones de Gestión a Nivel Empresa
TL-SG2424 es de uso y manejo fácil. Es compatible con varias funciones de gestión estándar fáciles de usar, tales como interfaz intuitiva basada en web gráfica de usuario (GUI) o SNMP (v1/2/3) y el soporte RMON permite al switch sondear información valiosa y enviar capturas de eventos anormales.
ISP Citynet

TP-Link Offered Citynet Reliable and High-Speed Data Transfer for Network Service

ISP Citynet

TP-Link Offered Citynet Reliable and High-Speed Data Transfer for Network Service

"I would like to emphasize that of the large number of devices deployed, not one of them has suffered any type of physical failure. There was a point at which the price of TP-Link's Jetstream series was something we no longer considered important since they're so reliable. We stopped looking at other manufacturers because we were so satisfied with the products we purchased." —Skynet
CARACTERÍSTICAS DE HARDWARE
Estándares y Protocolos
IEEE 802.3i, IEEE 802.3u, IEEE 802.3ab, IEEE802.3z,
IEEE 802.3ad, IEEE 802.3x, IEEE 802.1d, IEEE 802.1s,
IEEE 802.1w, IEEE 802.1q, IEEE 802.1p
Interface
24 Puertos RJ45 10/100/1000Mbps
(Auto Negotiation/Auto MDI/MDIX)
4 ranuras Combo SFP 100/1000Mbps
Medios de red
100BASE-TX / 1000Base-T: UTP categoría 5, 5e o sobre cable
(100m máximo)
100BASE-FX: MMF, SMF
1000BASE-X: MMF, SMF
Cantidad de ventiladores
Sin Ventilador
Fuente de alimentación
100~240VAC, 50/60Hz
Consumo de Poder
Máximo: 22.3W (220V/50Hz)
Dimensiones (An x Pr x Al)
17.3*7.1*1.7 pulg. (440*180*44 mm)
DESEMPEÑO
Ancho de banda / plano posterior
48Gbps
Tasa de reenvío de paquetes
35.7Mpps
Tabla de direcciones MAC
8K
Marco Jumbo
10240 Bytes
FUNCIONES DE SOFTWARE
Calidad de servicio
Soporta 802.1p CoS/DSCP
4 Queues preferentes
Programador Queue: SP, WRR, SP+WRR
Velocidad Limitada basada en Port/Flow
VLAN de Voz
Funciones L2
Inspección IGMP V1/V2/V3
802.3ad LACP(Hasta 6 grupos,
contiene 4 puertos por grupo)
Árbol de expansión STP/RSTP/MSTP
Filtro/Guardia BPDU
Protección TC/Root
Detección de circuito
Flow Control 802.3x
VLAN
Soporta hasta 512 VLANs simultáneamente (fuera de 4K VLAN IDs)
Lista de control de acceso
Paquete filtrado L2~L4 basado en origen y destino dirección MAC, dirección IP, puertos TCP/UDP
Seguridad
SSH v1/v2
SSL v2/v3/TLSv1
Puerto de Seguridad
Control de Tormentas Broadcast/Multicast/Unicast desconocidos
Gestión
Gestión GUI y CLI basada en Web
SNMP v1/v2c/v3, compatible con MIBs públicos y TP-LINK MIBs privados
RMON (grupos 1, 2, 3, 9)
Monitoreo de CPU
Reflejo de Puerto
Actualización de Firmware: TFTP y Web
Diagnóstico de Sistema: VCT
MIBS Público y SYSLOG
OTROS
Certificación
CE, FCC, RoHS
contenidos del paquete
TL-SG2424
Cable de alimentación;
Guía de instalación rápida;
CD de recurso;
Kit de montaje en estante;
Patas de goma
Requisitos del sistema
Microsoft® Windows® XP, Vista™ or Windows 7, Windows 8, MAC® OS, NetWare®, UNIX® or Linux.
Ambiente
Temperatura de funcionamiento: 0℃~40℃ (32℉~104℉);
Temperatura de almacenamiento: -40℃~70℃ (-40℉~158℉);
Humedad de funcionamiento: 10%~90% sin condensación;
Humedad de almacenamiento: 5%~90% sin condensación
Revisiones

I went shopping for just such a switch a few months back and came home with a winner: The TP-Link TL-SG2424 packs enterprise features, including 802.1Q VLAN support, into a solid 24-port chassis and goes out the door well under $200. After working with it for a while, I can heartily recommend it for home or low-end office use.

In this review, I'm going to look at the TL-SG2216 switch. The TL-SG2216 shares software with TP-Link's TL-SG2424/TL-SG2452 switch, so this review essentially covers both devices. The key differences between the two switches are a greater number of ports and switching capacity on the TL-SG2424/TL-SG2452.
SuscripciónTP-Link se toma en serio su privacidad. Para obtener más detalles sobre las prácticas de privacidad de TP-Link, consulte la Política de privacidad de TP-Link .
Desde United States?
Obtenga productos, eventos y servicios para su región.