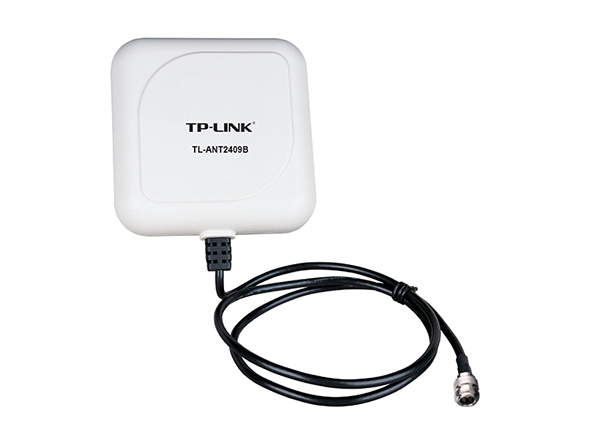 TL-ANT2409B
2.4 GHz 9 dBi Antena exterior direccional
Operación direccional 9dBi ofrece punto de extensión a puntos de conexión o área de cobertura en interiores y exteriores
Características 100cm CFD-200 cable de baja pérdida para un despliegue flexible
Conector N hembra, funciona con la mayoría de puntos de acceso / routers inalámbricos
Proporciona kits de fácil instalación de montaje
Qué hace este producto
Antena direccional TL-ANT2409B opera en la banda de 2.4 GHz y ofrece 9dBi operación de dirección, que en gran medida amplía la cobertura inalámbrica y ofrece un rendimiento inalámbrico mucho mejor. La antena ofrece el conector N hembra garantizar una mayor compatibilidad con la mayoría de los equipos inalámbricos. Además, el diseño de la prueba del tiempo asegura que se puede trabajar normalmente por varias soluciones al aire libre exigentes.

Disfrute de los beneficios de la conectividad inalámbrica a mayores distancias y rendimiento en toda su zona inalámbrica exterior. No se requiere software de configuración o instalación.
Fácil de usar
La instalación de la TL-ANT2409B es simple y sencilla. Es compatible con la mayoría de dispositivos inalámbricos (puntos de acceso, enrutadores, puentes y adaptadores de red) en el mercado con antenas externas extraíbles. Qué hace este producto
Peru WISP

TP-Link Helps WISP to Provide Reliable Wireless Connectivity in Peru

Peru WISP

TP-Link Helps WISP to Provide Reliable Wireless Connectivity in Peru

"The performance of CPE was better than expected, working stable even with -85 dBm of received power." —David Grillo, Engineer, Kroton
ANTENA
Frecuencia
2.4GHz
Gain
9dBi
VSWR(MAX.)
1.5:1
HPOL Beamwidth
60
VPOL Beamwidth
76
Polarización
Linear; Vertical
Tipo
Directional
Connector Type
N Female (Jack)
Extended Cable/Length
CFD-200 ; 100cm
Montaje
Pole Mount/Wall Mount
Aplicación
Outdoor
Approximate Range at 1/11/54Mbps
1.77km/1km/140m
Temperatura de Funcionamiento
-20°C ~ +65°C
Storage Temp.
-30°C ~ +75°C
Optional Accessory
TL-ANT24EC6N TL-ANT24EC12N TL-ANT24SP TL-ANT24PT
Package Contents
9dBi Panel Directional Antenna
Installation mounting kits
User Guide

SuscripciónTP-Link toma en serio su privacidad. Para obtener más detalles sobre las prácticas de privacidad de TP-Link, consulte la Política de privacidad de TP-Link.
From United States?
Check products and services for your region.