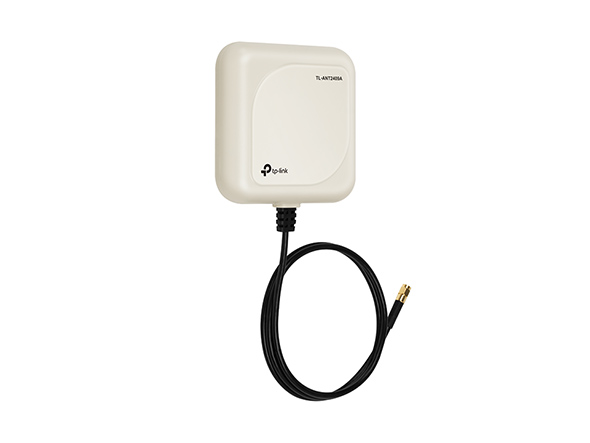 TL-ANT2409A
Antena direccional 2.4GHz 9dBi
Operación direccional 9dBi ofrece punto de extensión a puntos de conexión o área de cobertura en interiores y exteriores
Características 100cm CFD-200 cable de baja pérdida para un despliegue flexible
RP-SMA conector macho, funciona con la mayoría de puntos de acceso / routers inalámbricos
Proporciona kits de fácil instalación de montaje
Qué hace este producto
Antena direccional TL-ANT2409A opera en la banda de 2.4 GHz y ofrece 9dBi operación de dirección, que en gran medida amplía la cobertura inalámbrica y ofrece un rendimiento inalámbrico mucho mejor. La antena ofrece el conector RP-SMA conector macho garantizar una mayor compatibilidad con la mayoría de los equipos.
Disfrute de los beneficios de la conectividad inalámbrica a mayores distancias y rendimiento en toda su zona inalámbrica en interiores. No se requiere software de configuración o instalación.
Fácil de usar
La instalación de la TL-ANT2409A es simple y sencillo. Es compatible con la mayoría de dispositivos inalámbricos (puntos de acceso, enrutadores, puentes y adaptadores de red) en el mercado con antenas externas extraíbles.
Peru WISP

TP-Link Helps WISP to Provide Reliable Wireless Connectivity in Peru

Peru WISP

TP-Link Helps WISP to Provide Reliable Wireless Connectivity in Peru

"The performance of CPE was better than expected, working stable even with -85 dBm of received power." —David Grillo, Engineer, Kroton
ANTENA
Frecuencia
2.4GHz
Gain
9dBi
VSWR(MAX.)
1.5:1
HPOL Beamwidth
60
VPOL Beamwidth
76
Polarización
Linear; Vertical
Tipo
Directional
Connector Type
RP-SMA Female
Extended Cable/Length
CFD-200 ; 100cm
Montaje
Pole Mount/Wall Mount
Aplicación
Outdoor
Approximate Range at 1/11/54Mbps
1.77km/1km/140m
Temperatura de Funcionamiento
-20 ~ +65
Storage Temp.
-30 ~ +75
Optional Accessory
TL-ANT24EC3S TL-ANT24EC5S
Package Contents
9dBi Panel Directional Antenna
Installation mounting kits
User Guide

SuscripciónTP-Link toma en serio su privacidad. Para obtener más detalles sobre las prácticas de privacidad de TP-Link, consulte la Política de privacidad de TP-Link.
From United States?
Check products and services for your region.