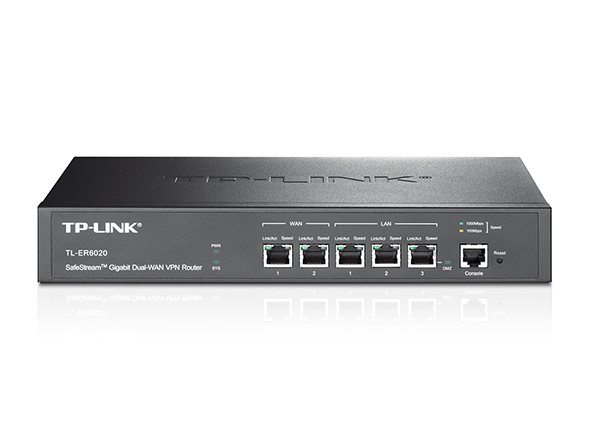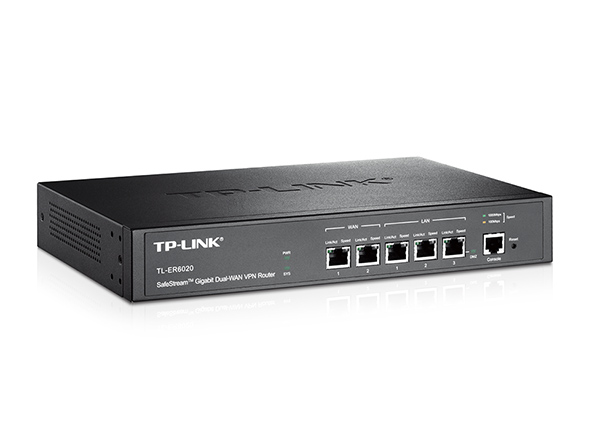 SafeStream™ gigabit dubbel-WAN VPN router TL-ER6020
2 Gigabit WAN aansluitingen, 2 gigabit LAN aansluitingen, 1 gigabit LAN/DMZ aansluiting en 1 console aansluiting
Ondersteunt meerdere VPN protocollen, zoals IPsec/PPTP/L2TP, waardoor gebruikers hun VPN flexibeler kunnen opzetten
Ondersteunt tot 50 IPsec VPN tunnels met een hardware-gebaseerde VPN engine.
Veel veiligheidsvoorzieningen, zoals ARP Inspection, DoS Defense, URL/Keyword domeinfilter en toegangscontrole
Gebruikt één-klik restrictie van IM/P2P applicaties, zodat online gedrag van personeel eenvoudig wordt beheerd
Professionele 4 kV bliksembeveiliging beschermt uw investering zo goed mogelijk
Wat doet dit product?
De TL-ER6020 SafeStream™ gigabit dubbel-WAN VPN router van TP-LINK beschikt over uitstekende dataverwerking capaciteiten en veel krachtige functies, o.a. IPsec/PPTP/L2TP VPN, Load Balance, Access Control, IM/P2P Blocking, DoS Defense, Bandwidth Control, Session Limit, PPPoE Server enzovoort, die voldoen aan de eisen van kleine en middelgrote ondernemingen, hotels en groepen met veel gebruikers die een efficiënt en eenvoudig te beheren netwerk met een hoog niveau van beveiliging nodig hebben.
Hoge VPN prestaties
De TL-ER6020 ondersteunt meerdere VPN protocollen, zoals IPsec, PPTP en L2TP in Client/Server modus en kan pass-through verkeer eveneens verwerken. Hij heeft ook een ingebouwde, hardware-gebaseerde VPN engine, waardoor de router max. 50 LAN-to-LAN/Client-to-LAN IPsec VPN verbindingen kan ondersteunen en beheren. Geavanceerde VPN functies zijn o.a.: DES/3DES/AES128/ AES192/AES256 versleuteling, MD5/SHA1 verificatie, Manual/IKE sleutelbeheer en Main/Aggressive onderhandelingsmodi.
Uitgebreide veiligheidsfuncties
Ter verdediging tegen bedreigingen van buitenaf beschikt de TL-ER6020 over automatische beveiliging, die Denial of Service (DoS) aanvallen zoals TCP/UDP/ICMP Flooding, TCP Scanning, Ping of Death en andere bedreigingen detecteert en blokkeert. Bovendien heeft de router een hardware DMZ-poort, waardoor netwerkbeheerders publieke servers kunnen opzetten zonder hun interne netwerk bloot te stellen, om aanvallen van buitenaf te voorkomen. Voor een beter beheer van het interne netwerk biedt de TL-ER6020 beheerders de mogelijkheid regels op te stellen om specifieke websites en IM/P2P applicaties met maar één klik te blokkeren en te voorkomen dat personeel specifieke services zoals FTP, HTTP en SMTP gebruikt.
Optimaliseren van bandbreedte gebruik
De TL-ER6020 heeft twee WAN-aansluitingen, zodat de router aan diverse eisen m.b.t. Internet toegang via één apparaat kan voldoen. De intelligente Load Balancing functie kan datastromen distribueren volgens het bandbreedte aandeel van elke WAN poort, zodat de benuttingsgraad van meerlijnen breedband wordt vergroot. Met behulp van IP-gebaseerde bandbreedtebeheer en sessielimiet functies kan de netwerkbeheerder de netwerkbandbreedte flexibel beheren, voor een optimaal bandbreedte gebruik.
Investeren in veiligheid
De professionele bliksembeschermingstechniek voorkomt dat stroompieken tot in het apparaat kunnen doordringen en die worden veilig naar de aarde afgevoerd. De router is voorzien van bliksembescherming tot 4 kV bij goed geaarde aansluitingen. Dit zorgt ervoor dat de investering in de netwerk infrastructuur zo goed mogelijk beschermd is tegen de krachten van de natuur.
Max. 50 IPsec VPN tunnels, 50 Mbps IPsec VPN Throughput
IPsec, PPTP, L2TP, L2TP over IPsec
IPsec NAT Traversal (NAT-T)
DES, 3DES, AES128, AES192, AES256 versleuteling
MD5, SHA1 verificatie
Handmatige, IKE sleutelbeheer modus
LAN-to-LAN, Client-to-LAN IPsec VPN
PPTP/L2TP VPN Server/Client
Hardware DMZ poort
One-to-One NAT
FTP/H.323/SIP/IPsec/PPTP ALG
IM/P2P applicatie blokkering
URL/keyword filtering
Web content filtering (Java, ActiveX, cookies)
ARP inspectie
DoS/DDoS verdediging
Intelligente load balancing
Policy routing
Link backup (Timing, Failover)
IP-gebaseerd bandbreedtebeheer
Gegarandeerde en beperkte bandbreedte
IP-gebaseerde sessielimiet
Port VLAN, Port Mirror
Static Routing, RIP v1/v2
PPPoE server
E-Bulletin
Functionaliteit van de Hardware
Standaarden en protocollen
IEEE 802.3, IEEE802.3u, IEEE802.3abTCP/IP, DHCP, ICMP, NAT, PPPoE, SNTP, HTTP, DNS, IPsec, PPTP, L2TP
Interface
2 Gigabit WAN-aansluitingen
2 Gigabit LAN-aansluitingen
1 Gigabit LAN/DMZ-aansluiting
1 console-aansluiting (RJ-45
Netwerkmedia
10BASE-T: UTP categorie 3, 4, 5 kabel (max. 100 m)
EIA/TIA-568 100 Ω STP (max. 100 m)
100BASE-TX: UTP categorie 5, 5e kabel (max. 100 m)
EIA/TIA-568 100 Ω STP (max. 100 m)
1000BASE-T: UTP categorie 5, 5e, 6 kabel (max. 100 m)
Ventilator Aantal
zonder fan
Knop
Reset toets
Uitgangsvermogen
Internal Universal Power SupplyAC100-240V~ 50/60Hz Input
Flash
16 MB
Dram
DRII 128 MB
LED
PWR, SYS, Link/Act, snelheid, DMZ
Afmetingen ( B x D x H )
294 x 180 x 44 mm
13" standaard rack-montagebreedte, 1U hoogte
Prestatie
Concurrent Session

30000
NAT Throughput
180 Mbps

IPsec VPN Throughput (3DES)
80 Mbps

Basisfuncties
WAN verbindingstype
Dynamisch IP, statisch IP, PPPoE, PPTP, L2TP, Dual Access, BigPond
DHCP
DHCP Server/Client
DHCP Reservation
MAC Kloon
WAN/LAN/DMZ MAC adres wijzigen
Switch instellingen
Port Mirror
Rate Control
Port Config
Port VLAN
IPTV
Bridge, Custom
IPv6
IPv6 Support
VLAN
802.1Q VLAN, Port VLAN
ADVANCED FUNCTIONS
Load balancing
Intelligent Load Balance
Policy Routing
Protocol Binding
Link Backup (Timing, Failover)
Online Detection
NAT
One-to-One NAT
Multi-nets NAT
Virtual Server, DMZ Host, Port Triggering, UPnP
FTP/H.323/SIP/IPsec/PPTP ALG
Routing
Statische routing
Dynamische routing (RIP v1/v2)
Systeemmodi
NAT, niet-NAT, klassieke routing
Verkeersregeling
IP-gebaseerd bandbreedtebeheer
Gegarandeerde en beperkte bandbreedte
Time-scheduled Policy
IP-gebaseerde sessielimiet
TRANSMISSION
Load Balance
Intelligent Load BalanceLink Backup (Timing, Failover)Online Detection
NAT
One-to-One NATMulti-nets NATVirtual ServerPort TriggeringFTP/H.323/SIP/IPsec/PPTP ALGUPnP
Routing
Static RoutingPolicy Routing
Session Limit
IP-based Session Limit
Bandwidth Control
IP-based Bandwidth Control
VPN
IPsec VPN
50 IPsec VPN tunnels
LAN-to-LAN, Client-to-LAN
Main, Aggressive onderhandelingsmodus
DES, 3DES, AES128, AES192, AES256 versleutelingsalgoritme
MD5, SHA1 verificatie algoritme
Handmatige, IKE sleutelbeheer modus
IPsec NAT Traversal (NAT-T)
Dead Peer Detection (DPD)
Perfect Forward Secrecy (PFS)
PPTP VPN
16 PPTP VPN tunnels
PPTP VPN Server/Client
PPTP met MPPE versleuteling
L2TP VPN
16 L2TP VPN tunnels
L2TP VPN Server/Client
L2TP over IPsec
VPN Pass-through
IPsec (ESP), PPTP, L2TP
Beveiliging
DMZ poort

1 Hardware DMZ poort
Applicatiebeheer
M, P2P, Web IM, Web SNS, Web Media, Protocol, Proxy Blocking
Bescherming tegen aanvallen
TCP/UDP/ICMP Flood Defense
Block TCP Scan (Stealth FIN/Xmas/Null)
Ping van WAN blokkeren
Filtering
MAC filtering
URL/keyword filtering
Web content filtering (Java, ActiveX, cookies)
ARP inspectie
Verzenden van GARP packets
ARP scanning per WAN/LAN
IP-MAC Binding

Access Control
Source/Destination IP Based Access Control
AUTHENTICATION
Web Authentication
Local User Authentication,Radius Sever Authentication,Onekey Online
Beheer
Services
PPPoE Server
E-Bulletin, Dynamic
DNS (Dyndns, No-IP, Peanuthull, Comexe)
Onderhoud
Web/CLI/Telnet Management Interface
Remote Management
Export & Import Configuration
NTP Synchronize
Syslog Support
Overige
Certificatie
CE, FCC, RoHS
Pakketinhoud
TL-ER6020
CD met hulpprogramma's e.d.
Netspanningskabel
Aardingskabel
Rack-montageset
Installatie-instructies
Systeemvereisten
Microsoft® Windows® 98SE, NT, 2000, XP, Vista™ of Windows 7, MAC® OS, NetWare®, UNIX® of Linux
Omgeving

Gebruikstemperatuur: 0℃~40℃ )
Bewaartemperatuur: -40℃~70℃
Luchtvochtigheid gebruik: 10%~90% niet-condenserend
Luchtvochtigheid bewaren: 5% ~90%, niet-condenserend