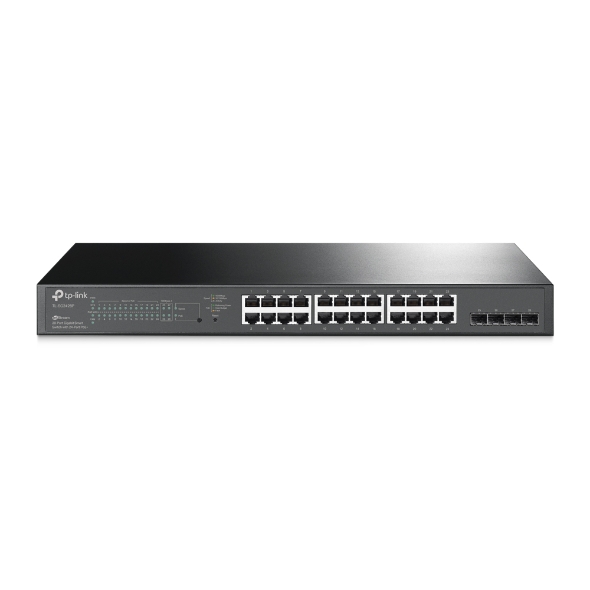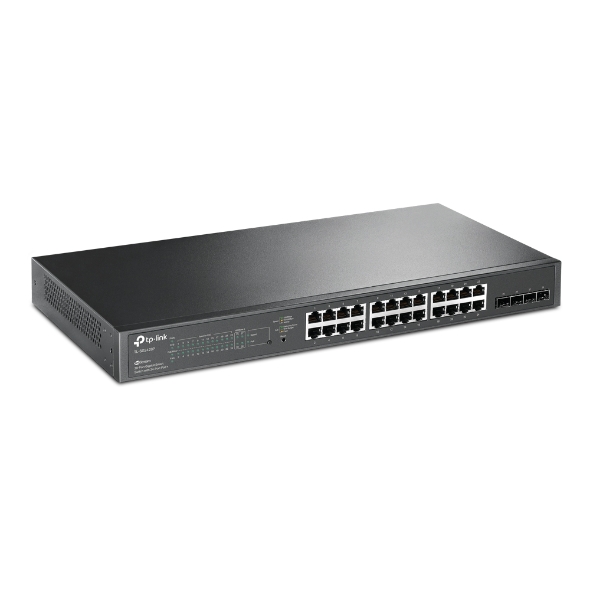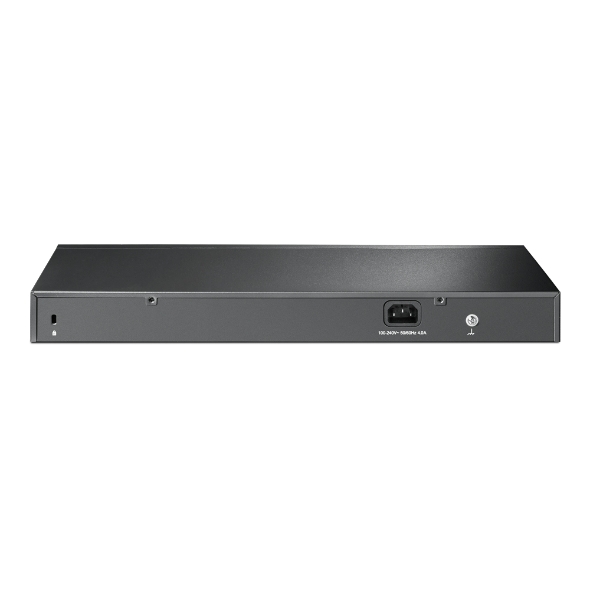 Switch Smart JetStream 28 cổng Gigabit với 24 cổng PoE+
Tổng PoE 250 W: 24 cổng PoE+ tuân theo chuẩn 802.3at/af với tổng cấp nguồn là 250W*.
Cổng Full Gigabit: 24 cổng PoE+ gigabit và 4 khe SFP gigabit cung cấp kết nối tốc độ cao.
Tích hợp vào Omada SDN: Cung cấp Zero-Touch Provisioning (ZTP)**, Quản lý Cloud tập trung, và Giám sát thông minh.
Quản Lý Tập Trung: Truy cập Cloud và ứng dụng Omada để quản lý tiện lợi và dễ dàng.
Định Tuyến Tĩnh: Giúp định tuyến lưu lượng nội bộ để sử dụng tài nguyên mạng hiệu quả hơn.
Chiến lược bảo mật mạnh mẽ: Liên kết cổng IP-MAC, ACL, Cổng Bảo Mật DoS Defend, kiểm soát Storm, DHCP Snooping, 802.1X, Radius Authentication, v.v.
Tối Ưu Hóa Các Ứng Dụng Thoại và Video: QoS L2/L3/L4 và IGMP snooping.
IPv6: hỗ trợ IPv6 với dual IPv4/IPv6 stack, MLD snooping, phát hiện IPv6 lân cận.
Tìm hiểu thêm về công nghệ PoE TP-Link >
Tìm hiểu thêm về SND Cloud Omada>​

Quản Lý Tập Trung
Nhiều Tính Năng Hơn với Omada
Switch Smart JetStream 28 Cổng Gigabit với 24 Cổng PoE+
TL-SG2428P
Quản Lý Cloud Tập Trung

Tích Hợp Nền Tảng Omada SDN

Tính Năng Nâng Cao L2+

L2/L3/L4 QoS, ACL, Định Tuyến Tĩnh và hơn nữa

Chiến Lược Bảo Mật Phong Phú

Bảo vệ khu vực LAN

Đầu ra PoE+

24 cổng PoE+ với tổng nguồn 250 W*
Software Defined Networking (SDN) với Quyền Truy Cập Cloud
Nền tảng Software Defined Networking (SDN) của Omada tích hợp các thiết bị mạng, bao gồm điểm truy cập, switch và gateway, cung cấp khả năng quản lý cloud tập trung 100%. Omada tạo ra một mạng có khả năng mở rộng cao—tất cả được điều khiển từ một giao diện duy nhất. Các kết nối không dây và có dây liền mạch được cung cấp, lý tưởng để sử dụng trong lĩnh vực khách sạn, giáo dục, bán lẻ, văn phòng, v.v.
Switches for Surveillance

For general surveillance, TP-Link has designed a variety of PoE Switches to meet the requirements of most IPCs. Many robust features provide value well beyond basic networking needs, creating a versatile and reliable surveillance network to grow your business.

Long-Range PoE
Auto Camera Recovery
Enhanced Network Security

Khách sạn

TP-Link Omada allows hotels to build reliable WiFi networks. Hotel WiFi network solutions including network topology, design, features, installation, and products are introduced.

Full WiFi coverage and wired connections
Flexible guest control
Seamless roaming
Easy Management

Trường học

Due to its reliable, scalable, and secure network solution, TP-Link has been widely acknowledged by global customers in the Education market ranging from infant schools with a few APs up to colleges and universities with hundreds of APs.

Easy management
High-density WiFi
Full WiFi coverage and wired connections
VPN and security
TÍNH NĂNG PHẦN CỨNG
Chuẩn và Giao thức
IEEE 802.3i, IEEE 802.3u, IEEE 802.3ab, IEEE802.3z, IEEE 802.3ad, IEEE 802.3x, IEEE 802.3az, IEEE 802.1d, IEEE 802.1s, IEEE 802.1w, IEEE 802.1q, IEEE 802.1p, IEEE 802.1x
Giao diện
• 24 Cổng RJ45 10/100/1000 Mbps ( tự động đàm phán / MDI tự động / MDIX)
• 4 Khe cắm SFP Gigabit
Mạng Media
• 10BASE-T: UTP category 3, 4, 5 cable (maximum 100m)
• 100BASE-TX/1000Base-T: UTP category 5, 5e or above cable (maximum 100m)
• 1000BASE-X: MMF, SMF

Số lượng quạt
2
Cổng PoE+ (RJ45)
• Tiêu chuẩn: tuân thủ 802.3at / af
• Cổng PoE +: 24 Cổng
• Nguồn cung cấp: 250 W
Kích thước ( R x D x C )
17.3 × 8.7 × 1.73 in (440 × 220 × 44 mm)
Lắp
Giá đỡ
Tiêu thụ điện tối đa
• 32.1 W (110 V/ 60 Hz with no PD connected)
• 308.6 W (110 V/ 60 Hz with 250 W PD connected)
Max Heat Dissipation
• 109.53 BTU/h (with no PD connected)
• 1052.94 BTU/h (with 250 W PD connected)
HIỆU SUẤT
Bandwidth/Backplane
56 Gbps
Tốc độ chuyển gói
41.7 Mpps
Bảng địa chỉ MAC
8K
Bộ nhớ đệm gói
4.1 Mbit
Khung Jumbo
9 KB
TÍNH NĂNG PHẦN MỀM
Chất lượng dịch vụ
• 802.1p CoS/DSCP priority
• 8 priority queues
• Priority Schedule Mode
- SP (Strict Priority)
- WRR (Weighted Round Robin)
• Queue Weight Config
• Bandwidth Control
- Port/Flow based Rating Limit
• Smoother Performance
• Storm Control
- Multiple Control Modes(kbps/ratio)
- Broadcast/Multicast/Unknown-Unicast Control
L2 and L2+ Features
• 16 IP Interfaces
- Support IPv4/IPv6 Interface
• Static Routing
- 32 IPv4/IPv6 Static Routes
• DHCP Server
• DHCP Relay
- DHCP Interface Relay
- DHCP VLAN Relay
• DHCP L2 Relay
• Static ARP
• Proxy ARP
• Gratuitous ARP
• Link Aggregation
- Static link aggregation
- 802.3ad LACP
- Up to 8 aggregation groups and up to 8 ports
per group
• Spanning Tree Protocol
- 802.1D STP
- 802.1w RSTP
- 802.1s MSTP
- STP Security: TC Protect, BPDU Filter/Protect,
Root Protect
• Loopback Detection
• Flow Control
- 802.3x Flow Control
• Mirroring
- Port Mirroring
- CPU Mirroring
- One-to-One
- Many-to-One
- Flow-Based
- Ingress/Egress/Both
• Device Link Detect Protocol (DLDP)
• 802.1ab LLDP/ LLDP-MED
VLAN
• VLAN Group
- Max. 4K VLAN Groups
• 802.1Q tag VLAN
• MAC VLAN
• Protocol VLAN
• GVRP
• Voice VLAN
Access Control List
• Support up to 230 entries
• Time-Range
- Time Slice
- Week Time-Range
- Absolute Time-Range
- Holiday
• Time-based ACL
• MAC ACL
- Source MAC
- Destination MAC
- VLAN ID
- User Priority
- Ether Type
• IP ACL
- Source IP
- Destination IP
- IP Protocol
- TCP Flag
- TCP/UDP Source Port
- TCP/UDP Destination Port
- DSCP/IP TOS
• IPv6 ACL
• Combined ACL
• Rule Operation
- Permit/Deny
• Policy Action
- Mirror
- Rate Limit
- Redirect
- QoS Remark
• ACL Rules Binding
- Port Binding
- VLAN Binding
• Actions for flows
- Mirror (to supported interface)
- Redirect (to supported interface)
- Rate Limit
- QoS Remark
Bảo mật
• AAA
• 802.1X
- Port based authentication
- MAC (Host) based authentication
- Authentication Method includes PAP/EAP-MD5
- MAB
- Guest VLAN
- Support Radius authentication and
accountability
• IP/IPv6-MAC Binding
- 512 Binding Entries
- DHCP Snooping
- DHCPv6 Snooping
- ARP Inspection
- ND Detection
• IP Source Guard
- 253 Entries
- Source IP+Source MAC
• IPv6 Source Guard
- 183 Entries
- Source IPv6 Address+Source MAC
• DoS Defend
• Static/Dynamic/Permanent Port Security
- Up to 64 MAC addresses per port
• Broadcast/Multicast/Unicast Storm Control
- kbps/ratio control mode
• Port Isolation
• Secure web management through HTTPS with
SSLv3/TLS 1.2
• Secure Command Line Interface (CLI)
management with SSHv1/SSHv2
• IP/Port/MAC based access control
IPv6
• IPv6 Static Routing and ACL
• IPv6 Dual IPv4/IPv6
• IPv6 Interface
• Multicast Listener Discovery (MLD) Snooping
• IPv6 neighbor discovery (ND)
• Path maximum transmission unit (MTU) discovery
• Internet Control Message Protocol (ICMP)
version 6
• TCPv6/UDPv6
• IPv6 applications
- DHCPv6 Client
- Ping6
- Tracert6
- Telnet(v6)
- IPv6 SNMP
- IPv6 SSH
- IPv6 SSL
- Http/Https
- IPv6 TFTP
QUẢN LÝ
Omada App
Có
Centralized Management
• Omada Cloud-Based Controller
• Omada Hardware Controller (OC300)
• Omada Hardware Controller (OC200)
• Omada Software Controller
Cloud Access
Có (Through OC300, OC200, Omada Cloud-Based Controller, or Omada Software Controller)
Management Features
• Web-based GUI
• Command Line Interface (CLI) through telnet
• SNMPv1/v2c/v3
• SNMP Trap/Inform
• RMON (1,2,3,9 groups)
• SDM Template
• DHCP/BOOTP Client
• Dual Image, Dual Configuration
• CPU Monitoring
• Cable Diagnostics
• EEE
• SNTP
• System Log
KHÁC
Chứng chỉ
CE, FCC, RoHS
Sản phẩm bao gồm
TL-SG2428P
• Dây điện
• Hướng dẫn cài đặt
• Bộ giá đỡ
• Chân đế cao su
System Requirements
Microsoft® Windows® XP, Vista™ or Windows 7, Windows 8, Windows 10, MAC® OS, NetWare®, UNIX® or Linux.
Môi trường
• Nhiệt độ hoạt động: 0–50 ℃ (32–122 ℉);
• Nhiệt độ lưu trữ: -40–70 ℃ (-40–158 ℉)
• Độ ẩm hoạt động: 10–90% RH không ngưng tụ
• Độ ẩm lưu trữ: 5–90% RH không ngưng tụ
*Tính toán tổng nguồn PoE dựa trên thử nghiệm trong phòng thí nghiệm. Tổng nguồn PoE thực tế không được đảm bảo và sẽ thay đổi do các giới hạn của khách hàng và các yếu tố môi trường. .
**Zero-Touch Provisioning yêu cầu sử dụng Controller dựa trên Omada Cloud.
Đăng kýTP-Link takes your privacy seriously. For further details on TP-Link's privacy practices, see TP-Link's Privacy Policy.
From United States?
Check products and services for your region.