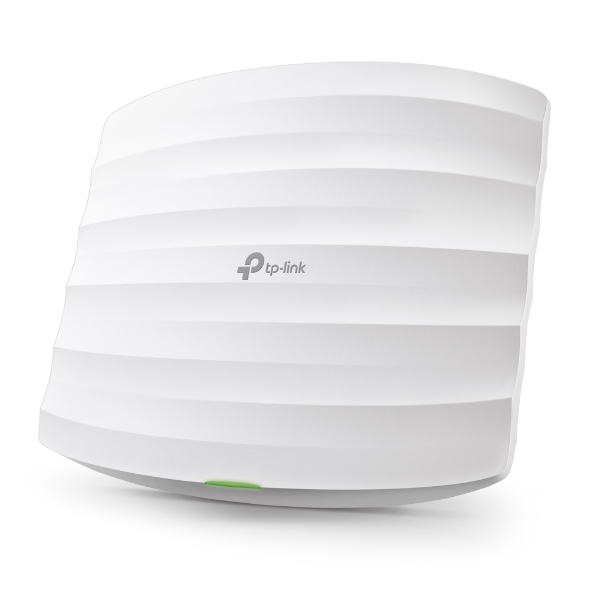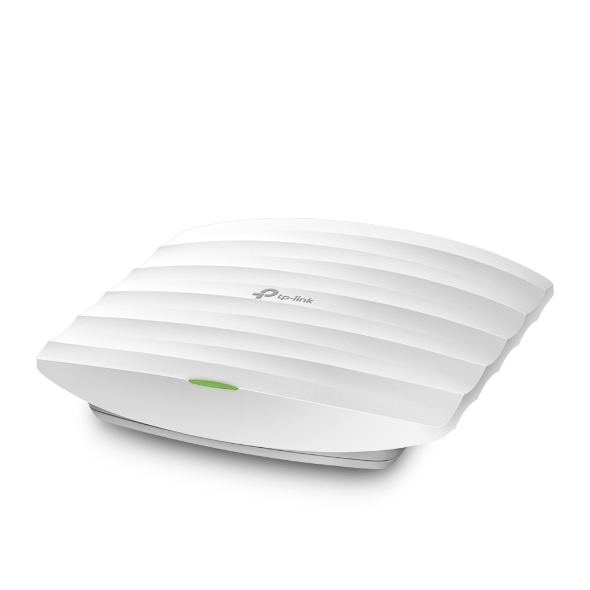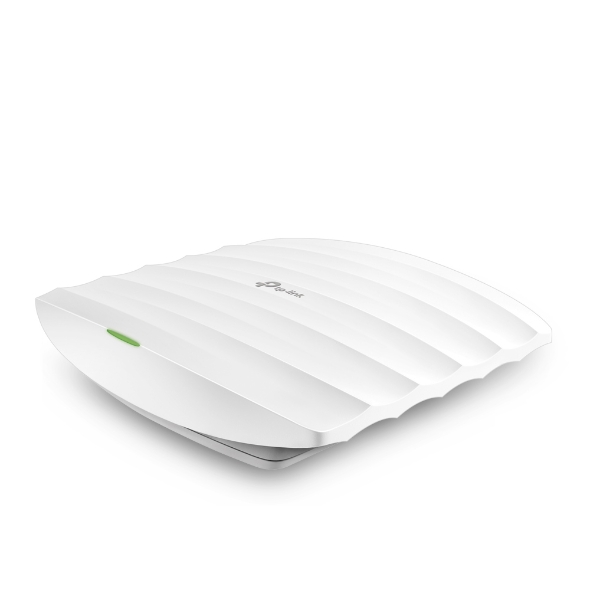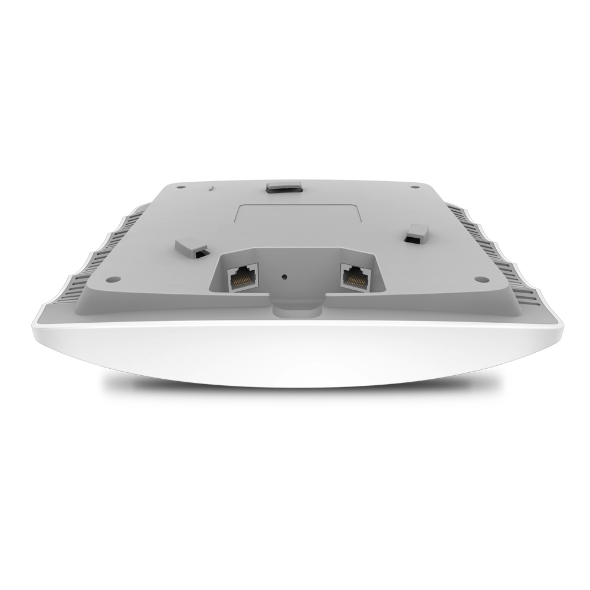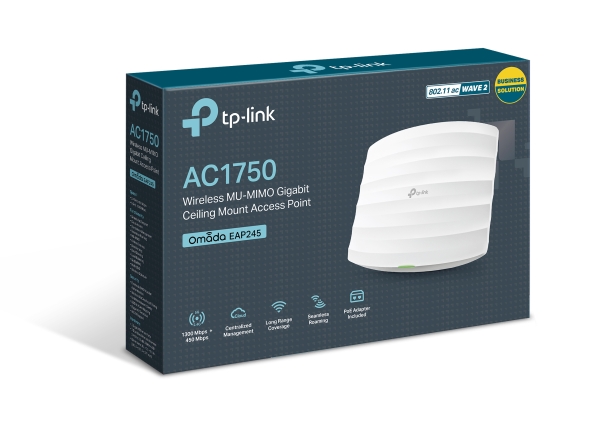 Access Point Gắn Trần Gigabit Wi-Fi MU-MIMO AC1750
Tốc độ Wi-Fi 450Mbps trên băng tần 2.4GHz và 1300Mbps trên băng tần 5GHz, cung cấp tổng tốc độ Wi-Fi 1750Mbps
Hỗ trợ chuyển vùng liền mạch để các cuộc gọi thoại và video mượt mà, không bị ảnh hưởng khi người dùng di chuyển qua các vị trí
Quản lý tập trung trên cloud miễn phí và ứng dụng Omada cho quản lý cực kỳ dễ dàng và tiện lợi.
Hỗ trợ cấp nguồn qua Ethernet(802.3af) để cài đặt thuận tiện và tiết kiệm chi phí hơn.
Bảo mật mạng khách với nhiều tùy chọn xác thực(SMS/Facebook Wi-Fi/ Voucher,v.v.) và các công nghệ bảo mật không dây phong phú.
Band Steering tự động chuyển các thiết bị băng tần kép đến băng tần 5GHz rộng hơn để kết nối nhanh hơn.
Cân bằng tải đảm bảo số lượng lớn người dùng trong mạng doanh nghiệp mật độ cao có trải nghiệm mạng mượt mà hơn
Hỗ trợ quản lý VLAN để quản lý mạng nâng cao
Tinh Hoa Đẳng Cấp Doanh Nghiệp
Giải Pháp

Wi-Fi

MU-MIMO AC1750
Omada EAP245
Hiệu Năng Và Tốc Độ Wi-Fi Vượt Trội
Chipset cấp doanh nghiệp QCA, bộ khuếch đại công suất cao chuyên dụng và ăng-ten chuyên nghiệp cùng với công nghệ 802.11ac Wave 2 MU-MIMO thế hệ mới nhất, đảm bảo tốc độ Wi-Fi 1750 Mbps vượt trội và vùng phủ sóng dài trên các băng tần không dây 2.4 GHz và 5 GHz.
MU-MIMO

Beamforming

Band Steering

Airtime Fairness
Chuyển Vùng Liền Mạch
Seamless Roaming 802.11k / 802.11v - tự động chuyển máy khách đến Access Point có tín hiệu tối ưu với sự chuyển tiếp liền mạch khi di chuyển. Điều này cho phép các ứng dụng nhạy cảm như VoIP và hội nghị video trực tuyến không bị gián đoạn.
Với chuyển vùng liền mạch
Tự động chuyển đến các tín hiệu tối ưu
Xác Thực Mạng Khách Hiệu Quả Với Đăng Nhập Wi-Fi Facebook và SMS
Mạng khách cung cấp quyền truy cập an toàn cho khách chia sẻ mạng Wi-Fi của bạn với tính năng Captive Portal giúp bạn kiểm soát những khách được chỉ định mới có thể truy cập vào mạng. Việc bổ sung tính năng xác thực SMS và Facebook giúp đơn giản hóa cổng thông tin cá nhân hơn nữa nhằm giúp việc kết nối với khách hàng dễ dàng hơn và quảng bá doanh nghiệp của bạn.
Nhiều Tùy Chọn PoE Giúp Dễ Dàng Cài Đặt
EAP245 hỗ trợ chuẩn cấp nguồn PoE 802.3af và PoE Passive, có thể cấp nguồn bằng switch PoE hoặc bộ chuyển đổi nguồn PoE. Với kiểu dáng thanh lịch và thiết kế lắp đặt đơn giản giúp dễ dàng gắn tường hoặc trần nhà.
Cổng Ethernet Gigabit cho Cầu Nối
Cổng Ethernet Gigabit 802.3af PoE/ 48V Passive PoE
Cloud Centralized Management
- Anytime, Anywhere
Omada Hardware Controller OC200 and Omada Software Controller make it easy to manage and monitor the whole Omada network in real-time, while cloud service enables remote and secure access no matter where you find yourself.
Quản Lý Dễ Dàng Hơn Với Ứng Dụng Omada
Bạn chỉ cần làm theo hướng dẫn trên ứng dụng Omada (tải miễn phí trên CHPlay hoặc AppStore) để hoàn thành việc cấu hình hệ thống mạng trong vài phút. Omada cho phép bạn cấu hình cài đặt, theo dõi trạng thái mạng và quản lý máy khách, với sự tiện lợi của Smart Phone hoặc máy tính bảng.
Nhấp vào đây để xem các thiết thị tương thích với ứng dụng Omada >
Meet Our New Hero Product!
The OC200 Omada Hardware Controller is dedicated to providing centralized management for the whole Omada network.
Omada Hardware Controller
OC200
Khách sạn

TP-Link Omada SDN allows hotels to build the reliable, cost-effective wireless networks that drive progress and keep guests happy and coming back for another stay.

Full WiFi coverage and wired connections
Flexible guest control
Seamless roaming
Easy Management

Trường học

Due to its reliable, scalable, and secure network solution, TP-Link has been widely acknowledged by global customers in the Education market ranging from infant schools with a few APs up to colleges and universities with hundreds of APs.

Easy management
High-density WiFi
Full WiFi coverage and wired connections
VPN and security

WiFi Marketing

Here you will have the opportunity to show them your products, services, offers, promotions or simply information related to your business. With TP-Link captive portal functions, boost your online business through guest Wi-Fi with Facebook Login, Voucher, and other flexible authentication options.

Boost Business with a Customized Page
Facebook WiFi
Secure Guest Network
Easy Configuration
Supported by all Omada APs
TÍNH NĂNG PHẦN CỨNG
Giao diện
2 x Cổng Ethernet Gigabit (RJ-45) ( Một cổng hỗ trợ PoE IEEE802.3af và Passive PoE)
Khóa bảo mật vật lý
Có
Nút
Reset
Bộ cấp nguồn
802.3af/at PoE
48V Passive PoE (+4,5pins; -7,8pins. Bao gồm bộ chuyển đổi PoE)

Điện năng tiêu thụ
12.3 W
Kích thước ( R x D x C )
7.1 x 7.1 x 1.9in. (180*180*47.5mm)
Dạng Ăng ten
Ăng ten ngầm đẳng hướng
2.4GHz: 3* 4dBi
5GHz: 3*4dBi
Lắp
Gắn Tường/ Trần (bao gồm bộ dụng cụ)
TÍNH NĂNG WI-FI
Chuẩn Wi-Fi
IEEE 802.11ac/n/g/b/a
Băng tần
2.4GHz and 5GHz
Tốc độ tín hiệu
5GHz:Up to 1300Mbps2.4GHz:Up to 450Mbps
Tính năng Wi-Fi
Nhiều SSIDs (Lên đến 16 SSID, 8 cho mỗi băng tần)
Kích hoạt/Vô hiệu hóa Wi-Fi
Gán kênh tự động
Kiểm soát công suất truyền tải (Tùy chỉnh công suất theo dBm)
QoS(WMM)
MU-MIMO
Seamless Roaming
Band Steering
Cân bằng tải
Airtime Fairness
Beamforming
Giới hạn tốc độ
Reboot Schedule
Wireless Schedule
Thống kê Wi-Fi dựa trên SSID/AP/Client
Bảo mật Wi-Fi
Xác thực Captive Portal
Kiểm soát truy cập
Lọc địa chỉ MAC không dây
Cách ly máy khách Wi-Fi
SSID to VLAN Mapping
Rogue AP Detection
802.1X Support
64/128/152-bit WEP / WPA / WPA2-Enterprise,
WPA-PSK / WPA2-PSK

Công suất truyền tải
CE:≤19dBm(2.4GHz)≤23dBm(5GHz)FCC:≤25dBm(2.4GHz)≤27dBm(5GHz)
QUẢN LÝ
Omada App
Có
Centralized Management
Omada Software Controller
OC200

Cloud Access
Có (Thông qua Omada Software Controller hoặc OC200)
Email Alerts
Có
LED ON/OFF Control
Có
Quản lý kiểm soát truy cập MAC
Có
SNMP
v1,v2c
System Logging Local/Remote Syslog
Local/Remote Syslog
SSH
Có
Quản lý dựa trên Web
HTTP/HTTPS
Quản lý L3
Có
Quản lý nhiều trang Web
Có
Quản lý VLAN
Có
KHÁC
Chứng chỉ
CE, FCC, RoHS
Sản phẩm bao gồm
Access Point Gắn trần Gigabit Wi-Fi MU-MIMO AC1750 EAP245
Bộ chuyển đổi nguồn PoE Gigabit Passive
Dây Điện
Bộ dụng cụ gắn
Hướng dẫn cài đặt

System Requirements
Microsoft Windows XP, Vista, Windows 7, Windows 8, Windows10
Môi trường
Nhiệt độ hoat động: 0℃~40℃ (32℉~104℉)
Nhiệt độ lưu trữ: -40℃~70℃ (-40℉~158℉)
Độ ẩm hoạt động: 10%~90% không ngưng tụ
Độ ẩm lưu trữ: 5%~90% không ngưng tụ

* Tốc độ tín hiệu không dây tối đa là tốc độ vật lý được lấy từ thông số kỹ thuật của chuẩn 802.11. Thông lượng dữ liệu không dây thực tế và vùng phủ sóng không dây không được đảm bảo và sẽ thay đổi do 1) yếu tố môi trường, bao gồm vật liệu xây dựng, vật thể và chướng ngại vật, 2) điều kiện mạng, bao gồm nhiễu nội bộ, khối lượng và mật độ lưu lượng, vị trí sản phẩm, độ phức tạp của mạng và chi phí mạng và 3) các hạn chế của máy khách, bao gồm hiệu suất, vị trí, kết nối, chất lượng và điều kiện máy khách được xếp hạng.
SubscriptionTP-Link takes your privacy seriously. For further details on TP-Link's privacy practices, see TP-Link's Privacy Policy.
From United States (English)?
Check products and services for your region.